"THE GURU": A MOVIE YOU JUST HAVE TO SEE, by Charles Carreon
I'm sure you've seen The Guru already, and if you haven't, get ready for a delightful treat that is chock full of spiritual nutrition, and no kidding.
The Guru tells the story of Ramu Gupta (Jimmy Mistry) a young Indian dance teacher, who is hornswoggled into making the trip to New York City by his friend Vijay, who entices Ramu to make the trip by posing in front of a red Merecedes and telling Ramu he's rich, living in a penthouse. The penthouse turns out to be a flophouse room that Ramu is welcome to share the rent on. Ramu, however, isn't made of the same accepting stuff as his fellows, and quickly learns a lesson about America when a yuppie punches his lights out after Ramu dumps a load of chicken tikka masala in his face for ridiculing Ramu's accent and ancestry. Out of a job, Ramu decides to stick with his plan to become an actor, and soon finds himself at an audition to be a male porn star.
Dwain, the porn producer, cannot grasp that Ramu is trying to audition for a dance role, and urges Ramu to strip down. Ramu cannot understand that he is being asked to disrobe to display his equipment, and offers to display his macarena. "Macarena? Is that what the kids call it in your part of the world? Okay, let me see your Macarena." Stripped down to his underwear, Ramu thinks he's being asked to do a Tom Cruise imitation, and does a perfectly choreographed cover of Cruise's rendition of Bob Seger's "Old Time Rock and Roll" from "Risky Business." The porn producer is floored. The equipment looks good, even under wraps. He's hired.
On the set, Rammy, as he's now known, is dressed as an islander in a leaf skirt with a suggestive spear. Onto the indoor beach strides his love interest, Sharonna, playing Senator Snatch (Heather Graham), dressed in a tight pinstriped suit, carrying an attache case. She's there to inspect the natives, which she thinks will be easier after she gets into her working uniform, a lovely red bra and panties with matching garter belt and stockings.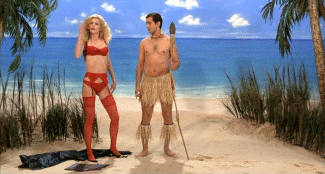 The scene comes to a screaming halt, however, when Sharonna announces loudly to everyone on the set: "We don't have wood." The Cameraman echoes "Stand by. Holding on wood." The Soundman confirms, "Standing by for wood." Shouting fills the studio: "We are holding on wood!"
Then the revelations start:
SHARRONA: It's just sex, silly.
RAMU: It's just the idea of being naked in front of all these people.
SHARRONA: Well, the trick is not to be naked up here. It's like other actors get costumes, but we don't, or at least not for very long. So your naked body is really just your costume.
RAMU: I promise, in India I'm a real stud. If you and I could just go somewhere by ourselves without people watching.
SHARRONA: There's always someone watching.
RAMU: Dwain?
SHARRONA: God, silly.
RAMU: God is watching us?
SHARRONA: Yeah, but not for kicks. I mean, the universe isn't run by some big old perv.
RAMU: What do you mean?
SHARRONA: I mean, the same God who made the rose and the ocean, he made me. And my body is made to have sex, just like the rosebud is made to open.
RAMU: Wow.
Now that Ramu knows what is expected of him, he knows he can't do it. He's looking for his old job, back with the curry-slingers, and finds his old boss doing a catering gig at a swanky New York townhouse. Lexi (Marisa Tomei) is having her birthday party, and her mother Chantal has decided to simultaneously spoil and mock Lexi by giving her a spiritual birthday with a real guru as the entertainment. Lexi, OM-ing intently on the bathroom floor next to the commode, complains piteously to her brother Lars, who is trying to talk her out of hiding, that she didn't want a swami, she wanted "a Tibetan gathering with a Rinpoche."
The Swami retained by the curry-slinger, though, has been imbibing one too many cocktails in the kitchen, and passes out. A sharp slap to the Swami's face stimulates only a brief return to consciousness, punctuated by the sincere declaration, "I swear she was sixteen!" Ramu, showing up fortuitously at this dangerous moment, is drafted into the Swami role. Swathed in silk, topped with a turban, surrounded by questioning socialites, Ramu lacks only one thing -- wisdom. Fishing around in his busy brain for something profound, the only words that come to him are Sharrona's:
RAMU: God, is it hot in here. God. God wants us to have sex. And if God wants us to have sex, then, well, it can't be bad because the universe isn't run by a big old perv.
LARS: Glad he cleared that up.
RAMU: (Touching an older woman on the temples and peering into her eyes) Your naked body is like a costume that you wear to be yourself. Be comfortable in your nakedness. The most powerful sexual organ God gave you is your brain. Think about it. Are you thinking?
OLD LADY: (Slowly and with deep sincerity) My whole body is about to think.
RAMU: And like roses are made to open, so must you. You must open your rosebud.
RAMU: Dance is like love.
[Electronic backbeat kicks in]
RAMU: Join me. Follow your inner beat.
RASPHAL: Is he doing the Macarena?
VIJAY: Looks like it.
LARS: Wait, isn't that the ...
LEXI: I think it's one of those dervish, spiritual, trance-dance things.
And indeed it is one of those trance-dance type of things. Managing him as her lover, and the Guru of Sex, Lexi catapults Ramu into the big leagues of guru-dom. Vijay steps into the role of secretary, and begins to manage Ramu like the hot property he is. Meanwhile, Ramu sets up a series of secret meetings with Sharrona to learn, so he tells her, how to be a porn star. Sharrona educates him into her little story of beauty, the one she tells herself when she works. Ramu takes those little stories and resells them to the rich and jaded like vitamins that conquer ennui. And the lessons become more sincere, more revelatory, of the inner being of a person who gives their sexuality up for display.
Sharrona, it turns out, has a double life, too. She's dating a Catholic boy who's a total virgin. That means he doesn't watch porn. That means he's never seen Sharrona on video. But in the middle of their pre-wedding dinner with her fiance's family, some asshole at the bar has just got to come over to the happy family table and destroy it all. Of course, that destruction has a happy ending, because her Catholic boy is really not so hetero after all as we learn when things start working themselves out.
Boy, there's not too many more beans to spill before the whole movie's revealed, so I'll stop now. You can find the screenplay here:
THE GURU SCREENPLAY
. I have not even mentioned the incredible recreations of Bollywood sets, costumes, song and choreography. Rich, resplendent, sumptuous, etcetera. Two nipples up for this hilarious exploration of innocence in sex and corruption in religion!