"THEY'RE ALL DIABOLICAL BOZOS!", by Charles Carreon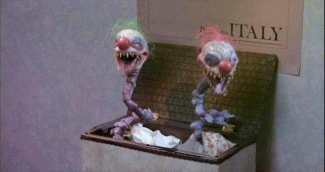 The Dickies are a classic of the LA rock scene who repeatedly opened acts for The Ramones when we lived there during the mid eighties through nineties, especially for the gigs out in the Valley. Their big hit was "Manny, Moe and Jack," yes, as in the three fraternal founders of Pep Boys Auto Parts, a southland tradition. If you ever hear this song, you will notice it sounds a lot like Killer Klowns, but the lyrics are a little more down to earth:
The Dickies in Manny Moe & Jack wrote:
Once you're inside
they won't take you for a ride
they got a good deal for you and your automobile
for the right price
they will sell you fuzzy dice
and leather hand grips for your steering whee-al
Killer Klowns came out on an EP with just three other songs. Two of them are totally forgettable, but "Booby Trap" is a classic, with spooky lyrics that complement the Krazy Karnival Kalliope sound of Killer Klowns with a little Transylvanian Rapture. This song always reminded me of Elvyra, Queen of the Dark, another LA original.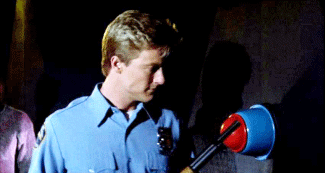 The Dickies in Booby Trap wrote:
Estelle is a vampire ...
She has a novel way of leaving her calling card.
Sing along by the campfire,
She'll leave her mark while stealing your heart.

Forget her lies about not drinking wine,
You love though you're gonna turn blue.
Her madness grows like the thorns on a rose...
I'd wear a cross if I were you.

If you want to date her,
You better get her home before she sees the first light of day,
But sooner or later
The best laid plans of mice and men go astray

She's the kinda girl who'll put your head in a whirl --
She's bound by traditional victorian rules,
The daughter of the devil and the mother of hell,
I'd let her alone if I were you.

Don't look back!
It's a trap!
It's a fact!
It's a booby trap!
Booby trap!
Booby boob-booby trap!

She'll get your love like a hand in a glove,
The fangs of a bat and the heart of a dove...
From hell below to heaven above,
I wouldn't let her in if I were you.

Don't look back!
It's a trap!
It's a fact!
It's a booby trap!
Booby trap!
Booby boob-booby trap!
One night we saw The Ramones at the Country Club out in the Valley. No booze 'cause they'd just gotten popped for underage sales, so I went out to the place next door to grab a brew after the Dickies finished their set and before the Ramones came on. The bass player was having a burger in this place. Still wearing his dress from onstage. He looked at me like he thought I was interesting and displayed his left shoulder in a provocative way. I think we chatted a little but I can't remember. Looked like a fun guy, sorta.
Cheers