TIM LEARY, STARFLEET COMMANDER, by Charles Carreon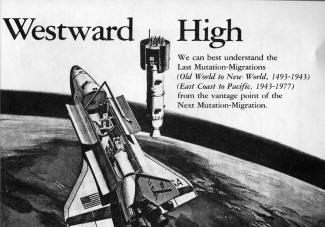 Timothy Leary famously blew his cranium on mushrooms in an experience that he recites in "Your Brain Is God" as follows:
"Many years ago, on a sunny afternoon in a Cuernavaca garden, I ate seven so-called sacred mushrooms given to me by a scientist from the University of Mexico. During the next five hours, I was whirled through an experience which was, above all and without question, the deepest religious-philosophic experience of my life. And it was totally electric, cellular scientific, cinematographic."
That experience opened the door to a lifelong search for truth, beauty, and the secret of human existence that Leary confidently proclaims to have solved in "Your Brain Is God." Leary embraces the Gaia hypothesis, seeing the biosphere as a thin bubble of self-creating order that generates ever-more complex and capable living organisms. Leary promises human fulfillment for those who master the "Eight Crafts of God," which might be thought of as harmonizing all human energies into a single harmonious spectrum of being. Of course, psychedelic yoga, the practice of one LSD session per week, is inseparable from making progress toward skill in plying God-craft.
Leary's vision has historic content, as all scientific visions do. Think of the Grand Canyon, of the tales of physicists, about worlds infinitely distant in both space and time, visible through powerful telescopes. So also the LSD voyager often experiences the grand sweep of history, recapitulating, as Leary would have it, the long journey of life up from the primeval swamps, through amphibious and reptilian and mammalian life forms, until we became game-playing simians. So for Leary it is clear that we exist, this universe is in process, human life and all life is on a unified trajectory with the general flow of the universe, and within that flow there are optimal and suboptimal outcomes for living beings resulting from our level of consciousness.
Tim is big on what I like to call the tautological nature of the mind, the tendency of the mind to reflect whatever appears within it. Tim talked about having good set and setting. He talked about the outer set, the difference between being at Esalen, or in a seedy motel. He also described the inner set, harder to change, which is simply the mental disposition you've been developing since you were born, probably before. Set and setting condition your experience. Tim's lifework was creating set and setting for ecstatic experiences, which he thinks you can get the vast majority of the time for the majority of people.
Tim differed in this regard from other LSD therapists, somebody like Stan Grof, who calls LSD a non-specific neural amplifier that allows you to hear your entire subconscious mind sometimes singing, sometimes shrieking, at high volume. A high-dose trip with Grof could be like lancing the pus out of a painfully engorged ego. Unbelievably scary, and very relieving. By contrast, Leary never designed a philosophy of cathartic tripping. He was an ecstatic revelationist who believed the best use of LSD is to induce ego loss. This ego loss is very far from a state of nonexistence. Rather, it is direct connection without mediation to the source of the all-creative universal mind. From the place of egolessness, each individual can practice the eight God crafts.
Set and setting, says Leary, perfectly mirror one's inner state. Dead people live in dingy cities, he says. When you realize, through LSD practice, that you need to be in a vital, wholesome, esthetically pleasing environment, you'll put yourself in one. So you have to be ready to make those changes. He's seen it time and again. People don't want to make those changes, they stop taking their LSD. Leary doesn't mention that there are economic and other penalties for following the dictates of your increasingly-sensitized God-mind. Penalties that he of course paid when he was in prison for a half a joint. He puts it this way: "To continue to use LSD, you must generate around you an ever-widening ring of 'tuned-in' actions. You must hook up your inner power to a life of expanding intelligence." Most people, the large majority of the 5,000 who undertook LSD yoga with him, "could not harness their activated energies to a more harmonious game." Tim's yoga, however initially attractive, appears to produce as few adepts as the old systems. But every guru can get grumpy.
Leary hazards a guess that The Tibetan Book of the Living, the first trip-manual he produced with Richard Alpert, introduced more people to Buddhism than any mainstream publication, while noting that few "Buddhist professionals" would admit this. Leary describes how the popularity of the book became a problem: "The Tibetan Book of the Living , our first venture in updating old neurological-trip maps, was so successful we became alarmed. Thousands of people began using the Tibetan jargon of Bardos, and a definite fad-trend toward Buddhism was developing. To head off this Oriental renaissance, we quickly sought another, less parochial text for describing and guiding brain astronauts. The advantage of the Tao Te Ching was that this Taoist text was almost content-free. There are no pious monks, shaved heads, red hats, yellow hats, orange robes, or specific levels of heaven, purgatory, and hell in the Tao Te Ching."
Leary's hostility to an "Oriental renaissance" taking root in his psychedelic movement discloses more ambivalence than real hostility, however. Earlier in the book he regards Hinduism as the nearest neighbor of his own philosophy, and lumps Jainism and Buddhism together as "life-affirming philosophies" that will make possible the "Scientific Paganism of the 21st Century". Then, in the book's last chapter, "A Holy Mess," he recalls that the "religious metaphor" for psychedelic experience "boomed." A "holy mess" resulted from telling people that they were gods, to which "only the young listened," causing us all to look to Eastern holy men for guidance. As Leary builds up speed, he begins enjoying tossing a little invective. He's talking about real people that he can remember:
"It worked because it was so seductive. There was a lot to learn back-East – the barefoot grace, the body-control sinuosity of yoga, the wiry elastic mind-trick of seeing everything from the standpoint of eternity. The ultimate cool of fatalism. The junky-hindu grin of pompous, self-satisfied passivity. The comforting babble of mantra nonsense-syllables. New colorful, bizarre Hindu Lord's Prayers to monkey-mimic."
Having gotten up some steam, Leary continues:
"Oriental philosophy is profoundly pessimistic, cynical, stoic, and passive. Before modern scientific technology expanded the scope of human perception there was, indeed, no place to go and nothing new. The same old body cycle – circles of birth, aging and death. Stay detached from the outer world, because there is nothing you can do about the relentless leveling entropy of age."
Here, Leary ascribes the dead-end view of earthly life that is characteristic of Buddhist and Hindu philosophy to a lack of scientific insight. Examining the other side of the tautological equation may reveal another truth, however – that the adoption of a dead-end view of earthly life stifles the development of scientific insight. Either way, of course, the Orientalist view that one should "stop the world and get off" seems ill-adapted to humanity's future, which places us in control of spaceship earth, in control of our genetic future, and powerfully in need of a vision that accommodates wholesome, unlimited growth.