WE BE TRIPPIN' WITH UMA'S DAD, AKA BOB THURMAN, "THE MONK", by Charles and Tara Carreon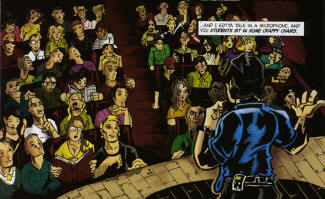 Did you ever notice how nobody ever heard of Bob Thurman, even though he was the first monk ordained by the Dalai Lama, until a short time after Uma showed her tits to the world in Dangerous Liaisons? You remember that scene, where John Malkovich, long before "Being John Malkovich," writes Glenn Close a nasty letter using Uma's perfect spine, as in naked, for a handy writing surface, complete with quill and nasty remarks. We had to wait until Geoffrey Rush chased Kate Winslett through an insane assylum for a scene of similar power. But I'm getting distracted from the main point -- Uma's tits. These are the spheres from which Bob really launched his assault on reason and sanity, and well empowered for the task they were. Just one look and we all knew that monk-shit was bull-shit. This man has great taste in ass.
Okay, Charles composed the foregoing, but now the torch passes to me, and I want to burn this little pig right in his house of sticks. Yes, this is the big bad wolf of liberation here to call Bob Thurman out. No, I don't need to, which is what this post is all about. Over a year ago I posted my expose of the truly empty nature of Bob's book "Inner Revolution," the "Brother Where Art Thou?" feel-good hit that everybody bought, nobody read, and for which we were none the worse.
Frankly, I was disappointed when all the spit-ballers on the Trike board did nothing to defend Bob. I thought they'd feel like I was torching their huts, but they displayed little or no concern about my revelation of the vacuity of Bob's life work. Comments like "Who cares what Thurman thinks anyway?" rained down hard and fast, drenching my parade. I had to move on to other issues that had more incendiary qualities.
But I dare say, like a stray marijuana seed that will poke its little serrated leaves up in the dirt outside the teacher's lounge, my irreverent critique of Uma's dad seems to have taken root. I mean, it's not every day a major cult monthly that retails in the food coop for $8.95 devotes eight precious full-color pages that could be devoted to Elizabeth Clare Prophet's global campaign for cash concentration to a cartoon that seems to lampoon the hell out of "The Fantastic Buddhaverse of Robert Thurman."
I loved it so much, I've transcribed it here for you from the Fall/Winter Issue of Andrew Cohen's "What is Enlightenment" magazine. Check it out, but before you walk through the grocery line. It will take a few minutes to read, or rather to "experience" what the author calls "another dimension, an alternate reality in which contemporary notions of spiritual transformation...mix and mingle with the mythic, the miraculous, and the other-worldly." Which is just what Charles says about Uma's tits.
Fantastic Buddhaverse of Robert Thurman

What is Enlightenment?, Fall/Winter 2002

Illustrated by Nadir Balan

WHEN YOU BECOME A BUDDHA, YOU'RE NO LONGER JUST A BEING INSIDE THIS SKIN...

SO FOR EXAMPLE, I'M A TEACHER, AND I HAVE TO GO TO SOME CRAPPY COLUMBIA CLASSROOM...

...AND I GOTTA TALK IN A MICROPHONE, AND YOU STUDENTS SIT IN SOME CRAPPY CHAIRS,

BUT IF I WAS A BUDDHA, THE CHAIRS WOULD TEACH YOU, THE ROOM. THE SHOES, THE CLOTHES, EVERYTHING!

I WOULD SURROUND YOU WITH PEDAGOGICAL DEVICES. DO YOU KNOW WHAT I'M SAYING?!

BECAUSE I WOULDN'T JUST BE STUCK STANDING UP OVER HERE ON THE STAGE GIVING A TALK; I WOULD BE A WHOLE CLOUD OF THINGS!

THE MOMENT IN A BEING'S EVOLUTIONARY CONTINUUM WHEN THEY DECIDE THAT THE UNIVERSE HAD BETTER HAVE A HAPPY ENDING, AND THEY'RE GOING TO SEE TO IT...

...AND THAT HAPPY ENDING IS FOR THEM AND EVERYONE ELSE TO BECOME A COMPLETE BUDDHA, THEN THEY TAKE THE BODHISATTVA VOW. "I'M GOING TO BECOME A BUDDHA AND I'M GOING TO SAVE BEINGS." I'M GOING TO DO IT!" IT'S NOT JUST A LITTLE SELFLESS THING. "I'M GOING TO DO IT!"

AND IT'S KIND OF AN EGOTISTICAL ALMOST MEGALOMANIAC THING THAT A BODHISATTVA DOES. THEY GET SO PASSIONATE THEY CAN'T STAND TO WAIT FOR A LONG PERIOD OF EVOLUTION TO SAVE OTHER BEINGS...

...SO TO SPEED UP THE PROCESS, THEY SHIFT INTO THIS VERY DANGEROUS, SWIRLING VIRTUAL REALITY, IN ORDER TO CHANGE FAST.

THIS IS TANTRIC HIGH-TECH METHODOLOGY!!

IN THAT REALM, YOU HAVE TO ACTUALLY GO THROUGH THE SELF-TRANSFORMATION OF GIVING YOUR LIFE TO OTHER BEINGS.

LIKE A THOUSAND TIMES IN A NIGHT.

A GUY LIKE THE TIBETAN YOGI, MILAREPA, HE'S IN A CAVE THERE, BUT ACTUALLY HE'S IN A VIRTUAL PLANE AND IT'S LIKE HE'S DOING ONE OF THOSE TRAINING PROGRAMS FROM THE MATRIX.

AND IT'S INCREDIBLY DANGEROUS. YOU'RE DOWN THERE SWIMMING IN YOUR UNCONSCIOUS AND YOU'RE BRINGING UP THESE DEEP ENERGIES AND YOU'RE SORT OF REDESIGNING YOUR GENES...

...AND YOU COMPRESS YOUR EVOLUTION IN THIS INCREDIBLY HIGH-TECH WAY.

YOU HAVE TO GO THROUGH A DEATH-REBIRTH, WHICH MEANS TO DEVELOP THE FORM BODY OF BUDDHAHOOD, AND INSTEAD OF THREE INCALCULABLE EONS OF EVOLUTIONARY EXPERIENCE AND SELF-TRANSCENDENCE...

YOU CAN DO IT IN ONE LIFETIME--IF YOU'RE A SUPER-DUPER PERSON!

BUT IF YOU DON'T HAVE THE FOUNDATION FOR TANTRA, WHICH IS KNOWLEDGE OF SELFLESSNESS, THE ABILITY TO LET ANY STRUCTURE OF SELF DISSOLVE--EVEN THE MOST POWERFUL, THE MOST MAGNIFICENT, THE MOST BEAUTIFUL STRUCTURE OF SELF--

--YOU'LL BE REBORN AS A TITAN OR A DEVIL OR SOMETHING.

THE BODHISATTVA COMPLETELY MASTERS THE WHOLE ART OF MANIFESTATION THROUGH THE MAGIC BODY...

...WHICH IS LIKE A DIGITAL RESIDUAL SELF-IMAGE IN A VIRTUAL, SAMADHIC REALM WITHIN A MANDALA, WHICH IS A PROTECTIVE FORCE FIELD IN WHICH TO VOYAGE TO INNER UNIVERSES. AND THIS IS ALL A REHEARSAL FOR DEALING WITH THE OUTER UNIVERSE.

SO, SAY YOU WANT TO GO AND REHEARSE SAVING SOME BEINGS FROM HELL. THEN YOU MIGHT WANT TO MEDITATE ON SOME FIERCE DEITY WITH MANY ARMS AND WEAPONS AND DIFFERENT HEADS LOOKING IN ALL DIRECTIONS...

...AND THEN, IN YOUR IMAGINED BODY, LIKE A PEACE WALKER WEARING THE MISSILE MAN SUIT...

YOU GO INTO HELL,

AND GET THOSE DEMONS OFF THE BACKS OF PEOPLE

...AND COOL THINGS DOWN--BRING A FIRE HOSE, WHATEVER IT TAKES!

OR YOU COULD BE A BEING THAT IMAGINES ITSELF AS FOOD,

AND WHERE THERE ARE HUNGRY AND THIRSTY PEOPLE, YOU'D STREAM CARROT JUICE AT THEM FROM YOUR FINGERTIPS, OR POTATOES, AND WOULD COMPLETELY FEED THEM. BY DOING THAT YOU FEED MILLIONS OF PEOPLE AND YOU GAIN THE MERIT OF FEEDING ALL THOSE BEINGS.

SO YOU'RE ACCELERATING THE ACCUMULATION OF MERIT THAT WOULD OTHERWISE TAKE LIFETIMES TO ACCUMULATE AND YOU'RE DOING THIS IN THE NIGHT IN YOUR DIGITAL MAGIC BODY.

WHEN YOU GET THAT KIND OF MERIT...

...YOU DEVELOP THE STABILITY OF MIND AND HAVE THAT LEVEL OF ART AND CREATIVITY TO BE ENGAGED WITH THE WHOLE WORLD SYSTEM.

THEN YOU BECOME A BUDDHA!!

A BUDDHA CAN MANIFEST ALL KINDS OF INCARNATE FORMS AND SEEMINGLY INDIVIDUATED FORMS, TO BECOME A DISCREET MANIFESTATION THAT OTHER BEINGS CAN PERCEIVE. THEY EMANATE AN INDIVIDUATED FORM THAT ANOTHER PERSON CAN THEN RELATE TO IN ORDER TO GET THAT PERSON TO REALIZE THEIR OWN TRUE NATURE.

BUDDHA WILL BE A PARROT IF THAT'S WHAT IS NEEDED.

IF SOMEONE IS SO FRIGHTENED OF THE WORLD THAT ALL THEY CAN DO IS PET A DOG, THEN THE BUDDHA WILL BE A DOG, AND JUST GO AND GET PETTED. THEY WON'T EVEN SAY THE DHARMA OR ANYTHING.

AND TO BE A REAL GURU YOU HAVE TO BE CLAIRVOYANT, BUT NOT FOR YOUR OWN SAKE.

LET'S SAY THE GURU WAS TEACHING SOMEONE AND AT THE SAME TIME THEY WERE AWARE OF EVERY WAY THAT PERSON WAS PERCEIVING THEM...

...A REAL GURU WOULD BE AWARE OF EVERY THOUGHT IN THAT PERSON'S MIND....

...AND OF HOW THAT PERSON WAS INTERPRETING EVERYTHING THEY WERE SAYING...

IF YOU WANT TO BE A TRUE TEACHER YOU HAVE TO DEVELOP THOSE ABILITIES.

SO ENLIGHTENMENT IS WHERE YOU CONSCIOUSLY INHABIT WHATEVER LEVEL OF BEING YOU WANT BECAUSE YOU'RE NO LONGER A PRISONER OF ANY PARTICULAR BODY.

YOU CAN FORM BODIES OUT OF AIR, OUT OF MOLECULES, OUT OF COSMIC RAYS, AND YOU'RE TOTALLY INTERFUSED WITH EVERY BEING---

--TO AN INFINITE EXTENT! YOUR BODY IS LIKE A BACKGROUND RADIATION, NOT PERCEIVABLE BY OTHER BEINGS, YET IT'S INTERFUSED IN THE CELLS AND BEING OF OTHER BEINGS.

I'M NOT TALKING ABOUT ETERNITY OR IMMORTAL LIFE IN SOME NICE SENSE, LIKE UP ON GO'D SHELF, DANCING IN THE CHOIR WITH BEATRICE, LIVING IN THE BRAHMA REALM JUST LOUNGING AROUND IN ENERGY FIELDS, I MEAN BEING EMBEDDED FOREVER IN THE NITTY-GRITTY OF LIFE WITH EVERY OTHER BEING.

ACTUALLY, IF THE LUNATICS HAD ALL-OUT NUCLEAR WAR TODAY...

...BUDDHA COULD PRODUCE ANOTHER PLANET IMMEDIATELY IN A NEIGHBORING GALAXY AND FUNNEL EVERY SOUL THAT WAS DESTROYED!

SO THE WHOLE WORLD BECOMES AN EXPRESSION OF THE BUDDHA'S WISH TO TEACH BEINGS, AND THERE ARE ENDLESS BEINGS, SO THE BUDDHA WOULD BE A WHOLE CLOUD OF THINGS...A BUDDHAVERSE!!

AND THE BUDDHA WOULD BE ACTUALLY UN-LOCATABLE. TOTALLY UN-LOCATABLE, AND TOTALLY PRESENT AT ALL TIMES WITH ALL OF US COMPLETELY RIGHT HERE AND NOW, FOREVER ENGAGED.

THIS IS WHAT THEY SAY. IT'S A LOT OF FUN TO THINK ABOUT ACTUALLY. BUT I KNOW IT'S A LITTLE INCREDIBLE. IT'S SUPER SCI-FI!