WILLIAM GIBSON'S DYSTOPIAN EPIC: NEUROMANCER, by Charles Carreon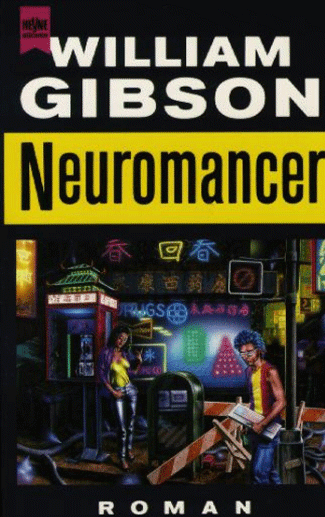 The cyber-age began in 1984, when Canadian author William Gibson knocked out his first cyberpunk epic, Neuromancer, on a standard-issue typewriter. Some years later in an interview Gibson explained that he'd never been able to afford a computer until after he sold the book, and his first Apple frightened him so much with its floppy drive that sounded like "a toaster farting" that he took it back to the shop, thinking it was malfunctioning. The people there explained how the disk drive worked, and that it was noisy, and it totally blew his perception about computers. He figured he was lucky he hadn't realized there was a clunky Victrola mechanism hidden inside your average computer or he wouldn't have been free to imagine a smooth, crystal deck like the Ono-Sendai unit operated by our man, Case.
Case is precisely that punk born in the Sprawl, aka BAMA, the Boston Atlanta Metropolitan Axis who winds up hard on his luck in Night City, a dark place in Tokyo. A dark place illumined only by a tavern called Chatsubo, "The Chat," run by Ratz, a proprietor who will brook no homicide on his premises. Ratz lends emphasis to his edicts by crushing plastic ashtrays in his mechanical claw. His Brazilian bartender wields a high-tech repeating shotgun to underscore the gravity of the situation. And that's just when friends run into each other after a short absence, in Night City.
Case comes from tech royalty. "Case was twenty-four. At twenty-two, he'd been a cowboy, a rustler, one of the best in the Sprawl. He'd been trained by the best, by McCoy Pauley and Bobby Quine, legends in the biz. He'd operated on an almost permanent adrenalin high, a byproduct of youth and proficiency, jacked into a custom cyberspace deck that projected his disembodied consciousness into the consensual hallucination that was the matrix. A thief, he'd worked for other, wealthier thieves, employers who provided the exotic software required to penetrate the bright walls of corporate systems, opening windows into rich fields of data."
Sounds great, right? Into each life, some rain must fall. Case's hyper-adventure is over. Former friends have blocked his access to cyberspace by dosing him with a "wartime Russian micotoxin" that caused "minute, subtle, and utterly effective" damage to his nervous system. "For Case, who'd lived for the bodiless exultation of cyberspace, it was the Fall."
Case is in Night City because he's blown his wad trying to buy a cure in Chiba, the black market of medical high tech in Tokyo. As Gibson describes it:
"Synonymous with implants, nerve-splicing, and microbionics, Chiba was a magnet for the Sprawl's techno-criminal subcultures. *** In Chiba, he'd watched his New Yen vanish in a two-month round of examinations." Case ends up living in the cheapest coffin down by the wharf, where arc lights shine perpetual glare. He can't jack into the Net, he's hustled himself down to the lowest level, and Night City has brought out the worst in him fast: "In the first month, he'd killed two men and a woman over sums that a year before would have seemed ludicrous."
Of course, things have to get worse before they get different. Case gets his cyber-access restored when an Artificial Intelligence decides it needs his talents to pull off a heist at the elite Tessier-Ashpool space station. Case's job is to pierce cybersecurity. Soon he meets his partner, the very hot Molly, a razorgirl who bought her claws with money saved from gigging as a "puppet," renting her body as a cybersexslave for paying corporate johns. Molly deals with real-world threats, like people with guns and muscles, often while Case snoops through a neural interface that lets him see and feel what Molly is experiencing.
The Artificial Intelligence, named "Wintermute" (cold and silent) first communicates with Case through a physical agent named Armitage, who is really just a roped-together construct of a man, mostly bio-engineered, built around the thorax and brain of a demolished soldier. Once Case's cyber-passport is restored, Wintermute visits Case in cyberspace, appearing as sundry characters from Night City. Armitage lays out the deal. Case is a cyberspace cowboy again, but it's got a time limit. The same surgeons who fixed him planted sacs of the same toxin in little sacks inside his veins, and they'll flood his system with deadening poison if he doesn't get his job done. So our boy has incentive.
Along the way to the Tessier-Ashpool space station, aka "Villa Straylight," Case and Molly stop off in Zion, a reggae space station, mon, where they hook up with Maelcum and his space-tug, a solid rig shaped like a tin can. Maelcum is handy wi' a shotgun, and not afraid to show it, also a peaceful bruddah who can be trusted.
In Straylight, some strange things are available to be seen. Case watches through Molly's eyes, as she works her way through the space station. We run across a little high-tech incest, between rich people and clones of their children. We view an impressive display of 3-D Psycho-holographic talent from the heiress 3Jane's boyfriend, Peter Riviera. Peter has some issues left over from growing up feral in the post-nuclear ruins of Bonn, however, so his projections are rather apocalyptic:
"A dark wave of rubble rose against a colorless sky, beyond its crest the bleached, half-melted skeletons of city towers. The rubble wave was textured like a net, rusting steel rods twisted gracefully as fine string, vast slabs of concrete still clinging there. The foreground might have once been a city square; there was a sort of stump, something that suggested a fountain. At its base, the children and the soldier were frozen.
***
Children. Feral, in rags. Teeth glittering like knives. Sores on their contorted faces. The soldier on his back, mouth and throat open to the sky. They were feeding."
These kinds of images are sprinkled through the novel. It's how Gibson gives us these meta-glimpses into the near-future. As always, the question is -- shall we fulfill or avoid these futures? Did we miss 1984, or twenty-two years later, did we miss the fact that it came without our noticing?
There's much in William Gibson's world that is dazzling, stimulating, and much that eats right into your core fears. For myself, I am always left with a feeling of wanting to read about all of it, but wanting to live only the fun parts.