This is Not a Conspiracy: Jon Ronson Draws a Dubious Conclusion in Them: Adventures With Extremists
by Charles Carreon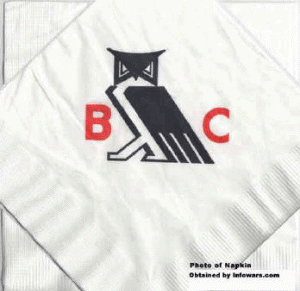 REPTILIAN, SCHMEPTILIAN, THESE GUYS RUN THE WORLD
Does a small group of people run the world? Well, duh. How many people even write their own paychecks? Of course power means leverage, and leverage means many little people turning over a piece of their productive value to the people above them. Multilevel marketing is a notably obvious way of aggregating wealth, but all commercial systems operate that way. You have a little money, and the bank has a lot. No one even has enough money to buy a house without taking out a loan. Of course, Ken Lay could buy your whole neighborhood with pocket change, at least until just the end of last week. And his defense is that he was stupid. Well all I can say is that's some profitable stupidity and few are they that come by it honestly.
This English guy Jon Ronson wrote a book called "Them -- Adventures With Extremists," that I read a few weeks ago. Not bad. I finished it, and without any difficulty, which is saying something since only one out of five books holds my interest all the way through. Life is short, and there's plenty to read, so I like to give books the weight they deserve. This one is worth reading all the way through, according to my inner reader. Check out a few chapters.
THEM: ADVENTURES WITH EXTREMISTS, by Jon Ronson
Ronson is a non-observant Jew who wants to know why a British Islamic fundamentalist, Randy Weaver, Timothy McVeigh, the KKK, David Icke, the publisher of a right-wing newspaper, and a Texas talk show host, all believe that a secret group called "Bilderberg" runs the world. Following leads provided by a wheezing Washington right wing newspaperman, he goes to Portugal to find the Bilderberg meeting. It sounds like it might be a wasted trip, because at the large resort hotel where everyone denies that anything important is happening, nothing appears to be happening. Until suddenly scores of world leaders and financiers suddenly come rolling up the tiny gravel road in cabs and private autos, no security or fanfare or anything, just arriving from everywhere all at once? Ronson has a practiced eye for English, European, and American political and financial eminences, and is blown away by the parade. Then they were followed. He was scared. The British embassy tells them to stay calm.
The book is ostensibly about the extremists, but Ronson is really looking for Bilderberg. He's hanging out with the extremists, because they want to do it, too. They jointly set out to penetrate the yearly bash at the Bohemian Grove, where apparently about a thousand world bank and military-industrial complex cronies get together in a gigantic park like campus done up in full frat party theatrical style with great big stone owls everywhere, and swimming and champagne and shindigging with the tunes crankin'. Then they have a great big theatrical ceremony where they incinerate an effigy of "Dull Care" and then whoop and holler and get it on big time. Apparently this puts a strain on the local working girls, so they jet in a substantial contingent from Reno and the Bay Area.
The evidence-gathering throughout this book is good. Ronson has a cool-headed way, and occasionally finds himself walking the edge of violence, at one time with a bunch of hostile Islamics in England at a Jihadi camp, and later, with a bunch of white racist punks in Idaho. Being Jewish was the problem, both times. The Klan is much nicer, really, even the hateful ones. And the nice ones are truly Sara Lee sweet. Not like the old Klan at all. It's all about lovin' your own sweet, white ass.
The "extremist" portrayals are pretty human. Randy Weaver sounds like a man who's learned the lesson of a lifetime, and hasn't got all that much intellect anyhow. David Icke, a top-shelf British telly personality who morphed into a reptilian-outer, is shown fighting a pitched battle with left wing Vancouverites in British Columbia, who mobilize Canadian Customs to try to seal Icke out of the country on the grounds that "reptilians" are actually "Jews" in a secret "code" that Icke uses to "spread hate." That sounds Canadian, doesn't it? Liberal, but.
Ronson talks a lot about the B'nai Brith Anti-Defamation League, which has a lot of clout shaping public opinion. A hell of a bruiser of an organization, you do not want them to call you an anti-Semite. Even me. I just went to my first Bar Mitzvah last weekend. I loved it. There must be a Yiddish word for the feelings that overcame me. The ceremony was fun, and the food was great. Now I want to go to an Arab wedding, one that doesn't get strafed by an Apache helicopter, of course. We'll hold it at the Ashland Gun Club, for safety's sake, so that the celebratory firing of AK47s won't attract an antiterrorist response. In fact, I think I'll call the Gun Club president about it. We can wear turbans and fire .308 ammo all night long.
Yeah, I love Southern Oregon. I saw a bumpersticker that said "Charlton Heston is My President." I figured it was possible he was in agreement when he saw my bumpersticker, that says "Bush Knew."