Fake News, Self-Censorship and the Three Stupid Monkeys
by Charles Carreon
December 10, 2016
NOTICE: THIS WORK MAY BE PROTECTED BY COPYRIGHT
YOU ARE REQUIRED TO READ

THE COPYRIGHT NOTICE AT THIS LINK

BEFORE YOU READ THE FOLLOWING WORK, THAT IS AVAILABLE SOLELY FOR PRIVATE STUDY, SCHOLARSHIP OR RESEARCH PURSUANT TO 17 U.S.C. SECTION 107 AND 108. IN THE EVENT THAT THE LIBRARY DETERMINES THAT UNLAWFUL COPYING OF THIS WORK HAS OCCURRED, THE LIBRARY HAS THE RIGHT TO BLOCK THE I.P. ADDRESS AT WHICH THE UNLAWFUL COPYING APPEARED TO HAVE OCCURRED. THANK YOU FOR RESPECTING THE RIGHTS OF COPYRIGHT OWNERS.
"See no evil, hear no evil, speak no evil." This formulation was first declared to me by some peer at the age of three or four – a veritable wise man he seemed to me – revealing the meaning of the mysterious three-monkey tableux so often encountered among the knick knacks adults accumulated in those days. It was a big revelation: the three monkeys, the first covering his eyes, the second his ears, and the third, his mouth – were a visual representation of the concept. Oh, now that I understood, how wise and virtuous those monkeys seemed. I understood in a flash why they were venerated by so many of the great and powerful big people. They were not taking in, or spreading "evil." These monkeys were definitely on the right side of the game, since everybody knew "evil" was the worst thing of all.
So I was really surprised when I told my dad that I'd realized how important the wisdom of the three monkeys was, and he told me it was a bunch of crap. Nobody, he explained, should keep their mouth shut about evil. If there was evil going on, we needed to find out about it. We needed to see it, hear it, talk about it, and put an end to it. My namby-pamby see-no, hear-no, speak-no-evil pose went up in flames that day, and I've held a grudge against those cowardly monkeys ever since for leading me to make an ass out of myself in front of my dad.
Recently, I heard that an anonymous website had just come up with a list of suspect websites proliferating "fake news" to advance a Russian agenda, and the Washington Post elevated this website to the status of a genuine news-origin certifying authority. I did not bother to be concerned. People who will avoid the blacklisted news outlets are engaged in proactive self-censorship. By supporting the list, they tell everyone in earshot that they aren't hearing or seeing fake news, so it's impossible that they will speak it. Their minds won't be contaminated by fake news, and no one can blame them for spreading it. If the thought police look in their heads, they will find them empty.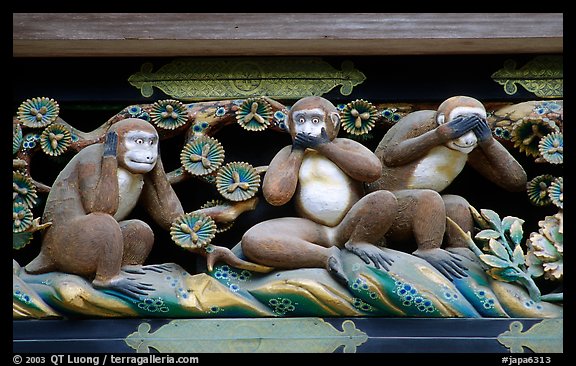 Three-monkey relief carving (hear no evil, see no evil, speak no evil) on Shinkyusha. Nikko, Japan
Fake News (To the tune of "Downtown")

by Charles Carreon

12/10/16

Turn on the TV

Hear the things that they're saying

Well it sounds a lot

Like News

Pick up the paper

Read the things that are written

Well it surely looks

Like News

But now the "Prop or Not" List

Has landed in my Twitter

And Huff-po, WaPo, Daily Beast

They all are in a flutter –

What to Believe?

The Rooskies are under the Bed

The Chinese are here to be fed

This is

Fake News!

Let's see if it's on the list

Oh dear, Look at it right here,

Fake News!

Straight from the Kremlin, they say!

Power's corrupting

And media has power

To sell Fake News!

Now who do you think

Might be in a position

To buy Fake News?

I mean the news is spozed to

Give you all the skinny

The straight dope and the lowdown

And the truly on the level.

Good luck with that!

Citizens United took over your head

Now the screaming liberals

Say Conservatives are Red

This is Fake News

Don't try to sell me this

Fake News

I know this shit's on the list

Fake News

Just stick this right up your ass.

Truth is expensive,

So they use it quite sparingly in

Fake News

Like the sun's in the sky

And there's a base on the moon

You call that Fake News?

Your mind is just a playground

For thoughts of other's making

Your choices like a baby's candy

Right there for the taking.

They have to lie, too

The Rooskies are under the Bed

The Chinese are here to be fed

This is

Fake News!

Let's see if it's on the list

Oh dear, Look at it right here,

Fake News!

Straight from the Kremlin, they say!