A Short Review of "The Water Knife" by Paolo Bacigalupi
by Charles Carreon
June 12, 2017
NOTICE: THIS WORK MAY BE PROTECTED BY COPYRIGHT
YOU ARE REQUIRED TO READ

THE COPYRIGHT NOTICE AT THIS LINK

BEFORE YOU READ THE FOLLOWING WORK, THAT IS AVAILABLE SOLELY FOR PRIVATE STUDY, SCHOLARSHIP OR RESEARCH PURSUANT TO 17 U.S.C. SECTION 107 AND 108. IN THE EVENT THAT THE LIBRARY DETERMINES THAT UNLAWFUL COPYING OF THIS WORK HAS OCCURRED, THE LIBRARY HAS THE RIGHT TO BLOCK THE I.P. ADDRESS AT WHICH THE UNLAWFUL COPYING APPEARED TO HAVE OCCURRED. THANK YOU FOR RESPECTING THE RIGHTS OF COPYRIGHT OWNERS.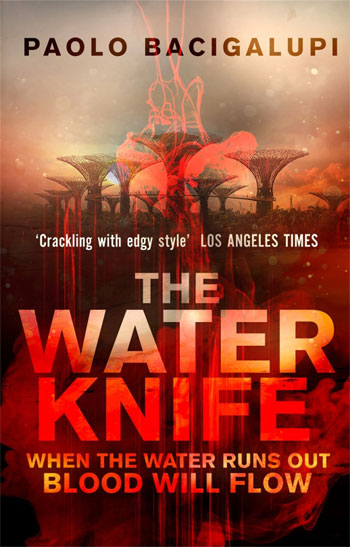 I live in Tucson, Arizona, a town that has basically already dried up and blown away by the time the action goes down in this Climate-Catastrophe dystopian thriller. The action kicks off in the lush arcology of Las Vegas, where the protagonist, Angel Velasquez, works for the Southern Nevada Water Authority as a "water knife," a hit man who works to keep himself living in an air conditioned Vegas arcology. A cool drink of water he's not.
Angel works for Catherine Case, whose job it is to keep Vegas supplied with the water it needs to continue its existence in the parched American Southwest. Angel's first mission is to lead a Blackhawk raid on the little town of Carver City, Arizona, a misbegotten burg that Case has targeted for annihilation by water-deprivation. Angel gets his score, and moves on down to Phoenix in his yellow Tesla roadster to investigate why his fellow-assassin, Julio, has gone silent when he's supposed to be destroying lives and acquiring water rights.
Angel finds Julio, and they head down to the Phoenix morgue to look over the corpse of a man name of Vosovic. We don't know it at this point, and neither does Angel, but Vosovic has been hideously tortured to death by Julio, who is pretending to be scared out of his wits, but is actually colder than a can of Coors, ready to get back to work on anyone who might be able to answer those difficult questions that water knives always have to be asking – who's got the water rights? Torture for fun and profit is a topic that Bacigalupi enjoys exploring. He gets into the details, the
modus operandi
, and it may not make good bedtime reading if your sleep is easily disturbed.
At the morgue, Angel meets Lucy, a journalist who is always a little too curious for her health. Lucy is at the morgue looking for the corpse of one of her sources, James, a water-rights lawyer who thought he had found his ticket out of Phoenix somewhere in a stack of old paperwork. Digging through old, dusty water rights on an Indian reservation, James found some rights so old they'd been forgotten by everyone, so senior that only God could assert a claim of priority. Not surprisingly, James has been tortured to death in a manner identical to Vosovic – so relentlessly that he's bitten off his tongue in an effort to end the ordeal.
Like a negative Grail, James' water rights are deadly to anyone who touches them, and the bodies keep piling up. Amidst a landscape crowded with Texans dying of thirst, paying whatever the market will bear for water, we meet street trash like Maria and Sarah, whose daily existence is to be stalked by gangsters working for "the Vet," a psycho who keeps jackals as pets and feeds them people – people like Maria and Sarah, or anybody who doesn't pay rent to him for the privilege of selling water or skin on his dusty gang turf.
You can guess that Angel and Lucy are going to get hooked up, and that either Sarah or Maria, or both, will get dispatched by the Vet's gangsters, but you'll never anticipate all of the twists and turns as these characters orbit the black hole of greed that surrounds the water rights James died for. Embedded in the book is another book – Mark Reisner's
"Cadillac Desert,"
a serious work about the feckless exploitation of the rivers and aquifers of the Southwest by rapacious farmers and bureaucrats, the ancestors of Angel's boss, Catherine Case. A first edition of Cadillac Desert is found on the bookshelf of every educated person who has the misfortune to inhabit the pages of Bacigalupi's sad and prescient tome. I think he is suggesting that it's high time we all read it. But I must admit, I started Cadillac Desert a few years back, and never finished it, opting to watch a rental copy of the multi-part PBS series that, somehow, hasn't yet made it into DVD format.
I don't know if The Water Knife will get turned into a movie, but it would be educational if it didn't just devolve into a splatter-fest. After all the blood and the dust settles, the lesson that Bacigalupi is trying to get across is simple: there are two types of people. The first group of people see the ugly truth that humans have badly fucked up, and we are all going to pay the price. The second, much larger group, keeps believing the happy horseshit shoveled our way by the politicians and the media. I'm not sure we have a choice in what group we are in, but you could always kill your TV if you don't want to be in the second group.