Spy vs. Spy: Pan Am 103 -- To Be Onboard Was Not to Be Onboard
by Charles Carreon
August 30, 2009
NOTICE: THIS WORK MAY BE PROTECTED BY COPYRIGHT
YOU ARE REQUIRED TO READ

THE COPYRIGHT NOTICE AT THIS LINK

BEFORE YOU READ THE FOLLOWING WORK, THAT IS AVAILABLE SOLELY FOR PRIVATE STUDY, SCHOLARSHIP OR RESEARCH PURSUANT TO 17 U.S.C. SECTION 107 AND 108. IN THE EVENT THAT THE LIBRARY DETERMINES THAT UNLAWFUL COPYING OF THIS WORK HAS OCCURRED, THE LIBRARY HAS THE RIGHT TO BLOCK THE I.P. ADDRESS AT WHICH THE UNLAWFUL COPYING APPEARED TO HAVE OCCURRED. THANK YOU FOR RESPECTING THE RIGHTS OF COPYRIGHT OWNERS.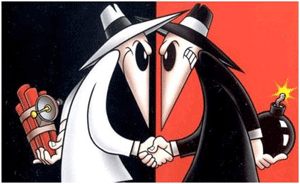 Do spies kill spies? The answer seems self-evident -- spies killing spies is the raison d'etre of spy fiction and spy movies, from 007 to the Good Shepherd. However, what is readily believed when cast as fiction, seems just as readily rejected when proposed as an explanation for real-life events. Take the Pan Am 103 bombing -- can the fact that five secret agents were on board, accompanying a DEA drug mule, on a flight that was mysteriously half-full, a mere four days before Christmas -- be devoid of significance? When the Soviets downed KAL 007 in 1984, the presence of Larry McDonald, President of the John Birch Society, among the dead, was considered to have great significance. But five dead spies aboard Pan Am 103 provoked no similar concern. When Pan Am was sued for "willful misconduct" by the families of their dead passengers, its lawyer James M. Shaughnessy subpoenaed the CIA and DEA to obtain information relevant to the case, but never obtained a single page of evidence or a word of testimony, because the Department of Justice argued, and the trial judge agreed, that disclosing the information would endanger national security. The official investigators thus had no access to those sources of information either, and completely ignored the presence of these five international intelligence and security agents, i.e., spies, in attempting to determine the purpose, method, and perpetrators of the bombing. Here are their names and occupations:
Gannon, Matthew Kevin, foreign service officer, 34 years, born August 11, 1954, Los Angeles, California, seat number 14J. (Beirut CIA Station Chief)

McKee, Charles Dennis, army major, 40 years, born December 3, 1948, Arlington, Virginia, seat number 15F. (Defense Intelligence Agency)

LaRiviere, Ronald Albert, 33 years, born November 19, 1955, Alexandria, Virginia, seat number 20H. (Special Agent, U.S. Department of State, Diplomatic Security Service)

O'Connor, Daniel Emmett, U.S. diplomatic service, 31 years, born September 22, 1957, Dorchester, Massachusetts, seat number 25H. (Special Agent, U.S. Department of State, Diplomatic Security Service)

Curry, Joseph Patrick, army captain, 31 years, born March 21, 1957, Fort Devens, Massachusetts, seat number 44K. (Captain, U.S. Army Special Forces)
The presence of these five men aboard a doomed aircraft becomes more puzzling when we know that several other apparently better connected spies and diplomats, and their children, had canceled or "missed" the flight. These people were:
Steven Green, Acting Administrator of the DEA, had a reservation on the flight. Green has described being on the Heathrow tarmac, watching the doomed plane take off. Green later testified falsely before Congress, denying under oath that there were any controlled drug deliveries through Frankfurt Airport in 1988, even though Virginia court records document the deliveries, and a DEA agent has testified being at Frankfurt Airport in 1989, by which time drug traffic was so heavy, DEA liaison agent, Thomas Slovenky, was permanently posted at the airport.

Tom McCarthy, U.S. Ambassador to Lebanon, who, like Gannon, was returning from Lebanon to the U.S., and was booked on Pan Am 103, cancelled his flight.

Pik Botha, South African Foreign Minister, Gen. Mallon, Defense Minister, and Gen. Van Tonda, head of the South African Secret Service, and another twenty (20) delegates on their way to New York to sign the tripartite peace pact between Angola, Cuba, and South Africa, cancelled and took an earlier flight. South African Secret Service had close ties to the Israeli service and also to the Central Intelligence Agency.

The son of Oliver "Buck Revell," FBI Head of Lockerbie Investigation, "missed" the flight. Mr. Revell stated, "My son was in the army stationed in Germany and was due to come back to the United States on that particular flight."
If, unlike the official investigators, you are curious about these "coincidences," you will want to be aware of what the spies were doing on board, and who had booked their flights. One person who is curious, to the point of entertaining deep suspicions, is McKee's mother, Beulah McKee, who told Time Magazine in 1992, "For three years, I've had a feeling that if Chuck hadn't been on that plane, it wouldn't have been bombed. I know that's not what our President wants me to say. I've never been satisfied at all by what the people in Washington told me." Lest you think grief has twisted her perspective, consider another curious person, who has a more professional interest. The following quote is from the same article, entitled, "Did the Secret Team Bring Down Pan Am 103 to Silence Heroin Trade Whistleblower?" in April 1992. "Victor Marchetti, former executive assistant to the CIA's deputy director and co-author of
'The CIA and the Cult of Intelligence
,' believes that the presence of the [five-man intelligence] team on Flight 103 is a clue that should not be ignored. His contacts at Langley agree. 'It's like the loose thread of a sweater,' he says. 'Pull on it, and the whole thing may unravel.'"
So let's give that string a tug, and see what unravels. Gannon and McKee were aboard a connecting flight in Frankfurt, as the personal companions of Nazzie Jafaar. He needed to be watched, because his personal companion was a load of pure Lebanese heroin, that he was delivering to Detroit for the DEA, per the long-standing arrangement between the Agency and his family, whose fine product had been killing Americans for 50 years. In utilizing the Jafaars to procure heroin for use in "sting operations," the DEA had followed the example of Lucky Luciano, the Mafioso who had established an exclusive dealing relationship between the Sicilian and Lebanese criminal families. Gannon's body was found next to Jafaar's, even though Gannon's official seat was in First Class, and Jafaar's assigned seat was in row 53 at the very rear of the plane. A large quantity of heroin and $500,000 cash was found in the wreckage, as were six pistols, which even in 1988, could only be carried aboard commercial aircraft by special authorization, i.e., as the personal sidearm of a spy.
Now, assuming that you were a spy wanting to kill Gannon and McKee, what would your motive be? To answer that question, it helps to know what Gannon and McKee had been doing prior to the bombing, and what they were intending to do had they not been blown out of the sky. Gannon and McKee were working on the unending Lebanese hostage crisis that continued all through the 80's, as a series of Americans and other foreigners were kidnapped and held by Syrian and Palestinian forces in Beirut safehouses. The attempt to recover these hostages led to several U.S. foreign policy disasters, including Carter's failed commando raid and Oliver North's drugs for weapons for hostages deal, that encompassed bartering missiles from the Israelis, hostages from the Syrians and Palestinians, cocaine from Central America, and heroin from Lebanon. North's main man in the middle east was Monzer al-Kassar, a dealer in drugs, weapons, and counterfeit money whose wife was the sister of the Syrian Intelligence Chief, and whose mistresses were the daughter of Syria's president Rifat Assad, and a former Miss Lebanon who had previously been serially married to notorious terrorists, one an associate of Abu Nidal. When Gannon and McKee discovered that the CIA was in bed with an omnivorous snake like al-Kassar, they were furious and bound for Washington with the intent to blow the whistle on what they considered a rogue operation that had put their lives and official rescue mission at risk. Little did they know how right they might have been.
Assuming that the foregoing scenario provides a basis for concluding that other spies wanted to kill McKee and Gannon, who would have had the power to direct them into harm's way? That would have been Micheal T. Hurley, the DEA agent in charge of the Nicosia Cyprus operation, who coordinated his activities with the CIA Special Action Group in Weisbaden, Germany. Despite the fact that the itinerary was communicated through a secure link, Hurley revealed McKee and Gannon's itinerary to the CIA Directorate of Operations in Washington, to MI-6, the British Secret Service, and to SPAG, the CIA Special Action Group. That's a lot of potential enemies knowing the whereabouts of two men who had conceived objections to a plan that, as we know from the Iran-Contra hearings, was planned at the highest levels of U.S. government, in blatant violation of U.S. law.
Next we must ask whether anyone has ever asked Hurley if he targeted McKee and Gannon, and if so, whether he denied it? The answer to the first question is, "yes," because Hurley, apparently not under any secrecy restrictions, posed the question to himself in his book, "I Solemnly Swear." The answer to the second question is, "no," he does not deny it, and merely blusters that those who have questioned his role in the bombing "have a lot of gall." In support of his vitriolic non-denial, Hurley claims that the drugs-for-weapons-for-hostages deal with al-Kassar never existed. Since that claim is a lie, his statement stands as what we call, in the law, a "tacit admission."
One man who knew Hurley, and was well-positioned to judge his professional acumen because he worked for all three of the U.S. intelligence agencies -- the DEA, CIA and DIA -- was Lester Coleman, Defense Intelligence Agent, fluent Arabic speaker, and longtime handler for numerous middle eastern intelligence assets. Coleman, who lived with his family in Cyprus, was so disturbed by Hurley's willingness to traffic in information with virtually anyone, regardless of their lack of trustworthiness, that he withdrew from the operation in May, 1988. The death of Gannon, McKee, and Jafaar on the same airplane also put Coleman on guard for his own safety, because as is recounted in his book, "Trail of the Octopus -- From Beirut to Lockerbie -- Inside the DIA," Coleman knew Gannon and McKee had "switched to Flight 103 through RA Travel Masters of Nicosia, the DEA's travel agents on Cyprus." For making this, and similar observations, Hurley sued Coleman in England, and got "Trail of The Octopus" suppressed by settling with his publishers, who agreed to take the book off the shelves.
"Trail of the Octopus" was recently published for the first time in the United States in August 2009. In the book, Coleman wondered whether his supervisor Bill Donleavy, whose true name he had never known, might in fact have been Matthew "Kevin" Gannon, because his password/countersign combination had always been to tell his contact "Hello, I'm a friend of Bill Donleavy's," which would be reciprocated with "I don't know any Bill Donleavy," whereupon he would reply, "His friends know him as Kevin." Then after an old-time spook walk involving trips on random subways, double-backs, and trips through hotel laundry rooms, he would be ushered into Donleavy's presence. These charming routines were disrupted forever after the downing of Pan Am 103. The next time DIA "control" reached out to him was after Coleman appeared on the NBC Nightly News with Tom Brokaw, talking about the bombing. It wasn't Donleavy calling, but a new contact who called himself "Miller," who reprimanded him for speaking out of school, and gave no explanation for why Donleavy hadn't made the call.
Finally, in addition to Hurley, another spy has been identified who passed information about Gannon and McKee's itinerary to persons who shouldn't have had it. That was David Lovejoy, an arms-dealing CIA-agent with many other aliases, who might also have been an Iranian double-agent, and was definitely an associate of Monzer al-Kassar, and aided Oliver North's efforts to supply illegal arms to the Contras. James M. Shaughnessy, Pan Am's defense lawyer, has said that four investigative journalists told him they had listened to surveillance tapes garnered from phone taps on the Iranian embassy in which Lovejoy gave the Iranian charge d'affaires details on the movement of the five-man CIA/DIA team that planned to fly home on Pan Am 103. Lovejoy's status within the CIA, and the damning events, cannot be doubted. He was a member of the CIA Special Action Group, and in that capacity, met Nazzie Jafaar upon his arrival in Germany, and transferred him to other CIA Special Action Group agents, who shepherded him through Frankfurt airport security and delivered him to Gannon's custody.
In summary, several spies were killed on Pan Am 103, and a large number of people with connections to the security establishment caught other flights, after being initially booked on 103. Can you imagine if Gannon, McKee, LaRiviere, O'Connor and Curry had known that Green, McCarthy, Pik Botha and his entire entourage, had changed their reservations at the last moment, that they would have flown on that half-empty plane, three days before Christmas?
One final question you might want answered -- were there any warnings that a bomb would be placed aboard an airliner during the winter of 1988? The answer is "yes." There were at least eight. The Pan Am 103 plaintiffs submitted proof of several warnings as evidence that Pan Am was negligent in failing to take greater care when inspecting luggage. You may surmise that if the generalized warnings were that obvious, that many in the "intelligence community," especially those steeped in the eighties milieu of middle eastern guns, drugs, hostages and terrorism, would have known about the plot. If Hurley and his cohorts knew of the plan, then pushing McKee and Gannon aboard the doomed aircraft would just be a "twofer." Since a plane loaded with innocents was going to go down anyway, they might as well put a few troublemakers aboard. "Trail of the Octopus" recounts many exchanges with Donleavy and others in which it became clear that the DEA/CIA's careless style of operation had come in for criticism, and that higher-ups in the DIA wanted them shut down. These are quoted below.
"Trail of the Octopus -- From Beirut to Lockerbie -- Inside the DIA, by Donald Goddard and Lester Coleman" wrote:

'This CBN thing is getting to be a real pain in the ass.' Donleavy said. 'So is Ollie North and that whole damn bunch of kooks and weirdoes. We got this lightbird colonel running around loose, telling two and three-star generals what to do, and they're getting pissed off about it. So don't be surprised if we pull his plug. Starting with this cockeyed deal with the Hoobaka bunch. We want you to close 'em out, old buddy. Nothing sudden, nothing dramatic -- we don't want to make waves. Just let it die from natural causes, okay? Let 'em get on with it, but from now on, things should start to go wrong.'

***

Donleavy's strictures about keeping away from the embassy had focused particularly on the risks of associating with the Drug Enforcement Administration's 'cowboys', the DIA's contempt for the CIA under William Casey being exceeded only by its detestation of the DEA.

***

If Hurley asks you again if you can do something for him,' he said, 'tell him, okay. Otherwise he's going to get suspicious. But you don't tell him Condor is a DIA operation or let him think you're with DIA HUMINT. And under no circumstances do you tell him about any assets we have in place in Lebanon. If he wants to know who your contacts are over there, make 'em up.' 'Just string him along until we get things squared away. There could be a positive spin to it because now you can keep an eye on Hurley for us. We've been picking up some bad vibes on that guy. But watch yourself. That whole bunch is into cowboys and Indians. Just don't get too close.'

***

'You know, buddy, you don't have to do this if you don't want to,' Donleavy said. 'Those guys are bad news. Anything goes wrong, they'll just leave you face down in the shit.' 'The DEA, hell -- it's just one big mistake. Which is why we want you out there. To keep an eye on 'em.'

***

They WERE cowboys. Rock'n' roll cowboys, with beards, long hair, leather boots and jeans -- the embassy people couldn't stand them. Not their sort of bridge partners at all. And to see 'em hanging out upstairs with the spooks in their tennis shorts -- God, what a picture. America in action overseas.

***

But nobody could tell Hurley what to do. Not Connie, not me and certainly not anybody in Washington. They were all assholes at DEA headquarters, according to Hurley. They'd never understood him or what he was trying to do, he once told me.

***

'Okay,' said Donleavy, putting the pad away in his briefcase. 'You're all set. Now here's the national emergency.'

He produced a Mattel Speak 'n' Spell toy computer, and Coleman sat down slowly.

'What the fuck is this? Some kind of joke?'

'No joke, buddy.' Donleavy was deadly serious. 'I want you to take this out to Tony Asmar.'

'Come on, Bill. Are you kidding me? I'm risking my marriage for this?'

'Remember a year ago?' Donleavy said. 'When you pulled the plug on CBN and the Contra deal? Well, this is it. The bottom line. This is where you get to wrap the whole thing up.'

'With that?'

'Yep.' He patted the toy. 'You got a little something extra in there.'

'Great.' Coleman weighed it in his hand suspiciously. 'It's not going to blow up on me, is it?'

'Nothing like that. We put in an extra chip, that's all. When you sit down with Tony, punch in your code word, he'll punch in his, and you'll retrieve the data we loaded in. He'll know what to do with it.'

'Oh, God. Suppose I forget the code word. You know what I'm like with those things.'

'You won't forget this one. You're from the South. What's the Southern slang word for peanut?'

'You mean, goober?'

Donleavy beamed.

Next day, Coleman flew to Heathrow with the camera equipment and the Mattel Speak 'n' Spell, arriving on the morning of 6 September. From there, he took a direct flight to Larnaca, Cyprus, and after four hours' sleep, caught the midnight ferry to Jounieh. Asmar's fiancee, Giselle, Mary-Claude's sister, met him off the boat, and as it was now Sunday, they joined the family for lunch at their house in Sarba.

On Monday, 8 September, Coleman got to work with Asmar in his office at Karintina. After testing the video equipment, they sent Asmar's volunteer cameramen off to start shooting the locations Control had specified in the western sectors of Beirut, places where, Coleman assumed, the hostages were being held. They then put the Speak 'n' Spell on Asmar's desk, set it up in accordance with the maker's instructions, and punched in their code words.

Out poured a detailed account of visits made by Robert McFarlane and Lt-Col. Oliver North to Iran, traveling on Irish passports, to organize the sale of TOW missiles and launchers to the Iranian government in exchange for the release of American hostages; details of money transfers and bank accounts, with dates and places -- most of it based on incidents and conversations that could only have been known to the Iranian or American negotiators.

'My God,' said Coleman. He had known North was seriously out of favour at the Pentagon, but here was another glimpse into the pit. 'What are you supposed to do with this stuff?'

Asmar looked at him soberly, and Coleman did not press the point.

He left Beirut with the camera equipment and videotapes on 11 September, arriving back in Cyprus on the 12th. Next day, he flew to Heathrow, and after an overnight stop in London, traveled on to Montreal, and from there, as Thomas Leavy, to Baltimore Washington International airport, where he checked in, as instructed, at the Ramada Inn. Donleavy, accompanied this time by another agent, arrived there early next morning, the 15th, for a full day's debriefing, and that night Coleman headed south for Alabama to rejoin Mary-Claude at the Lake Martin cottage.

On the 23rd, he began his postgraduate studies as a teaching assistant at Auburn University, and on 2 October, also on schedule, Mary-Claude presented him with a daughter, Sarah.

Meanwhile, one of Asmar's operatives had delivered the Speak 'n' Spell material to a relative who worked for Al Shiraa, Beirut's pro-Syrian Arabic-language news magazine. When the story ran on 3 November, it was picked up at once by the Western media, touching off an international scandal of such embarrassing proportions that President Reagan was forced to act. On 25 November 1986, he fired North, accepted the resignation of Rear-Admiral John Poindexter, McFarlane's successor as National Security Adviser, and spent the rest of his administration trying to dodge the political fallout from Irangate.

'Most people assumed it was the Iranians who blew the whistle on North, McFarlane and Poindexter,' Coleman says. 'Some even said it was the Russians who leaked the story after the failure of the Reykjavik summit. But it wasn't. It was the Pentagon. It was the DIA. It was me, with my little Speak 'n' Spell.'