BIANCA, THE PEOPLE'S CHIEF, by Charles Carreon
August 11, 2005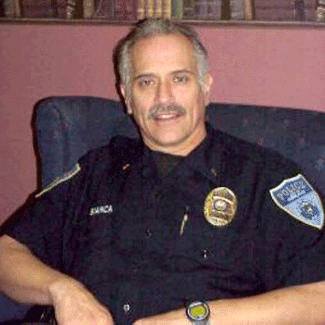 Jeff Golden: "We are not the fringe."
Chief Bianca's Shadowy Enemy
On the last Friday in July, APD Chief Mike Bianca's supporters not only rallied in support of their Chief, they leveled harsh criticism at the secretive group of APD "sworn and unsworn officers" who have targeted Bianca for removal. Oregon law doesn't recognize the authority of an "unsworn peace officer," but that is how some members are described. This paper has been unable to obtain additional information on which of the dissidents are actually APD employees, and which are "hobby cops," because the dissidents hold secret meetings and refuse to disclose their names, claiming fear of retaliation.
Passing the $35,000 Buck
Despite their cloaked identities, the anonymous complainers have been granted credibility by City officials, who have agreed that the cost of passing this buck is going to be $35,000 – the amount of money allocated to hire "outside consultants" to help Chief Bianca communicate with the secretive sworn and unsworn officers. Among other resolutions reached by the crowd at the most recent rally was to present a request to the City Council to not spend that money, and instead simply lend their support to the Chief by affirming his authority over the dissidents.
A Bizarre Complaint Reveals An Alien Psychology
In the eyes of Bianca's supporters, the complaints of the dissidents became absurd when they claimed that the Chief's skillful resolution of a confrontation with a knife-wielding youth without resort to homicide was actually a tactical error that would put future officers in danger. Why? Because, as Officer Teresa Selby stated, the suspect should have been "drilled," failing to note that "drilling" tends to be lethal, and the person that Chief Bianca saved from drilling was a very intelligent local man whose parents are longtime SOU faculty members. This tunnel-visioned focus on "officer safety" to the exclusion of all other concerns was commented upon by many of the speakers, who noted that aside from the Chief and one Sergeant, none of the APD officers are Ashland residents. As more speakers were heard, especially the young people who apparently get the brunt of the APD's acting out, it became apparent that many of them felt that APD cops view Ashlanders as aliens because they do not share their generally liberal political and cultural views.
Cut From Different Wood
Unlike the secret critics who have drawn a bead on Chief Bianca, he is a longtime Ashland resident who worked his way into the job through security in Lithia Park. Once at Garfield Park, the stories about the Chief began flowing from the microphone, making it clear that this cop is cut from a different type of wood than your average Taser-toter. Bianca is gifted with empathy, not usually a characteristic prized by patrol officers, and respects the emotions of bereavement, fear and loss that arise in connection with the traumatic events that life inevitably deals us, and that peace officers are supposed to help us deal with. Unlike many cops, Bianca clearly doesn't crave "action" any more than citizens want trouble with the police. According to Bianca's supporters, he's the right cop for the job, and they actually fear that without his influence, the cops in this town could get rougher, more arbitrary, and even start doing a little drilling.
Lightweight Gear, Plenty of Speakers
Approximately thirty-seven people spoke at the rally once the marchers arrived at Garfield Park, where the Instant Runoff Voting supporters had already set up a table in the shade. The two groups joined forces and agendas, and fired up some amplification when one of the rally organizers, former Deputy DA Charles Carreon, arrived in a bright red, jury-rigged sound truck, flying a hybrid US/Peace flag, plastered with pictures of Bianca. During the march, Carreon's wife Tara piloted the outlandish vehicle up and down the main streets, while Carreon serenaded and peptalked marchers, citizens and anyone who would listen to his impromptu political verses. Some folks look great with a microphone in hand, and all of these people had one thing in mind – getting the City's leaders off the fence and squarely in Chief Bianca's corner. Looking at their faces reminded some folks of 1968.
"Not The Fringe"
NPR Radio host Jeff Golden concluded the rally by responding to one speaker's fear that those present were not important enough to influence the debate: "We are not the fringe, but a true cross-section of Ashland, and all of America." And he should know.