TEAM AMERICA? -- ONE SICK MOVIE!, by Charles Carreon
8:28 pm, August 21, 2005
I looked forward to watching "
Team America
," a puppet-show satire of American foreign policy by "the makers of South Park," even going so far as to actually watch the movie the same night I rented the DVD. Usually I'd rather read, and Tara pushes the movie agenda, but on this night, I had something I wanted to see. But having seen it, I must caution you to handle it with care, like a dead gopher your cat brought you. And please don't leave this around kids. It's loaded with sick ideas that are insidiously communicated using established techniques of subliminal persuasion. It doesn't make much difference that puppets, rather than human actors, collapse in their own vomit, engage in sex that culminates with the girl shitting on the guy's face, hack each other to bits, set others on fire, and are decapitated, detonated and impaled in the course of the movie. Indeed, the effect may be worse than seeing actors engaging in this stuff, because in that case, we'd just turn it off as "too violent." But with puppets, they've got you off guard, and the traumatizing images stun the mind while explicit, implicit, and subliminal notions establish cross-currents of confusion, rendering you vulnerable to the really sick ideas that the creators of the movie want to disseminate.
By using puppets with large heads, about four times larger that a normal adult head, the puppeteers cause us to perceive the puppets as little babies, invoking our instinctive response to find them endearing. Mickey Mouse, Tweety Pie, and Joe Camel also exploit this hard-wired feature of human response to feel protective and emotive toward children. Such characters, that manifest child traits in adulthood, are called "neotenic." "Neoteny is a term in developmental biology that describes the retention of juvenile characteristics in the adults of a species." (Wikipedia entry for "neoteny.") In simpler terms, these puppets are cute. "Cuteness is usually characterized by some combination of infant-like physical traits, especially small size, a large head, large eyes, a small nose, and chubby limbs. … Konrad Lorenz argued in 1950 that infantile features triggered nurturing responses in adults [citing as evidence] that humans react more positively to animals who look like infants — with big eyes, big heads, shortened noses, etc. — than to animals who are less cute. … Another way to phrase Lorenz's point is to say that humans prefer animals which exhibit neoteny." (Wikipedia entry for "Cuteness.") It's traumatic when creatures that we find endearing and worthy of protection are blown up, dismembered, splattered, and burned before our eyes.
However, if we are already laughing when this happens, we may tend to keep laughing even as it happens, telling ourselves that, after all they are just puppets, and it's all just in good fun. Right, like simulated child pornography would be fun. No, the violence in this film is really pornographic because it is so mean-spiritedly directed at movie-industry peace activists. It's not actually funny, or in any way connected to reality, to depict Alec Baldwin, Susan Sarandon, Tim Robbins, Sean Penn, and Helen Hunt, as murderous terrorists who will kill to establish world peace. It's demented to depict Michael Moore, smeared with mustard, waving a hot-dog, a slice of pizza, detonating himself in a suicide bombing of Mt. Rushmore. It's tasteless and disgusting to splatter an effigy of Holly Hunter into a bloody mess, to decapitate Samuel Jackson, and split Alec Baldwin's braincase open to expose the contents, and to repeat the image three times. Serial imagery of extreme death and mutilation of the brain cavity? How hilarious! Sure they're just puppets. But if you found a puppet of you hanging from a rope in your front yard, you wouldn't just think it was a puppet. It would be a threat. This movie is an assault on each of those individuals, an expression of mortal hatred elaborated with millions of dollars of effort to deliver a personal insult and an explicit threat. Shut up, or we'll kill you.
There is nothing to recommend this movie, and life is too short to spend on a movie like this when you could be doing something really worthwhile, like petting your dog, picking your nose, or breaking wind. The thesis of the movie is far too banal and degrading to be worthy of my recounting. While digital ink may cost next to nothing, your time and mine are worth something. My suggestion is to boycott anything the South Park hoodlums produce. Put these shitbags out of business and send them back to the Home for Retarded Republicans who actually are such nerds they think they're cool. And for a minute they had me thinking it, too. Until I realized the joke was on me.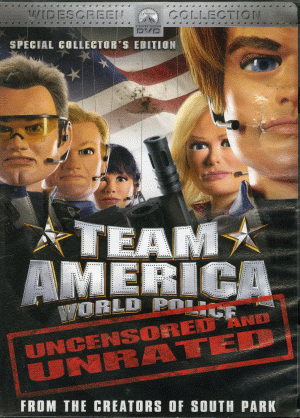 Click here for the Team America Screencap Gallery