IN MEMORIAM, HUNTER S. THOMPSON, GONZO JOURNALIST, by Charles Carreon
2:01 am, February 22, 2005
Hunter S. Thompson wrote:
"Some may say that slow is good–and they may be right on some days — but I am here to tell you that fast is better… It will always be better to be shot out of a cannon than squeezed out of a tube…"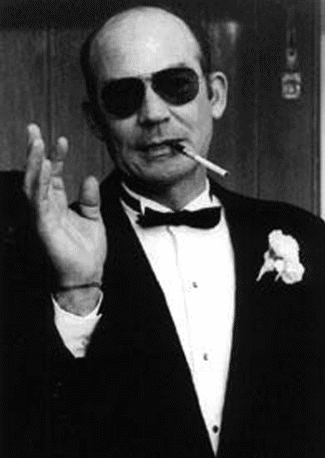 Hunter S. Thompson was a true original, a rebel who would have felt up to drinking with Kissinger, Churchill, Marilyn, Castro, any one of those larger-than-life people. Looking through his eyes, the world looked different. You could feel a crazy grin spreading across your face as he described the process of powerful drugs racing through one's body, or warring g-forces tearing at one's frame while in the throes of some vehicular acrobatic maneuver entirely necessary for a person of the male species.
Whether reporting from Saigon or Las Vegas or the beaches of California or the swirling maelstrom of downtown Chicago, Thompson brought his humanity, his self-lampooning bravado, his reflection of all human sins on himself. If humans did it, he would do it, and tell us about what it was like.
Guns, sex, drugs, booze? Why not, he seemed to say — you only live once and then who gives a shit. Did he mean it? I always wondered. I think I concluded he used his self as a sketchpad to caricature everything he saw in human beings. Before he accused others of sin, he recognized it in himself.
Many speak sentimentally at times like these, but what good will it do? He is gone, and in this way he becomes exactly like everyone else. We shall just have to read his books a little more closely now, and pour a little draught of our libation out in an offering to the souls of all the writers and artists since the beginning of time who have made it interesting to be human.
Farewell, Hunter
Hunter's Last Column — Shotgun Golf With Bill Murray
Gonzo.org — A HST Tribute Site
Dvorak's Blog Eulogy and Many other Thoughtful Remembrances