DID WARLOCK AID KATRINA?, by Charles Carreon
September 21, 2005
How do you stop a bomb from going off if it will be triggered by a single call from a portable cellphone? Don't let the bomb pick up the phone. That's the principle behind Warlock Blue and Warlock Green, technically known as IED jammers, for the Islamic Explosive Devices they're directed at thwarting. They work well, too, and a cell phone jammer is credited with thwarting an assassination attempt on the life of Pervez Musharraf, the Friend of America and Pakistan's Ruler for Life in 2003. Warlock Blue is an upgrade from Warlock Green, that allows defensive jamming across a broader range of frequencies, to thwart sneaky channels who switch frequencies and thus get through to their friend Mr. Bomb despite our best jamming efforts. The Warlocks are small, portable units, but larger ones are available, for other uses, including "communication control during riots." As this ad for the TRJ-89 SERIES TACTICAL RESPONSE JAMMER shows (see below), this unit will tow behind your vehicle and block cell calls in or out up to a radius of five miles. That's helpful when law enforcement are required to deploy "a blanket of radio frequency silence."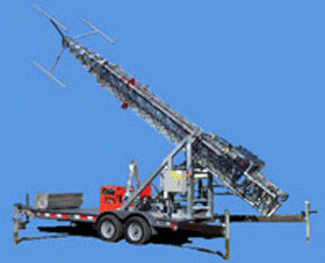 The TRJ-89 model was designed specifically for TACTICAL RESPONSE units required to deploy a blanket of RF silence during the following situations:
a. Explosive device location(s) (bombs)
b. Hostage situations (campus environments)
c. Communication control during Riots
d. Military intervention
The TRJ-89 can be easily towed behind most vehicles, is electrically self sufficient, and has a maximum jamming radius of up to five miles.
According to Wayne Madsen, ham radio operators said communications of specific frequencies were intentionally jammed during the flooding of New Orleans from an "intermittent frequency jammer operating south-southwest of New Orleans aboard a U.S. Navy ship. A former Department of Defense source says the U.S. Army uses a portable jammer known as Warlock in Iraq, and the jammer may be similar to the one that is jamming the emergency frequencies." Whether Madsen is right about the cause of all the cell phone dysfunction in the New Orleans area is difficult to know, unless more disclosures occur. What we do know is that on August 29, 2005, Howard Melamed, CEO of CellAntenna Corp. of Coral Springs, Florida, urged Congress to change the law and let not only the federal government, but also state, county and city law enforcement, buy CellAntenna's cell phone jammers. In Europe and elsewhere, in fact, small jammers are becoming ubiquitous. They're in the Greek subways, Mexican churches, Indian temples, and Tokyo theaters and commuter trains. Could one have been deployed by FEMA and the military in New Orleans? Well, duh. But why would they? Given what we know they did – standing around watching people die while sitting on a mountain of supplies – you'd just have to answer, "Why not?"