SUNSET FOR DOMESTIC SPYING, by Charles Carreon
November 17, 2005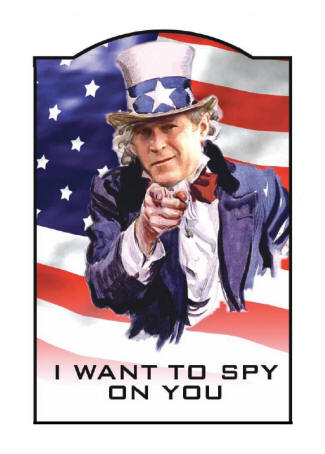 Artwork by Charles Carreon and Jacob Hammond
Anti-Terror Deputy Says National Security Letters Solve The "Chicken and Egg Problem" of Deciding What To Investigate Next
According to a November 6, 2005 article by Barton Gellman in the Sunday edition of the Washington Post, the FBI has been issuing "National Security Letters" at a rate that is a 10,000% increase (one hundred times as many) over past practices. These letters are a fearsome privacy invasion that Congress authorized in the middle of its 911 funk, when the quickest way to be seen as a patriot was to trash civil liberties. All indented quotes are from Gellman's Washington Post article, entitled The FBI's Secret Scrutiny — In Hunt for Terrorists, Bureau Examines Records of Ordinary Americans:
The FBI now issues more than 30,000 national security letters a year, according to government sources, a hundredfold increase over historic norms. ... Issued by FBI field supervisors, national security letters do not need the imprimatur of a prosecutor, grand jury or judge. ... The Bush administration defeated legislation and a lawsuit to require a public accounting, and has offered no example in which the use of a national security letter helped disrupt a terrorist plot.
National Security Letters (NSLs) can be delivered to anyone, require production of any information desired by an FBI agent, and if pending amendments to the authorizing laws are approved, will subject anyone who refuses to comply to criminal penalties. A lawsuit filed by a library employee, who objected to ratting out library patrons for simply sitting at a particular computer, is pending in Connecticut to dispute the authority of the FBI to proceed in this fashion.
The FBI came calling in Windsor, Conn., this summer with a document marked for delivery by hand. On Matianuk Avenue, across from the tennis courts, two special agents found their man. They gave George Christian the letter, which warned him to tell no one, ever, what it said. Under the shield and stars of the FBI crest, the letter directed Christian to surrender "all subscriber information, billing information and access logs of any person" who used a specific computer at a library branch some distance away. Christian, who manages digital records for three dozen Connecticut libraries, said in an affidavit that he configures his system for privacy. ... Christian refused to hand over those records, and his employer, Library Connection Inc., filed suit for the right to protest the FBI demand in public.
The FBI preserves and stores all the information it gathers in a data bank that mixes in data gathered from private data-mining companies like Lexis-Nexis, that has previously admitted revealing altogether too much information to the lawyers and law enforcement agencies that access its database.
In late 2003, the Bush administration reversed a long-standing policy requiring agents to destroy their files on innocent American citizens, companies and residents when investigations closed. Late last month, President Bush signed Executive Order 13388, expanding access to those files for "state, local and tribal" governments and for "appropriate private sector entities," which are not defined.
Assuming that these records that are being accessed can properly be defined as "papers and effects" subject to Fourth Amendment protections, it would appear that the Fourth Amendment is flagrantly violated by this practice, because this hallowed Constitutional provision prevents the issuance of search warrants without probable cause to believe that the target of the search warrant is engaged in criminal activity. Certainly the records of who you talk to, exchange email with, or receive emails from, are entitled to privacy protection, and would not have been coughed up by any information service provider without a subpoena or warrant issued "on probable cause." Considerably less is required to stimulate the issuance of a National Security Letter that will achieve the same effect.
Senior FBI officials acknowledged in interviews that the proliferation of national security letters results primarily from the bureau's new authority to collect intimate facts about people who are not suspected of any wrongdoing.
Thus the FBI, an organization that cannot even get a computer system up and running after spending $170 Million dollars on the project through Strategic Applications International Corporation ("SAIC"), has turned its ineptitude into an excuse for further invasions of privacy. Unable to even translate the Arabic language communications that the FBI has been intercepting for the last decade, the agency has apparently turned its efforts to spying on us, because they can read English. This is a lot like the man crawling around on the ground looking for a key under a streetlamp, who when asked by a friend why he is looking there, responds, "Well, I lost it in the house, but there's more light out here." Well, the Saudis are said to have bombed our country, killing thousands, but we sure wouldn't want to try spying on the Saudis — you know they speak a different language!
Criticized for failure to detect the Sept. 11 plot, the bureau now casts a much wider net, using national security letters to generate leads as well as to pursue them. Casual or unwitting contact with a suspect — a single telephone call, for example — may attract the attention of investigators and subject a person to scrutiny about which he never learns. A national security letter ... yields [data that reveals] where a person makes and spends money, with whom he lives and lived before, how much he gambles, what he buys online, what he pawns and borrows, where he travels, how he invests, what he searches for and reads on the Web, and who telephones or e-mails him at home and at work.
The sunset provision on this useless and intrusive system of domestic spying will reduce the use of NSL's at the end of this year, unless Congress renews it. Always demanding a mile when the time is up to return their borrowed inch, the privacy invaders plan on using the renewal requirement as a means to advance their citizen-scrutinizing agenda further. Congress is poised to increase the power of FBI agents delivering NSLs. New legislation assures that intimidating G-men will now come pre-armed with the right to arrest those who refuse to disclose information, like the Connecticut library employee. Spill the beans or go to jail will become the rule. As the Judith Miller case shows, courts are increasingly willing to jail people to extract information, so a law criminalizing noncompliance with secret information requests could lead to more secret internments, an expansion of secret CIA torture cells, and other foreseeable acts of State-sponsored-terrorism against private citizens. Congress is thus planning to grant the FBI, a rogue agency that squanders tremendous amounts of money and accomplishes nothing except intimidating people, more power to intimidate.
In fact, as the Dec. 31 deadline approaches and Congress prepares to renew or make permanent the expiring provisions, House and Senate conferees are poised again to amplify the FBI's power to compel the secret surrender of private records. The House and Senate have voted to make noncompliance with a national security letter a criminal offense. The House would also impose a prison term for breach of secrecy.
Congress, of course, is proceeding on faith that the FBI knows what it is doing with all this data on non-criminal activity. A strange assumption, however, since the FBI is simply out to lunch for all ordinary investigative purposes. Have you ever tried to report a crime to the FBI if you're not a bank with a robbery on its hands? You get an answering machine and no call back. Of course, call and say that your neighbor got drunk and said he wanted to kill Bush and they'll just drive a SWAT team up to his house and blow it up. After Ruby Ridge and the Waco massacre, who could say that these are people to trust?
Like many Patriot Act provisions, the ones involving national security letters have been debated in largely abstract terms. The Justice Department has offered Congress no concrete information, even in classified form, save for a partial count of the number of letters delivered.
And of course, like only Nixon could go to China, only a conservative has the moxie to take aim at this policy. Where are Charles Schumer, Diane Feinstein, Teddy Kennedy, Barbara Boxer, Hillary Clinton, Charles Rangel, and all the other alleged liberals? Let's hear it for the paranoid Right!
"The beef with the NSLs is that they don't have even a pretense of judicial or impartial scrutiny," said former representative Robert L. Barr Jr. (Ga.), who finds himself allied with the American Civil Liberties Union after a career as prosecutor, CIA analyst and conservative GOP stalwart. "There's no checks and balances whatever on them. It is simply some bureaucrat's decision that they want information, and they can basically just go and get it."
The FBI's head lawyer Valerie Caproni is entirely cavalier about the power her agency wields, expressing zero concern over the fact that these secret information demands on citizens have proliferated into use as a "routine tool."
"If you have a list of, say, 20 telephone numbers that have come up . . . on a bad guy's telephone," said Valerie E. Caproni, the FBI's general counsel, "you want to find out who he's in contact with." Investigators will say, " 'Okay, phone company, give us subscriber information and toll records on these 20 telephone numbers,' and that can easily be 100." ... Since the Patriot Act, the FBI has dispersed the authority to sign national security letters to more than five dozen supervisors — the special agents in charge of field offices, the deputies in New York, Los Angeles and Washington, and a few senior headquarters officials. ... "Congress has given us this tool to obtain basic telephone data, basic banking data, basic credit reports," said Caproni, who is among the officials with signature authority. "The fact that a national security letter is a routine tool used, that doesn't bother me."
The FBI applies circular reasoning to explain away the lack of even reasonable suspicion to pry into the private activities of 30,000 Americans who are not involved in crime in any way. The words "fishing expedition" come to mind, but the FBI's spokesman chose a poultry metaphor to explain the agency's position.
If agents had to wait for grounds to suspect a person of ill intent, said Joseph Billy Jr., the FBI's deputy assistant director for counterterrorism, they would already know what they want to find out with a national security letter. "It's all chicken and egg," he said. "We're trying to determine if someone warrants scrutiny or doesn't."
Like a funeral director presiding at the death of our civil rights, Mr. Billy is at pains to assure us that the FBI applies strict bureaucratic protocols when violating the Fourth Amendment Rights of all Americans.
Innocent Americans, he said, "should take comfort at least knowing that it is done under a great deal of investigative care, oversight, within the parameters of the law."
I did say the NSLs were useless, correct? As the Gospel says, "By their fruits ye shall know them." Well, NSLs have produced no fruit except the invasion of privacy:
As the Justice Department prepared congressional testimony this year, FBI headquarters searched for examples that would show how expanded surveillance powers made a difference. Michael Mason, who runs the Washington field office and has the rank of assistant FBI director, found no ready answer."I' d love to have a made-for-Hollywood story, but I don't have one," Mason said. "I am not even sure such an example exists."
Of course, dispensing with a need for probable cause or reasonable suspicion to believe that an investigative subject is involved in criminal activity eliminates a lot of impediments to investigation, like knowing what you're investigating. The current investigative approach allows agents to work on non-crimes while the murder of thousands of people in broad daylight in New York City on November 11, 2001 has provoked a war but remains an unsolved crime for which no one has been convicted outside of Germany, where a man is doing a twenty year term for conspiring to bomb the WTC. Of course, the agency has to look forward, trying to imagine new, undreamed of plots to unravel. Old crimes are so boring, and good people are hard to find, so it's best to just allow them to have a field day opening new files on non-criminals for no reason at all.
A model request for a supervisor's signature, according to internal FBI guidelines, offers this one-sentence suggestion: "This subscriber information is being requested to determine the individuals or entities that the subject has been in contact with during the past six months."
Defenders of NSLs use the tried and tested method of shifting the burden to the opponents to "show abuses" of the policy:
Sen. Pat Roberts (R-Kan.), chairman of the Senate Select Committee on Intelligence [said] "there has not been one substantiated allegation of abuse of these lawful intelligence tools."
When we're talking about nullifying the Fourth Amendment, the shoe should be on the other foot, and the bonehead insistence that no one is harmed by NSLs is ridiculous. Listen to this appartchik who is collecting a Federal Treasury paycheck to engage in disinformation that might convince an idiot or a Congressman:
To Jeffrey Breinholt, deputy chief of the Justice Department's counterterrorism section, the civil liberties objections "are eccentric." Data collection on the innocent, he said, does no harm unless "someone [decides] to act on the information, put you on a no-fly list or something."
How stupid can you get? If a Man In Black shows up at your small town Internet Service Provider with am NSL in his hand and demands a record of all your email and online purchases, and tells them not to tell anyone, do you think that is a routine thing that causes you no harm? Suppose they go to the Video Store, the Library, the Utility Department and Adult and Family Services to get their records, too. Suppose they go to your counselor, your minister, your yoga teacher, your kid? This causes no harm?
Have they forgotten that in Texas, the standard method of killing a political campaign is just to leak that there's an "FBI Investigation" in the works? Give me a XXX-ing break!
As usual, it takes a true conservative to say the obvious:
Barr, the former congressman, said that "the abuse is in the power itself." "As a conservative," he said, "I really resent an administration that calls itself conservative taking the position that the burden is on the citizen to show the government has abused power, and otherwise shut up and comply."
The ACLU, of course, finds it hard to formulate a sound bite that will resonate with the working class, and worries about domestic spying as a deterrent to wide-open media consumption.
At the ACLU, staff attorney Jameel Jaffer spoke of "the profound chilling effect" of this kind of surveillance: "If the government monitors the Web sites that people visit and the books that they read, people will stop visiting disfavored Web sites and stop reading disfavored books. The FBI should not have unchecked authority to keep track of who visits [al-Jazeera's Web site] or who visits the Web site of the Federalist Society."
Of course the chilling effect on intellectual freedom is considerable, but a more imminent threat is presented: information service providers are spying on their customers, thirty-thousand of them, silently surrendering electronic records clearly protected by the Fourth Amendment. The sun should immediately set on this vehicle for invading corporate data-vaults to spy on their customers.
When the FBI amasses data about innocent people, it will be used to suppress political dissent. Created by J. Edgar Hoover, a man with absolutely no morals, in his own corrupt image, the FBI grew into a factory for political blackmail, conducting extensive spying operations on Ralph Nader, John F. Kennedy, his brother RFK, Martin Luther King, and many others. The file on Dr. King got so large that after the FBI coughed it up in response to a Freedom of Information Act request, it was turned into a very long and revealing book. As a result, King does not have the dignity of a private life, something that many of us think we're entitled to.
When "preventing terrorism" supplants "solving crimes" as the agency's mission, the genie of bureaucratic mischief is let out of the box. Terrorism is an abstract and unassailable boogieman whose face appears always in the final mushroom cloud. As Dick Cheney has made clear, although the mind recoils from the thought, even torture can't be off the table when mega-populations are at risk of cataclysmic death. So shredding the Fourth Amendment so armies of bureaucrats can sort through cell phone bills for clues to where the terrorists are planning to strike next is obviously must-do stuff.
There's no way to know if corporations that you pay good money to for what you assume is private service, have in fact received NSLs and are trolling for data on you, that they then forward to the FBI. You can become a subject of NSL inquiries just by getting a phone call from someone the FBI defines as "a bad guy." Would that include getting emails from Scooter Libby, Tom DeLay, Mike Abramoff, Bill Frist, or Karl Rove, all under indictment or investigation for criminal activity? Of course Ronnie Earl, the Texas Attorney General prosecuting DeLay for laundering corporate campaign dollars, doesn't have the FBI on his team, so he can't use them. And Mr. Fitzgerald, the Rovegate federal prosecutor, probably would raise howls down at the courthouse if he used NSLs to investigate the nation's top criminal organization. It's always revealing to see how much privacy wealth and power commands, and how little respect government officers have for the privacy of rank-and-file citizens.
Now for a closing nightmare. Smart criminals are probably already using forged National Security Letters to obtain data and injure reputations with silent, malicious gossip. The FBI logo can be screen-captured right off the official website, and the return address can provide any address and private phone number. The FBI will not confirm or deny the details of ongoing investigations, so the recipient of a forged NSL will have no way to disprove its accuracy. If the new law passes, the forger's buddy, the thug, can threaten arrest. Using this method, gangsters should be able to get all the information they want about anyone, and silently destroy reputations with total impunity. I predict that the first person to get caught doing this will be an ex-FBI agent. Sorry to tell you, but if you search Google for this string — "FBI agent convicted" — you get a lot of hits.
When P.T. Barnum said "never give a sucker an even break," he could have added, "because then he will come to expect it." This seems to be the theory of the current generation of bureaucratic freedom-thieves, who preach daily that all freedoms are contingent, and some rights, like the right to be free from warrantless, secret searches by undisclosed government agents, have entirely ceased to exist. The crippled structure of rights that remains is utterly useless in defending oneself against charges of terrorism, which are prosecuted in secret, and do not lead to trials in which one can be acquitted or convicted. More than a thousand people still in Guantanamo Bay and CIA detention cells abroad remain untried, unconvicted, simply detained for interrogation and torture, after four years of confinement. The current terror-ocracy derives its false legitimacy from the blatantly unconstitutional Patriot Act, which composted the Bill of Rights enacted by the Founding Fathers and its quaint guarantee that no person be deprived of life, liberty, or property except after conviction of a crime in a fair and open legal process before a jury. It is a sad thing, but true. We have lost our democracy, and must now struggle to get it back. In that struggle, it will be a bright day indeed when the sun sets on the use of secret investigative letters propounded under the guise of "national security."