A MEXICAN FOURTH OF JULY, by Charles Carreon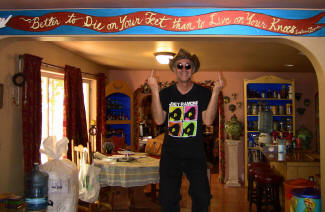 [Charles Carreon's Declaration of Independence: "Take two, they're small! Forever yours, Charles Carreon"]
There once was a man named Columbus
Italian I think that he was
He got lost on the way to the Indies
And laid claim to this country instead
The people who lived here were Mayas
Olmecas, Toltecas and such
We worshipped among the volcanoes
And lived in traditional huts
We lived mainly on beans and tortillas
With tomatoes and chilies for spice
We built pyramids bigger than Walmarts
But the greeters were not very nice.
When Cortez arrived sometime later
He kidnapped the Mexican King
We had heavy clubs and obsidian knives
But against bullets they don't do a thing.
The Padres and Popes screwed us freely
And the Spanish gave way to the French
Benito Juarez strung up Maximillian
Ruling Mexico's never a cinch.
Of course, we once owned California
Arizona, New Mexico, too
We mined gold, silver and turquoise
But not like Americans do.
Then you dammed up the water, you bastards,
The Colorado no longer flows free
To the Golfo de California
You took it for nothing from me.
You make fun of our clothes and our English
Even though Espanol you can't speak
You deride us for tanning so darkly
While you hide from the sun like a freak.
Go on laugh, you pinche Cabrones
Laugh until you piss your pants
We are the ones with cojones
Move aside, so that we can get past.
We won't spit in your milkshake, hermano
In fact let me supersize that
More fries? Absolutely senora,
When compared with a pig, you're not fat.
You watch porn like you're all maricones
Jerking off while your wives waste away
When you forget how to screw altogether
I will call that a wonderful day.
When cute Mexicanas are flirting
Red blooded chamacos must play
It's true we don't do much computing
You don't make Mexicanos that way.
You're going to build walls on the border
With Mexican Labor I hear
The Israelis tried that in their desert
Soon we'll have suicide beaners here.
You are laughing, I see mi amigo,
Your sonrisa is smiling so bright
So have one of these chili poppers
On a Mexican fourth of July.