DON'T MESS WITH MY MOM, by Charles Carreon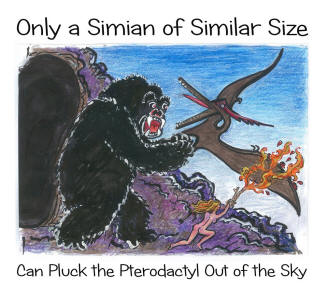 (Dedicated to Matthew Inman of the Oatmeal)
I'm the pterodactyl killa'
From the City of Tucson
Ya' mess with me baby,
Come and get it on.
There's never been a fight that I backed away from,
So next time remember,
Don't mess with my Mom.
You make fun of my name,
The noble Carreon,
We came here with Cortez,
And our legacy lives on.
The battles that we fight
Are the ones that must be fought.
When the smoke clears, Matt,
Your army will be gone.
Next time remember,
Don't mess with my Mom.
Your allies are the fools
Who cut and paste all day.
They think they're important,
But their anger is impotent.
They say nasty things,
But they don't get paid.
Their ignorance is deep,
So ya' get 'em on the cheap.
Your humor's scatological,
Your mind is pathological.
Did someone drop you on your head,
When you were in your baby-bed?
Did they take away your rattle,
And teach you how to tattle?
Whatever the reason,
You have committed treason
Against decency and sanity,
You're offensive to humanity.
But never fear --
I'm here to liberate you.
There's no chinks in my armor,
So I don't have to hate you.
I raise up the sword
That vanquishes disorder
I place you without passion
In the matter transporter.
You see, winged reptiles
aren't needed here.
What we need is thoughtful people
Who are decent and sincere.
So get behind me, Satan!
You're just a bit of roadkill,
Like the thief of Sex.Com,
Just another fool,
Who thought he was the bomb.
Next time, Mr. Inman,
Don't talk about my Mom.