JAIL TALE, by Charles Carreon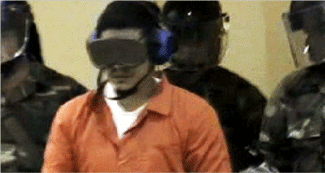 When I was a little boy
On my daddy's knee
He told me we were livin'
In a democracy
Then I went off to high school
And took a civics class
They said the three-party system
Kicked socialism's ass
Now I'm paying taxes
And voting like I should
Won't somebody tell me
Why it don't do no good
We got a nut in the White House
Who thinks he's Jesus Christ
He thinks he died already
And this is paradise
Well you can call up the Congress
But it don't do no good
They're totally useless
Like a gun made of wood
So I went to the courthouse
And the Chief Justice said
That the Bill of Rights
Was officially dead.
Well I went to the preacher
I said this cannot be
He said son do not say that
It's perilous, you see
He said you see that statue
It's got a hidden bug
It's not the good Lord watchin'
The hawk has killed the dove
I said is nothing sacred?
He said not that I know
So I took my donation
And said I had to go
Next I went to the doctor
I said what's going on?
Has everyone gone crazy?
Don't tell me nothing's wrong
He said I ran all the tests
The results are sure
Everyone's stone deaf
And there is just no cure
So I went to the banker
Said what's the price of gold?
He said we don't stock that
It's under central control
But if you want some credit
I'll give it to you cheap
And then he smiled like the devil
Gave me the terminal creeps
So I went to the girl
Who walks the neighborhood streets
She said don't bother asking
I'm all out of treats
I said you must be kidding
At least you could be real
She said I'm giving up now
There's nothing left to steal
So I went to the airport
To get a ticket to fly
They said hey no way man
He's on the list, all right
They called security quickly
They put me in this can
And now I'm so glad to see you
We need to make a plan
Yeah but don't let 'em hear you
Here, just give me your hand
When night-time comes we'll make some plans
When the guard's asleep we'll make some plans.