THEY'RE LOOKING SO PRETTY, by Charles Carreon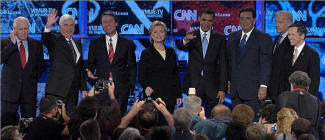 They're looking so pretty, tonight
Coiffed and suited just right
All of their sound bites prepared
Schooled on the issues, a little bit scared
They will cross swords oh so light
Blades barely meeting and smiles drawn tight
Billions will ride on their answers
And voters will make their selections.
Still there are times when you just have to wonder
Is the whole thing an incredible blunder?
While we compare hairstyles,
The sky starts to thunder
Tornadoes appear on our doorsteps
I wonder, are we on the verge
of a thousand-year bummer?
No one will touch that, tonight
Which is why Gore is nowhere in sight
We'll have plenty of style,
A side of issues-lite,
A sneer from the right,
They're looking so pretty, tonight
Sexy, formal, an anchor's delight
They'll charm everyone in sight
It's like a lamp store in here, it's so bright.
Teeth gleaming, hair sculpted
Meticulous cosmetic morphing
Into perfect candidates,
The kind who never quite debate,
At best get testy
Are never late
But we must cast our ballots, tonight
On what basis? Who knows wrong from right?
Let's just be fools for a night,
We'll vote, but first turn out the light.