BURN YOUR BRIDGES, by Charles Carreon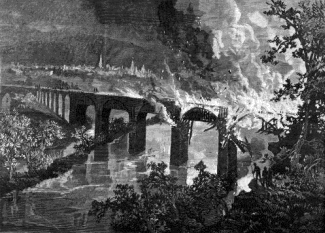 My Dad taught me something
When I was young,
He was gifted with a silver tongue
He made me think that everything
Lay within my grasp
'Cause I understood
Why it pays to be good.
He always said
Burn your bridges, my son
Make no preparation for retreat
Don't think about gettin' beat
Just burn your bridges
And you'll see
There's only one road ahead
And it's the one you make
So burn your bridges
Every one.
It's a terrifying leap
That we make each day
Through the gates of hell
At least it seems that way
All the signs are misleading
I can't believe what I'm reading
Somehow gotta make it pay
Anyway
So I burn my bridges
One more time
Set out on the road that is mine
Toward the smoke of bridges burning
My mind will not be turning
Yes I've burned my bridges
One more time.
Some people worry they'll be dead someday
I don't tend to think that way
I've lost everything I ever had
And hasn't really been all that bad
The taste of the good old days
Lingers on
I've never been of the world of men
Probably had 'bout enough of them
I could burn those bridges
And feel fine.
Yes I'll burn some bridges
Anytime.