WHITE MAN TWEAK WITH FORKED TONGUE -- THE GOVERNMENT-INDUCED SPEED PLAGUE, by Charles Carreon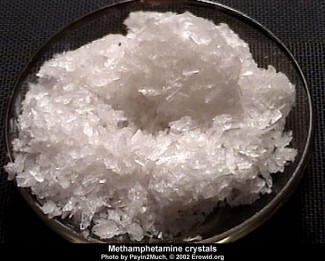 Warrior Tweakers, Good! Citizen Tweakers, Bad!
They're tweaking again. The military, I mean. It's not just the throttle jocks, I'm sure, who are popping Dexedrine to stay alert. It's a war on, man, and if you can't sacrifice a little sleep to the war effort, then what kind of patriot are you? That's speed thinking. Compelling, so compelling of course that virtually all of the pilots flying combat missions in Iraq are in an altered state.
An altered state, may I remind you, that in an ordinary citizen is considered illegal in the extreme, a dangerous self-indulgence in a forbidden psychic kick that renders you outré. You're a meth-head, a dangerous, child neglecting, spouse-abusing, larcenous scab on the body of society, in need of treatment and scorn. As a former prosecutor and criminal defender, I know the depictions are not far-fetched, either. Cranksters can be vile creatures, and meth induces a callousness of character that is definitively anti-social. Delusions of grandeur can feed notions of gangster mystique, and facilitate violence. I once had a client tell me in jail about how he brutally broke the kneecaps on a total stranger after taping him to a chair in his garage, because he had mistaken the poor fellow for some guy who ripped him off. After another tweaker friend came home and informed my client that the fellow was not the ripoff, they put him in the back of a pickup and threw him out in front of the emergency room and sped off. Of course, some meth users merely become weasely thieves, and do not commit mayhem. At all events, it has a corrosive effect on character.
So why do the military rate? Eliminate from your mind first the notion that the drugs are not the same. Dextroamphetamine is what the Air Force hands out to pilots, and they take extras along in the jet to self-administer as desired. Dextro just means the molecule "turns to the right" instead of to the left, but to your brain it's all the same – left turn, right turn, speed on. To fight fatigue is said to be the reason. But a great side effect is the creation of the callous, anti-social character necessary to drop weapons of mass destruction on fellow humans. It takes a certain distance to do this sort of thing. Speed helps.
It makes me think of the lyrics from "Lucretia," by the Sisters of Mercy:
"I hear the roar of a thin machine,
Hot metal and methedrine.
Love lost, fire at will,
Dum-dum bullets and shoot to kill,
I hear a dive bomber …
Empire Down …
Empire Down …"
Returning to the question – why do the military get to take speed? Because they need to, we are told. The Iraqis are probably doing speed, too. They're not stupid. It gives them a little bit of advantage, what with having to stay up all night soldering together bomb-timers, and repairing assault rifles, not to mention keeping a prayer schedule. Speed helps.
Where's The Money?
The origins of amphetamine are recent. Discovered just before the turn of the century, methamphetamine was synthesized by Smith, Kline & French in 1929. The company filed two trademarks on the trade-name "Benzedrine" in 1936, one as a tablet "medicine for the stimulation of the nervous system," and another as a decongestant inhaler, citing first use in commerce in 1933. Glaxo, Smith Kline is still the big distributor of Dextroamphetamine for the military, and related stimulants like Adderall, for obnoxious little boys who won't sit still in school. Merck developed a simplified synthesis during the second world war to fuel the Blitzkrieg. I assume we aren't holding back from giving infantry their share of the crank. After all, the infantryman and mechanized armor guys have the hardest work. So they're speedin' legally, driving humvees, tanks, fuckin' rockin' and rollin' for real, and their commanders don't mind that they're listening to death metal with titles like "Cook Your Balls and Eat 'Em," 'cause it's a new crankin' Army muthafucka.
War Is Hell, But Peace Is Sooooo Boring!
Our little cranksterized killers are going to have a hard time adjusting to civilian life. Death metal they'll still have, but speed will be dearly bought with social ostracism. And they may begin to reflect on the horrors that they committed when the tunes were crankin' and their reflexes were cleanly, smoothly distributing ammunition among the Iraqis. It seemed like a video game, but after the smoke and heroics are blown away, there is a terrible wound that the heart does not know how to heal. I knew that wound in some of my uncles who were in the infantry during world war two. They drank a lot.
Of course, the speed experience is not all exhilaration. There's depletion and exhaustion and paranoia. No amount of speed will move the weariness out of bones that have been worked sore, and the business of dispensing ammunition is terribly wearying. I like to shoot my daughter's .44 magnum lever-action gun, but it doesn't have a cushion on the butt, and I've never shot a whole box of 50 rounds at a time. My shoulder just gets too sore. I'd hate to have to use that rifle in a war. They'd win just because my shoulder would get sore. Speed might help.
This Shit Works!
I wonder if it's just possible that the policy makers, munitions makers and pharmaceutical makers might have realized how beneficial it would be for them to encourage the use of a drug that makes people more productive, less sensitive, more able to commit mayhem, less concerned with how they feel about what they are doing. Alfred Nobel created dynamite, some nameless chemist created speed. Who did the more powerful deed? Well, certainly their inventions worked hand in hand to make the world a far more detonated place.
Celebrity Cranksters, Celebrity Killers
Genies have a habit of getting out of the bottle, and the meth genie has been out of the bottle for about seventy-plus years now, fueling an expansion of manic energy that has probably resulted in the unnecessary damming of rivers, cutting down of forests, annihilation of entire tribes, species and ecosystems. And the toxic mentality has spread from the top down. Both Adolf Hitler and John F. Kennedy had "Dr. Feelgoods" who injected them with methamphetamine daily. Dr. Theodor Morell was Hitler's psychiatric physician and constant companion, just as Dr. Max Jacobson was always present to serve as Kennedy's pharmaceutical nursemaid. Both doctors supplemented the stimulant regimen with downers to moderate the manic effects of speed. It has been observed that Hitler's mania for annihilating the Jews developed in intensity during the period of Morell's influence.
Dirty Deeds, Done Dirt Cheap
Hitler's allies, the Japanese, were also tweaking freely throughout the second world war, as the Imperial government doled out speed to the military and civilian populace alike, to keep up the "war effort." The Rape of Nanking, a horrific war crime perpetrated by Japanese soldiers against no fewer than 369,366 Chinese men, women and children during 1937-38, was a murderous orgy that continued for months, during which the Japanese troops raped no less than 80,000 women of all ages. Reliable historical reports indicate that the Japanese killed many millions of Chinese during the second world war, although this Sino-Japanese holocaust has received little attention or commemoration. This type of lethal productivity has the feel of a meth-fueled murder nightmare. The suicide pilots of the Japanese air force were given amphetamines to overcome the desire to survive. The Japanese reversed course on their people after the war, made meth illegal in 1952, and arrested over 50,000 people. The country still has a serious problem with intravenous methamphetamine users, who comprise a large proportion of the 2 million meth users in the land of the Rising Sun.
African Children Turned Into Killing Machines
Many of the approximately 100,000 children under arms in the world are manipulated with amphetamines. For example, in Sierra Leone, Rwanda, Burma, and other war-torn nations, children are taken captive, raped, starved, brutalized, and then injected crudely with amphetamines, cocaine, and other drugs, and directed to commit murderous rampages. A Washington Post article by Douglas Farah, published April 8, 2000, quoted international aid sources as follows: "In Sierra Leone, said social workers and the child combatants, taking drugs-especially amphetamines and cocaine-was a regular part of 'military training.' Human Rights Watch found in a 1999 report that 'child combatants armed with pistols, rifles and machetes actively participated in killings and massacres, [and] severed the arms of other children. . . . Often under the influence of drugs, they were known and feared for their impetuosity, lack of control and brutality.'"
American Children Turned Into Substance Abusers
That's one way to get folks into drugs young, but we are more subtle in the USA, and we use what is called "treatment." Under the guise of treating ADD and ADHD, two "diseases" that seem to afflict little boys who eat junk food and watch a lot of TV, our little preschool punk rockers are "treated" by school nurses who dole out speed from a jar. Of course, first they started out using "methylphenidate," aka Ritalin which supposedly "wasn't an amphetamine." This label-switching was ordained by the pharma marketing geniuses who started this project to turn kids into cranksters back in the fifties, because the diet pill craze was winding down, and amphetamines, bennies, white crosses, pink hearts, and black beauties had all got a bit of a bad name at the courthouse and in popular literature. The Rolling Stones helped break the bad news about diet pills in their song, "Mother's Little Helper," with its pleading refrain "Doctor please, some more of these!" and its jabbing rejoinder, "Outside the door, she took four more!" But the pharma hacks are always good at finding another use for powerful substances, and now, it turns out that Dextroamphetamine, mixed with meth, in a formulation called "Adderall," is even better than silly old Ritalin. So what good is it to give speed to kids who are speedy?
Thanks for asking. To answer, I must introduce the vaunted "paradoxical effect" of amphetamines on children under some uncertain age. Marvelously, the pharma hacks explain, speed slows down speedy kids! And you know, with proper medical care and monitoring, maybe it is helpful in extreme cases. But in the USA, what's good can get force-fed down your throat, whether you need it or not. Think lobotomies for excitable mental patients. The same thing has happened to children. Researcher Nadine Lambert recently presented data at the Consensus Development Conference indicating that prescribed consumption of stimulants during childhood predisposed young adults to cocaine abuse. This sort of obvious connection occurred to me when I heard that one of my nephews, a longtime Ritalin-kid, was doing hard time in the penitentiary because he couldn't stop using meth. Soon, some criminal defense attorneys are going to wake up and realize that when the state gets you addicted to a controlled substance, that should be a defense to criminal possession.
Houston, We Have A Problem!
Meth has crept into our lives very quietly, and will not leave easily. It may very well explain the extreme bellicosity and hardheadedness of many white American males, who develop a strong loyalty to the drug because of its association with productivity, the work ethic, and a positive, can-do attitude. There is a great false optimism that is brimming over among the nation's military leaders. We are going to export democracy, uproot tyranny, and kill all the bad guys. With a little crank, it's all in a day's work, because speed helps. On speed, we can do more. Somewhere Hitler is smiling.