INVASION OF THE MODEL-MOMS, by Charles Carreon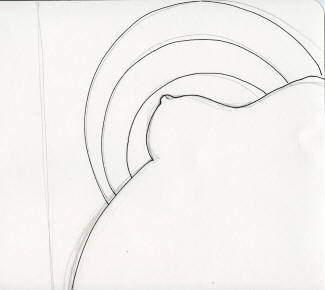 Afterwards, no one could quite remember how it had begun. It seemed to have happened imperceptibly at first, and then one day, it was a fait accompli. No one could remember what it had been like to have a mom who was plump and smelled like cooking and a little sweat. It seemed they had always been tall and slender, goddesslike, and smelling of designer perfume.
Perhaps people should've foreseen the inevitable when gyms and tanning shops began to outnumber grocery stores, and when "beauty salons" as known to prior generations -- big places that smelled funny, like a dinosaur swamp, and women read magazines while their heads baked under dinosaur-shaped machines -- disappeared completely. No more did women emerge with hair baked into souffles with the contours of egg whites, glazed and frosted into a sort of pastry puff, with their nails delicately gnarled and enameled. Instead, they trotted out into traffic clad in spandex, fearlessly exhibiting their trim symmetry while walking the dog. Surely this was a harbinger of the end.
The steady, unrelenting rise in the price of InVitroCorp stock also told the tale. InVitro had set out to make birth obsolete, and in the year twenty-thirty-eight, declared victory. Maternity among the legitimate classes, the only group considered part of the relevant market analysis, dropped to zero percent. Obstetrics was an aspect of paramedic training, since anyone who had even one foot in the white economy could do the numbers and figure out that bottle-birth was cheaper, easier, and gave you lots more options in every area -- hair, skin, eye color, not to mention bone proportions, professional predispositions and IQ.
With the death of motherhood an established historical fact, the art of mothering also underwent a change. Some had said that injections of hormones associated with maternity should be administered to women who were taking delivery of their young, but this opinion died out under an onslaught of feminist criticism. Of course, the rabid right wing televangelists, ever zealous at keeping their flock pointed toward the past as the riptide of technological change dragged them relentlessly into the future, insisted that as long as women had the good sense to listen to men, everything would turn alright, and gave their blessings to InVitro's triumph over the institution of birth. Some eloquent bible-thumpers went so far as to say that the death of birth was a partial victory over the snake in the garden, in that God's curse had specified that henceforth, due to the apple-eating escapade, women would give birth in pain. Indeed, this doctrine had its sect of zealous followers who insisted that the only proper method of birth was dynamic cloning using DNA drawn from the marrow of a male rib. Not surprisingly, many of these enclaves had a subtle taint of mysoginism.
In any event, motherhood classes proliferated. Women majored in motherhood, all the while nurturing their youthful forms in compliance with an esthetic that every year grew more rigorous. The new mothering ethic declared that a child's self-esteem could only be properly nurtured by having role models whose physical appearance was uplifting. Hair, lips, eyes, walk, gesture, all fed into the impressionable mind of the young child, shaping inferentially their own self image. Her first duty, as every good mother knew, was to herself. Often heard in gyms and at fashion shows was the sprightly reminder, "If you don't mind yourself, you'll have nothing for others!"
Who would have known it would go far beyond this innocent stage? Who could have foreseen that this stage of seeming to care so much for custom-designed infants in an antiseptic rendering of the nuclear family would simply be a fad? Who could have planned for the complete loss of interest in mothering as an actual activity? Oh sure, they studied it, got their degrees, but then they'd never practiced. The telling statistic was the one that declared that more women were becoming lawyers than mothers. That was in twenty-forty-two.
Well, InVitro might have known. In twenty-twenty-six, they had introduced, with little fanfare, a unique bio-product. Officially Z34X9's, they came to be known as Zeldas. At first marketed only to the defense establishment, their existence was almost unknown, but after proving runs had established that Zeldas were safe, effective substitutes for people, the constitutional amendment permitting them to be owned, and exempting them from coverage under the laws of the land as "people, or persons" was inevitable. Soon, everyone who could afford one, wanted one.
What were Zeldas really? How was it they could be bought and sold and decommissioned if they looked like people? Why did they have to watch three hours of television every night? The Congressional Record is thick with the explanations. The sound-bite-meisters emphasized that Zeldas were more like machines than people or animals, possessing not even that most essential of human properties -- a heart. As the senator from North Dakota put it, dealing his opponents a xenophobic slap, "Why, round here it wasn't a hundred and fifty years ago, Indians thought cars and trains were animals! And it's just no different than that." In the end, it wasn't. People got used to the way their Zeldas recognized their voices, learned their habits and dislikes, and daily adapted more and more to their roles. And as prices came down, they inevitably became the de facto moms of humanity at large.
And so, the institution of child-rearing expired not long after child-bearing. Eventually, having children ceased to convey any status to the parents, since their beauty only reflected the prevailing esthetic of the day, and not the genetic wealth of their parentage. Oh, of course the very wealthy might enjoy such indulgences, and sometimes did, but if you wanted a child, why not get them at age two, or three, or five, after they're potty-trained and know how to talk? If you wanted someone to take over the family business, why not get a nine-year old, with an aptitude for finance?
So that's how it happened. The process progressed from having Zeldas running reform schools and drug-baby shelters, which they did admirably, to managing the upbringing facilities for InVitro, and its indistinguishable competitor, LifeWays. The previously established norms, requiring that "mothers" be beautiful, slender, gentle, sweetly-scented, and all the rest, was incorporated wholesale into the program. And now we all know where we come from -- not from the stork, not from mommy, but from a clean, efficient place that you can visit anytime you want. And as we know, you can always go back and visit your old Zelda, unless she's been decommissioned, which is so rarely done nowadays, they are so beloved.