The Miraculous Activity Sadhana of Vajrakilaya, the Razor Which Destroys at a Touch
by His Holiness Dudjom Rinpoche, Jigdrel Yeshe Dorje
NOTICE: THIS WORK MAY BE PROTECTED BY COPYRIGHT
YOU ARE REQUIRED TO READ

THE COPYRIGHT NOTICE AT THIS LINK

BEFORE YOU READ THE FOLLOWING WORK, THAT IS AVAILABLE SOLELY FOR PRIVATE STUDY, SCHOLARSHIP OR RESEARCH PURSUANT TO 17 U.S.C. SECTION 107 AND 108. IN THE EVENT THAT THE LIBRARY DETERMINES THAT UNLAWFUL COPYING OF THIS WORK HAS OCCURRED, THE LIBRARY HAS THE RIGHT TO BLOCK THE I.P. ADDRESS AT WHICH THE UNLAWFUL COPYING APPEARED TO HAVE OCCURRED. THANK YOU FOR RESPECTING THE RIGHTS OF COPYRIGHT OWNERS.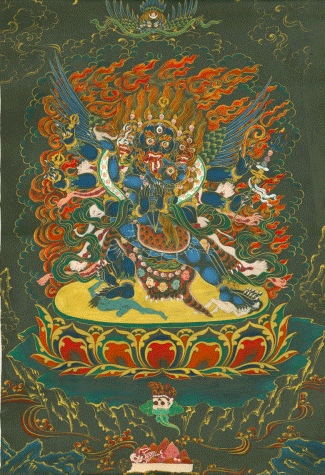 Table of Contents:
• Opening Prayers
o The Prayer to Supplication to Dudjom Lingpa
o The Prayer of Supplication to Dudjom Rinpoche, Jigdrel Yeshe Dorje
o The Prayer That Swiftly Accomplishes All Wishes
o Prayer to Guru Rinpoche to Clear Obstacles on the Path
o Long Life Prayer for All Lamas
o Prayer for the Nyingmapa Lineage and the Tradition
o Yeshe Tsogyal's Prayer to Guru Rinpoche as He Left Tibet
o The Aspiration of the Vajradhatu Mandala by Guru Rinpoche
o The Aspirations Prayer to Journey to the Realm of the Copper Colored Mountain: A Chariot of Happiness and Good Fortune
o The Verses of Prayer to the Eight Noble Auspicious Ones
• The Preliminary Practice of the New Treasure of Dudjom
• The Prayer to the Legendary Incarnations, Called "Crystal Pearls"
• The Daily Practice of Vajrakilaya
• Main Practice: The Miraculous Activity Sadhana of Vajrakilaya, the Razor Which Destroys at a Touch
o Lineage Prayer
o First Section
 Preparation
 Wheel of Protection
 Kar Tor
 Gek Tor
 Confession
 Descent of Blessings
 Blessing the Offering Materials
o Second Section
 The Main Practice
 Visualization of the Commitment Mandala
 Invitation of the Wisdom Beings
 Requesting the Commitment Being and the Wisdom Being to Reside Inseparable
 Homage
 Offerings: Conventional Offering
 Special Offering: Medicine
 Torma Offering
 Rakta Offering
 Offering of the Three Poisons
 Offering of the Liberation of Union
 The Praises
 The Recitation
 Exhortation
 Visualization
 The Recitation of Approach (nyen pa)
 The Recitation of Accomplishment (drup pa)
 The Activity Recitation (leg gyur)
 The Recitation of the Close Approach of the Wrathful Mantra (ngen ngak nye war nyen pa
 Long-Life Recitation
 Vowels and Consonants, etc.
 To Close the Session
o Third Section: Stages of Conclusion
 The Tsok Offering
 Invitation of the Tsok Assembly
 Offering the First Portion of Tsok
 Intermediate Offering of Confession
 Last Offering of Slaying
 Kangwa
 Tsok Offering Verse
 Heruka Prayer
 Giving the Remains
 Recalling the Contract
 Offering to the Tenma Goddesses
 The Dance of Suppression
 Requesting the Spiritual Attainments
 Heruka Confession
 Stabilizing the Presence
 Clarification of Eternalism and Nihilism
 Prayer to Dedicate the Merit
 Prayer of Good Fortune
o Lower Activity (Medlei)
 Preparation
 Warding Off Harm
 Slaying
 Exhorting the Rigdzins
 Exhorting the Principal Deities
 Exhorting the Oath-Bound Ones
 Offering the Golden Drink
 Requesting a Fair Witness
 Creating the Objects of Visualization
 Summoning the Consciousness
 Dispatching the Messengers
 Depriving Them of Their Defenses
 Casting Them Into the Effigy
 Binding Them Into Suppression
 Rendering Them Mad
 Transfixing Them with the Spike
 Crushing Them To Dust
 Feeding Them to the Mouths of the Deities
 Calling Upon the Sacred Bonds
 Enjoining the Enlightened Activity that Averts Negativity
 The Clapping of Hands
 Offering Torma as Power Substance
 Opening the Door
 Recalling the Contract
 Offering the Golden Drink (2)
o Vajrakilaya Longevity Sadhana
o Summoning Longevity
o The Abbreviated Offering Prayer to the Phurba Protectors
• The Protectors
o The Combined Essence of a Daily Torma Offering to the Three Roots and the Oath Bound Protectors (Damchen Chitor)
o A Concise Torma Offering to the Protectress of the Secret Mantra, Mamo Ngag Sun Ma -- Ekadzati
o A Brief Supplication Offering to the Three Protectors: Ekadzati, Rahula and Dorje Legpa (Maza Dor Sum)
o The Prayer to Activate the Miraculous Activity of Marpo Lha Sum Called: "The Indignant Laugh of Blazing Powerful Wrath" (Marpo Lha Sum)
o The Supplication to Invoke Shenpa Extracted From the Main Terma
o Nodchin Shenpa Protector Prayer
o The Abbreviated Offering Prayer to the Phurba Protectors
• The Inexpressible Absolute Confession
• From the Stainless Secret of Vajrasattva: The Doctrine of the King of Purification, the Essence of Confession
The unbearable blue-black raksha body possessing the nine dances of wrath and rage and the brilliant ferocity of a hundred thousand suns, to the vajra body I give praise. With the terrifying HA HA HUNG PHET, the raging roar like a thousand dragons and the vajra laugh which shakes the three realms, to the speech of the heruka, I give praise.

***

From the hearts of the hosts of deities of the self-visualization and front visualization, shine rays of razor-sharp mantra light like showers of meteors and forks of wild lightning. These set upon all the dualistic forces of harm and sever their aortas.

***

Self-arisen and primordially pure, the eight thousand herbs of prepared medicines and the supreme samaya of alchemical mercury are mixed together into one powerful taste. May all the deities of the mandala accept this offering and bestow the accomplishment of unsurpassable magical transformation.

***

If you wish to enact the activity ritual specific to this deity, use the great red averting torma. Sprinkle poison and blood on the mandala that is the basis of the activity. Place on this either a properly laid-out diagram in colored sand or a painted version of a three-sided chojung with a ring of fire around it and a wheel within it complete with rim and hub. If either of these diagrams is unobtainable, it will be sufficient to use a piece of skin soaked in blood with piles of black grain on it. On a tripod in the center of this in an iron vessel, place a red torma molded of dough made from the raw flour of some black grain moistened with blood. The torma is called "thunderbolt" and has sharp, blade-like edges. Around it are small offering tormas equal in number to the deities, and on top of it is the representation of Vajrakilaya and a garuda, over which is placed a canopy of black silk. As well, wrathful ornaments are arranged in a grand and fierce display: Bowls of blood, fragrant tse grass, mustard seed, red brambles, a plaque marked "XXX" and so forth. Finally, these are surrounded by the wrathful sense offerings (the "great red" for drinking water and so forth). Gather together the necessary articles for the ritual: A phurba, an effigy and the substances for dividing, casting down, suppressing and rendering mad, the power substances, the liberating knife, the hammer, triangular ladles and so on.

***

Burn gugul and so forth as incense, and perform the separating mudra with raven and owl feathers.

***

From emptiness appear the torma vessel, an enormous red conch skullcup, vast and extensive. Inside are the torma substances, which are obtained from the liberation of the forces of dualistic obstruction: mountains of flesh, oceans of blood, heaps of bones, foaming masses of brains and fat and a complete array, with no omission, of all offerings that are pleasing to the senses and worthy of being samaya substances. In essence, these have the nature of the amrita of the inexhaustible wisdom; inconceivable, they fill the extent of space.

***

Once again, the great torma instantly becomes the majestic Dorje Zhonnu, with an army of the eight classes of defiant gods and demons. With wrathful, fierce and fearsome forms, they fill the three states of conditioned existence and bring down a rain of disease, weapons and poison, rapacious in their activity to liberate the forces of dualistic obstruction.

***

Tame the hordes of mara with the force of the Vajra cannibal!

***

This King of Confessions, in just a few words, can stir samsara from its depths like alchemy applied to iron.

-- The Miraculous Activity Sadhana of Vajrakilaya, the Razor Which Destroys At a Touch, by His Holiness Dudjom Rinpoche, Jigdrel Yeshe Dorje