Part 1 of 4
'Not The Tibetan Way': The Dalai Lama's Realpolitik Concerning Abusive Teachers
by Stuart Lachs & Rob Hogendoorn
4/18/21
https://openbuddhism.org/not-the-tibeta ... -teachers/
NOTICE: THIS WORK MAY BE PROTECTED BY COPYRIGHT
YOU ARE REQUIRED TO READ

THE COPYRIGHT NOTICE AT THIS LINK

BEFORE YOU READ THE FOLLOWING WORK, THAT IS AVAILABLE SOLELY FOR PRIVATE STUDY, SCHOLARSHIP OR RESEARCH PURSUANT TO 17 U.S.C. SECTION 107 AND 108. IN THE EVENT THAT THE LIBRARY DETERMINES THAT UNLAWFUL COPYING OF THIS WORK HAS OCCURRED, THE LIBRARY HAS THE RIGHT TO BLOCK THE I.P. ADDRESS AT WHICH THE UNLAWFUL COPYING APPEARED TO HAVE OCCURRED. THANK YOU FOR RESPECTING THE RIGHTS OF COPYRIGHT OWNERS.
[Note by Nancy Steinbeck: 'Not The Tibetan Way': The Dalai Lama's Realpolitik Concerning Abusive Teachers

This excellent article by Rob Hogendoorn and Stuart Lachs exposes the shadow side of the Dalai Lama. In it, they quote excerpts from my memoir, The Other Side of Eden.

'It is not the Tibetan way to confront errant behavior on the part of the lamas. We prefer to let them learn about their mistakes on their own,' the Dalai Lama told John Steinbeck IV and his wife Nancy. The year was 1989, and the American Nobel laureate's journalist son and his wife pressed the Tibetan leader to introduce a system of checks and balances, to counteract the prevalent abuse of power by lamas in the West. Theirs was a wasted effort, as it turns out. This becomes clear in John and Nancy Steinbeck's memoir The Other Side of Eden: Life with John Steinbeck (2001).

During the preceding years, the American couple had witnessed up close, the destructive behavior of their own Buddhist guru, Chögyam Trungpa Rinpoché. John Steinbeck IV first met Trungpa in 1971, and Nancy Steinbeck first met him in 1975. While Trungpa's alcoholism was open and well known, his use of cocaine, the sleeping pill Seconal, and at least on one occasion, LSD was kept hidden from the majority of his followers. His incessant substance abuse and predatory promiscuity, including with minors, wreaked havoc in his Vajradhatu community in Boulder, Colorado, but also set an example for the abuse that took place at his other centers across the western world.]

Is the Dalai Lama personally accountable for his enabling behavior towards the abusive Tibetan Buddhist lamas and violent spiritual teachers he is being warned about? Does he take ownership of ignoring the plight of victims and survivors who follow his advice and "out" abusive teachers at great personal risk? How does the Dalai Lama judge the Tibetan lamas and other spiritual leaders he continues to endorse after they have been exposed? Cui bono: to whom (or what) is it a benefit? To answer these and other questions,
this article examines the Dalai Lama's conduct towards four abusive and even criminal spiritual leaders that he endorsed in the past 50 years.
To bring the imperatives and motives that governed the Dalai Lama's discharge of his temporal and spiritual duties during that era into focus, we take his own view of his institution—that of the Dalai Lama lineage—into account.
Evidently, the Dalai Lama's religious realpolitik concerning these four abusive, criminal leaders won the day—to the detriment of people he could have placed out of harm's way by expressing his disapproval in public, and in time
. By letting the victims and survivors do the hard things while he focusses on the continuity of Tibetan institutions, including his own,
the Dalai Lama's conduct matches that of his religious peers—other media-savvy, power-wielding priests.
This long-read makes use of numeric endnotes that open on hover and take you to the endnote at the bottom of the page on click. Clicking the blue thumbnail at the end of the listed endnotes takes you back to where it was inserted into the text. The captioned images will enlarge in a new tab on click

This article is a joint effort of Stuart Lachs (b. 1940) and Rob Hogendoorn (b. 1964), both of who have been involved as practitioners of Buddhism for many years. Stuart has been a practitioner of Zen and Ch'an Buddhism beginning in 1967.

Rob has been a practitioner of the Geluk sect of Tibetan Buddhism since the early 1990s. Both of us have spent much time at Buddhist centers and monasteries. Stuart in Taiwan, Japan, and Korea, as well a number of centers in the USA. Rob in Europe and India. We both continue to practice today.

Having practiced for many years, each in our respective traditions, we have witnessed problems that arose within our respective groups. Commonly these problems are not visible to the casual observer or even, for one reason or another, to a long-time practitioner. Yet,

these problems strike us as man-made and integral to all religious endeavor.

Integral: necessary to make a whole complete; essential or fundamental.
"games are an integral part of the school's curriculum"

And so, besides being practitioners, we have also looked at Tibetan Buddhism and Zen/Ch'an respectively with a critical eye, especially so as they are practiced in the west. We have brought in disciplines, such as sociology, history, and religion from outside of Buddhism to help understand what we were seeing and experiencing as insiders, that is, active practitioners in our respective traditions.

We both have over the years written critically about our respective traditions. An easy search on the internet will turn up most of our work. In doing so, we think

you will see how involved we are in Buddhism.

We also have felt the wrath of people who do not take lightly having their practice of Buddhism and Buddhist leaders being looked at closely and questioned. In a sense, we are now looking, simultaneously, as both insiders and outsiders, at the 14th Dalai Lama and Tibetan Buddhism. Over our years of friendship and collaboration,

we have seen certain similar features between Tibetan Buddhism and Zen/Ch'an Buddhism

. This may not be as surprising as one may think, as

these are traditions that place much importance on wisdom, hierarchy, and enlightened leaders. These leaders, whether titled Lama, Rinpoche, Tulku, Roshi, Guru, or Master, are supposedly beyond the understanding and, importantly, the critical view of ordinary folk—that is, you and us. We beg to differ, and this article demonstrates why.
Introduction
In this article, we examine the 14th Dalai Lama dealings with abusive and criminal teachers in the 1970s through 2010s. First, we will explain why it is appropriate to view the Dalai Lama as an ordinary priest, going about his duties in the ways ordinary priests do.1 We will then describe the Dalai Lama's relations with four abusive teachers—Buddhist and non-Buddhist—he was being warned about, and the enabling effect his conduct has. Finally, we will discuss some consistent patterns that emerge from our close examination of the Dalai Lama's behavior, as well as the dysfunction of ordinary feedback mechanisms that could have him change his ways.
We will take the Dalai Lama at his word and see how his word matches his actions. And in doing so, we will return him to the world he shares with the rest of us. But first, to value the Dalai Lama's self-defined mission properly, let us briefly consider the political, this-worldly nature of the office he holds.
Political Innovation
The ancient practice of formally instating reincarnated lamas, commonly called trülkus, was a political innovation native to Tibet that developed between the 11th and 14th centuries.2 Its worldly utility was aptly summed up thus:
'The tulku model provided a political counterpoint to the power of the nobility, a rallying point during times of national turmoil, and a means of succession among celibate monastics.'3 Tibetans took to the idea en masse: Through the ages, many hundreds major and minor trülku lineages, some say thousands, became firmly intrenched.4 Quite literally, these trülku lineages took on a life of their own. While traditional screening of trülkus has lapsed since the 1960s, their numbers have increased so much that Tibetan exiles now talk of a 'trülku boom' in a deprecating way.5
The Taiwan Connection

Soon after leaving Rumtek, Situ found that his ambition would take him far. Outside of the stuffy atmosphere of the Karmapa's cloister, Situ made friends easily. In the days when Tibetan lamas were still considered exotic by outsiders, Situ connected on a human level with spiritual seekers from both East and West. Former Rumtek Abbot Thrangu became Situ's mentor after the two left the Karmapa's monastery. Thrangu introduced his protege to people such as Taiwanese minister

Chen Lu An

who would provide valuable support to Situ to achieve his vision for his own palatial monastery and later, for the Karma Kagyu.

During the 1980s, Thrangu made several visits to Taiwan, a Buddhist stronghold where interest in Tibetan teachers was growing as rapidly as this Asian Tiger's booming export economy. It was well known among Tibetan lamas that the best fund-raising was to be had in the overseas Chinese communities of East and Southeast Asia and North America.

"In 1984, Thrangu Rinpoche came up with an idea to get money in Taiwan," said Jigme Rinpoche, Shamar's brother, a lama in his own right and the director of two large monasteries in France since the mid-seventies. Like Shamar, Jigme lived at Rumtek in the sixties and seventies. Now in his late fifties, the soft-spoken, baby-faced Jigme exudes an air of motherly care that seems ill-suited to controversy; Yet, he has been the most outspoken of Shamar's supporters in criticizing Thrangu's role.

"Thrangu Rinpoche chose a monk, he was called Tendar," Jigme said. "He left Rumtek with Thrangu Rinpoche in 1975 and followed him to his retreat place Namo Buddha in Kathmandu. Thrangu Rinpoche had the idea to present this Tendar as a high lama."

With specific instructions from Thrangu, the new "Tendar Tulku Rinpoche" went to Taipei with the credentials of a spiritual master, in order to teach and raise funds for Thrangu's work in Nepal and elsewhere. Jigme told me that "Thrangu Rinpoche asked his own monks in Taiwan, who knew that Tendar was merely an ordinary monk, to keep his secret and pretend that Tendar was a high lama." The monks in Taiwan went along with Tendar's masquerade until the following year when Tendar himself, apparently fearful of discovery, backed out of the scheme, but not before raising enough money to demonstrate the potential of this approach to his boss Thrangu Rinpoche.

Thrangu later elaborated on this strategy and reportedly went on to promote dozens of undistinguished lamas to rinpoches. "These lamas owed their new status and loyalty to Thrangu Rinpoche personally," Jigme explained. "Later, Situ Rinpoche followed his lead, recognizing more than two hundred tulkus in just four months during 1991, as we learned from our contacts in Tibet."

In 1988, while traveling in Taiwan, Thrangu met with Chen Lu An. "Mr. Chen approached Thrangu Rinpoche with a plan to raise millions of dollars for the Karma Kagyu in Taiwan," explained Jigme Rinpoche. In exchange for a percentage of donations, a kind of sales commission that would go to his own Guomindang party, Chen offered to conduct a large-scale fund-raising campaign. Chen asked Thrangu to convey his proposal to the four high lamas of the Karma Kagyu: Shamar, Situ, Jamgon, and Gyaltsab Rinpoches.

Together, according to Jigme -- who said the Rumtek administration received reports from a dozen loyal monks in Taiwan who heard about this plan from their devotees and other Tibetans on the island -- Thrangu and Chen worked out the details of a plan to raise as much as one hundred million dollars by finding a Karmapa and then touring him around Taiwan.

Beforehand, they would create interest with a publicity campaign announcing the imminent arrival of a "Living Buddha" and promising that whoever had the chance to see the Karmapa and offer him donations would be enlightened in one lifetime. On his arrival, the tulku would perform the Black Crown ceremony at dozens of Tibetan Buddhist centers and other venues on the island.

"With such a plan," Jigme said, "according to our monks on Taiwan, Mr. Chen assured Thrangu Rinpoche that he would be able to get between fifty and a hundred people to donate one million dollars each, along with hundreds of others who would give smaller amounts."

According to Jigme's sources, Thrangu asked Chen to keep the plan to himself. He promised Chen he would personally inform the Karma Kagyu rinpoches of their plan and Chen's offer to carry it out. However, when Thrangu returned to India, he did not share the plan with Shamar, Jamgon, or Gyaltsab, but only with Tai Situ. Situ was reportedly excited by the plan. "Soon after," Jigme explained, "Thrangu Rinpoche took Situ Rinpoche on a secret trip to Taiwan to meet with Mr. Chen."

"Together, the three worked out the details of a fund-raising tour for their future Karmapa. The plan was worked out at least four years before they announced Ogyen Trinley. Situ Rinpoche and Thrangu Rinpoche wanted to bring Gyaltsab Rinpoche into their plans, but they didn't think they could trust Jamgon Kongtrul Rinpoche." In any event, they were apparently certain that Shamar would not agree to participate and would spoil the plan, probably exposing it as he had exposed an earlier idea of Thrangu's, to take over the Karmapa's Kaolung Temple in Bhutan.

By 1973, the dozens of monks that Thrangu had brought into exile in 1959 still lingered at a refugee camp in northern India, in uncomfortable conditions. Thrangu had long sought his own cloister in which to house them. He set his eye on one of the Karmapa's monasteries in Bhutan for this purpose. Originally a gift of the grandmother of the current king, the Kaolung Temple was located within the campus of a large secondary school in eastern Bhutan.

Abbot Thrangu must have known that the sixteenth Karmapa would not willingly grant him control of the temple. But Thrangu apparently thought that if he offered his monks as "caretakers," that he could quietly place more and more monks there, eventually making control of the temple a fait accompli. Thrangu shared the whole scheme with Shamar, asking for his help. Thrangu must have thought that he could trust his former student. But he was wrong in this. Shamar immediately shared his former teacher's plan with with Topga, who had no choice but to inform the sixteenth Karmapa, thus earning Thrangu a rebuke from the sixteenth Karmapa.

"Soon afterwards, the abbot resigned his duties at Rumtek," Jigme said. "Ever since that, Thrangu Rinpoche behaved coldly towards Shamar Rinpoche. Therefore, according to our monks in Taiwan, Thrangu told Mr. Chen that under no circumstances should Shamar Rinpoche hear of their dealings."

Khenpo Chodrak and other lamas who managed Rumtek before Situ and Gyaltsab took over the monastery in 1993 have confirmed that they received similar information from monks in Taiwan at the time. Of course, even if Chen and Thrangu were planning to tour the Karmapa around Taiwan as a fund-raiser, we cannot know what they would have done with the donations. It is possible that they would have subsidized expanded Buddhist missionary work. It is also possible, as Jigme has suggested, that the money would have been used to build support for Situ and his allies among local politicians in Sikkim and elsewhere.

***

By mid-morning, a total crowd of more than a thousand of Tai Situ's supporters had assembled in the monastery's courtyard. A tense standoff began outside the main temple. The Rumtek monks responsible for the shrine room locked the entrance and refused to hand over the keys. Situ and Gyaltsab led a crowd to the temple, and sat down in front of the locked doors. They held incense and chanted Karmapa chenno (Karmapa hear me), the mantra of the Karmapas. Their followers clamored for action from behind them.

The Rumtek monks began to lose control over the situation. Soon, officers sent by the Sikkim chief of police began to intervene on the side of the aggressors. "This was crossing the line between church and state, which broke India's constitution," Shamar said. "We can only guess that Mr. Bhandari must have had a very strong incentive to take such a risk." Bhandari knew that New Delhi could have taken strong measures against him for breaching the constitutional wall between church and state, up to dissolving his government and putting him in prison. As it turned out, after the Rumtek takeover, the central government did initiate an investigation into Bhandari's role to determine if his Sikkim administration had unlawfully interfered in religious affairs.

Shamar's supporters have claimed that Bhandari probably received a payment as high as one million dollars from Situ and Gyaltsab, to send state police and security forces into Rumtek in response to an incident that the two rinpoches would provoke. The money came, allegedly, from Situ's Taiwanese supporter, former government official Chen Lu An. But the only evidence for this payment, aside from hearsay. is inferential: Shamar's followers theorize that for Bhandari to openly defy India's constitution by invading a religious center, and thus risk punishment from New Delhi, the chief minister must have been well rewarded. However, both newspaper reports and government investigators have documented that Chen Lu An delivered a payment of $1.5 million to Bhandari a few weeks after the Rumtek takeover.

According to Indian journalist Anil Maheshwari, Chen visited India between November 28 and December 4, 1993 to attend a meeting organized by Karma Topden. As we have seen Topden was a leader of Situ's Joint Action Committee in Sikkim and the father of the would-be Gyathon Tulku, rejected by the Rumtek administration in the eighties. Situ Rinpoche was also present at this meeting, and Shamar's supporters claim that this meeting was connected to Bhandari receiving a second payment from Chen for the chief minister's role in the takeover of Rumtek four months earlier, in August. The Indian government launched an investigation, and in January 1994, the Ministry of External Affairs in New Delhi banned Chen from re-entering India.

***

In November 1999, Thaye Dorje accepted an invitation to make a tour of Southeast Asia. This would be his first trip abroad. He met with thousands of devotees at dharma centers in Singapore and Malaysia. But he almost did not make it into Taiwan, according to Ngedon Tenzin. Earlier, we encountered him as the senior monk-official at Rumtek who had his monk's robe wrapped around his neck by angry local supporters of Situ when he and Gyaltsab took over the Karmapa's cloister in August 1993. Since 2004, as we have seen, Ngedon has served as the general secretary of Thaye Dorje's labrang, the post held by Topga Rinpoche until his death from cancer in 1997.

"Our staff obtained a Taiwanese visa for Gyalwa Karmapa Thaye Dorje weeks before he was supposed to enter Taiwan. We used the diplomatic passport issued to him by the Bhutanese government," Ngedon said. "But the day before he was due to fly into Taipei airport, officials in the Foreign Ministry tried to stop His Holiness Karmapa from coming in because of a technicality."

Immigration officials noticed that his passport said that Thaye Dorje was born in Tibet. As a result of its strained relations with Beijing, the Taiwanese government required travelers born in China to obtain a special permit to enter the island nation. Only the timely intervention of one of Thaye Dorje's supporters in Taipei saved the trip. This devotee used his influence in the Foreign Ministry to convince the manager of the relevant office to remain open after normal closing time at five o'clock to process an emergency permit for Thaye Dorje. The tulku was able to obtain clearance and fly into Taipei the next day.

Ngedon suspects that Chen Lu An, who by this time was a former government official but one who still enjoyed influence in the tight-knit administration of the island nation, tried to block Thaye Dorje's entry into Taiwan. "Through our devotees in Taiwan" we heard that Mr. Chen had already lined up perhaps fifty people willing to pay one million dollars each to carry the box for the Black Crown and hand it to Ogyen Trinley during the Black Crown ceremony," Ngedon said.

Here we might recall that Jigme Rinpoche accused former Rumtek Abbot Thrangu of planning with Chen to tour the next Karmapa around the island to raise funds, as we saw in chapter 8. Now, it appeared that Chen had started to put a similar plan into action with Tai Situ.

According to Ngedon, Chen had even more Taiwanese pledged to pay five hundred thousand dollars each to hand Ogyen Trinley the so-called Body, Speech, and Mind Objects during the ceremony -- a stupa or sacred pagoda, a statue of the Buddha, and a text of Buddhist scriptures. "Mr. Chen had made commitments to Karma Kagyu lamas in Taiwan, as well as monasteries around the world, from Kathmandu to New York, to distribute these funds. If His Holiness Thaye Dorje came to Taiwan, Mr. Chen's plan would be spoiled. We heard that he was practically sleeping in front of the Foreign Ministry office to stop Karmapa Thaye Dorje from getting into Taiwan."

-- Buddha's Not Smiling: Uncovering Corruption at the Heart of Tibetan Buddhism Today, by Erik D. Curren
As a matter of course, formally instated trülkus attracted their own dedicated following and prosperous patrons.
Amassing rights of property and considerable wealth of their own, aside from whatever religious function serve, effectively turns their offices into religious corporations. And so, the orderly passage of power, assets and other property, as well as followers and sponsors, from one deceased trülku to the next became a priority.
6 With each consecutive incumbent, the self-perpetuating power and symbolical capital of these lineages grew. Fourteen generations later, many find it impossibly hard to imagine Tibetan Buddhism without them.7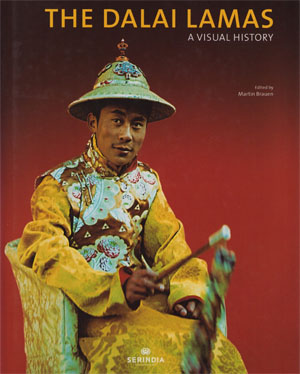 Martin Brauen: 'The Dalai Lamas: A Visual History' (2005)
To invest the executive powers of the head of state in one such lineage, that of the Dalai Lamas, is a further political enhancement of the original trülku idea.8 This custom began in the 17th century and, once again, was motivated by the worldly needs of the day.9 In 1642, the 5th Dalai Lama was bestowed with this title by the Mongol leader Güshi Khan. He and his Mongol patron thereby established joint temporal and religious rule of Central Tibet—at least in theory. As Georges Dreyfus summarizes: 'Instead of insisting on continuous control of the monastic order by political authorities, in Tibet monastic groups have tended to take over the instruments of political domination. The institution of incarnated lama manifests this unique Tibetan solution.'10
Savvy Political Operator
Most Dalai Lamas, however, turned out to be ineffectual leaders, whose precarious authority was curbed by powerful or even devious patrons, ministers, and regents. Only three incumbent Dalai Lamas capitalized on the politics of their day to actively lead the Tibetan nation. They are called 'the Great Fifth,' the Great Thirteenth,' and 'the Great Fourteenth,' respectively. It is with good reason that these three great leaders are seen as savvy political operators.
Given the political nature of the institutions he embodies—that of a trülku and Dalai Lama—it is hardly surprising that the present Dalai Lama does not believe that they are integral to Buddhism.
Rather, he sees these institutions as the products of their time—to be changed or abolished at will. Indeed, in the 1960s through 2010s the Dalai Lama consistently argued that the widespread instating of trülkus has outlived its purpose. He did so on the basis of decidedly this-worldly considerations.11

The Dalai Lama relinquished his political authority and abdicated the throne as Tibetan head of state in 2011. At that time, he transferred the political leadership of the Tibetan exiles to the Harvard-educated Tibetan lawyer Lobsang Sangay, who is called Sikyong or President.12 Even so, the Dalai Lama continued to call his own office a 'man-made institution' that could cease any time.13 Indeed, he called the Dalai Lama institution 'backward.'14 In 2017, he stated that 'lama institutions' that create 'lama politics' must end, because they reflect badly on Buddhist monastics.15

A year later, the Dalai Lama reiterated that 'the system of recognizing incarnations of previous spiritual masters is a Tibetan cultural tradition. It is not a practice taught by the Buddha. In the 1960s I discussed limiting the number of tulkus, but one adviser told me that would be difficult because it is the Tibetan's custom. Nowadays being recognized as a rinpoche has become a position of social status, not one of religious import, and this is not healthy.'16 News reports made clear that he actually said that the 'lama institution' has 'feudal' origins and must end.17
The Last Dalai Lama?
Throughout the 14th Dalai Lama's reign, he kept Tibetans dangling with the possibility that he might be 'The Last Dalai Lama'—effectively a form of political blackmail. He frequently hinted—and sometimes threatened—that his lineage will end with him. Already in 1975, he told a BBC-reporter that he believed that he might be the last incumbent.18 In 1976, the Dalai Lama denounced the perceived materialism and factionalism of Tibetan exiles in so many words, and refused to accept their ritual long-life offering—tantamount to a threat of abandoning the Tibetan people to their fate.19 In 2014, once again, the Dalai Lama told BBC Newsnight that he might be the last to hold the title.20 Two years later, people close to him discussed the Dalai Lama's succession in the documentary The Last Dalai Lama?21
Apparently, though, the historical origins of the Dalai Lama institution are of less concern to the religious heads of all Tibetan traditions, for their recent resolutions attempt to preordain the matter: 'The present status of the Tibetan people being extremely critical, all Tibetans genuinely wish for the continuation of the Institution and Reincarnation of the Dalai Lama in the future. We therefore strongly supplicate to His Holiness the XIV Dalai Lama for the same.'22 With this, the religious heads effectively short-circuit the decision-making process. And so, although the Dalai Lama himself argued that his office is 'feudal' or 'backward,' becoming the 15th Dalai Lama seems to be his predestined end. Here, David Graeber's dictum 'one should never underestimate the power of institutions to try to preserve themselves,' comes to mind.23
'Will He Poison The Baby Dalai Lama?'
Tenzin Gyatso (b. 1935) is perhaps the best-known Tibetan in the world. He is better known as the Dalai Lama, to be precise, the 14th holder of the title of Dalai Lama.24 That Tenzin Gyatso lived long enough to assume the powers of the 14th Dalai Lama was not a foregone conclusion even after he was recognized as such. Since 1805, just one out of five Dalai Lamas had reached adulthood. The others—that is, the 9th, 10th, 11th, and 12th—died mysteriously of "stomach trouble."
It is not unlikely they were poisoned
.25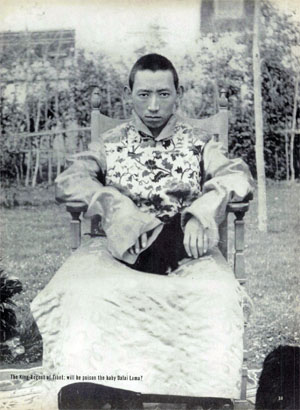 'Picture of the week: The King-Regent of Tibet' ('Life Magazine,' 1940)
Absent the Chinese occupation in 1950, following precedent, a regent would have ruled Tibet until at least the 14th Dalai Lama's 18th birthday. In 1940, Life magazine had a full-page photo of the regent of the day with the caption: "The King-Regent of Tibet: will he poison the baby Dalai Lama?" Instead, the regent himself was murdered a few years later, while he was imprisoned inside the young Dalai Lama's Potala Palace in the Tibetan capital Lhasa. Gyello Döndrup, one of the elder brothers of the Dalai Lama, alleges that their father suffered a similar fate.26
Despite the clear political and power-broking aspects connected to the position of Dalai Lama, its 14th office holder has become the world's leading symbol of peace, compassion, timeless wisdom, human kindness, and non-violence. He is viewed by Tibetans as the physical manifestation of Avalokiteśvara, the Bodhisattva of compassion, while many others in addition to Tibetans, believe he is a living saint. 27
He is commonly referred to as His Holiness even by clearly secular commentators.28 Though the Dalai Lama won the Noble Peace Prize in 1989, among other international awards, he usually describes himself as a 'simple monk.'29 Yet truth be told,
the Dalai Lama's real-time exercise of priestly authority in important cases, does call into question his saintly image. This is what this article will show.
A Not So Simple Monk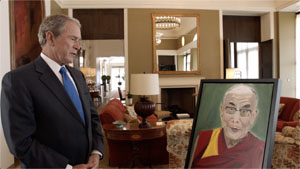 President George W. Bush with his painting of the Dalai Lama (Mickey Lemle, The Last Dalai Lama, 2016)
In addition to being a simple monk, the Dalai Lama is a consummate scholar, a charismatic rhetorician, an uncommonly effective orator, a shrewd priest, and an experienced politician. He surely ranks first among the longest-ruling religious leaders: The Dalai Lama saw no less than eight Roman-Catholic Popes reside on the Apostolic Throne of St. Peter in Rome. Having assumed full religious and political power in 1950, his reign is longer than that of Queen Elizabeth II of the United Kingdom.
Franklin D. Roosevelt was the first American president to send him a gift—
an exclusive Patek Philippe watch
.30
"She is examining one of the gifts, a chronographic watch which tells the time of day, the day of week, month of year, and moon phases." -- Inside Tibet, by Office of Strategic Services

-- Coocoola [Kukula] of Sikkim: Lacham Kusho, That's Going with the Gods, by Simon Schreyer
The Dalai Lama was alive during the inauguration of 15 US presidents. He has met the Presidents Jimmy Carter, George H.W. Bush, Bill Clinton, Barack Obama, and erstwhile Vice-President Joe Biden in private. In 2007, he received the Congressional Gold Medal from George W. Bush during a ceremony at Capitol Hill—the first time an American President met the Dalai Lama in public.31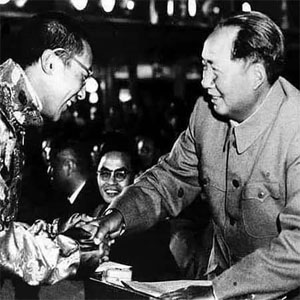 The 14th Dalai Lama & Chairman Mao of the Chinese Communist Party (1954)
As a young man, the Dalai Lama traveled through China between July 1954 and June 1955, repeatedly meeting Chairman Mao of the Chinese Communist Party and the first prime minister, Zhou Enlai. From November 1956 until March 1957, he sojourned in India, to attend the 2,500th birth anniversary of the historical Buddha. He met prime minister Jawaharlal Nehru
and other dignitaries there
and, once again, Zhou Enlai.32 These tours thrust him into the limelight of modern media, so that by now the Dalai Lama has at least 65 years of political negotiating, public speaking, and media experience under his belt.33
Towards the close of 1956, Delhi hosted a major international Buddhist gathering that was Freda's introduction to the Tibetan schools of Buddhism, which are in the Mahayana tradition as distinct from the Theravada school which is predominant in Burma. This Buddha Jayanti was to celebrate the 2,500th anniversary of the Buddha's life. The Indian government wanted Tibet's Buddhist leaders to attend, particularly the Dalai Lama, who was that rare combination of temporal ruler and spiritual leader of his people. The Chinese authorities initially said no but at the last minute relented. Jawaharlal Nehru was at Delhi airport to welcome the twenty-one year old Dalai Lama on his first visit to India; the young Tibetan leader had at this stage not made up his mind whether he would return to his Chinese-occupied homeland or lead a Tibetan independence movement in exile. Freda played a role in welcoming the Tibetan delegation to the Indian capital. 'The radiance and good humour of the Dalai Lama was something we shall never forget,' she told Olive Chandler. 'I also got a chance of shepherding the official tour of the International delegates to India's Buddhist shrines and made many new friends.'18 A snatch of newsreel footage shows Freda Bedi at the side of the Dalai Lama at Ashoka Vihar, the Buddhist centre outside Delhi where the Bedi family had camped out a few years earlier. Both Kabir and Guli were also there, the latter peering out nervously between a heavily garlanded Dalai Lama and her sari-clad mother.19 Freda also received the Dalai Lama's blessing.

-- Excerpt from Chapter 12: Buddha and Baba, from The Lives of Freda: The Political, Spiritual and Personal Journeys of Freda Bedi, by Andrew Whitehead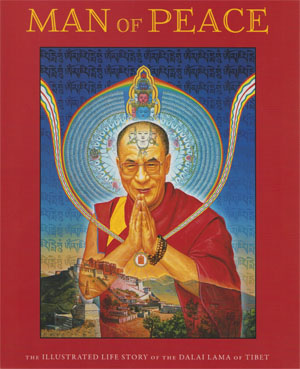 William Myers et al., 'Man Of Peace: The Illustrated Life Story of the Dalai Lama of Tibet' (2016)
The imputed benevolence of his title precedes him since the days before he was born. This lends a certain lustre to the Dalai Lama's presence that even professional skeptics find hard to resist.34 Indeed,
Tibet House US
had the temerity to turn him into a comic character in a graphic novel, to wit a caricature of his normal self—and of Tibet and the Tibetans too.35
-- Man of Peace: The Illustrated Life Story of the Dalai Lama of Tibet (Tibetan Art and Culture) Hardcover – Illustrated, December 13, 2016, by William Meyers (Author),

Robert A.F. Thurman

(Author), Michael G. Burbank (Author)
So, to bring us down to earth, perhaps with a bump, let us briefly look at his involvement with the notorious Nxivm-cult.36 This serves as a first-pass overview of a typical real-life situation in the Dalai Lama's day-to-day interactions with other teachers and priests.
'An Elephant's Nose'
On April 5th, 2009,
the Dalai Lama canceled his scheduled appearance during a conference of the World Ethical Foundations at the 17,500 seat Times Union Center in Albany, NY.
37 According to his host Clare Bronfman, along with her sister Sara, heiresses to the Seagram fortune, 'His Holiness spent an entire year vetting us out. I believe him to be an incredibly well-educated man of deep critical thought who considers his participation in anything he does very deeply.'38 The problem the Dalai Lama faced was that
the World Ethical Foundations Consortium was connected to Nxivm, a litigious self-help group. Nxivm was headed by Keith Raniere (b. 1960), a controversial leader with a questionable history having been investigated by 25 state attorney generals and others for operating a pyramid marketing scheme.
39 In spite of the prestige of the Dalai Lama's presence,
Skidmore College and Rensselaer Polytechnic Institute, which is Raniere's alma mater, refused to be part of the conference.
40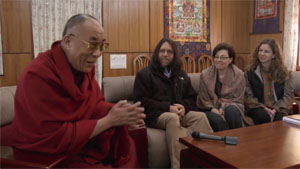 The 14th Dalai Lama, Keith Raniere, Nancy Salzman, and Sara Bronfman (Dharamsala, 2009)
The Dalai Lama backed out not long before the event after hearing warnings by the above-mentioned universities and local newspapers, not to be associated with Raniere and Nxivm. A columnist of the Daily Gazette of Albany, NY actually called the Dalai Lama's cancellation a 'no-brainer.'41 However, shortly thereafter Keith Raniere, along with his followers Nancy Salzman, Sara Bronfman, and Mark Vicente—who came along to document the encounter—traveled to Dharamshala, India to meet with the Dalai Lama and address his concerns: numerous pending lawsuits and being labeled a cult leader. The Dalai Lama asked for evidence to counter the allegations, though he had already invited Raniere and his followers for a meeting the very next morning.42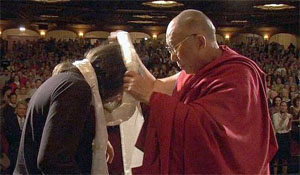 Keith Raniere & the 14th Dalai Lama (Palace Theater, Albany, May 6, 2009)
For whatever reasons, literally overnight,
the Dalai Lama persuaded himself that allegations that Raniere was in charge of a cult named Nxivm were unfounded and revoked his cancellation.43 The conference was rescheduled, and the Dalai Lama appeared with Raniere, Salzman, and the Bronfman sisters at a smaller venue, the 3,000 seat Palace Theater in Albany on May 6, 2009.44 The Dalai Lama also wrote the foreword to The Sphinx and Thelxiepeia (2009), which was co-authored by Raniere.
45
In response to a question from the audience during his public talk in the Palace Theater, in the context of explaining his attending the meeting after first canceling, the Dalai Lama addressed the media: 'I'm always telling the media people, [that they] should have a long nose, as long as—[applause], wait, wait, wait—as long as an elephant's nose and smell in the front and behind. That's very important.' He added that they should dig deep into issues and to be open and impartial: 'Whether [it's] a politician, or the mayor [laughing, who was sitting on the stage], or religious people, the bishops [a Bishop was sitting next to him], or myself, [they] must sort of watch and make clear, inform the public, provided it must be very honest, unbiased, objective, that's important!'46
A Reasonable Priest
As we said, in this paper we intend to take the Dalai Lama at his word, that is, to look at some of his words and actions as a tried and tested religious leader, with long noses, to smell in the front and behind, to inform the public in an honest and objective way. We will assess his personal responsibility and accountability by viewing the Dalai Lama as a media-savvy, power-wielding religious authority, whose doings exhibit the same measure of logical consistency and transparency as that of a reasonable priest.47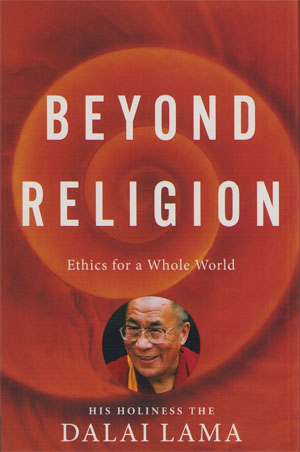 The 14th Dalai Lama, 'Beyond Religion: Ethics for a Whole World' (2011)
In recent years,
the Dalai Lama has championed secular ethics outside religious belief. Surely, his secular values repudiate sexual abuse and criminal forms of violence under the guise of religion or spirituality.
48 Also, in the documentary The Great 14th, the Dalai Lama says he has three principal commitments: secular ethics, religious harmony, and the cause of Tibet. 49 Underlining both the temporal nature of his own office and the primacy of the rule of law,
the Dalai Lama confirmed that lamas who break the law—he himself included—should be prosecuted.
50 It stands to reason to do as he does, so we will assess the Dalai Lama's discharge of his duties during his reign as the Tibetan head of state, in particular his public endorsement of abusive teachers, from a temporal, secular perspective.
We will look into the Dalai Lama's involvement with two famous Tibetan lamas, both part of orthodox Tibetan Buddhist lineages who, however, lived and taught for most of their lives in the West: Chögyam Trungpa Rinpoché and Sogyal Lakar, formerly known as Sogyal Rinpoché.51 We also examine the Dalai Lama's dealings with two self-proclaimed non-Tibetan teachers: the Japanese Shōkō Asahara, who was put to death for releasing sarin gas in the Tokyo subway system which killed 13 people and injured thousands more, and the aforementioned Keith Raniere, who in 2020 in a trial in New York City received a 120-year prison sentence for a long list of crimes.52
Chogyam Trungpa Rinpoche
'It is not the Tibetan way to confront errant behavior on the part of the lamas. We prefer to let them learn about their mistakes on their own,' the Dalai Lama told John Steinbeck IV and his wife Nancy. The year was 1989
, and the American Nobel laureate's journalist son and his wife pressed the Tibetan leader to introduce a system of checks and balances, to counteract the prevalent abuse of power by lamas in the West. Theirs was a wasted effort, as it turns out. This becomes clear in John and Nancy Steinbeck's memoir
The Other Side of Eden: Life with John Steinbeck (2001)
.53
During the preceding years, the American couple had witnessed up close, the destructive behavior of their own Buddhist guru, Chögyam Trungpa Rinpoché.54 John Steinbeck IV first met Trungpa in 1971, and Nancy Steinbeck first met him in 1975.
While Trungpa's alcoholism was open and well known, his use of cocaine, the sleeping pill Seconal, and at least on one occasion, LSD was kept hidden from the majority of his followers. His incessant substance abuse and predatory promiscuity, including with minors, wreaked havoc in his Vajradhatu community in Boulder, Colorado, but also set an example for the abuse that took place at his other centers across the western world.
55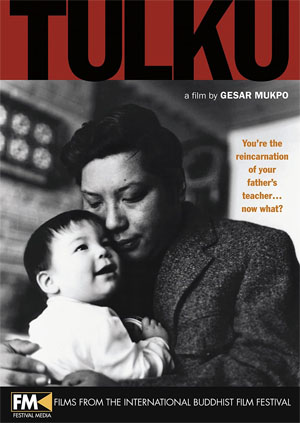 Gesar Mukpo, 'Tulku' (Festival Media, 2011)
Trungpa's offspring was not spared. In 1963, four years after escaping from Tibet,
Trungpa moved to the United Kingdom. He left his one-year-old son and the child's mother, a Tibetan nun, behind in a refugee camp in India, where the boy spent his formative years.56 Trungpa abandoned the boy again in 1970, shortly after he had summoned him to the UK. Three years later when the boy arrived in the United States, Trungpa sent him to boarding school.57

Trungpa abandoned his second son at the age of four—that is, the first child he had with Diana, his seventeen-year-old British wife. Nicknamed Taggie, he is autistic and epileptic. Taggie was left in the care of an untrained group of American devotees and later, under the 'curative' regime of hard-handed Tibetan monastics in Sikkim, India. Trungpa's third son, likewise, was repeatedly abandoned to ad hoc caregivers, burning through seventeen schools in different countries.58 Arguably, even though the three boys, like the Dalai Lama himself, were declared trülkus of high Tibetan teachers, Trungpa, with this style of parenting, repeatedly exposed himself to charges of endangerment and criminal neglect of a child.59

Not even animals were safe with Trungpa. Former devotees gave testimony 'about his strangely superstitious hatred and abuse of cats, evidently because they weren't sufficiently grief-stricken at the death of Shakyamuni Buddha.'60 Trungpa's former "head butler" wrote about the mistreatment of a dog:
One night after supper Rinpoche said, "Get Myson and bring him in here." I dragged the shaking dog into the kitchen and following Rinpoche's instructions I sat him on the floor and covered his eyes with a blindfold. I set up stands with lighted candles by either side of his head. Myson couldn't move his head without being burned. Rinpoche rook a potato and hit Myson on the head with it. When the dog moved, the fur on his ear would catch on fire. I put out the flames. Now and then Rinpoche would scrape his chair across the tiled floor and whack him again on the head with a potato. "Sir," I began hesitantly, trying to stop him. "Shut up," snapped Rinpoche, "and hand me another potato." I started to empathize with the dog. In fact, I became the dog. I was blindfolded and was banged on the head with a spud and if I turned my head my ears would burn and there was the squealing sound of the chair on the floor. Pissing in my pants I was that dog not being able to move, feeling terrified and at the same time excited. Finally, the scraping chair and the potato throwing stopped and we released the shaking dog, who ran upstairs to Max's empty room. "That's how you train students," Rinpoche calmly stated to me.' "Jesus," I thought, "that's pretty barbaric." Rinpoche had me change the telephone number so that Max [the owner of the dog] could not call us before he came back. He arrived, bags in hand, concerned that he had not been able to reach us. Before he could say much else Myson rushed in and jumped all over him in exuberant delight. Rinpoche deliberately scraped the kitchen chair across the tiled floor. The terrified dog shot out of the house and fled across the field. Max was shocked and pointedly asked, "Rinpoche, what did you do to my dog?" "I don't see any dog," he replied, looking at me.61
Trungpa's Successor
Though Trungpa certainly had hundreds if not more disciples, he designated only one successor, Thomas Rich, who was named Ösel Tendzin by Trungpa and titled Vajra Regent. Like his teacher Trungpa, the Regent was highly promiscuous. Unfortunately, he was HIV-positive which he kept secret aside from two members of the Board of Trustees, thereby risked transmitting HIV to the followers—male and female—that he forced himself on. In fact, one twenty-year-old, the son of a follower, contracted AIDS from the Regent and died. The Regent also engaged in unprotected sex with male street prostitutes.62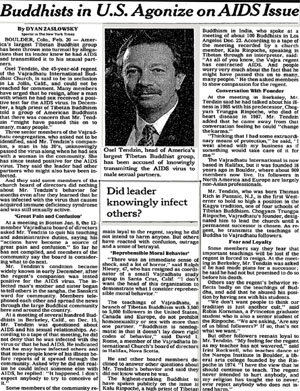 Dyan Zaslowsky, 'Buddhists in U.S. Agonize on AIDS Issue' (New York Times, February 21, 1989)
According to the Regent, Trungpa had discussed being HIV-positive with him before his death. The Regent added that he came away from that conversation with Trungpa feeling he could 'change the karma.' '"Thinking that I had some extraordinary means of protection," Tendzin reportedly told a stunned community meeting organized in Berkeley, California in mid-December, "I went ahead with my business as if something would take care of it for me."'63

In spite of Trungpa's and his self-chosen Regent, Ösel Tendzin's years of alcohol, drug, and sexual abuse, Kalu Rinpoché, a widely sought-after meditation master of the Kagyü school, and Dilgo Khyentse Rinpoché, hierarch of the Nyingma school of Tibetan Buddhism and a recognized master, scholar, and poet, as well as other leading Tibetan lamas continued to endorse Trungpa and his regent Ösel Tendzin—right until their protégés' untimely deaths due to alcoholism and HIV/AIDS respectively.64 The Dalai Lama followed suit with his endorsements.



There is an irony here, in that Trungpa, his Regent as well as the Tibetan priests who endorsed them as intercessors and advocates, supposedly are all wise and even enlightened teachers. Yet, they seemed unaware of common human limitations: addictions to alcohol, drugs, sex, money, and power. It also appears that upholding the good name of the Tibetan Buddhist institution and the reputations of its prominent teachers was more important to the leading priests, including the Dalai Lama, than protecting the unsuspecting public.
Stripped Naked By Force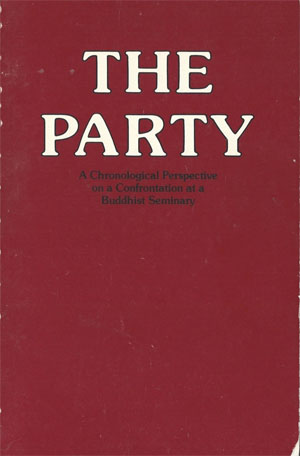 Cover of 'The Party' (1977)
John Steinbeck IV became Trungpa's follower in the early 1970s.65 As one of Trungpa's early followers, John Steinbeck IV was acquainted with the all-American coterie of poets and authors that occasionally held court at
the Jack Kerouac School of Disembodied Poetics, a department of the nascent Naropa Institute in Boulder, Colorado.66 One well-known member of this group was the poet W.S. Merwin.67 In 1975, at a drunken Halloween bash taking place during a three month-long Buddhist 'seminary' program for advanced students, Merwin and his poet girlfriend Dana Naone were physically assaulted and stripped naked by force—by order of Chögyam Trungpa.68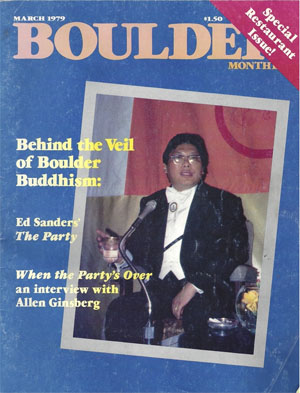 Cover of the 'Boulder Monthly' (March, 1979)
The Merwin-scandal was investigated and made public in the spring of 1979, right before the Dalai Lama's historic first visit to the United States of America.69 That summer, the authoritative magazine Tibetan Review, which was co-funded by the Dalai Lama's exiled administration in Dharamsala, copied the article '"Buddha-Gate" Scandal and cover-up at Naropa revealed' in the Berkeley Barb.70 But perhaps more importantly, the July issue also contained a disconcerting letter by Karl Springer, Trungpa's head of external affairs. Springer's letter was distributed at the end of 1978 and alleged a power grab and murder plot against the 16th Karmapa by the Dalai Lama's principal supporters.71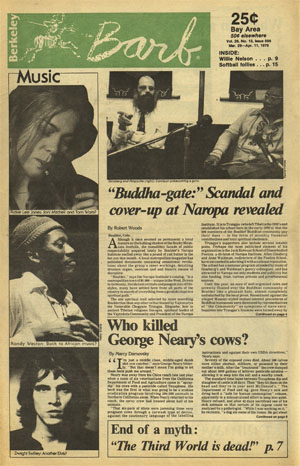 Cover of 'Berkeley Barb' (March 29-April 11, 1979)
It's inconceivable that Springer would have begun this campaign without Trungpa's consent, for the rhetoric was outright incendiary. The 16th Karmapa was the head of the Kagyü sect to which Trungpa belonged, while the 14th Dalai Lama is the most prominent member of the Geluk sect.72 Predictably,
a vocal polemic about Tibetan inter-sectarian strife ensued. In effect, the brouhaha instigated by Springer created a diversion that held the attention of Tibetan Review's readers all through the summer of 1979—meanwhile, Trungpa's alcohol-fueled, violent, and licentious conduct directed towards his western followers was left undiscussed.