Shambhala Buddhism
by WikiMili
Last updated May 10, 2019
Accessed: 6/30/19
NOTICE: THIS WORK MAY BE PROTECTED BY COPYRIGHT
YOU ARE REQUIRED TO READ

THE COPYRIGHT NOTICE AT THIS LINK

BEFORE YOU READ THE FOLLOWING WORK, THAT IS AVAILABLE SOLELY FOR PRIVATE STUDY, SCHOLARSHIP OR RESEARCH PURSUANT TO 17 U.S.C. SECTION 107 AND 108. IN THE EVENT THAT THE LIBRARY DETERMINES THAT UNLAWFUL COPYING OF THIS WORK HAS OCCURRED, THE LIBRARY HAS THE RIGHT TO BLOCK THE I.P. ADDRESS AT WHICH THE UNLAWFUL COPYING APPEARED TO HAVE OCCURRED. THANK YOU FOR RESPECTING THE RIGHTS OF COPYRIGHT OWNERS.
The term Shambhala Buddhism was introduced by Sakyong Mipham in the year 2000 to describe his presentation of the Shambhala teachings originally conceived by Chögyam Trungpa as secular practices for achieving enlightened society, in concert with the Kagyu and Nyingma schools of Tibetan Buddhism. [1] The Shambhala Buddhist sangha considers Sakyong Mipham to be its head and the second in a lineage of Sakyongs; with his father, Chögyam Trungpa, being the first.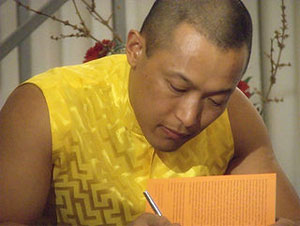 Sakyong Mipham tibetan lama
Sakyong Jamgon Mipham Rinpoche, Jampal Trinley Dradul is the head of the Shambhala lineage and Shambhala, a worldwide network of urban Buddhist meditation centers, retreat centers, monasteries, a university, and other enterprises, founded by his father, Chögyam Trungpa Rinpoche. In July 2018, Sakyong Mipham Rinpoche stated that he is stepping back from his duties due to an investigation into his alleged sexual misconduct.
Shambhala Training is a secular approach to meditation developed by Tibetan Buddhist teacher Chogyam Trungpa and his students. It is based on what Trungpa calls Shambhala Vision, which sees enlightened society as not purely mythical, but as realizable by people of all faiths through practices of mindfulness/awareness, non-aggression, and sacred outlook. He writes: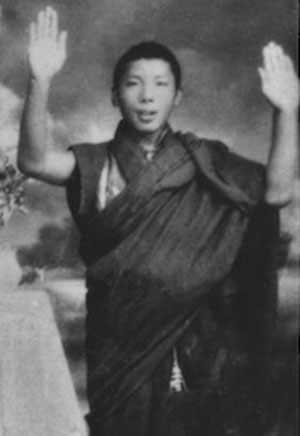 Chögyam Trungpa Tibetan Buddhist lama and writer
Chögyam Trungpa was a Buddhist meditation master and holder of both the Kagyu and Nyingma lineages, the eleventh Trungpa tülku, a tertön, supreme abbot of the Surmang monasteries, scholar, teacher, poet, artist, and originator of a radical re-presentation of Shambhala vision.
Distinguishing characteristics
Shambhala Buddhism partly derives from the teachings of Shambhala, as originally proclaimed by Chögyam Trungpa, which state that "there is a natural source of radiance and brilliance in the world, which is the innate wakefulness of human beings. This is the basis, in myth and inspiration, of the Kingdom of Shambhala, an enlightened society of fearlessness, dignity and compassion." Furthermore, "Shambhala vision applies to people of any faith, not just people who believe in Buddhism. The Shambhala vision does not distinguish a Buddhist from a Catholic, a Protestant, a Jew, a Moslem, a Hindu. That's why we call it the Shambhala kingdom. A kingdom should have lots of spiritual disciplines in it." [2]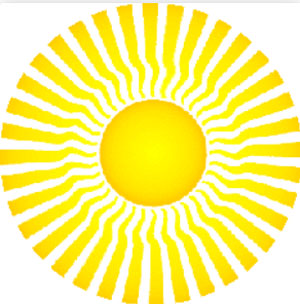 The Great Eastern Sun
Shambhala and Shambhala Training
Main article: Shambhala Training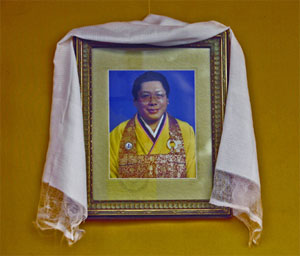 Chogyam Trungpa Rinpoche
At the 1976 Seminary in Land O'Lakes, Wisconsin [3] , Trungpa Rinpoche began giving teachings, some of which were gathered and presented as Shambhala Training, [4] inspired by his vision (see terma) of the legendary Kingdom of Shambhala. Shambhalian practices focus on using mindfulness/awareness meditation as a means of connecting with one's basic sanity and using that insight as inspiration for one's encounter with the world. The Shambhala of Chögyam Trungpa is essentially a secular approach to meditation, with roots in Buddhism as well as in other traditions, but accessible to individuals of any, or no religion. The greater social vision of Shambhala is that it is possible, moment by moment, for individuals to establish enlightened society. Trungpa's book Shambhala: The Sacred Path of the Warrior provides a concise collection of the Shambhala views.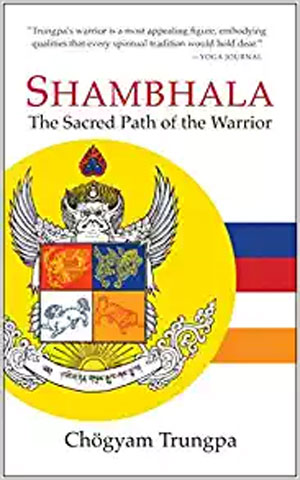 Shambhala: The Sacred Path of the Warrior book by Chögyam Trungpa
Shambhala: The Sacred Path of the Warrior is a book concerning the Shambhala Buddhist vision of founder Chögyam Trungpa. The book discusses addressing personal and societal problems through the application of secular concepts such as basic goodness, warriorship, bravery, and egolessness as a means toward the creation of what he calls "enlightened society". Shambhala vision is described as a nonreligious approach rooted in meditation and accessible to individuals of any, or no, religion. In Shambhala terms, it is possible, moment by moment, for individuals to establish enlightened society.
Shambhala Training is administered worldwide by Shambhala International. Shambhala Training is presented in a series of weekend programs, the first five of which are called "The Heart of Warriorship", and the subsequent seven "The Sacred Path". The Warrior Assembly is the fruition of the Shambhala Training Sacred Path program. During Warrior Assembly, students study the Shambhala terma text, The Golden Sun of the Great East, and receive the ashé practices of stroke and lungta.
Shambhala within Shambhala Buddhism
After the year 2000, with the merging of the secular teachings of Shambhala and the Buddhist teachings of Vajradhatu into Shambhala Buddhism, completion of Shambhala Vajrayana Seminary (which itself requires taking Buddhist refuge and bodhisattva vows, as well as Buddhist vajrayana samaya vows) became a condition for receiving the highest Shambhala teachings, such as those of Werma and the Scorpion Seal Retreat. In turn, Warrior Assembly became a prerequisite for attending the Vajrayana Seminary.
Vajradhatu was the name of the umbrella organization of Chögyam Trungpa Rinpoche, one of the first Tibetan Buddhist lamas to visit and teach in the West. It served as the vehicle for the promulgation of his Buddhist teachings, and was also the name by which his community was known from 1973 until 1990. Starting in 1976 it was paralleled by a governmental structure for establishing the non-denominational enlightened society of Shambhala Kingdom, which included Shambhala Training among many other activities. Eventually, the Vajradhatu organization was renamed Shambhala International by Sakyong Mipham Rinpoche.
Vajrayāna (वज्रयान), Mantrayāna, Tantrayāna, Tantric Buddhism and Esoteric Buddhism are terms referring to the various Buddhist traditions of Tantra and "Secret Mantra", which developed in medieval India and spread to Tibet, Bhutan, and East Asia. In Tibet, Buddhist Tantra is termed Vajrayāna, while in China it is generally known as Tángmì Hanmi 漢密 or Mìzōng (密宗, "Esoteric Sect"), in Pali it is known as Pyitsayãna (ပစ္စယာန), and in Japan it is known as Mikkyō.
The samaya, is a set of vows or precepts given to initiates of an esoteric Vajrayana Buddhist order as part of the abhiṣeka ceremony that creates a bond between the guru and disciple.
The Rigden Abhisheka enters the student into the practice of the Werma Sadhana. It is open to graduates of Shambhala Vajrayana Seminary who have completed their Shambhala ngöndro and to students who have already received the Werma Sadhana and completed their Kagyü Ngöndro.
Shambhala Terma
Certain Shambhala practices derive from specific terma texts of Trungpa Rinpoche's such as Letter of the Black Ashe, Letter of the Golden Key that Fulfills Desire, Golden Sun of the Great East, and the Scorpion Seal of the Golden Sun, in long and short versions. Trungpa Rinpoche is believed by his students to have received these teachings directly from Gesar of Ling, an emanation of Padmasambhava, and the Rigden kings. [5] Their terma status was confirmed by the Nyingma master Dilgo Khyentse Rinpoche.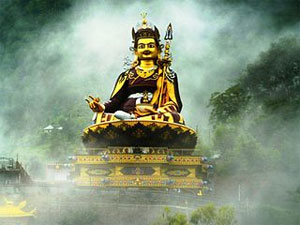 Padmasambhava Tibetan Lama
Padmasambhava, also known as Guru Rinpoche, was an 8th-century Buddhist master from the Indian subcontinent. Although there was a historical Padmasambhava, little is known of him apart from helping the construction of the first Buddhist monastery in Tibet at Samye, at the behest of Trisong Detsen, and shortly thereafter leaving Tibet due to court intrigues.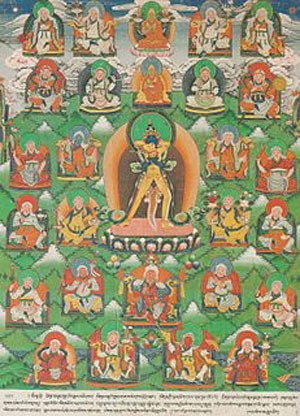 Kings of Shambhala
The thirty-two Kings of Shambhala reside in a mythical kingdom. They are part of the Indo-Tibetan Vajrayana Buddhist tradition.
The Shambhala dharma practices derived entirely or in part from these texts include those of werma , drala , Wind Horse (Tib. lungta), and meditations on four "dignities of Shambhala": tiger (Tib. tak), lion (Tib. seng), garuda (Tib. kyung) and dragon (Tib. druk). Jamgon Ju Mipham Gyatso, a great 19th century Nyingma lama and the predecessor of Sakyong Mipham Rinpoche, wrote about many of these practices and concepts as well. Some, such as the "stroke of Ashé", have no known precedents.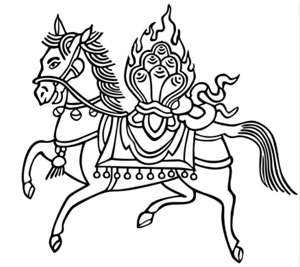 Wind Horse
The wind horse is a symbol of the human soul in the shamanistic tradition of East Asia and Central Asia. In Tibetan Buddhism, it was included as the pivotal element in the center of the four animals symbolizing the cardinal directions and a symbol of the idea of well-being or good fortune. It has also given the name to a type of prayer flag that has the five animals printed on it.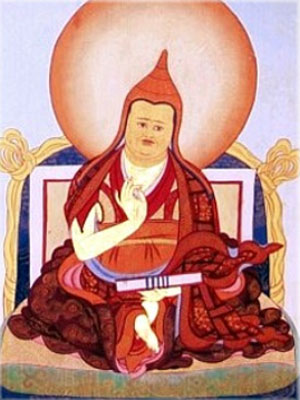 Jamgon Ju Mipham Gyatso master of the Nyingma lineage of Tibetan Buddhism and leader of Ri-me movement
Jamgön Ju Mipham, or Mipham Jamyang Namgyal Gyamtso (1846–1912) was a very influential philosopher and polymath of the Nyingma school of Tibetan Buddhism. He wrote over 32 volumes on topics such as painting, poetics, sculpture, alchemy, medicine, logic, philosophy and tantra. Mipham's works are still central to the scholastic curriculum in Nyingma monasteries today. Mipham is also considered one of the leading figures in the Ri-me (non-sectarian) movement in Tibet.
Zen Influence
Trungpa Rinpoche was deeply influenced by his friend Shunryu Suzuki Roshi, a Japanese Zen master who was one of the first accomplished teachers to present dharma to Westerners.[ citation needed ] As a result of this influence, certain attributes of form in Shambhala Buddhism are derived from Zen, rather than Tibetan Buddhism. The shrine rooms in Shambhala Buddhism, reflecting the Zen aesthetic of Kanso (簡素) or simplicity, tend to be sparsely furnished and decorated, whereas traditional Tibetan Buddhist shrine rooms are elaborate, ornate, and colorful. As in Zen but unlike Tibetan Buddhist practice, meditators engage in group practice of shamatha-vipashyana.
In addition, Shambhala Buddhists have adopted the practices of kyūdō, ikebana (kado), tea ceremony, oryoki, calligraphy, and other traditional Japanese arts as a means of extending the mind of calm-abiding and awareness to more active practices.
Elements of Bön, Taoism, and Confucianism
To a lesser extent, Trungpa Rinpoche incorporated other elements into Shambhala tradition that he thought would be beneficial to practitioners. From the Bön religion, the lhasang ceremony is performed; other elements of shamanism play a role. From Confucianism comes a framework of heaven, earth, and man for understanding the proper relationship between different elements of compositions of all kinds. From Taoism comes the use of feng shui and other incorporations.
Dorje Kasung
The Dorje Kasung is a group that was formed by Chogyam Trungpa Rinpoche to support the transmission of the Shambhala teachings by helping create an appropriate environment for them to be taught in. The Dorje Kasung accomplish this by providing a gentle and uplifted presence at teaching events, providing security services, providing driving and personal assistance to the teachers, and working with any issues of conflict or health that may arise in the community.
The training and model of the Dorje Kasung is based on military forms, such as hierarchy, uniforms, and drills. The purpose of utilizing the military format is not to propagate war, but to take advantage of the discipline and energy of military forms to embody and communicate compassion.The practice of Dorje Kasungship is founded on the mahayana Buddhist principle of compassionate action, and inspired by the vajrayana Buddhist emphasis on working directly with the energy of neurosis and transforming it into wisdom. Thus, through engaging directly with military forms, they aspire to fulfill the vision expressed in their motto, "Victory Over War". [6]
The Dorje Kasung follow the orders of the Sakyong. Once, this involved breaking into a guest's room, forcibly bringing her to a party and then stripping her naked, while onlookers ignored her pleas for help and for someone to call the police. [7]
Maitri and Mudra
Maitri is a therapeutic program that works with different styles of neurosis using principles of the Five Buddha Families. Mudra practice, first explored by the Mudra Theater Group, is based on traditional Tibetan monastic dance training and the teachings on mahamudra.
Shambhala Art
Shambhala Art can be seen as a process, a product, and an art-education program. As a process, it brings wakefulness and awareness to the creative and viewing processes through the integration of contemplation and meditation. As a product, it is art that wakes us up. Shambhala Art is also an international nonprofit art-education program based on the Dharma Art teachings of Chögyam Trungpa Rinpoche, the founder of Shambhala. Its purpose is to explore, from the viewpoint of a meditative discipline, the creative process and the product called art.[ citation needed ]
Traditional Buddhist Practices
Shambhala Buddhism holds various meditation techniques of traditional Tibetan Buddhist lineages, including shamatha/vipashyana, zazen, madhyamaka, mahamudra and Dzogchen, tonglen, Lojong, traditional yidam practices such as Vajrayogini, Chakrasamvara, Vajrakilaya, Jambhala, Gesar, Tara, Manjushri, and Vajrasattva.
History
Main article: Vajradhatu
The term "Shambhala Buddhism", as used to describe the lineage and community led by Sakyong Mipham Rinpoche, came into use around 2000.
• In 1970, the Shambhala community had its origins with the arrival of the 11th Trungpa tülku, Trungpa Rinpoche, in North America. The first established center of his teachings was "Tail of the Tiger" in Barnet, Vermont (now Karmê Chöling).
• In 1971, a second branch of the community began to form when Rinpoche began teaching at the University of Colorado. The Rocky Mountain Dharma Center was established, now known as Shambhala Mountain Center, near Fort Collins, Colorado. In the early 1970s the community grew rapidly and attracted the involvement of such notables as Allen Ginsberg, Anne Waldman, and many others
• In 1973, the Shambhala community was incorporated in Colorado as Vajradhatu. Vajradhatu hosted visits by the Sixteenth Karmapa (head of the Kagyu School) in 1974, Dilgo Khyentse Rinpoche (head of the Nyingma School) in 1976, and the Fourteenth Dalai Lama in 1981.
• In 1974, Naropa Institute was founded, a contemplative studies and liberal arts college, now fully accredited as Naropa University. [8]
• In 1975, Shambhala Lodge was founded, a group of students dedicated to fostering enlightened society.
• In 1975, at an October party at Snowmass Colorado Seminary, Trungpa Rinpoche ordered his Vajra guard (i.e., the Dorje Kasung) to forcibly break into the room of his guest, Dana Naone, who he then ordered to be brought before the crowd and stripped naked, with onlookers ignoring her pleas for help and for someone to call the police. [9]
• In 1976, Trungpa Rinpoche began his cycle of Shambhala teachings and, with his students, manifesting forms of Shambhala society. Kalapa Court was established in Boulder, Colorado, as Trungpa Rinpoche's residence and a cultural center for the Vajradhatu community. Thomas F. Rich was empowered as Vajra Regent Ösel Tendzin and lineage holder in the Karma Kagyü and Nyingma lineages.
• In 1977, Shambhala Training was founded to promote a secular approach to meditation practice and an appreciation of basic human goodness. [8] The Gyalwa Karmapa, the head of the Kagyü lineage, confirmed the Vajra Regent's appointment as a lineage holder. Ösel Tendzin was the first Western student to hold such a position in the Kagyü lineage. [10]
• In 1978, Trungpa Rinpoche conducted the first annual Kalapa Assembly, an intensive training program for advanced Shambhala teachings and practices. [8]
• In 1979, Trungpa Rinpoche empowered his eldest son, Ösel Rangdröl Mukpo, as his successor and heir to the Shambhala lineage. [8]
• In 1986, Trungpa moved the international headquarters of Vajradhatu to Halifax, Nova Scotia, where he died the following year. A large number of his disciples emigrated from the United States to Nova Scotia along with him.
• In 1987, after Trungpa's death, Tendzin's role as spiritual head of Vajradhatu lasted until around 1989. Citing an AIDS-related infection, allegations arose that Tendzin had passed HIV to a male partner in the Colorado congregation, who in turn unknowingly infected his female partner. [11] Tendzin, who was HIV-positive, knowingly had sex with students for three years without disclosing his infection. He had a delusion that his enlightened status protected himself and others from AIDS. [12] It eventually came out that the Vajradhatu board of directors had known of the problem for more than two years and had done nothing about it. [13]
• After the death of Ösel Tendzin in 1990, Ösel Rangdröl Mukpo became spiritual head of what would become Shambhala International.
• In 1995, Ösel Rangdröl Mukpo was recognized by Penor Rinpoche as the reincarnation of Ju Mipham and enthroned as Sakyong. The Sakyong—literally "earth-protector"—is a chögyal—"dharma king"—who holds and propagates the teachings of Shambhala. [14]
• In 2000, at the Kalapa Assembly, [15] Sakyong Mipham made a proclamation [16] that started the process of enclosing the previously secular teachings of Shambhala within the container of a new buddhist lineage, Shambhala Buddhism.
• In 2001, on a visit to Tibet, Sakyong Mipham Rinpoche met the 12th Trungpa tülku, Choseng Trungpa Rinpoche, an incarnation discovered by Tai Situ Rinpoche in 1991.
• In August 2007, The Sakyong married Khandro Tseyang Palmo with a ceremony conducted by Drupwang Penor Rinpoche during the Kalapa Festival in Halifax. Khandro Tseyang Palmo is currently the Sakyong Wangmo, a title held previously by Lady Diana Mukpo, now the Druk Sakyong Wangmo.
• In July 2018, Sakyong Mipham Rinpoche stepped down from leadership after the release of a third-party investigative report extensively documenting numerous accounts of sexual misconduct involving his students.[17] [18]
The Shambhala Buddhist community today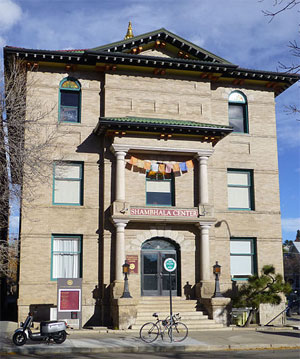 Shambhala Center, Boulder, Colorado
Today, there are over two hundred Shambhala Meditation Centers, Groups and Residential Retreat Centers around the world, mostly in the United States, Canada, Europe and South America, [19] [20] the largest communities being Halifax, Nova Scotia; Boulder, Colorado; northern Vermont; and New York City.
Shambhala-inspired schools
• Naropa University in Boulder, Colorado
• The Shambhala School in Halifax, Nova Scotia
• Alaya Preschool in Boulder, Colorado
Shambhala International
The umbrella organization that encompasses many of the distinct institutions of Shambhala Buddhism is called Shambhala International. Shambhala International, which is based in Halifax, Nova Scotia, links a worldwide mandala of urban Buddhist meditation centers, retreat centers, monasteries, a university, and other ventures, founded by the Tibetan Buddhist teacher the Trungpa Rinpoche under the name Vajradhatu. Sakyong Mipham Rinpoche is the present spiritual and executive head of the organization, which he renamed and reorganized in 1990.
Spiritual teachers
• Druk Sakyong Chögyam Trungpa Rinpoche (deceased)
• Sakyong Mipham Rinpoche (stepped down due to sexual misconduct with students)
• Vajra Regent Ösel Tendzin (deceased, did not step down but was forced into retreat due to disagreements on how to handle his sexual misconduct with students)
The Shambhala Buddhist sangha has teaching faculty, supporting individual study and practice with mentorship, guidance, personal meditation instruction, junior and senior teachers, and western spiritual teachers (acharyas) who support and guide the Shambhala sangha, including:
• Acharya Dale Asrael
• Acharya Emily Bower
• Acharya Christie Cashman
• Acharya Orhun Cercel
• Acharya Pema Chödrön
• Acharya Dorje Loppon Lodro Dorje
• Acharya Gaylon Ferguson
• Acharya Moh Hardin
• Acharya Arawana Hayashi
• Acharya Jeremy Hayward
• Acharya Daniel Hessey
• Acharya Samten Kobelt
• Acharya Judy Lief
• Acharya Mitchell Levy
• Kalapa Acharya Adam Lobel
• Acharya Noel McLellan
• Acharya Larry Mermelstein
• Ashe Acharya John Rockwell
• Acharya Eve Rosenthal
• Acharya Judith Simmer-Brown
• Acharya Eric Spiegel
• Acharya Richard John
Land centers
The Shambhala "land centers" are retreat centers, generally located in more rural settings around the world.
• Gampo Abbey in Pleasant Bay, Nova Scotia, Canada
• Dorje Denma Ling in Tatamagouche, Nova Scotia, Canada
• Shambhala Mountain Center in Red Feather Lakes, Colorado
• Sky Lake Lodge in Rosendale, New York
• Dechen Chöling in Mas Marvent, France
• Karmê Chöling in Barnet, Vermont
Larger Shambhala Mandala
Many entities are considered part of the larger Shambhala mandala inspired by Chogyam Trungpa, although they may not be legally part of the Shambhala International organization.
• Shambhala Training
• Naropa University an accredited, private liberal arts university founded in 1974 by Chögyam Trungpa Rinpoche
• Shambhala Institute for Authentic Leadership
• Nalanda Translation Committee
• Ngedon School of Higher Learning
• Kalapa Ikebana a school of Japanese flower arranging founded by Chögyam Trungpa Rinpoche
• Miksang Photography based on the Dharma Art teachings of Chögyam Trungpa Rinpoche
• Maitri Space Awareness Maitri Five Wisdom Energies practice
• Konchok Foundation supporting communities in Tibet
• Shambhala Art
Choseng Trungpa, the Twelfth Trungpa Tulku, along with the other tulkus and leaders of Surmang, asked Sakyong Mipham Rinpoche to assume stewardship of Surmang Monastery and its people. Sakyong Mipham has also been asked to assume responsibility for Weyen monastery, the Gesar orphanage, and the Mipham Institute in Golok, and Khamput Monastery in Kham.
Related publications
Shambhala International has inspired or sponsors a number of publications, and others exist in some degree of relationship to the larger Shambhala International/Shambhala Buddhism mandala.
• Shambhala Media, distributor of published works and recordings of Shambhala
• Shambhala Publications was founded and is published by Acharya Samuel Bercholz, a senior teacher in the Shambhala Buddhist lineage, but has no legal relationship to Shambhala International
• Buddhadharma: The Practitioner's Quarterly , journal of Buddhist practice, published by the Shambhala Sun Foundation
• Lion's Roar , Buddhist-inspired bimonthly magazine of Buddhism, meditation, culture, and life, published by the Shambhala Sun Foundation
• The Shambhala Times, online community magazine
See also
• Index of Buddhism-related articles
• Secular Buddhism
Related Research Articles