Part 1 of 2
Robert Clive
by Wikipedia
Accessed: 7/14/19
NOTICE: THIS WORK MAY BE PROTECTED BY COPYRIGHT
YOU ARE REQUIRED TO READ

THE COPYRIGHT NOTICE AT THIS LINK

BEFORE YOU READ THE FOLLOWING WORK, THAT IS AVAILABLE SOLELY FOR PRIVATE STUDY, SCHOLARSHIP OR RESEARCH PURSUANT TO 17 U.S.C. SECTION 107 AND 108. IN THE EVENT THAT THE LIBRARY DETERMINES THAT UNLAWFUL COPYING OF THIS WORK HAS OCCURRED, THE LIBRARY HAS THE RIGHT TO BLOCK THE I.P. ADDRESS AT WHICH THE UNLAWFUL COPYING APPEARED TO HAVE OCCURRED. THANK YOU FOR RESPECTING THE RIGHTS OF COPYRIGHT OWNERS.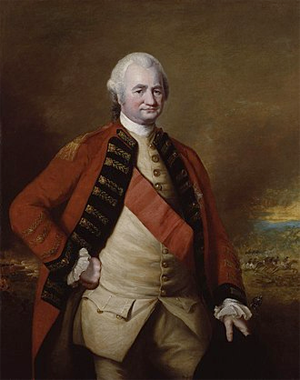 Major-General the Right Honourable The Lord Clive KB FRS. Lord Clive in military uniform. The Battle of Plassey is shown behind him. By Nathaniel Dance. National Portrait Gallery, London.
Fascinatingly, we also know that Pybus commissioned a portrait of Robert Clive, as in 1780 Francis Fowke, resident of Benares and a school friend of John Pybus Junior, was sent by his uncle, John Walsh, 'a large picture of Lord Clive … It is a copy of that done by Dance for Mr Pybus'.25 It is quite probable that Pybus's painting is the prototype half-length of Clive with the Battle of Plassey in the background at Powis Castle, Wales, of which there are eight copies, one of which is in the National Portrait Gallery,
London.26-- A Nabob's return: the Pybus conversation piece by Nathaniel Dance, by Emma Lauze
Governor of the Presidency of Fort William, Bengal
In office
1757–1760
Preceded by Roger Drake
as President
Succeeded by Henry Vansittart
In office
1765–1766
Preceded by Henry Vansittart
Succeeded by Harry Verelst
Personal details
Born 29 September 1725
Styche Hall, Market Drayton, Shropshire, England
Died 22 November 1774 (aged 49)
Berkeley Square, Westminster, London
Nationality British
Alma mater Merchant Taylors' School
Awards KB
Military service
Allegiance Kingdom of Great Britain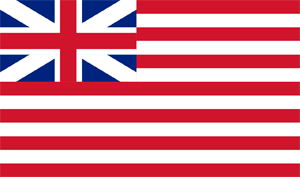 Branch/service Flag of the British East India Company (1707).svg Company Army
Years of service 1746–1774
Rank Major-general
Unit British East India Company
Commands Commander-in-Chief of India
Battles/wars War of the Austrian Succession
Battle of Madras
Siege of Cuddalore
Siege of Pondicherry
Tanjore Expedition
Second Carnatic War
Siege of Trichinopoly
Siege of Arcot
Battle of Arnee
Battle of Chingleput
Seven Years' War
Battle of Vijaydurg
Recapture of Calcutta
Battle of Chandannagar
Battle of Plassey
Major-General Robert Clive, 1st Baron Clive, KB, FRS (29 September 1725 – 22 November 1774), also known as Clive of India, Commander-in-Chief of British India, was a British military officer and East India Company official who established the military and political supremacy of the East India Company in Bengal. He is credited with securing a large swath of South Asia (Bangladesh, India, Pakistan) and the wealth that followed, for the British East India Company. In the process, he also turned himself into a multi-millionaire. Together with Warren Hastings he was one of the key early figures setting in motion what would later become British India.
Blocking impending French mastery of India, and eventual British expulsion from the continent, Clive improvised a military expedition that ultimately enabled the East India Company to adopt the French strategy of indirect rule via puppet government.
Hired by the company to return a second time to India, Clive conspired to secure the Company's trade interests by overthrowing the locally unpopular heir to the throne of Bengal, the richest state in India, richer than Britain, at the time. Back in England, he used his success to secure an Irish barony, from the then Whig PM, Thomas Pelham-Holles, 1st Duke of Newcastle, and again a seat for himself in Parliament, via Henry Herbert, 1st Earl of Powis, representing the Whigs in Shrewsbury, Shropshire (1761–1774), as he had previously in Mitchell, Cornwall (1754–1755).[1][2]

Clive was one of the most controversial figures in all British military history. His achievements included establishing control over much of India, and laying the foundation of the entire British Raj (though he worked only as an agent of the East India Company, not the British government). For his methods and his self-aggrandisement he was vilified by his contemporaries in Britain, and put on trial before Parliament. Of special concern was that he amassed a personal fortune in India. Modern historians have criticised him for atrocities, for high taxes, and for the forced cultivation of crops which exacerbated famines.[3][4][5]
Early life
Robert Clive was born at Styche, the Clive family estate, near Market Drayton in Shropshire, on 29 September 1725 to Richard Clive and Rebecca (née Gaskell) Clive.[6] The family had held the small estate since the time of Henry VII. The family had a lengthy history of public service: members of the family included an Irish chancellor of the exchequer under Henry VIII, and a member of the Long Parliament. Robert's father, who supplemented the estate's modest income as a lawyer, also served in Parliament for many years, representing Montgomeryshire.[7] Robert was their eldest son of thirteen children; he had seven sisters and five brothers, six of whom died in infancy.[8]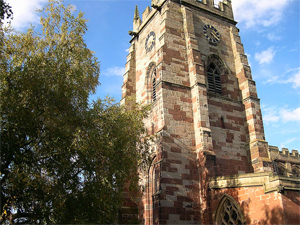 St. Mary's in Market Drayton, whose tower Clive is reputed to have climbed
Clive's father was known to have a temper, which the boy apparently inherited. For reasons that are unknown, Clive was sent to live with his mother's sister in Manchester while still a toddler. Biographer Robert Harvey suggests that this move was made because Clive's father was busy in London trying to provide for the family.[9]
Daniel Bayley, the sister's husband, reported that the boy was "out of measure addicted to fighting".[10][11] He was a regular troublemaker in the schools he was sent to.[12] When he was older he and a gang of teenagers established a protection racket that vandalised the shops of uncooperative merchants in Market Drayton. Clive also exhibited fearlessness at an early age. He is reputed to have climbed the tower of St Mary's Parish Church in Market Drayton and perched on a gargoyle, frightening those down below.[13]
When Clive was nine his aunt died, and, after a brief stint in his father's cramped London quarters, he returned to Shropshire. There he attended the Market Drayton Grammar School, where his unruly behaviour (and improvement in the family's fortunes) prompted his father to send him to Merchant Taylors' School in London. His bad behaviour continued, and he was then sent to a trade school in Hertfordshire to complete a basic education.[8] Despite his early lack of scholarship, in his later years he devoted himself to improving his education. He eventually developed a distinctive writing style, and a speech in the House of Commons was described by William Pitt as the most eloquent he had ever heard.[7]
First journey to the East (1744–1753)
See also: First Carnatic War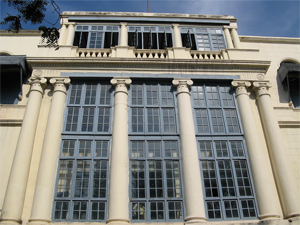 Clive House at Fort St. George, Chennai
Plaque at Clive House
In 1744 Clive's father acquired for him a position as a "factor" or company agent in the service of the East India Company, and Clive set sail for Bombay, (present day Mumbai, India). After running aground on the coast of Brazil, his ship was detained for nine months while repairs were completed. This enabled him to learn some Portuguese,[14] one of the several languages then in use in south India because of the Portuguese center at Goa. At this time the East India Company had a small settlement at Fort St. George near the village of Madraspatnam, later Madras, now the Indian metropolis of Chennai,[15] in addition to others at Calcutta, Bombay, and Cuddalore.[16] Clive arrived at Fort St. George in June 1744, and spent the next two years working as little more than a glorified assistant shopkeeper, tallying books and arguing with suppliers of the East India Company over the quality and quantity of their wares. He was given access to the governor's library, where he became a prolific reader.[17]
Political situation in south India
The land Clive arrived in was divided into a number of successor states to the Mughal Empire. Over the forty years, since the death of the Emperor Aurangzeb in 1707, the power of the emperor had gradually fallen into the hands of his provincial viceroys or Subahdars. The dominant rulers on the Coromandel Coast were the Nizam of Hyderabad, Asaf Jah I, and the Nawab of the Carnatic, Anwaruddin Muhammed Khan. The nawab nominally owed fealty to the nizam, but in many respects acted independently. Fort St. George and the French trading post at Pondicherry were both located in the nawab's territory.[18]
The relationship between the Europeans in the region was influenced by a series of wars and treaties in Europe, and by commercial rivalries for trade on the subcontinent.
Through the 17th and early 18th centuries, the French, Dutch, Portuguese, and British had vied for control of various trading posts, and for trading rights and favour with local Indian rulers. The European merchant companies raised bodies of troops to protect their commercial interests and latterly to influence local politics to their advantage. Military power was rapidly becoming as important as commercial acumen in securing India's valuable trade, and increasingly it was used to appropriate territory and to collect land revenue.[19]
First Carnatic War
Further information: Carnatic Wars and War of the Austrian Succession
Portrait by Charles Clive, c. 1764
In 1720 France effectively nationalized the French East India Company, and began using it to expand its imperial interests. This became a source of conflict with the British in India with the entry of Britain into the War of the Austrian Succession in 1744.[16] The Indian theatre of the conflict is also known as the First Carnatic War. Hostilities in India began with a British naval attack on a French fleet in 1745, which led the French Governor-General Dupleix to request additional forces.[20] On 4 September 1746, Madras was attacked by French forces led by La Bourdonnais. After several days of bombardment the British surrendered and the French entered the city.[21] The British leadership was taken prisoner and sent to Pondicherry. It was originally agreed that the town would be restored to the British after negotiation but this was opposed by Dupleix, who sought to annex Madras to French holdings.[22] The remaining British residents were asked to take an oath promising not to take up arms against the French; Clive and a handful of others refused, and were kept under weak guard as the French prepared to destroy the fort. Disguising themselves as natives, Clive and three others eluded their inattentive sentry, slipped out of the fort, and made their way to Fort St. David (the British post at Cuddalore), some 50 miles (80 km) to the south.[23][24] Upon his arrival, Clive decided to enlist in the Company army rather than remain idle; in the hierarchy of the Company, this was seen as a step down.[25] Clive was, however, recognized for his contribution in the defence of Fort St. David, where the French assault on 11 March 1747 was repulsed with the assistance of the Nawab of the Carnatic, and was given a commission as ensign.[26]
In the conflict, Clive's bravery came to the attention of Major Stringer Lawrence, who arrived in 1748 to take command of the British troops at Fort St. David.[26] During the 1748 Siege of Pondicherry Clive distinguished himself in successfully defending a trench against a French sortie: one witness of the action wrote Clive's "platoon, animated by his exhortation, fired again with new courage and great vivacity upon the enemy."[27] The siege was lifted in October 1748 with the arrival of the monsoons, but the war came to a conclusion with the arrival in December of news of the Peace of Aix-la-Chapelle. Madras was returned to the British as part of the peace agreement in early 1749.[28]
Tanjore expedition
The end of the war between France and Britain did not, however, end hostilities in India. Even before news of the peace arrived in India, the British had sent an expedition to Tanjore on behalf of a claimant to its throne. This expedition, on which Clive, now promoted to lieutenant, served as a volunteer, was a disastrous failure. Monsoons ravaged the land forces, and the local support claimed by their client was not in evidence. The ignominious retreat of the British force (which lost its baggage train to the pursuing Tanjorean army while crossing a swollen river) was a blow to the British reputation.[29] Major Lawrence, seeking to recover British prestige, led the entire Madras garrison to Tanjore in response. At the fort of Devikottai on the Coleroon River the British force was confronted by the much larger Tanjorean army. Lawrence gave Clive command of 30 British soldiers and 700 sepoys, with orders to lead the assault on the fort. Clive led this force rapidly across the river and toward the fort, where the small British unit became separated from the sepoys and were enveloped by the Tanjorean cavalry. Clive was nearly cut down and the beachhead almost lost before reinforcements sent by Lawrence arrived to save the day. The daring move by Clive had an important consequence: the Tanjoreans abandoned the fort, which the British triumphantly occupied. The success prompted the Tanjorean rajah to open peace talks, which resulted in the British being awarded Devikottai and the costs of their expedition, and the British client was awarded a pension in exchange for renouncing his claim. Lawrence wrote of Clive's action that "he behaved in courage and in judgment much beyond what could be expected from his years."[30]
On the expedition's return the process of restoring Madras was completed. Company officials, concerned about the cost of the military, slashed its size, denying Clive a promotion to captain in the process. Lawrence procured for Clive a position as the commissary at Fort St. George, a potentially lucrative posting (its pay included commissions on all supply contracts).[31]
Second Carnatic War
Further information: Second Carnatic War
The death of Asaf Jah I, the Nizam of Hyderabad, in 1748 sparked a struggle to succeed him that is known as the Second Carnatic War, which was also furthered by the expansionist interests of French Governor-General Dupleix. Dupleix had grasped from the first war that small numbers of disciplined European forces (and well-trained sepoys) could be used to tip balances of power between competing interests, and used this idea to greatly expand French influence in southern India. For many years he had been working to negotiate the release of Chanda Sahib, a longtime French ally who had at one time occupied the throne of Tanjore, and sought for himself the throne of the Carnatic. Chanda Sahib had been imprisoned by the Marathas in 1740; by 1748 he had been released from custody and was building an army at Satara.
Upon the death of Asaf Jah I, his son, Nasir Jung, seized the throne of Hyderabad, although Asaf Jah had designated as his successor his grandson, Muzaffar Jung. The grandson, who was ruler of Bijapur, fled west to join Chanda Sahib, whose army was also reinforced by French troops sent by Dupleix. These forces met those of Anwaruddin Mohammed Khan in the Battle of Ambur in August 1749; Anwaruddin was slain, and Chanda Sahib victorious entered the Carnatic capital, Arcot. Anwaruddin's son, Muhammed Ali Khan Wallajah, fled to Trichinopoly where he sought the protection and assistance of the British. In thanks for French assistance, the victors awarded them a number of villages, including territory nominally under British sway near Cuddalore and Madras. The British began sending additional arms to Muhammed Ali Khan Wallajah and sought to bring Nasir Jung into the fray to oppose Chanda Sahib. Nasir Jung came south to Gingee in 1750, where he requested and received a detachment of British troops. Chanda Sahib's forces advanced to meet them, but retreated after a brief long-range cannonade. Nasir Jung pursued, and was able to capture Arcot and his nephew, Muzaffar Jung. Following a series of fruitless negotiations and intrigues, Nasir Jung was assassinated by a rebellious soldier. This made Muzaffar Jung nizam and confirmed Chanda Sahib as Nawab of the Carnatic, both with French support. Dupleix was rewarded for French assistance with titled nobility and rule of the nizam's territories south of the Kistna River. His territories were "said to yield an annual revenue of over 350,000 rupees".[32]
Robert Clive was not in southern India for many of these events. In 1750 Clive was afflicted with some sort of nervous disorder, and was sent north to Bengal to recuperate.[33] It was there that he met and befriended Robert Orme, who became his principal chronicler and biographer. He returned to Madras in 1751.
Siege of Arcot
Main article: Siege of Arcot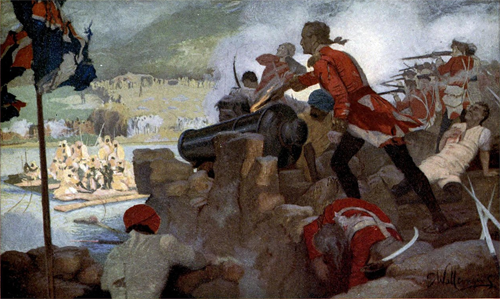 Clive at the siege of Arcot (1751)
In the summer of 1751, Chanda Sahib left Arcot to besiege Muhammed Ali Khan Wallajah at Trichinopoly. This placed the British at Madras in a precarious position, since the latter was the last of their major allies in the area. The British company's military was also in some disarray, as Stringer Lawrence had returned to England in 1750 over a pay dispute, and much of the company was apathetic about the dangers the expanding French influence and declining British influence posed. The weakness of the British military command was exposed when a force was sent from Madras to support Muhammed Ali at Trichinopoly, but its commander, a Swiss mercenary, refused to attack an outpost at Valikondapuram. Clive, who accompanied the force as commissary, was outraged at the decision to abandon the siege. He rode to Cuddalore, and offered his services to lead an attack on Arcot if he was given a captain's commission, arguing this would force Chanda Sahib to either abandon the siege of Trichinopoly or significantly reduce the force there.
Madras and Fort St David could supply him with only 200 Europeans, 300 sepoys, and three small cannons; furthermore, of the eight officers who led them, four were civilians like Clive, and six had never been in action. Clive, hoping to surprise the small garrison at Arcot, made a series of forced marches, including some under extremely rainy conditions. Although he did fail to achieve surprise, the garrison, hearing of the march being made under such arduous conditions, opted to abandon the fort and town; Clive occupied Arcot without firing a shot.
The fort was a rambling structure with a dilapidated wall a mile long (too long for his small force to effectively man), and it was surrounded by the densely packed housing of the town. Its moat was shallow or dry, and some of its towers were insufficiently strong to use as artillery mounts. Clive did the best he could to prepare for the onslaught he expected. He made a foray against the fort's former garrison, encamped a few miles away, which had no significant effect. When the former garrison was reinforced by 2,000 men Chanda Sahib sent from Trichinopoly it reoccupied the town on 15 September. That night Clive led most of his force out of the fort and launched a surprise attack on the besiegers. Because of the darkness, the besiegers had no idea how large Clive's force was, and they fled in panic.
The next day Clive learned that heavy guns he had requested from Madras were approaching, so he sent most of his garrison out to escort them into the fort. That night the besiegers, who had spotted the movement, launched an attack on the fort. With only 70 men in the fort, Clive once again was able to disguise his small numbers, and sowed sufficient confusion against his enemies that multiple assaults against the fort were successfully repulsed. That morning the guns arrived, and Chanda Sahib's men again retreated.
Over the next week Clive and his men worked feverishly to improve the defences, aware that another 4,000 men, led by Chanda Sahib's son Raza Sahib and accompanied by a small contingent of French troops, was on its way. (Most of these troops came from Pondicherry, not Trichinopoly, and thus did not have the effect Clive desired of raising that siege.) Clive was forced to reduce his garrison to about 300 men, sending the rest of his force to Madras in case the enemy army decided to go there instead. Raza Sahib arrived at Arcot, and on 23 September occupied the town. That night Clive launched a daring attack against the French artillery, seeking to capture their guns. The attack very nearly succeeded in its object, but was reversed when enemy sniper fire tore into the small British force. Clive himself was targeted on more than one occasion; one man pulled him down and was shot dead. The affair was a serious blow: 15 of Clive's men were killed, and another 15 wounded.
Over the next month the besiegers slowly tightened their grips on the fort. Clive's men were subjected to frequent sniper attacks and disease, lowering the garrison size to 200. He was heartened to learn that some 6,000 Maratha forces had been convinced to come to his relief, but that they were awaiting payment before proceeding. The approach of this force prompted Raza Sahib to demand Clive's surrender; Clive's response was an immediate rejection, and he further insulted Raza Sahib by suggesting that he should reconsider sending his rabble of troops against a British-held position. The siege finally reached critical when Raza Sahib launched an all-out assault against the fort on 14 November. Clive's small force maintained its composure, and established killing fields outside the walls of the fort where the attackers sought to gain entry. Several hundred attackers were killed and many more wounded, while Clive's small force suffered only four British and two sepoy casualties.
The historian Thomas Babington Macaulay wrote a century later of the siege:
... the commander who had to conduct the defence...was a young man of five and twenty, who had been bred as a book-keeper... Clive...had made his arrangements, and, exhausted by fatigue, had thrown himself on his bed. He was awakened by the alarm, and was instantly at his post.... After three desperate onsets, the besiegers retired behind the ditch. The struggle lasted about an hour...the garrison lost only five or six men.[34]
His conduct during the siege made Clive famous in Europe. The Prime Minister William Pitt the Elder described Clive, who had received no formal military training whatsoever, as the "heaven-born general",
endorsing the generous appreciation of his early commander, Major Lawrence. The Court of Directors of the East India Company voted him a sword worth £700, which he refused to receive unless Lawrence was similarly honoured.
Clive and Major Lawrence were able to bring the campaign to a successful conclusion. In 1754, the first of the provisional Carnatic treaties was signed between Thomas Saunders, the Company president at Madras, and Charles Godeheu, the French commander who displaced Dupleix. Mohammed Ali Khan Walajah was recognized as Nawab, and both nations agreed to equalize their possessions. When war again broke out in 1756, during Clive's absence in Bengal, the French obtained successes in the northern districts, and it was Mohammed Ali Khan Walajah's efforts which drove them from their settlements. The Treaty of Paris (1763) formally confirmed Mohammed Ali Khan Walajah as Nawab of the Carnatic. It was a result of this action and the increased British influence that in 1765 a firman (decree) came from the Emperor of Delhi, recognizing the British possessions in southern India.
He left Madras for home, after ten years' absence, early in 1753, but not before marrying Margaret Maskelyne, the sister of his friend Nevil Maskelyne who was afterwards well known as Astronomer Royal.
Clive also briefly sat as Member of Parliament for the Cornwall rotten borough of St Michael's, which then returned two Members, from 1754 to 1755.[35] He and his colleague, John Stephenson were later unseated by petition of their defeated opponents, Richard Hussey and Simon Luttrell.[36]
Second journey to India (1755–1760)
Further information: Great Britain in the Seven Years War
In July 1755, Clive returned to India[37] to act as deputy governor of Fort St. David at Cuddalore. He arrived after having lost a considerable fortune en route, as the Doddington, the lead ship of his convoy, was wrecked near Port Elizabeth, losing a chest of gold coins belonging to Clive worth £33,000. Nearly 250 years later in 1998, illegally salvaged coins from Clive's treasure chest were offered for sale,[38] and in 2002 a portion of the coins were given to the South African government after protracted legal wrangling.
Clive, now promoted to lieutenant-colonel in the British Army, took part in the capture of the fortress of Gheriah, a stronghold of the Maratha Admiral Tuloji Angre. The action was led by Admiral James Watson and the British had several ships available, some Royal troops and some Maratha allies. The overwhelming strength of the joint British and Maratha forces ensured that the battle was won with few losses. A fleet surgeon, Edward Ives, noted that Clive refused to take any part of the treasure divided among the victorious forces as was custom at the time.[39]
Fall and recapture of Calcutta (1756–57)
Following this action Clive headed to his post at Fort St. David and it was there he received news of twin disasters for the British.
Early in 1756, Siraj Ud Daulah had succeeded his grandfather Alivardi Khan as Nawab of Bengal. In June, Clive received news that the new Nawab had attacked the British at Kasimbazar and shortly afterwards on 20 June he had taken the fort at Calcutta. The losses to the Company because of the fall of Calcutta were estimated by investors at £2,000,000. Those British who were captured were placed in a punishment cell which became infamous as the Black Hole of Calcutta. In stifling summer heat, it was alleged that 123 of the 146 prisoners died as a result of suffocation or heat stroke.
While the Black Hole became infamous in Britain, it is debatable whether the Nawab was aware of the incident.[40]
By Christmas 1756, as no response had been received to diplomatic letters to the Nawab, Admiral Charles Watson and Clive were dispatched to attack the Nawab's army and remove him from Calcutta by force. Their first target was the fortress of Baj-Baj which Clive approached by land while Admiral Watson bombarded it from the sea. The fortress was quickly taken with minimal British casualties. Shortly afterwards, on 2 January 1757, Calcutta itself was taken with similar ease.[41]
Approximately a month later, on 3 February 1757, Clive encountered the army of the Nawab itself. For two days, the army marched past Clive's camp to take up a position east of Calcutta. Sir Eyre Coote, serving in the British forces, estimated the enemy's strength as 40,000 cavalry, 60,000 infantry and thirty cannon. Even allowing for overestimation this was considerably more than Clive's force of approximately 540 British infantry, 600 Royal Navy sailors, 800 local sepoys, fourteen field guns and no cavalry. The British forces attacked the Nawab's camp during the early morning hours of 5 February 1757. In this battle, unofficially called the 'Calcutta Gauntlet', Clive marched his small force through the entire Nawab's camp, despite being under heavy fire from all sides. By noon, Clive's force broke through the besieging camp and arrived safely at Fort William. During the assault, around one tenth of the British attackers became casualties. (Clive reported his losses at 57 killed and 137 wounded.) While technically not a victory in military terms, the sudden British assault intimidated the Nawab. He sought to make terms with Clive, and surrendered control of Calcutta on 9 February, promising to compensate the East India Company for damages suffered and to restore its privileges.
War with Siraj Ud Daulah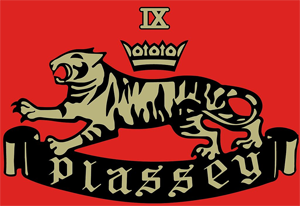 "9 (Plassey) Battery Royal Artillery" of the British Military.
As Britain and France were once more at war, Clive sent the fleet up the river against the French colony of Chandannagar, while he besieged it by land. There was a strong incentive to capture the colony, as capture of a previous French settlement near Pondicherry had yielded the combined forces prizes valued at £140,000. After consenting to the siege, the Nawab unsuccessfully sought to assist the French. Some officials of the Nawab's court formed a confederacy to depose him. Jafar Ali Khan, also known as Mir Jafar, the Nawab's commander-in-chief, led the conspirators. With Admiral Watson, Governor Drake and Mr. Watts, Clive made a gentlemen's agreement in which it was agreed to give the office of viceroy of Bengal, Bihar and Odisha to Mir Jafar, who was to pay £1,000,000 to the Company for its losses in Calcutta and the cost of its troops, half a million to the British inhabitants of Calcutta, £200,000 to the native inhabitants, and £70,000 to its Armenian merchants.
Clive employed Umichand, a rich Bengali trader, as an agent between Mir Jafar and the British officials. Umichand threatened to betray Clive unless he was guaranteed, in the agreement itself, £300,000. To dupe him a second fictitious agreement was shown to him with a clause to this effect. Admiral Watson refused to sign it. Clive deposed later to the House of Commons that, "to the best of his remembrance, he gave the gentleman who carried it leave to sign his name upon it; his lordship never made any secret of it; he thinks it warrantable in such a case, and would do it again a hundred times; he had no interested motive in doing it, and did it with a design of disappointing the expectations of a rapacious man." It is nevertheless cited as an example of Clive's unscrupulousness.