Osel Tendzin [Thomas Rich]
by Wikipedia
Accessed: 7/21/19
NOTICE: THIS WORK MAY BE PROTECTED BY COPYRIGHT
YOU ARE REQUIRED TO READ

THE COPYRIGHT NOTICE AT THIS LINK

BEFORE YOU READ THE FOLLOWING WORK, THAT IS AVAILABLE SOLELY FOR PRIVATE STUDY, SCHOLARSHIP OR RESEARCH PURSUANT TO 17 U.S.C. SECTION 107 AND 108. IN THE EVENT THAT THE LIBRARY DETERMINES THAT UNLAWFUL COPYING OF THIS WORK HAS OCCURRED, THE LIBRARY HAS THE RIGHT TO BLOCK THE I.P. ADDRESS AT WHICH THE UNLAWFUL COPYING APPEARED TO HAVE OCCURRED. THANK YOU FOR RESPECTING THE RIGHTS OF COPYRIGHT OWNERS.
The end of 1971 was also an important time for another dharmic relationship in Rinpoche's life. In December, he spent another week at Tail teaching while I remained in Boulder. At that time, he met privately with Narayana and asked him to become his Vajra Regent and dharma heir, the primary inheritor of his spiritual lineage. In Rinpoche's tradition, the continuity of the teachings from one generation to the next is expressed through the teacher's handing down the oral teachings and the responsibility for maintaining the purity of the teachings to one or more dharma heirs. There is usually a primary dharma heir, as well as potentially many secondary heirs. In some situations, usually when a teacher has an established organization, he gives the position of regent to one student, who is expected to act on behalf of the teacher and the lineage after the teacher's death, until,

in the case of many tulku lineages in Tibet

, the teacher's next incarnation is old enough to assume his or her position. This idea of a regent who assumes power between one generation and the next has also been used in many monarchies, so regency is not purely an Asian concept.

For Rinpoche, it was extremely important to give the complete teachings of his lineage to a Westerner. In fact, I think he felt that he was giving many unique transmissions to his Western students, and he did not want them to feel that they were playing second fiddle to the Tibetans. So this appointment was a very important step. It showed that a Westerner could be trusted with the complete teachings and with the responsibility for the future of those teachings.

Rinpoche told Narayana to make plans to move to Boulder, so that Rinpoche could work closely with him, observing him and giving him proper training. Rinpoche had already told me that he was planning to do this. He often shared these kinds of plans and decisions with me. He would say, "This is a great person. I've brought him (or her) in. This is what he can do, and this is where we're going with it." Rinpoche asked Narayana to keep this future appointment secret for the time being. Rinpoche did not feel it was time yet to make this appointment public. With Rinpoche's permission, however, Narayana told his wife, his heart friend Krishna, and Helen. Indeed, this choice would have many implications for the future. I felt that Narayana was an excellent choice, although I didn't have Rinpoche's insight into his character. I thought he was quite charismatic and he had a special quality, a kind of intensity and brightness that were unique.

-- Dragon Thunder: My Life with Chogyam Trungpa, by Diana J. Mukpo with Carolyn Rose Gimian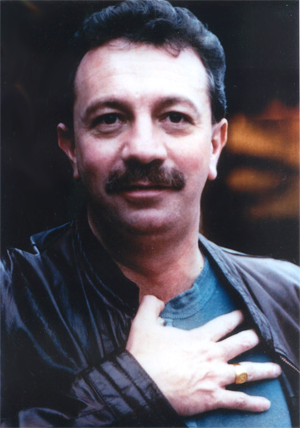 Ösel Tendzin (Tibetan: འོད་གསལ་བསྟན་འཛིན་, Wylie: 'od gsal bstan 'dzin) (1943–1990) was a western Buddhist. He was Chögyam Trungpa's principal student. On August 22, 1976, Chögyam Trungpa empowered Ösel Tendzin as his Vajra Regent and first Western lineage holder in the Karma Kagyu and Nyingma schools of Tibetan Buddhism.[1] On August 25, 1990, Ösel Tendzin died of HIV/AIDS in San Francisco, California.[2] His wife, Lila Rich, and a group of his students continue to live in Ojai, California.
History

Early life
Tendzin was born Thomas Frederick Rich, Jr. on June 28, 1943 in Passaic, New Jersey. He graduated in 1965 from Fordham University, initially working as a physical therapist in New York and Los Angeles. Before joining Vajradhatu he studied with Satchidananda Saraswati, who gave him the name Narayana.[1][3]
Vajradhatu
Tendzin first met Trungpa in February 1971 in Boulder, Colorado.[4] According to Tendzin, Trungpa revealed his intention to make Tendzin his successor not long after their initial meeting.[5] Starting in 1973 Tendzin held various roles in the management of Vajradhatu. He served on the initial board of directors and as an executive vice-president of the organization. In April 1976, Tendzin's Regency was announced to the community for the first time. Trungpa recounted the moment in a later edition of his memoir, writing "to ensure that everything will not stop at my death, it is necessary to have one person as an inheritor, someone whom I can train and observe over a period of many years. For a long time it was in my mind to appoint Narayana to this role, and in the summer of 1976 I did so, empowering him as Dorje Gyaltsap, Vajra Regent."[6]
In his foreword to the Tendzin's 1987 book Buddha in the Palm of Your Hand, Trungpa elaborated on his decision:
As a student and child of mine, Ösel Tendzin has developed his natural ability to respond to the teachings of egolessness. He not only intellectually comprehends these teachings, but he has actually practiced and trained himself in this way. Although I would not say Ösel Tendzin is an enlightened person, he is one of the greatest examples of a practitioner who has followed the command of the Buddha and his guru and the tradition of the Practice Lineage.

Many Oriental advisors have said to me, 'Do not make an Occidental your successor; they are not trustworthy.' With the blessings of His Holiness the 16th Gyalwa Karmapa, and through working with Ösel Tendzin as my Regent, I have come to the conclusion that anybody who possesses tathagatagarbha is worthy of experiencing enlightenment. Moreover, Ösel Tendzin is my prime student. He has been able to commit himself and learn thoroughly the teachings of vajrayana. I have worked arduously in training him as my best student and foremost leader, and His Holiness Karmapa has confirmed his Regency. With His Holiness' blessing, Ösel Tendzin should hold his title and the sanity of the enlightened lineage. He is absolutely capable of imparting the message of buddhadharma to the rest of the world.[7]
Tendzin assumed leadership of the organization in 1987 with the death of Chögyam Trungpa.[1][3]
Satdharma
In 1989 Tendzin moved to Ojai, California with some of his students. After his death, those students led by Patrick Sweeney — whom Tendzin had chosen as his lineage holder and successor[1] — created an organization called Satdharma. It was formally incorporated in 1992 to continue Tendzin's lineage, separate from Vajradhatu.[8]
Controversy
Among the controversial actions of Tendzin was his rejection of the recommendation of senior Kagyu lineage holder the Tai Situpa that he take over leadership of Vajradhatu in conjunction with Chögyam Trungpa's half brother, Damchu Tenphel, who resided in Tibet.[9] This was "regarded by members as a serious slight to lineage authorities and was construed as the Regent's attempt to secure his position of control."[9]
Also controversial was the fact that Tendzin "took further action to buttress his centrality by denying students permission to seek teachings from other Kagyu Tibetan teachers, claiming that only he possessed the special transmission, materials and knowledge unique to the Trungpa lineage. Students were told that if they wanted to practice within the community, they would have to take spiritual instruction from the Regent."[10]
Other behavior was troubling as well. As one scholar who has studied the community noted, Tendzin was "bisexual and known to be very promiscuous" and "enjoyed seducing straight men" but the community "did not find [this behavior] particularly troublesome."[11] Not all his partners were unwilling; one scholar noted "it became a mark of prestige for a man, gay or straight, to have sex with the Regent, just as it had been for a woman to have sex with [Trungpa] Rinpoche."[12] However, at least one student reported that Tendzin had raped him.[13] As a former Vajradhatu member attested, "a chilling story had recently been reported by one of . . . [the] teachers at the Buddhist private school [for the Vajradhatu community]. This straight, married male was pinned face-down across Rich's desk by the guards [the Dorje Kasung] while Rich forcibly raped him."[14]
It was revealed in 1989 that Ösel Tendzin had contracted HIV and for nearly three years knew it, yet continued to have unsafe sex with his students without informing them.[15][16] He transmitted it to a student who later died of AIDS.[17][18][19] Others close to Tendzin, including the board of directors of Vajradhatu, knew for two years that Tendzin was HIV-positive and sexually active but kept silent.[20] As one student reported at the time,
I was very distressed that he and his entourage had lied to us for so long, always saying he did not have AIDS. I was even more distressed over the stories of how the Regent used his position as a dharma teacher to induce "straight" students to have unprotected sex with him, while he claimed he had been tested for AIDS but the result was negative.[11]
Stephen Butterfield, a former student, recounted in a memoir:
Tenzin offered to explain his behavior at a meeting which I attended. Like all of his talks, this was considered a teaching of dharma, and donations were solicited and expected. So I paid him $35.00 to hear his explanation. In response to close questioning by students, he first swore us to secrecy (family secrets again), and then said that Trungpa had requested him to be tested for HIV in the early 1980s and told him to keep quiet about the positive result. Tendzin had asked Trungpa what he should do if students wanted to have sex with him, and Trungpa's reply was that as long as he did his Vajrayana purification practices, it did not matter, because they would not get the disease. Tendzin's answer, in short, was that he had obeyed the guru.[21]
To prepare for the birth of our child, just like any other young couple, Rinpoche and I went to Denver together to take birthing classes. Rinpoche was very supportive and involved. He came to almost all the classes. We had decided that we wanted to use natural childbirth, which was a relatively new, progressive trend in those days.

Dr. Robert Bradley, who founded the Bradley method of natural childbirth, was in Denver, so we signed up for his course. Dr. Bradley preached that childbirth should be painless. He said that if you had the proper training, you wouldn't have any pain at all. Rinpoche and I were convinced that this must be true.

My son was due at the end of February, but he came almost two weeks late. On the night of March 8, Rinpoche returned after giving a lecture at the Wesley Foundation, and we both went to bed. I was awakened by pain, and after lying in bed awake for some time, I woke Rinpoche up and I said, "There's something wrong with me. I'm having a lot of pains. Do you think I'm in labor?" He responded, "Oh no, Dr. Bradley said that childbirth isn't painful. I'm sure it will pass." I sat up for a while waiting for the pains to subside, but in fact they were growing more and more intense. For some reason, we were convinced that I wasn't in labor. We were both so naïve about this, Rinpoche with his monastic background and me with my alienated English upbringing. Finally, I got into a hot bath, which I thought might alleviate the pain. I never drank at this point in my life, but I had a couple of shots of Johnnie Walker that night, hoping it might help.

Very early in the morning, around six o'clock, I went upstairs to John Baker's room and knocked on his door. I said, "John, I think there's something wrong with me. I think something's terribly the matter." He said, "What do you mean?" I said, "Well, I'm getting these pains, and they're coming every five minutes." Within three minutes, I would say, he was up and had his clothes on and the car keys in his hand, and he told me, "Okay, we're going to the hospital."

He drove me as fast as he could to Dr. Bradley's office in Denver. I was already six centimeters dilated at that point. They took me over to Porter Memorial Hospital which was a Seventh-day Adventist hospital and put me in the labor room there. After John got me checked in, he phoned the house and asked someone to bring Rinpoche down right away. While I was lying there alone, I remember feeling quite afraid. During the latter phases of my pregnancy, it had been haunting me that I had no idea what to do with a baby. There was a forty-year-old woman in one of my childbirth classes who was having her fifth child. I asked her, "What do you do with a baby?" She answered, "You, you just change them when they're dirty, feed them when they're hungry, and hold them when they cry."....

Rinpoche was surprised that our first child was a son. There's a rather chauvinistic Tibetan tradition that if a lama marries and the first child is a daughter, this proves that he made a mistake in disrobing. If the first child is a son, it was the right decision. Rinpoche was convinced we were having a daughter

. He didn't think our marriage was a mistake, but he didn't expect to get any breaks, as far as these beliefs were concerned. We hadn't even picked out a name for a boy. We were going to call our daughter Dechen, which means "Great Bliss."....

As a baby, Gesar slept in the room with us. Rinpoche said that Tibetans would never have a separate bed for the baby, but I always thought we should have the baby in a bassinette or a crib. When Gesar was just a few days old, I put him to bed in his crib with a windup mobile. Whenever the mobile stopped moving, Gesar would start screaming. This continued until around two A.M., when Rinpoche insisted that we put him in bed with us. He said that if Gesar were in the middle, between us, he would be content and fall asleep. I told Rinpoche that I was afraid one of us would roll over on him in our sleep. Rinpoche said, "A father's instinct would never allow this." I gave in. About two hours later, I awoke to small muffled cries. In his sleep, Rinpoche had rolled on top of Gesar and was basically suffocating him. I started screaming to wake Rinpoche up, "Get off him! Get off him!" After that, if I put Gesar in bed with us, he slept on my side of the bed.

-- Dragon Thunder: My Life with Chogyam Trungpa, by Diana J. Mukpo, with Carolyn Rose Gimian
For about half a year in 1980, I went to live in Rajpur, across the street from Sakya Trinzin. I asked him for teachings on my meditation practice and he convinced me he had a vision of him and me yab yum and that it was important for him to act on it with me. Not only was it the most pathetic sex act of my entire life, it was such a total farce. It was about as enlightening as a mosquito bite, less even, if that's possible. And when it seemed impossible that he could get beyond his Ganesh sized belly to have sex,

I offered him oral gratification. He was worried that would get me pregnant.

-- Randy Sogyal Rinpoche, Best-Selling Lecher, The Writings of Am Learning
Butterfield noted,
Tendzin's account of his conversations with Trungpa was challenged by other senior disciples, who claimed Trungpa would never have led anyone to believe that the laws of nature could be suspended by practice."[22] Butterfield also wrote, "it was a difficult dilemma: if you chose to believe Tendzin, then Trungpa had simply been wrong in telling him he could not transmit the disease . . but what then became of the axiom that the guru cannot make a mistake? But if you chose to disbelieve Tendzin, then Trungpa may have been wrong in allowing him to remain Regent, or perhaps in choosing him at all...[22] I heard Tendzin's illness explained by his servants in this way: it was not a consequence of any folly or self-indulgence on his part, but the karma of his infected partners, that he had deliberately imbibed for them. In what way they benefitted was never made clear to me, although one could safely assume the benefits did not include physical cure.[23]
According to Diana Mukpo, wife and widow of Trungpa, he ultimately became disillusioned with Tendzin as his heir, and during his final illness he called Tendzin "terrible" and "dreadful", and indicated that he would have gotten rid of Tendzin had he a suitable candidate with whom to replace him.[24] Rick Fields, the editor of Vajradhatu's publication the Vajradhatu Sun, wrote that he resigned from his editorial position after Ösel Tendzin and the Board of Directors stopped him from publishing news of the events.[25]
Bibliography
• Buddha in the Palm of Your Hand, Shambhala Publications. Boston, 1982. 0-87773-223-X
• Space, Time and Energy, Vajra Regent Ösel Tendzin, Satdharma Publications, 2000.
• Like Water Poured into Water, Vajra Regent Ösel Tendzin, Foreword by Lady Lila Rich; Introduction by Patrick Sweeney, Satdharma Publications, 2006.
Notes
1. "Satdharma biography of Tendzin".
2. Dewitte Lindsey (2003). Tibet to Texas: A Grassroots History of Karma Kagyu Buddhism in the Lone Star State. Sunbelt Eakin. ISBN 978-1-57168-691-6. Thomas Rich would die three years later from HIV, a disaster for both his unsuspecting partners and the entire Vajradhatu community.
3. "Shambhala teachers biography for Tendzin". Archived from the original on 2009-10-11.
4. Midal, Fabrice. Chögyam Trungpa: His Life and Vision. Shambhala, 2004. ISBN 1-59030-098-X pg 437
5. Midal, Fabrice. Chögyam Trungpa: His Life and Vision. Shambhala, 2004. ISBN 1-59030-098-X pg 440
6. Born in Tibet, 4th edition, by Chogyam Trungpa. Shambhala Publications: 2000. pg 263
7. Buddha in the Palm of Your Hand by Osel Tendzin, Shambhala Publications: 1987. ISBN 0-87773-223-X pgs xii-xiii
8. "Sweeney biography on Satdharma".
9. Eldershaw 2004, p. 229
10. Eldershaw 2004, p. 230
11. Eldershaw 2004, p. 226
12. Kane, Stephanie. AIDS Alibis: Sex, Drugs, and Crime in the Americas. Temple University Press, 1998. p. 154
13. Eldershaw 2004, pp. 228, 230
14. Steinbeck 2001, p. 311
15. New York Times (1989)
16. Hayward (2007) p. 407-409
17. Butterfield (1994)
18. Dart (1989)
19. Steinbeck 2001, pp. 279, 311
20. Coleman 2001, p. 170
21. Butterfield p. 183
22. Jump up to:a b Butterfield p. 184
23. Butterfield p. 186
24. Mukpo p. 378
25. Fields (1992) p. 366
References
• Butterfield, Stephen T. (1994). The Double Mirror: A Skeptical Journey into Buddhist Tantra. ISBN 1-55643-176-7
• Coleman, James William. The New Buddhism: The Western Transformation of an Ancient Tradition (2001) Oxford University Press. ISBN 0-19-513162-2
• Dart, John (1989). "Buddhist Sect Alarmed by Reports that Leader Kept his AIDS a Secret", The Los Angeles Times, March 3, 1989 link
• Eldershaw, Lynn P. "Collective identity and the post-charismatic fate of Shambhala International", 2004 Ph. D. thesis, University of Waterloo; also, "Collective Identity and the Postcharismatic Fate of Shambhala International", an article drawn from this thesis published in Nova Religio: The Journal of Alternative and Emergent Religions, (2007) Vol. 10 No. 4, pp. 72–102, doi:10.1525/nr.2007.10.4.72, ISSN 1092-6690
• Fields, Rick (1992). How the Swans Came to the Lake. ISBN 0-87773-631-6
• Hayward, Jeremy (2007). Warrior-King of Shambhala: Remembering Chogyam Trungpa ISBN 0-86171-546-2
• Mukpo, Diana (2006). Dragon Thunder: My Life with Chogyam Trungpa, ISBN 978-1-59030-256-9
• John Steinbeck IV and Nancy Steinbeck (2001). The Other Side of Eden: Life with John Steinbeck, Prometheus Books. ISBN 1-57392-858-5
• Week in Review Desk, "HEADLINERS; A Church's Turmoil," The New York Times, February 26, 1989
External links
• Homepage of Satdharma, the organization founded by Ösel Tenzin's dharma heir Patrick Sweeney
• NY Times article on conflict in Trungpa's community due to Ösel Tendzin's transmission of AIDS to his students.