The Ongoing Blossoming of Tagtrug Mukpo
by Cara Thornley
photos by Laura Greer
shambhalatimes.org
December 28, 2013 – 12:25 am
NOTICE: THIS WORK MAY BE PROTECTED BY COPYRIGHT
YOU ARE REQUIRED TO READ

THE COPYRIGHT NOTICE AT THIS LINK

BEFORE YOU READ THE FOLLOWING WORK, THAT IS AVAILABLE SOLELY FOR PRIVATE STUDY, SCHOLARSHIP OR RESEARCH PURSUANT TO 17 U.S.C. SECTION 107 AND 108. IN THE EVENT THAT THE LIBRARY DETERMINES THAT UNLAWFUL COPYING OF THIS WORK HAS OCCURRED, THE LIBRARY HAS THE RIGHT TO BLOCK THE I.P. ADDRESS AT WHICH THE UNLAWFUL COPYING APPEARED TO HAVE OCCURRED. THANK YOU FOR RESPECTING THE RIGHTS OF COPYRIGHT OWNERS.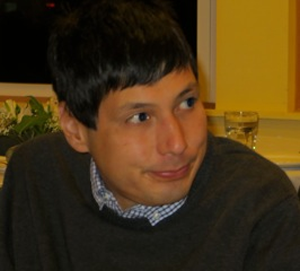 Taggie Mukpo
Mukpo Family Update: Celebrating Tagtrug Mukpo from a recent celebratory dinner at Karme Choling
"Amazing" was the operative word that Acharya Michael Greenleaf used to describe the celebratory evening held on December 10th at Karme Choling Meditation Center, culminating the 2013 Fund Raising for the Tagtrug Mukpo Trust. Taggie (as he is affectionately known) was the guest of honor at the dinner attended by his supporters, both old and new.
The joy pervading the atmosphere, and the gentle humor punctuating conversations felt like it arose out of the delight the dinner guests had in Taggie's ongoing blossoming.
If you don't know about Taggie, hopefully this article can serve as an introduction, and for those who do know him, serve as an update on his inspiring life journey.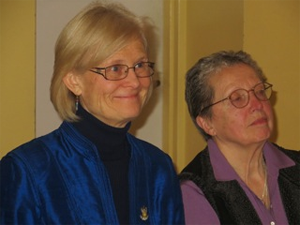 Acharya Suzann Duquette and Jeanine Greenleaf at the dinner
Taggie is the eldest son of the Vidyadhara Chogyam Trungpa Rinpoche and Lady Diana Mukpo. While still a toddler he began having complex seizures, and was diagnosed as having a type of autism necessitating round-the-clock care. His history, presented here on this web site, recounts the journey he is making, particularly focusing on the time since 1991.
Now 42 Taggie sat at dinner with us relaxing in the social world surrounding him and obviously delighting in the evening's events. He was light years away from the angry withdrawn person he'd been.
For the first 20 years of his life, Taggie lived in a variety of different care situations. The last of which was a group home for the developmentally disabled in Vermont. Taggie's social worker there observed that while Taggie's self-sufficiency increased, i.e. he learned to dress himself, brush his teeth, and make his bed -– his medications were ineffective; he experienced frequent seizures, was upset by the emotional upheavals of the other residents and became increasingly violent.
His situation began to stabilize in 1991 when a sangha member living at Karme Choling, Herb Elsky, moved Taggie into the farmhouse near KCL called Bhumi Pali Bhavan (BPB) where Taggie's father use to stay when he came to KCL. Herb lived there with Taggie alternating caregiving duties with other sangha members.
From this beginning
a series of dedicated and skilled community caregivers devoted themselves to developing a care plan
, which slowly enabled Taggie to increase his stability and calmness.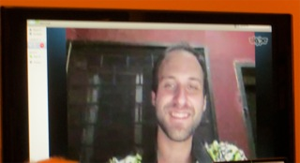 Ashoka Mukpo via skype
Ashoka Mukpo, "Live from Liberia" via Skype spoke about the growth he'd seen in his brother, especially in the last couple of years. "It's been nice to see him flourish as much as he has. In the time I've spent with him, it's been pretty remarkable to experience his emotional openness and strength coming out more and more."
Acharya Suzann Duquette has written about this growth in an illustrated Shambhala Times article: A New Era For Tagtrug Mugpo
Ashoka continued saying, "It might be a little corny to talk about "the Africa thing," but living here, I've seen that compared to Liberia, our own culture might be losing 'the community idea.' In Liberia's towns and villages, children are really cared for by everybody… Different people have different responsibilities. And, it's a little bit like that with Tag's care. Everybody here at this dinner is bringing some piece of themselves to his care."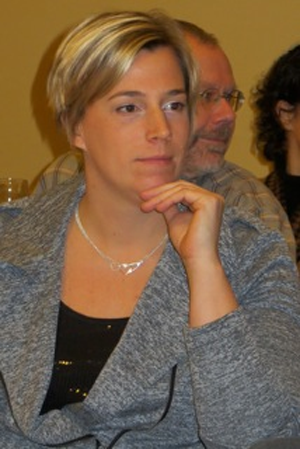 Randie Fox
The front line of the group, bringing a piece of themselves to Taggie's care has always been the caregivers. Ashoka referred to his current caregiver, Randie Fox as an "absolute hero."
Technically, Randie is called a Shared Living Provider. Because of a Medicaid Waiver granted by the state for Taggie's care, he receives services through the Vermont Shared Living Providers (SLP) program. Literally this means that a developmentally disabled person moves into a private home. At the time the Medicaid waiver was first granted in 2003 Taggie was still living at BPB and his sangha/community caregivers lived there with him. The state began paying his caregivers that were already in place as SLP's.

In 2006 the last sangha caregiver resigned and eventually because of the deferred maintenance problems at BPB, Taggie moved into the home of a shared living provider. Because of the skill and care of the SLP, the transition was seamless.
Reports and photos from this time can be seen online by clicking here.
Taggie now lives in Randie's home with her husband and children. Pictures of Taggie with her children are posted online here. Randie, in talking to us, said how lucky her children were to have Taggie in their life because of his capacity to trust and love people.
SLP's are supported by the Tagtrug Mukpo Support Team, created in 2003 simultaneously with the receipt of the Medicaid Waiver. A group of five unpaid volunteers, they are dedicated to raising the money to supplement the gap between the government funding and the actual costs of supporting Taggie's care – specifically to supporting the Shared Living Providers by providing enrichment materials and paying for respite caregivers which allow SLP's time away from their duties
. Ashoka, who has been Chairperson of the Support Team since 2008, talked about the importance of providing respite help.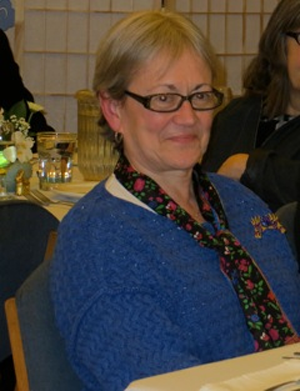 Susan Taney
"We can't continue giving the kind of care we give without having funds in the bank to enable Randie to have some well deserved time off." Ashoka joked, "Even though Taggie's a wonderful person, just like anybody else in my family – spend enough time around us and you need a couple of days off."
To which, Randie Fox wisely replied, "Well, him from me, too! Taggi needs a break from me too." Randie, herself, came to know Taggie, almost 9 years ago when she began serving as a respite provider for another SLP. When that person resigned after several years, Randi, with the full support of her husband and children applied for the job.
Private donations for respite care are received through The Tagtrug Muko Trust, the legal entity created for this purpose in 2003. Acharya Michael Greenleaf is its current trustee and a member of the Support Team. The Trust was the official host for our dinner.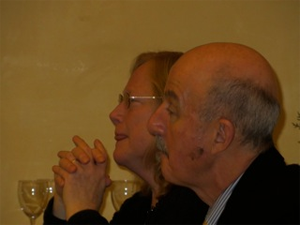 Gerry and Nancy Haase
Other members of the Support Team at the dinner were
Susan Taney, Nurse Practitioner and Taggie's legal guardian, a founding member who was instrumental in obtaining the Medicaid Waiver which allows Taggie to receive the maximum amount of support offered in VT to developmentally disabled persons.
Gerry Haase, seen above with his wife, Nancy, is a founding member of that group. Michael Taney manages the web site.
Of the approximately $16,000 a year needed to supplement government funding, 25% is given by the Mukpo family and the rest is covered by other donors.
Ashoka concluded by saying, "As time goes on we're hoping to make things as stable as possible so we always know where funds are coming from. You are all a big part of that. I know you love Taggie. Thank you from the bottom of my heart…on behalf of my family: mother, father, brothers and sister, thank you for caring about him. He's really lucky to have such wonderful people in his life."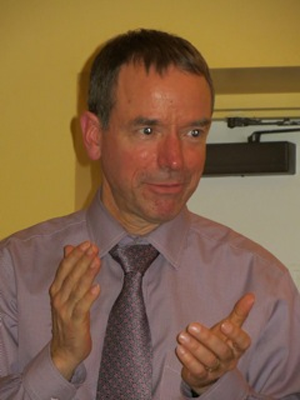 "The Amazing" Michael Greenleaf
After Ashoka signed off, raffle tickets were drawn for prizes, three of which were copies of the book "Why I Jump", written by an autistic youth and inscribed by Taggie for the occasion. Even after all the prizes were gone, Taggie wanted to keep drawing names and Michael kept announcing the names as "auspicious winners," and the rest of us kept applauding every time. So much joyful energy.
After applauding Karme Choling, the coordinator Suzanne Trahey and the kitchen staff for hosting this "amazing" evening, Michael made an aspiration that this "first annual dinner" would grow, and more people could learn about and support Taggie.
Learn more about Tagtrug Mukpo, support his care, and see photos at his website here:
http://www.taggiemukpo.org