Treatise on Society and Organization
A communication from Sakyong Mipham Rinpoche to Richard Reoch, President of Shambhala,
17 March 2003
©2003 Mipham J. Mukpo. All rights reserved. Online publication by Shambhala Media for the Fourth Shambhala Congress, 2009.
NOTICE: THIS WORK MAY BE PROTECTED BY COPYRIGHT
YOU ARE REQUIRED TO READ

THE COPYRIGHT NOTICE AT THIS LINK

BEFORE YOU READ THE FOLLOWING WORK, THAT IS AVAILABLE SOLELY FOR PRIVATE STUDY, SCHOLARSHIP OR RESEARCH PURSUANT TO 17 U.S.C. SECTION 107 AND 108. IN THE EVENT THAT THE LIBRARY DETERMINES THAT UNLAWFUL COPYING OF THIS WORK HAS OCCURRED, THE LIBRARY HAS THE RIGHT TO BLOCK THE I.P. ADDRESS AT WHICH THE UNLAWFUL COPYING APPEARED TO HAVE OCCURRED. THANK YOU FOR RESPECTING THE RIGHTS OF COPYRIGHT OWNERS.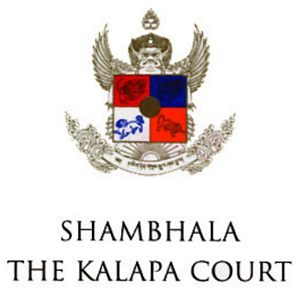 It is common these days to refer to Shambhala as an organization, yet we also talk about Shambhala society or enlightened society. The interplay between Shambhala as an organization and as a society is an interesting one, a key issue for us at this time.
Organization, or society? This question may sound like a riddle, but it is actually a process of better understanding how to bring benefit at the most practical and sublime levels.
The basis of Shambhala society is exemplified by the word sangha, or gendun, "those who follow virtue."
The magical element that binds the words "society" and "enlightenment" into "enlightened society" is the wholehearted motivation by individuals to engage personally in a social transformation that will lead to the betterment of the society.
Thus we are keen on the meaning that is hidden within the word
"enlightenment": to cleanse and purify, to generate and increase.
Generating enlightened society begins with the willingness of individuals to look at their own habitual tendencies and take responsibility—first for purifying and cleansing their own outlook and action, and then for generating views and activities that are courageous and liberating. In other words, we must work to overcome our own self-absorption and our habitual reliance on anger, jealousy, and so forth to resolve our issues. Doing this will help us activate the compassion and wisdom necessary to lead
a truly joyous and meaningful life
.
Compassion and Virtue
As members of Shambhala society, it is our constant responsibility to be
generating compassion on a daily, weekly, and monthly basis
. Compassion is our life blood. It binds us. It is our Tao, our Way. Our thoughts, words, and actions all exude at the base
a mind that is genuinely, truly revelling in compassion
. In this way, our every action generates compassionate warmth. We are not idly waiting around for others to make mistakes—or for that matter, fearful of our own mistakes. We are willing to delve into our basic goodness, our compassion, and practice it in its many imperfect and infantile manifestations. As a budding society, we will no doubt be clumsy at how we tackle the practice of compassion and how we manifest it. But in my mind, in this society, imperfection is the fuel that allows us to generate genuine compassion.
It is not a matter of who is right or wrong, or who did what, and when. Our responsibility is always to reflect back to see if the ember of bodhichitta is still burning in our heart
, for this is the flame that we proudly and gladly pass on to fellow sentient beings. This is how we practice the Shambhala teaching on
the sixteen edicts of what creates Shambhala society
, the final one being, "Expand your mind in the vision of the mahayana."
What is paramount for mahayanists, and thus Shambhalians, is understanding the ebb and flow of virtue. Virtue is a stream that runs through our life, a river that is never blocked, but is always meandering. As practitioners, we can choose to drink from it at any time. What does it mean to be virtuous? It means that we understand karma. Essentially a society is the constant interplay of innumerable actions among its own members. Those actions produce constant reflections and results. Because this enlightened society is always striving to understand virtue, it does not ignore karma. Because we understand karma, we realize that we must conduct our own lives according to the principles of virtue. What does this entail? It means having wisdom, having knowledge, having prajna, having the perspective and hindsight to realize that
we must abandon aggression
. It means striving together to build a peaceful, harmonious society on the understanding that
ill intent and animosity, whether toward fellow community members or the world at large, will only create further pain for ourselves and others
. We cannot be cavalier in dealing with karma. Simply, within our own Shambhala community, we must now realize that the ongoing low level of aggression—in the form of jealousy, fixation, pride, and so forth—is the element that gnaws away and fundamentally weakens the foundation of society. The antidote is patience—patience with ourselves and patience with others. This understanding of community can fuel the mantra for our societal contemplation: How can we be nonaggressive, yet strong?
We need to self-reflect daily in order to see how we can purify attachment
and fixation and cultivate generosity. This is the root of our activity as a community. We have many ways to help others: practicing health care; engaging in social action, business, or education; teaching and practicing meditation. If we as individuals begin to realize that this is our unified approach, the society that we're referring to as "enlightened society" will have tremendous potency and synergy that will be available to all of us, as well as to the general community.
The Society and the Organization
It would be wonderful if we could refer to ourselves as "Shambhala society," rather than as the "Shambhala organization." There are many issues that we need to face from a societal point of view. These are human realities, and although we may wish that the organization could solve them, the solutions are rooted in the interaction between members of society. Death, sickness, trauma, and other critical junctures in people's lives are events that can be supported and nurtured through advice and care by a society that is sensitive to its own members. Needless to say, our organization can provide specific practices or places to gather, but many personal or social dilemmas are inner struggles that need a social response, not out of duty, but because addressing issues, helping people, or even solving problems reflects the most natural response.
We need to move in a direction where members feel supported
. Individuals need to know that in terms of whatever may be occurring in their life, there are others who care and aspects of the society that will help them traverse their particular dilemma.
Right now, in order for individuals to feel part of our community, there is a feeling that one must be in the organization. Some people feel left out, because they don't have an active role in the organization. We need to understand that working for the organization is not the only way to be an active part of the community. As opposed to being the defining principle in terms of how people regard themselves and their relationship with the community, the role of the organization should be to run the practicalities of the community. Simultaneously, we need to develop the organization to function as a support for a community that is building a society. Everybody in the community has an active role in developing Shambhala society.
So at this point we need to do two things: 1) move toward creating a community where everybody has a place based upon their own wishes, and 2) move toward creating an organization that is efficient and engaged. It should be simple, functional, and small, if need be. It should be grounded in the basic inspiration of organizing, supporting, and expanding a community in which people can dedicate themselves to building Shambhala society. Developing our view of what Shambhala society is and could be will no doubt involve an ongoing search and experimentation, rooted in these questions:
Can the organization be a stem, and the society the flower? Can the organization be the bones, and the society the flesh and the heart?
To some degree we have expanded the organization simply to accommodate people's wish to participate. Now that we are trying to realign the organization, the rub seems to be utilizing many people for few positions. The challenge is to simplify our organization. We need to shift our view, or more rightly, mature our view, so that we regard the organization as the support system for ourselves as a society in which we all have roles. When people retire from the organization or are released from their positions because of finances or other restrictions, we may feel that the organization is shrinking, and thus that the community is shrinking. So we need to develop a culture where there is no discrepancy between officially being on staff in the organization and being a member of the community participating in the myriad endeavours that it offers to contribute to Shambhala society.
Sometimes we feel that it is the organization's responsibility to come up with a solution to a social problem. Obviously leaders within the organization can provide guidance, but in many respects the leadership is simply a conduit for communication. Ultimately it is the basic nature and intention of the community to help itself. In putting together programs, presenting practices, and providing places to meet, the organization and its leaders can help communicate social issues and concerns, but addressing them at the roots will take interaction between community members who have a deep desire to do so. They themselves will need to be willing to participate in a social transformation, not simply to require others to change their habits.
Occasionally, people feel that they have to leave our community in order to get help or even to find work, that somehow they can be better nourished outside the community than within it. Obviously purely by our numbers and our distribution around the globe, each little centre cannot provide everything for everyone. However, given our strength and our incredible diversity, we can try to encourage a feeling that within our community, much support is available. This requires encouraging a simple change of approach and attitude from our members, as opposed to having to reorganize in order to help people.
So as the president, your role is not just to coordinate the "organization," but to look at the entire endeavour as a societal one. As a leader, you are not simply initiating change within a small group of people who are administrators; rather, you are responsible for the overall health of the community. This in the short term will be challenging simply in terms of view and understanding, because we need to be clear about it. Simply rearranging members of the organization will not result in any solution of the social issues.
The organization can deal with managing our practice centres, developing and administering curriculum, running the Dorje Kasung, and maintaining the Kalapa Court. We need individuals to commit themselves to work diligently, full- or part-time, for a certain number of years in these fields, so that they may in turn benefit the greater community. Thus many members of our community will be participating in the organization for periods of their lives, in a formal and practical role. Once they have fulfilled their particular duties, they continue their contribution by engaging in activities that inspire them within our community. They are no less connected or dedicated than before; they are simply shifting their focus. This is a crucial point, since individuals tend to think that once they've retired, they are no longer part of the organization, and therefore, they are no longer active within the community. The present reality is that thanks to some of the organizers, the community is, in fact, expanding. Those who have been responsible in part for that growth should feel enthusiasm and pride, even though they may not currently be part of the organization.
We need to loosen our minds around the edges so that we can adapt to the constant change to which we are all subjected. This moves us in the direction of self-confidence. Most of us base our connection to society on what our position is. Certain individuals may not feel like they have a position, because they perceive the situation to be one of "inner" and "outer." Feeling dislocated from our seat within the society leads to fermentation of insecurity, doubt, resentment, and other disabling emotions. We must realize that we are looking at this from our own point of view. If we correlate organization and society too closely, then it will always feel like we are trying to stuff many things into a bag that is too small. There will also be a feeling that something is left out. The items in the bag will feel squeezed. They will feel the acuteness of being in or out of the bag.
One of the instrumental elements in your role as president will be to determine what it takes, in fact, to run and coordinate the workings of all the centres. What do the organization, the leadership, and the members of the community need to do in order to care for and nurture their respective centres—the physical spaces as well as the membership and its activities? Unless you put significant emphasis on answering this question, people will be looking to you as a leader to solve various issues, administrative as well as ideological. If you are able to determine what we need, which I am confident that you can, then that intention and spirit will be disseminated among the leaders of the community.
Then we can welcome newcomers to Shambhala society with the proper approach, understanding, and attitude. They will be welcomed into a community—rather than an organization—in which their own transformation and personal participation is a key element and building block for the entire endeavour. The organization is here to offer practices, programs, and teachers who can nurture the individual's progress on the path, not to offer membership in an administrative mammoth where the goal is to be pigeonholed into a particular job or responsibility. Working in the organization proper is not the only game in town. This doesn't mean that we become disperse, rather, that if we have healthy involvement, there will be an infusion of energy that will be felt by all.
Natural Hierarchy
By the same token, I have always encouraged both older and newer students to take initiative where they see fit, to jump in if it is truly beneficial, not to wait for the perfect conditions to come about, or for me to formally direct them or invite them to participate. It is not necessary for everyone to have specific instruction from me personally. When it rains, you don't ask the clouds how to grow vegetables. You take the water and you grow vegetables. This is the notion of society.
The role of the Sakyong is to provide space, to protect the space, so that the flowers can blossom. The sun does not pull the flowers up to the sky; the flowers grow, reaching toward heaven. If heaven is too close, the flowers will not exert themselves. Therefore the organization is necessary as the extension of the Sakyong's ability to provide and protect the space.
The Sakyong is the centre of the Shambhala mandala.
The centre of the mandala manifests as the Kalapa Court, the seat of the Sakyong and the heart of his government. The energy generated within the Court radiates outwards through the teachings, culture, and structure of the mandala.
The energy that is generated toward the Kalapa Court is harnessed by the organization. It is not the role of the organization to dampen or suffocate. If it becomes too thick, its members tend to become complacent and irritated. When it can extend the energy of the Court as the basis of inspiration, the members of the community look in and around themselves for solutions, realizing their responsibility to motivate themselves and to communicate with others. This process is not simply one of administration, but also of education, since the curriculum must also reflect an understanding of the individual.
This is the primary teaching within
the literature on natural hierarchy
. Specifically, it means that yourself, as well as the rest of the leadership of the mandala, need to facilitate this dissemination of energy from the Kalapa Court. You must organize the mandala and extend communication in the most effective way. All the members of our community have strong virtues and diverse qualities. They need not base their situation upon whether they are participating as a member of these administrative groups. Those who are members should be functional, practical, and energetic individuals who have chosen to fully participate in and organize our community. But we need to wean ourselves away from thinking that if we are not in one of these groups, we have no real function in our organization. The more clearly we understand this, the more smooth the transition will be for the individuals leaving or entering administrative roles. Thus the society becomes healthy.
The nature of phenomena is change and fluctuation. When a rider has truly taken his seat, from a distance he seems steadfast in the saddle. However, to maintain this equilibrium, both horse and rider are balanced in a state of constant fluctuation. The relationship between the administration, the organization, and the society will likewise fluctuate.
Rather than specifying how we initiate these societal endeavours and inspirations, I leave it to you to disseminate this understanding and view, letting others know the importance and uniqueness of what we are doing—building a society. It is important that we all recognize that being involved at this point and engaging in socially enriching activities is part of the process. Rather than being handed the entire basket and its contents, we are learning how to pick fruits and vegetables and place them in our container of social initiative.
Shambhala in the World at Large
Needless to say we all live in a greater society, whether it is dominated by the local culture of North America, South America, or Europe. We may feel torn between two different cultures, that of Shambhala and that of the world in general. We must realize that because culture and society are created by conscious mind, they too are always subject to change and fluctuation. Even the general society is made up of many cultures, which are always changing. We ourselves are very much part of that general society—in a most important way. Because we see that all beings have basic goodness, we regard all beings to be part of Shambhala society. Those of us who are inspired by that approach gather together and try to extend the common bond we feel about conducting our lives based on goodness and virtue.
When our work takes us into dealings with practitioners from different traditions or people who are not on a meditative path, we must begin to dissolve the sense of being "in" or "out." The essential difference between being "outside" and "inside" very much comes down to our deep understanding of mind and heart. It is not the water that tastes better in Shambhala, it is our mind that tastes better. That mind needs to be cultivated and shared. That is how we should extend ourselves in the greater world.
The point of relating to the greater world is to see the need for enlightened society. We experience the suffering of others, the struggle everyone goes through, and that inspires us to delve into the Shambhala Buddhist teachings, squeeze out their essence, and apply it to our lives. Then we can regard what we are doing as a personal contribution to the betterment of the world at large. The changes and contributions we make to society must be grounded in the perpetuation of bodhichitta. Within that context, from day to day, month to month, and year to year, we should review our actual activities toward creating enlightened society.
At times, we may seek from the greater world something we feel that we are missing from our community. This is a tricky proposition, because we can spend our energy chasing our tail, imagining some reward, when in reality we're just being fooled by samsara, the setting sun. It may seem to be coated by wisdom, so we lick it, but again and again we are stung by the thorny underbrush. We must not underestimate the power of samsara, for samsara lures us into thinking that it holds something. We must recognize samsara and not be disheartened by it, but realize that as extremely special beings with a gift of wisdom and compassion, we need to offer our gift to others in whatever we do, in each moment of every day.
Basic Goodness and Bodhichitta
For us, every day is a process of honing and strengthening our understanding of goodness. We must constantly be vigilant in this.
It is not sufficient just to mouth the word "goodness"; we must pound this word, extract the meaning, and eliminate all confusion and doubt from our understanding.
This very act increases our joy in propagating the vision of Shambhala and weakens the force of the setting sun. We cannot fool ourselves into thinking that hearing the words once or twice, or contemplating them here and there, is sufficient. In that case surely the current of samsara will carry us away, and we will find ourselves old and scared.
Being engaged in the view of basic goodness and bodhichitta, we have much to offer. If we engage in the world without this intention, we are simply developing our fixation and attachment, and therefore only postponing our enlightenment. However, if we engage in the world with the view of basic goodness and bodhichitta, that approach will affect everything we do. Individuals will enter our programs knowing that they are being trained to uncover their tremendous gift as warrior-bodhisattvas inspired to dedicate their life, whatever they may engage in, to the betterment of society.
We therefore need to engender a genuine understanding that all individuals have a place in Shambhala society. There should not be a sense of outer and inner, but rather a sense of being included in the compassionate embrace of heaven and earth. With the inspiration and empowerment of heaven, we can take our seat in the society. When each of us develops this level of confidence and understanding, the society gains tremendous vitality and social transformation becomes possible. Thus there is a healthy relationship between the earthy virtues of both the organization and the society and the visionary principle of heaven. I believe that we are capable of producing such a situation, for it comes down to releasing and inspiring basic goodness wherever it may lie. When this happens, the natural interplay between society and organization creates the perfect dance, to the delight and benefit of all.