Richard Edelman
by Wikipedia
Accessed: 6/20/19
NOTICE: THIS WORK MAY BE PROTECTED BY COPYRIGHT
YOU ARE REQUIRED TO READ

THE COPYRIGHT NOTICE AT THIS LINK

BEFORE YOU READ THE FOLLOWING WORK, THAT IS AVAILABLE SOLELY FOR PRIVATE STUDY, SCHOLARSHIP OR RESEARCH PURSUANT TO 17 U.S.C. SECTION 107 AND 108. IN THE EVENT THAT THE LIBRARY DETERMINES THAT UNLAWFUL COPYING OF THIS WORK HAS OCCURRED, THE LIBRARY HAS THE RIGHT TO BLOCK THE I.P. ADDRESS AT WHICH THE UNLAWFUL COPYING APPEARED TO HAVE OCCURRED. THANK YOU FOR RESPECTING THE RIGHTS OF COPYRIGHT OWNERS.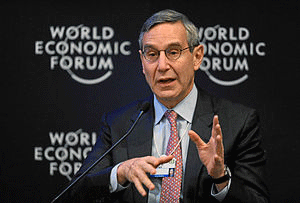 Richard Edelman
Edelman at the World Economic Forum Annual Meeting, 2011
Born Richard Winston Edelman
June 15, 1954 (age 65)
Chicago, Illinois, U.S.
Residence New York City, New York, U.S.
Nationality American
Alma mater Harvard University
Occupation President and CEO of Edelman
Years active 1978–present
Spouse(s) Rosalind Anne Walrath (m. 1986 - d. 2015)
Claudia Romo González (m. 2017)
Children 3 (with Walrath)
Parent(s) Daniel J. Edelman
Ruth Edelman
Website Richard Edelman
Richard Winston Edelman (born June 15, 1954) is the President & Chief Executive Officer of the public relations company Edelman, a position he has held since September 1996.
Personal life
Edelman was born on June 15, 1954 to a Jewish family, the son Ruth Ann (née Rozumoff) and Daniel Edelman, the founder of the public relations company, Edelman.[1][2][3] He was educated at Phillips Exeter Academy.[1][2]
On May 18, 1986, he married Rosalind Anne Walrath in a Jewish ceremony on at the Harvard Club of New York.[4] His wife is the daughter of the then-creative director of advertising agency JWT, and was a Vice President at the investment bank Keefe, Bruyette & Woods when they wed.[2] He has three daughters,[5] Margot, Tory, and Amanda.[6] In 2008 he was diagnosed with prostate cancer but had successful surgery.[7] In 2015, it was announced that Edelman and Walrath were getting a divorce. In 2017, Edelman married Mexican diplomat, Claudia Romo González.[8] Claudia had two kids, Joshua and Tamara in her previous marriage.
His two siblings, John and Renee, are also executives at Edelman, making Edelman the largest private, family-run public relations firm in the world.[9] His daughters, Margot and Tory, both work for his firm.[10]
Career
Richard Edelman joined the Edelman firm in 1978 after receiving his MBA from Harvard, where he had also studied as an undergraduate.[1] He had intended to take a job in marketing at Playtex, but his father persuaded him to join the family company.[5] He was an executive at Edelman by 1981 and in 1983, he was appointed president of Edelman's New York Office.[11][12] He was appointed president of the company in 1985. His father remained as Chief Executive Officer (CEO). At that time, the company's income was only $14.2 million.[1] He pledged to keep the company independent at a time when many other PR companies were being bought by advertising agencies.[13] He later became the regional manager of Europe before being promoted to CEO in September 1996, a post that he still holds today.[14]
Edelman is a regular attendee at the World Economic Forum's annual meeting in Davos, having attended 9 times by 2007.[15] In January 2012, he presented to leaders in world governments and chief executives, and his main message to them was that, based on a survey by his company, the public do not trust governments and business executives anymore - they are the least trusted of any group.[16]
Social media
Edelman was one of the first PR practitioners to identify the importance of social media and create a specialist practice.[17] He coined the phrase circle of cross influence to describe how people are increasingly influenced by other people, the internet, new media and cable TV, rather than mainstream media.[18][19] He has written a blog since 2004, and is one of the first CEOs to do so.[20][21] In 2007 PR Week described his blog as one of the better-known PR blogs, in part due to some of his posts being controversial.[15]
He has advised the Canadian tar sands industry how to counter negative PR from NGOs using social media.[22]
Appointments
Edelman sits on the board of directors of the Ad Council, the Children's Aid Society, the Atlantic Council, the International Business Leaders Forum, the Gettysburg National Battlefield Foundation and the National Committee on United States-China Relations. He is also a member of the World Economic Forum, the Arthur Page Society, the PR Seminar and a director of the Jerusalem Foundation.[23][24] In 2009, Edelman was appointed executive jury chair of a new award recognizing the creative use of unpaid publicity, given at the Clio Awards.[25]
Views
Shortly after the mortgage lending crisis, Richard Edelman said that financial institutions have a PR problem. Richard claimed that financial institutions rank lowest on the company's trust barometer, because they don't explain the how and why of their actions to the public.[26] Edelman CEO Richard Edelman spends about an hour per day voicing his views on the company blog that he started to set an example for Edelman clients.[27]
Edelman helped raise donations for the Vietnam Veterans Memorial.[28]
References
1. Dougherty, Philip H. (1985-06-14). "A Promotion At Edelman". New York Times. Retrieved 2012-02-16.
2. "Miss Walrath Weds Richard Edelman". New York Times. 1986-05-18. Retrieved 2012-02-16.
3.
http://www.adweek.com/news/press/daniel ... -92-146555
4. "Miss Walrath Weds Richard Edelman". The New York Times. 1986-05-18. ISSN 0362-4331. Retrieved 2019-04-07.
5. Barker, Sophie (6 August 1999). "PROFILE: Richard Edelman, Edelman PR Worldwide - Taking hold of the family firm. Richard Edelman has overseen a recent string of walkouts and a steady growth". PRWeek. Archived from the original on 2012-03-18. Retrieved March 12, 2012.
6. Bruell, Alexandra (December 11, 2012). "Six Things You May Not Know About Dan Edelman and His Agency - Lessons From 'Edelman and the Rise of Public Relations". AdAge. The new wave of leaders at Edelman will likely include three young women who share the company name: Richard and Roz's three daughters, Margot, Tory, and Amanda
7. Krieger, Candice (October 10, 2008). "Why the PR guru sees an upbeat story". The Jewish Chronicle. Retrieved March 12,2012.
8. "Claudia González Romo, Richard Edelman". The New York Times. September 17, 2017.
9. H. Lee Murphy (2005-10-17). "Edelman; public relations, Chicago". Crain's Chicago Business.
10. "Edelman: Agency Business Report 2014 - Edelman crossed the threshold of employing more than 5,000 people in 2013 and continued on its global growth path". PRWeek. May 1, 2014. Richard's eldest daughter Margot, a VP in research at Edelman Berland, rejoined the firm in 2013 after a stint at business school. She works across clients such as Hearst and New York City FC's Major League Soccer team. Tory Edelman started in fall 2013 as an account executive in New York working on Starbucks and Dove.
11. Dougherty, Philip H. (1983-12-20). "Advertising - People". New York Times. Retrieved 2012-02-16.
12. "Around the World; Nestle Said to Have Paid For Rights Nominee's List". New York Times. 1981-05-28. Archived from the original on November 13, 2013. Retrieved 2012-02-16.
13. David Snyder (1987-09-14). "Dan Edelman: Playing at the Top of His Game". Crains Chicago Business. p. 25.
14. "Richard Edelman Biography". Edelman. Retrieved 2012-02-16.
15. Hannah Marriott (2007-01-26). "Profile: Blogosphere's Darling - Richard Edelman, president and global CEO, Edelman". PR Week.
16. Lewis, Al (January 25, 2012). "Lewis: A PR guy we can trust". Dow Jones Newswires. Retrieved March 12, 2012.
17. Shel Holtz; John C. Havens (2009). Tactical transparency: how leaders can leverage social media to maximize value and build their brand. International Association of Business Communicators/John Wiley and Sons. pp. 34–. ISBN 978-0-470-29370-6. Retrieved 16 February 2012.
18. Sina Odugbemi; Thomas L. Jacobson (2008). Governance reform under real-world conditions: citizens, stakeholders, and voice. World Bank Publications. p. 244. ISBN 978-0-8213-7456-6. Retrieved 16 February 2012.
19. "Keeping It Simple in a 25/8 World". New York Times. 2012-01-28.
20. Bob Walsh (5 February 2007). Clear blogging: how people blogging are changing the world and how you can join them. Apress. pp. 132–. ISBN 978-1-59059-691-3. Retrieved 16 February 2012.
21. Nancy Flynn (2006). Blog rules: a business guide to managing policy, public relations, and legal issues. AMACOM Div American Mgmt Assn. pp. 183–. ISBN 978-0-8144-7355-9. Retrieved 16 February 2012.
22. Alastair Sweeny (20 April 2010). Black Bonanza: Canada's Oil Sands and the Race to Secure North America's Energy Future. John Wiley and Sons. pp. 221–. ISBN 978-0-470-16138-8. Retrieved 16 February 2012.
23. "Richard Edelman profiled in The Holmes Report". Edelman.com. March 31, 2009. Archived from the original on December 15, 2010. Retrieved March 12, 2012.
24. "The Jerusalem Foundation, Inc. (USA)". Jerusalemfoundation.org. Archived from the original on January 20, 2012. Retrieved March 12, 2012.
25. "Clio Awards Adds PR Category". Adweek. January 15, 2009. Retrieved March 12, 2012.
26. Alain Sherter, Bnet. "PR Man Richard Edelman Says Banks Have a Perception Problem. Wrong" October 13, 2009.
27. Debbie Weil, Social Media Insights Blog. Q & A with CEO blogger Richard Edelman. October 2, 2007
28. "Company Histories & Profiles: Edelman". Funding Universe. Retrieved January 6, 2012.