Part 1 of 5
Against Hell: A Refutation of the Buddhist Hell Realms, Based on Their Historic Origins, Political Purpose, Psychological Destructiveness, Irrationality, and Demonstrable Inconsistency With the Original Buddhist Teachings, Framed as A Searching Review of Sam Bercholz's After-Death Memoir, "A Guided Tour of Hell"
by Charles Carreon[1]
May 6, 2019
NOTICE: THIS WORK MAY BE PROTECTED BY COPYRIGHT
YOU ARE REQUIRED TO READ

THE COPYRIGHT NOTICE AT THIS LINK

BEFORE YOU READ THE FOLLOWING WORK, THAT IS AVAILABLE SOLELY FOR PRIVATE STUDY, SCHOLARSHIP OR RESEARCH PURSUANT TO 17 U.S.C. SECTION 107 AND 108. IN THE EVENT THAT THE LIBRARY DETERMINES THAT UNLAWFUL COPYING OF THIS WORK HAS OCCURRED, THE LIBRARY HAS THE RIGHT TO BLOCK THE I.P. ADDRESS AT WHICH THE UNLAWFUL COPYING APPEARED TO HAVE OCCURRED. THANK YOU FOR RESPECTING THE RIGHTS OF COPYRIGHT OWNERS.
TABLE OF CONTENTS:
• THE PREMISE OF "A GUIDED TOUR OF HELL"
• A GUIDED TOUR OF WHAT'S IN THIS REVIEW
• BERCHOLZ FALLS ILL AFTER A LIFETIME OF GOOD LIVING
• WELCOME TO SAM'S NIGHTMARE
• THE VEDIC ORIGIN OF BUDDHIST HELLS IN HINDU LITERATURE
• BERCHOLZ'S MODERN DELOK STORY ADAPTS AN ANCIENT TIBETAN MYTHIC FORM
• THE BUDDHA'S NON-POSITION ON ETERNAL LIFE
• ASHOKA, ARCHITECT OF BUDDHIST HELLS
• "FEAR CONDITIONING" AS A MEANS OF BEHAVIORAL CONTROL
• REINCARNATION, KARMIC DNA, ATMAN AND TATHAGHATAGARBA: THE MERGER OF UPANISHADIC & BUDDHIST PHILOSOPHY
• ALTRUISTIC INCARNATIONS, TIBETAN FEUDALISM AND COMPULSORY GURU DEVOTION
• BERCHOLZ: COMPLICITOUS IN THE THEFT OF THE TRUNGPA LINEAGE AND THE CREATION OF THE SHAMBHALA EMPIRE
• FEAR AND LOATHING IN THE KALAPA KINGDOM
• SHANGRI LUST — THE FALL OF THE HOUSE OF RIGPA
• TIBETAN BUDDHIST DUALISM MIRRORS MEDIEVAL CHRISTIANITY RATHER CLOSELY
• THE CALCULUS OF HELL LEADS TO RELIANCE ON RITUALS & SACRIFICE
• THE POMPOUS LEADING THE CREDULOUS: VAJRA HELL ON THE INTERNET
• BELIEF IN HELL, FONDNESS FOR VIOLENT SOLUTIONS, CORPORAL PUNISHMENT, AND CHILD ABUSE
• EVERYBODY'S GOT THEIR OWN HELL — THEY SHOULD KEEP IT TO THEMSELVES
• THE MYTH OF KINDNESS
• HELL: FOR SUCKERS ONLY
• THE BUDDHA'S PHILOSOPHY OF LEARNING THAT LEADS TO DIRECT KNOWLEDGE
• HOW TO DECONSTRUCT HELL & FEAR OF DAMNATION IN YOUR OWN MIND
• NOTES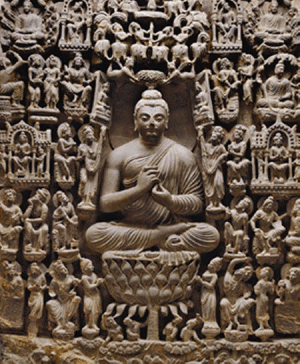 THE PREMISE OF "A GUIDED TOUR OF HELL"
We're all familiar with fire and brimstone preachers, and most of us associate that brand of religion with fundamentalist Christianity that still percolates with aggressive heat down in the Bible Belt. But fire and brimstone Buddhism? Who's into that? Well, there comes a time in the development of every religion when some dark and difficult secrets have to be revealed, and for Tibetan Buddhism, that time came in 2016, when Sam Bercholz decided to publish an account of his near-death experience ("NDE") of ten years before.
While it may come as a shock to American Buddhists weaned on the sweetened pap of the Dalai Lama's message, that carefully avoids revealing
the medieval roots of his religion
, Buddhists have been notably aggressive about systematizing, concretizing, and inculcating the belief in hell in their followers. The most shocking example accessible online is the Thai Buddhist Wang Saen Suk Hell Garden, built in 1986. Two twenty-foot statues, a man and a woman, tower over the garden, their tongues protruding to below their waists, surrounded by twenty-one animal-headed demons. These are surrounded by a great number of
life-sized torture scenes
depicting naked men and women being disemboweled, having their tongues pulled out with pincers, being force-fed boiling liquids, having heads and limbs hacked off, being penetrated genitally with huge, bloody implements, being boiled, sawed in half, and in all too many other ways, having their bodies used as vehicles for the infliction of inconceivably severe pain.[2] Chinese Buddhists have created equally ghastly sculptures to terrorize the faithful.[3]  By comparison with the Thai and Chinese depictions, Japanese hells are tasteful; however, the motivation behind their creation, and their ultimate effects, are equally disturbing.[4]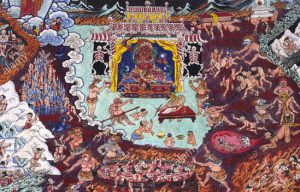 Hell Detail from Wheel of Life Thangka, Nechung Oracle Temple
Old Tibet was stuffed with grisly depictions of beings suffering in hell, like this one taken from a wheel-of-life thangka at the monastery of the state oracle at Nechung, that depicts the crushing, disembowelment, impalement, and boiling of the damned, finely adorned with gleaming gold leaf.[5] But until Bercholz recruited an artist to supercharge the traditional Buddhist descriptions of hell with a series of terrifying, surrealistic acrylic paintings, and fired up his printing press to disseminate those lurid visions around the globe, Tibetan Buddhists here in America had gotten by almost entirely without any visual depictions of hell. Now that we have received this questionable gift, however, we have to deal with it.
Who is Bercholz? He's the founder and owner of the world's largest publisher of Buddhist literature -- Boulder-based Shambhala Publishing.[6] It's no coincidence that Shambhala Publishing shares a name, personnel, and agenda with Shambhala International, the Tibetan Buddhist group founded by Bercholz's lama, Chogyam Trungpa. Shambhala International was originally named "Vajradhatu," but changed its corporate name to Shambhala after Trungpa's Vajra Regent, Thomas Rich, brought the name into disrepute by infecting two people with the AIDS virus before dying of the disease himself. Shambhala International is now a spiritual monarchy, led by its "spiritual king," the Sakyong Mipham, who recently fled to Nepal after becoming the focus of
a wide-ranging sex scandal
. The Sakyong's sexual misdeeds range from drunken groping of party guests, to serial one-night stands with hundreds of willing and unwilling devotees, to rape and child abuse. These facts have been documented in three investigations conducted by his own disciples and attorneys, that strive to avoid revealing unsavory facts, but nonetheless ooze sleaze.
While the revelations of the Sakyong's gross clerical malpractice are only now reaching the ears of the public, his transgressions have been an open secret within the Shambhala community for many years, dating back to the 90s in Colorado, when he admits that he began drinking heavily, in an attempt to deal with his ascent to Masterhood at a young age. It is likely only because of the emergence of
the #MeToo movement
that the softball investigations[7] conducted by the
Buddhist Project Sunshine
,[8]
the Wickwire Holm law firm
[9] and
Olive Branch
[10] were initiated. Thus, Shambhala's inner circle, of which Bercholz is a founding member, has for many years known of the need to reinforce discipline to discourage insiders from leaking news of the Sakyong's misdeeds to investigators, reporters, and the public.
Bercholz certainly didn't publish
A Guided Tour of Hell
because he thought it would be a big seller. After all, who needs a glossy coffee-table book about semi-eternal damnation, illustrated with gruesome acrylic paintings? To receive it as a gift would be the equivalent of receiving a bullet in the mail. Not a big Christmas seller. This book was published to remind Shambhala insiders, who are, as we shall learn in this essay, subject to strict loyalty oaths and vows of secrecy, of the consequences of careless tongue-wagging.
Bercholz says it's not his intention to scare anyone with his story, but I have a saying -- "If they say they're not doing it, they're doing it!" This is a rule of near-universal application, because nobody tells you what they're "not doing" unless they want to deflect your attention from what they are, in fact, doing. For example, no one tells you where they're not going this weekend, what they won't eat for lunch, or who they're not seeing after work.
To figure out the purpose of something, it helps to see it at work – like a roller coaster, for example. Once you've heard the passengers screaming, you know why it was built. Similarly, fear is a common reaction among those who read
A Guided Tour
. Check the reviews on Amazon, where the faithful are giving it four stars for scaring the dickens out of them. That's what Bercholz intended, and as this review explores, he follows in the time-honored tradition of Buddhist-hell propagandists going back to the time of
King Ashoka
, who had been fond of terrorizing victims in torture dens until he converted to Buddhism. As we will discuss, when Ashoka adopted Buddhism as his state religion, he closed the torture chambers, but maintained his authoritarian grip on the population by sponsoring a Buddhist cosmology with hells as a central feature.
In
A Guided Tour
, Bercholz warns his fellow-Buddhists that, if they disobey their lamas, their own minds will become inescapable torture chambers where they will suffer insane torments for near-endless epochs. This demonic vision, honed to razor-sharpness for over a thousand years, was used in Tibet to control generations of believers, who were taught that malevolent forces dominate the universe, and that only reliance upon the lamas could protect them from suffering unspeakable agony in the afterlife. In modern times, scientific studies into the biology of fear have helped military trainers to exercise a wide range of behavioral control over their soldiers and enemy captives. Similarly, Tibetan lamas have used fear to acquire and assert authority over believers and doubters alike.
A GUIDED TOUR OF WHAT'S IN THIS REVIEW
To understand how Tibetan Buddhism uses the fear of Buddhist hells to exert control over its followers, we begin by establishing that the hells Bercholz claims to have visited in
A Guided Tour
parallel stock Tibetan Buddhist depictions of hell. A brief review of Indian history establishes that the writings of Vedic scribes designed what became the Buddhist hells approximately a thousand years before they were assimilated into Buddhist doctrine during the reign of Ashoka, the royal sponsor of the Third Buddhist Council, in the Third Century BCE.
Tibet had a substantial oral and written tradition of afterlife stories told by "deloks," i.e., people who died and returned to tell what they saw, so we study examples of the genre, compare them with Bercholz's story, and make critical observations. We review some of the Gautama Buddha's early sermons to establish that he refused to answer questions about the afterlife, and exhorted students to seek "direct knowledge" that leads to "self-awakening and unbinding." We then review scientific studies of the brain networks that give rise to fear as an evolutionary-designed system for protection of the organism, and learn how "fear conditioning" is used to assert social control.
To understand the cosmological theories that support the Tibetan belief in hells, we learn how Tibetan Buddhism claims to resolve the conflict between the Buddhist belief in "
no-self
" and the necessity for some "karmic DNA" to drive the reincarnation process. Having understood the Tibetan concept of the mechanism for reincarnation, we learn that Tibetan Buddhists believe that very high lamas, the "tulkus," have gained control over the "rebirth process," and are reincarnating not from karmic compulsion, but rather from the pure altruistic motivation to aid living beings reach enlightenment. We then discuss how the Tibetan adoption of the Hindu tradition of guru worship was applied to turn tulkus into theocratic rulers whose decrees were enforced by the threat of "vajra hell."
We turn from Tibet's feudal politics to the machinations of Tibetan Buddhists in the present day, considering two major Tibetan Buddhist scandals to consider whether Bercholz would have an interest in strengthening discipline among believers by trumpeting the doctrine of hell from his bully pulpit at Shambhala Publishing. We find that Bercholz would have ample personal motivation to enforce silence in the Shambhala spiritual organization that is imploding as the reign of the Sakyong Mipham is consumed in a conflagration of shame and betrayal, because Bercholz is a founding member of Shambhala, a senior teacher, and through various organizational ties, a major donor to the Sakyong's collapsing "Kalapa Kingdom." For an example of how threats of vajra hell can be used to curtail inquiry into the criminal misconduct of Tibetan lamas, we examine the shocking details of the
Rigpa / Sogyal Lakar scandal
as revealed in an investigation conducted by Rigpa's attorneys, quoting from legal findings that Sogyal habitually engaged in brutal sexual, physical, and emotional abuse of students, and threatened them with vajra hell if they dared to refuse his commands, question his authority, or speak about his criminal misconduct.
Because many Tibetan Buddhists mistakenly pride themselves on the purportedly "modern" character of their religion, we reveal the religion's truly medieval character by examining parallels between medieval Christianity and Tibetan Buddhism, including: belief in the eternal existence of living beings; belief that the destiny of living beings is determined by judgment in the afterlife, and may result in eternal damnation; belief that afterlife judgment is determined by merits accumulated in earthly life; belief that spiritual merit can be accumulated by making monetary payments to people who perform virtuous acts under contract; and, belief that priests and lamas serve as bankers in a spiritual economy of merit that determines the destiny of human souls.
Returning to the present day, we visit a popular Buddhist bulletin board and read posts from people who think they are 21st Century Tibetan Buddhists, struggling to fit vajra hell into their belief systems. We then examine the results of several psychological studies indicating that belief in hell, the Devil, and "pure evil" predisposes believers to express confidence in violent solutions and reject peaceful solutions to relationship problems, to apply corporal punishment to their children, and to engage in child abuse. We conclude that section with a review of evidence that Tibetan Buddhist monasteries are dangerous places for children, including a transcript of a video taped by the reincarnation of
Kalu Rinpoche
in 2011,[11] disclosing that he had been repeatedly raped by monks.
We then consider the reality that the mind can produce experiences of transcendent terror, examining the psychological impact of
terrifying psychedelic experiences
that may induce traumatic fears of the inner world, and discuss how psychological fears can be overcome through rational reflection, rather than generalizing from them to draw frightening inferences about the afterlife.
We then consider ancient Tibetan traditions of blood sacrifice that underlie the pervasive practice of
propitiating supernatural spirits with simulated blood offerings
, and explain how the extremely punitive calculus of Buddhist hells disposes believers to rely on magical rituals to expiate bad karma. Because this irrational, ritualistic behavior has taken root in American soil, we report on magical practices currently popular with American students: using diviners to prescribe a panoply of magical activities that they claim will eliminate obstacles to health, long-life and liberation; propitiating "local" spirits with simulated blood sacrifice; and, hiring lamas to perform lengthy rituals, prayers, and mantra recitations. We also return to the Buddha's original advice to eschew reliance on magical rituals, to see how far the Tibetan Buddhist doctrine has strayed from the original.
Having established that lamas threaten students with vajra hell to conceal institutional iniquity, we consider the likelihood that the non-virtuous conduct of some of the lamas who preach the doctrine of the hells indicates that they do not, themselves, believe the doctrine. The final sections are devoted to eliminating the causes for belief in hell,
first
by affirming the correctness of Gautama Buddha's advice to eschew reliance on faith-based knowledge of the unseen, and seek the confidence of direct knowledge through the use of our sensory faculties, aided by reason and good sense;
second
, by considering the proper limits of rational inference based on scientific and technical knowledge, and
third
, by recollecting that hell is a conceptual creation, a cosmological postulate, that was formulated for authoritarian purposes in the minds of human beings who sought to control the behavior of others through fear, and should therefore be rejected by rational people who wish to be free of unwholesome influence.
BERCHOLZ FALLS ILL AFTER A LIFETIME OF GOOD LIVING
The action starts at the Palm Springs Airport, where Bercholz is about to board a plane with his Tibetan Buddhist lama
Thinley Norbu
and a group of students, bound for an exclusive spiritual retreat for well-funded Buddhists. Walking through the broiling heat of the airport parking lot, Bercholz suffers a massive heart attack brought on by sixty years of good living. He's picked the right place to suffer a near-lethal cardiac dysfunction, because Palm Springs is filled with people who've eaten steak and potatoes every night for their whole life, and keel over routinely, just like Bercholz. The surgeons slice him open, scrape out the arterial plaque, give him a sextuple bypass, and stitch his thoracic cavity shut. After receiving this top-level care, Bercholz is alive, but feeling more like a steer hanging in a meat locker than a human being. Numbed by massive doses of pain medications, seeing halos, hearing the groans of rich people in their last agonies, trudging through the ward with the help of two orderlies, Bercholz's vitals plummet, he goes into a coma, and the weirdness begins. His NDE kicks off in classic Tibetan style –- he feels a lasso whipped around his feet, and is hauled straight down to the nether regions.
Bercholz doesn't say he experienced actual brain death. He may have simply descended into coma, while continuing to have measurable brain activity.[12] Regardless, if you credit that it happened, Bercholz had a nasty run-in with the universe's dark side, which is statistically unusual, since most people who experience NDEs recount positive experiences. From an objective viewpoint, it's easy to understand that Bercholz had an experience that was conditioned by his life, his study of Tibetan Buddhism, and the physical circumstances of the hospital, where people were suffering grievously, and physicians were working frantically to resuscitate him. He did not record the experience immediately after its occurrence, which he explains by saying he was embarrassed he'd gone to hell.
A Guided Tour
presents Bercholz as the ultimate authority on life after death, one who
"went there and saw it."
And while Bercholz acknowledges that some people might say that his awful visions were merely subjective experiences, he rejects that explanation. He presents his experience as a cosmological fact, and many Buddhists will take it as a grisly truth that they cannot reject. After all, his biography on a Shambhala website[13] says that "both
Chögyam Trungpa Rinpoche
and Thinley Norbu Rinpoche ... empowered him to teach dharma." And as we'll see further on, it's very dangerous to doubt your teacher.
Although he is selling his story as fact, Bercholz carelessly muddles the border between experience and imagination. He cuts himself a large measure of artistic license by admitting that, while writing and illustrating
A Guided Tour
, he and the graphic artist re-read Patrul Rinpoche's 19th-century Dharma classic,
Words of My Perfect Teacher
, with its blood-curdling account of the hells. Bercholz enlivens the traditional description by assuming the role of a reporter who travels the labyrinth of damnation interviewing tormented beings who, lo and behold, are suffering exactly the consequences Patrul Rinpoche predicted for sinners of their type. For Tibetan Buddhists, the similarity between Bercholz's tale and Patrul Rinpoche's teachings might well chill the blood with the horror of recognition, but those less given to habitual reverence may find the correspondence suspicious.
Ironically, given how sick Bercholz was from self-inflicted heart-disease, he never stops to consider that the real heroes in his drama are the surgical teams that know how to do open heart surgery, excising chunks of cholesterol-choked veins and arteries that Sam filled up with fatty gunk, pulling veins out of other parts of the body to replace them, and stitching those veins and arteries back together with instruments so small they need to wear magnifying lenses to see what they're doing. Although his doctors refurbished his damaged heart with consummate skill, Bercholz doesn't give them so much as a tip of the hat. Focused as he is on
the realm of the spirit
, Bercholz doesn't realize that the only reason he had a
near
-death experience instead of an
actual
death experience, was because he received superb medical care. All the veneration goes to his spiritual teachers, whose knowledge of cardiology would fit on a postage stamp, with room to spare.
A further irony may be inferred from Bercholz's neglect of his "Precious Human Body, difficult to obtain with the eight freedoms and ten endowments." [14] All Tibetan Buddhists are taught that it takes more than luck to be born as human beings in a Universe where there are countless other life forms.[15] Only good karma from past lives can secure a human incarnation in a healthy body free from disabilities, in a civilized land, where the Dharma is taught, and one has the opportunity to make progress on the spiritual path. Because achieving the goal of Dharma practice takes a long time, the best way to use this precious opportunity is to care for your body, live as long as possible, and practice Dharma earnestly. As Lama Zopa said in a teaching on the ultimate meaning of life, "You should live each day, each hour, each minute, in order to accomplish this ultimate purpose. This is why you try to be healthy and to have a long life."[16] Bercholz's massive heart attack at age sixty was almost certainly the result of bad eating habits, a sedentary lifestyle, stress, high blood pressure, and abdominal obesity.[17] However, he does not spend one inch of typespace in
A Guided Tour
considering how his self-indulgent lifestyle almost terminated his opportunities for practicing the Dharma. This is consistent with the behavior of his guru
Chogyam Trungpa
, who destroyed his own health aggressively, paralyzing himself in a drunken car accident, descending into alcoholism, cocaine addiction, and habitual bulimic purging, coughing up blood, and dying in a coma.
Bercholz tells us that upon hearing his story, one lama burst out laughing, and said, "So you are the first American delok!" "Deloks" are what are called "revenants" in the European tradition –- people who have died and returned to tell the tale of their sojourn in the afterlife. We will consider the significance of this comment later in this review, when we discuss the history of deloks in their native Tibet, and how they fit into the uniquely Tibetan view of a world where consensual reality routinely gave place to the supernatural in many aspects of daily life.
WELCOME TO SAM'S NIGHTMARE
Bercholz doesn't suffer much in hell, because he's quickly reassured that he's a guest of "the Buddha of Hell," a vaguely anthropomorphic divine presence who shields Bercholz from the intense heat and cold pervading the hells. He's also accompanied by an angelic being that he calls "Janna Sophia," an interesting name, since "jhana" is Sanskrit for "meditation," and "Sophia" is Greek for "wisdom." These two beings don't take a major role in the story, though. We hear that the Buddha of Hell is always present, ready to help any of the suffering beings in his domain to escape their agonies, and every now and then, Janna Sophia does some minor thing or another, but essentially, they only provide a comforting backdrop to explain how Bercholz can be in a blazing hell and not melt like the proverbial snowball, or remain unfrozen in the uniquely-Tibetan cold hells. The Buddha of Hell is thus a depressingly impotent jailer, unlike Buddha Vajrasattva, who "harrows the hells," Yamantaka, who "destroys death," and Arya Tara, who "shatters the seven underworlds," and "destroys the hosts of evil spirits, yakshas, and the walking dead."
I received my personal introduction to the Tibetan hells in the winter of 1979, at a retreat in the snowy mountains of Southern Oregon where the Tashi Choling Nyingmapa temple now stands. Gyatrul Rinpoche taught us the Long Chen Nyingthik ngondro for three days, including a three-hour teaching on the hot and cold hells. Gyatrul Rinpoche prefaced the teaching by conceding that western students never liked hearing about the hells, and that therefore he wasn't going to go on too long about them, but that this was a very important teaching, and we should try not to reject them. When I read through Bercholz's account of the hot and cold hells, I was struck by how closely they followed Gyatrul Rinpoche's descriptions.
Bercholz presents the story as a series of biographical sketches in which each person tells him their life story, and Bercholz explains how their earthly conduct led to their damnation. Because these hell realms are very physical, and merely magnify the agonies to which physical bodies are subject, several of these damned souls haven't even realized that they are dead. They transitioned from life to death without noticing the change, and are still involved in replaying endless cycles of anger, hatred, retaliation, abuse, killing, death, and frustration. One of the strange things about Bercholz's hell is that all of the damned he interviews have Asian or otherwise foreign-sounding names, and none are American or Western European. Apparently there are no New York investment bankers, Boulder-based publishers, or Beverly Hills cosmetic surgeons in hell -– a notion that strains credulity.
Bercholz's hell is a claustrophobic group experience that echoes Sartre's declaration that "hell is other people." Beings are packed together in misery, radiating anger, heat, resentment and hatred. This emotional overload generates a mounting crescendo of pain that intensifies the agony of each and all, which is relieved by occasional, brief moments of unconsciousness. This depiction channels the classic Tibetan image of innumerable beings boiling in a cauldron of molten metal, for whom relief occurs only when demons smack them on the head with red-hot hammers, and they pass out from the impact, only to awaken again in the boiling pot.
Bercholz begins by exploring the fate of those who commit suicide, and discover that they've failed to end their consciousness, and now must wallow in a muck-filled sewer of human excrement, blood and pus. He interviews a tycoon who engineered
sophisticated artificial intelligence robots
, creating a world filled with pollution and grinding inhumanity. He elicits the life story of an eastern-bloc scientist who developed a
doomsday device
and pushed the button that would destroy all life on earth. From there he moves on to a bloodthirsty killer from an African nation who was killed in the same type of coup he executed to unseat his own enemies. Each of these beings is a victim of their own speed and aggression. Bewildered by their inability to control the forces that engulf them in the afterlife, they are blown to pieces by sudden impacts that they cannot anticipate, they explode in rage, they are killed in the act of killing.
In the cold hell, we meet a wealthy man who has lived mechanically, without human feeling, and now trudges the icy streets of an empty, frozen, wind-whipped city on feet that gradually become covered with agonizing blisters until he can no longer move. Another cold-hell denizen is a Japanese woman who lived an affluent lifestyle in an art-filled home, but could not show the smallest kindness when it was asked of her. She suffers the classic Tibetan cold-hell pain of developing a cold blister that increases in complexity, splitting into two blisters, then four, then eight, all the way up into the hundreds, at each point increasing in painfulness. She is so focused on her pain that even when the Buddha of Hell heals her blister, she brings it immediately back into existence and starts counting the splits as the pain mounts, reassuring herself that her monotonous agony will continue without interruption.
In the Tibetan cosmology, the damned suffer in these extreme hot and cold hells for unbelievably long periods of time, emerging only by way of a long, slow journey through "trivial hells" that the damned trudge through for hundreds or thousands of years on their way to the final exit. To choose just one trivial hell for an example, those who were magnetized by lust during their earthly lives now hear their lovers calling from the top of a tree, begging for rescue. When the victim of this illusion tries to climb the tree, it turns out to be covered with razors. Fighting their way to the top, they arrive, self-lacerated and covered in their own blood, only to discover that a nasty, iron-beaked parrot has been simulating their lover's voice, and rewards them for climbing the tree by pecking out their eyes. Bercholz's recounting of these trivial hell stories, in which mirages promising relief dissolve and reveal new torments, closely follow the classic doctrinal formula, and lack originality, leading the informed reader to suspect that they were included for the sake of completeness.
One thing that seems strange, then, is Bercholz's omission of any description of the worst hell, the Avici hell, reserved for heretics who have broken their Buddhist vows, killed their parents, shed the blood of a Buddha, or committed other doctrinally-proscribed actions. The Avici hell has two characteristics -- the agony is uninterrupted by the briefest respite, and continues until the Universe itself expires. Given the close parallel with the classic accounts of hell in Tibetan scriptures, it's clear that Bercholz is affirming the whole ball of blazing wax, so we are left to wonder why he backed off before administering the final, terrifying blow. Perhaps because those to whom this dread volume is directed don't need to have it all spelled out in letters of flame. As a cruel Catholic priest once told me with a soft smile as he delivered an understated threat -- "A word to the wise is sufficient."
THE VEDIC ORIGIN OF BUDDHIST HELLS IN HINDU LITERATURE
Where did Patrul Rinpoche get the concept of hells that he put into
Words of My Perfect Teacher
?  Gautama Buddha did not assert the existence of hell in any of the sermons reliably attributed to him. Hell is not an element of Buddha's Noble Eightfold Path, nor does it feature in his explication of the Twelvefold Wheel of Dependent Origination, the wheel we must stop turning to experience freedom.
The Sanskrit term for hell is "naraka," the same term Tibetan Buddhists use. Naraka originated in Vedic mythology, as recorded in the Vedas and Puranas in 1500 BCE,[18] a thousand years before the birth of the historical Buddha, who is thought to have lived in India from 563 BCE to 483 BCE.[19]
The Tibetan Buddhist naraka has features identical to those of the Vedic/Puranic hells: (1) the hells are segmented into various different types,[20] (2) many of the Buddhist hells have the same names as Hindu hells: Raurava (lamentation), Maharaurava (great lamentation), Kalasutra (hell of black wire), Avici (uninterrupted pain),[21] (3) both the Hindu and Buddhist hells are surrounded by the river Vaitarani,[22] that is filled with blood, dung and all sorts of filth,[23] (4) the Vedic and Buddhist hells are ovens with metal grates for floors, radiating the full spectrum of heat from red to blue, and (5) Yama is the Lord of both the Buddhist and Hindu hells.
As we shall discuss further below, Buddhists also borrowed the doctrines of reincarnation, guru worship, and mantra practices from Hindu religion. Shiva-worshipping tantrics (Śaivists) and Tantric Buddhists emulated each other extensively, so the two schools mirror each other in numerous ways. "Tantric Śaivism and Tantric Buddhism borrowed freely from one another, creating marked parallelisms primarily in practice, and sometimes in thought as well. They even have synonymous names: the emic name for Tantric Śaivism is Mantramārga, a parallel with Tantric Buddhism's Mantrayāna as well as the earlier Mantranaya."[24]
The Vedic/Puranic hells were invented to enforce Brahmanical social norms. As Eileen Gardner observes in her "Hell-on-Line" website, that provides excellent histories of various hells from a wide sampling of cultures: "It would be difficult to call many of these deeds sins in a Western sense, since they often include actions that would simply be considered impolite, rude or unhygienic. For urinating in front of a cow, a brahman, the sun or fire, for example, crows would rip the intestines out through the anus of the offender."[25] Similarly, women who drink alcohol are forced to drink molten iron in hell, while male drinkers are force-fed hot molten lava.[26] Another clever Hindu hell is the "river of semen," in which men who force others to swallow their semen are drowned, "feeding upon semen alone until his period of punishment" is exhausted.[27]
Hells are born of sadistic control fantasies, but to be effective they must take into account the fears of the audience. For example, Chinese hells are controlled by nitpicking bureaucratic functionaries whose records are mixed up, resulting in souls being placed in the wrong realms due to cases of mistaken identity, so even the best of efforts to save the damned collapse under the weight of excessive paperwork.[28] When the lore of the Buddhist hells went to the Land of Snows, the Tibetans added cold hells to terrify the natives, who were well acquainted with the pain of freezing to death, and easily terrorized with the notion that the afterlife could be a frozen wasteland without a hot stove or a cup of butter chai. In these perpetually frozen domains, the damned suffer from agonizing blisters that split and split yet again and yet again,
ad infinitum
. Only people who have suffered the agony of the freezing cold would be responsive to such threats, so that is exactly what their compassionate clergy gave them.[29]
BERCHOLZ'S MODERN DELOK STORY ADAPTS AN ANCIENT TIBETAN MYTHIC FORM
Bercholz's suggestion that he is an American delok invites investigation of the delok tradition. Delok stories have a historical beginning as a literary genre, and follow certain conventions. The delok stories began to appear in Tibetan written literature in the fifteenth century.[30] The stories began as oral recounting, were transcribed by religious writers, infused with some common doctrinal elements, and retold by traveling bards who entertained crowds in villages and towns, illustrating their tales with large thangka-paintings. This tradition resembles the manner in which folktales were disseminated in medieval Europe and gradually evolved into the mystery and morality plays that were used to teach religious doctrine to the illiterate European serfs of the middle ages, whose rough lives and scant intellectual development parallels that of the Tibetan populace well into the twentieth century.
Delok stories became subplots in larger narratives, providing a redemptive ending to an otherwise tragic story, as in the popular tale of Nangsa Obum, a romance of star-crossed lovers. After being beaten to death by her father-in-law, Nangsa Obum descends to hell, passes through judgment by Shinje Yamaraja, the Lord of Hell, who returns her to the world of the living, where she passes the remainder of her days as a nun, teaching others the path to redemption.
Delok stories begin by recounting the painful emotional experience of dying of an incurable illness. The dying process is recounted according to the Bardo Thodol teachings, wherein "the elements" of the body -- earth, water, fire, air and ether –- dissolve one into the next, prompting a series of extrasensory experiences that culminate in death. Although evicted from the physical body, the dead person inhabits a
gandharva
body, a life-form that "eats odors" and can travel with the speed of thought. The dead person looks back on their corpse, but instead of their own cadaver, they see an animal's corpse, dressed in their own clothes. "In every case, the dead person's body is seen not as a human corpse but as the cadaver of some specific animal -- a pig, a frog, a snake, or a dog. The delok never recognizes it as his or her own body, even though in many instances the animal corpse lies in the delok's bed dressed in his or her own clothes."[31]
Because the dead person is alienated from their own corpse, they don't realize they're dead, and try to participate in human society. They try to talk with people who cannot see them, asking to be served food, water, beer, and tea, and they get angry with their relatives for ignoring them. Whenever the dead encounter weeping mourners, they are pelted with egg-sized hailstones composed of blood and pus that materialize from the sky and cause them grievous pain.
Eventually they notice that their body isn't casting a shadow, and realize they're dead. Then they get agitated, lose connection with their physical surroundings, and begin wandering in an eerie landscape: "[T]hey travel over earth of molten iron, long and empty stretches of road, over rocky mountains and mountains composed of fire, mountains of copper, mountains of molten bronze, valleys and open plains, through magic forests with trees of iron and trees with razor-sharp leaves, along the edges of ravines and pits of burning embers, inside houses of molten iron, across the shores of immense rivers and oceans, inside palaces of lotus flowers, temples … a nightmarish distortion of the everyday world the delok left behind."[32]
This is the journey through the "bardo," the intermediate space between life and death. On this journey, the delok is accompanied by a companion, sometimes a celestial being, who explains some of what they're seeing. Jangchup Senge, a lama-delok whose experiences we discuss further below, was accompanied by a handsome young man who was an emanation of Avalokiteshvara. They eventually come to a large bridge and see a big town on the other side, where the recently-deceased abide in their
ghandharva
bodies. In the famous story of Lingza Chokyi, the dead woman's companion tells her that the bridge is the border between the living and the dead, where people wait up to 49 days, a time period prescribed by the Bardo Thodol, waiting to be brought up before Shinje Yamaraja, the Lord of the Dead, who will judge their karma and determine their destiny. Awaiting judgment, the dead remain in a familiar social milieu. Those whose relatives sponsor generous funeral ceremonies with abundant offerings for the lamas enjoy comfortable accommodations, while those whose relatives make stingy funeral offerings, or omit them altogether, must suffer in poverty. The Tibetan mechanism for transmitting food to the dead is simple -– food and drink are simply burned up in a fire, and the smoke nourishes them in their
ghandharva
form.[33] Physical and social landmarks keep the dead psychologically close to home. They may run into people they've known during their lifetime, or hear news of how people who died before they did have been faring in the afterlife.
The delok has a chance to observe a number of trials, where Shinje Yamaraja passes judgment on the dead. Shinje is assisted by two spirits who were born simultaneously with every human being, and accompany them throughout their life, and keep account of their bad and good actions with bags of black and white stones. Shinje weighs the stones in his scale, and takes testimony from the dead person, checking their story against the "mirror of karma," that replays videos of all past events at his command. Occasionally, Shinje will discover that there's been an error in demonic bookkeeping, for example, the demons have snatched a person with the same last name. These erroneously damned people get sent back to the land of the living with a stern reminder to tell everyone about what they learned in the bardo,
i.e.
, that they should make a lot more offerings to the lamas so they'll have a happy landing when they die. Karma Wangzin, a noble young woman, was sent back with specific directions from the Lord of Death: "Encourage the people of Dzambuling to follow virtue and give them a message about what happens in the bardo between death and the next life. The reason you're doing this is that in your former life you met with Dorje Pakmo (a female deity) and you received initiations, reading-transmissions, and oral instructions from her." Shinje provided her with details of her past incarnations to further put her in touch with her elevated destiny, that made her a fit candidate to "return to your body in the human world and work extensively for the welfare of beings…."[34]
After a negative judgment is passed, demons step forward like bailiffs to take the damned to hell, but the delok tradition does not place a heavy emphasis on the grisly depictions of hell that chill the blood of those who read Patrul Rinpoche's
Words of My Perfect Teacher
and other traditional lamaist renderings of the precisely-detailed hells. There is a greater emphasis on the sense of the individual spirit being lost, deprived, driven about by "the winds of karma," beguiled by illusory appearance, and terrified of the possibility of being sent to hell by Shinje Yamaraja's final judgment.
There can even be saving graces in the after-death state. Janchup Senge, the lama whose companion was Avalokiteshvara, found the temple that Maugdalayana built when he rescued his mother from hell, and gives us this description: "That temple has the capacity to remove suffering just by being seen … a four-sided celestial palace with four ornamental gates, a series of archways, and dharma wheels [where] the harmonious music of gods and goddesses" was playing. After this auspicious experience, Jangchup Senge answered Shinje's questions satisfactorily, reciting his birth to noble parents, education in the Dharma, and recognition of the nature of the mind "as it exists in the bardo realm." Shinje then conversed with him congenially about the virtues of Avalokiteshvara's six-syllable mantra, and how people should prepare for the moment of death. Shinje also suggested a new design for prayer-flags that Jangchup Senge popularized throughout Tibet, after his return to the land of the living.[35]
When the delok is returned to the place where their corpse lies, they still see it as an animal form, but must re-enter it to come back to life. When Lingza Chokyi looked at the pig carcass dressed in her clothes, she reached out and grabbed them to pull them off, and then found herself back in her body, reviving. Jangchup Senge simply realized, "That dog's corpse is my own corpse!" and received a bit of advice from Avalokiteshvara to exercise "a little will power" to recover his "precious human body." Thereupon, he found himself back in his body.
Once back in their body, the delok may have more problems. When Karma Wangzin returned to her body, the person who was keeping watch over her wanted to be sure she wasn't a
zombie
. "Removing the veil he smacked my head many times and then placed his hands on my bosom."[36] The fear that corpses might become reanimated by demonic spirits was common in Tibet. "To guard against [this] the corpse must be watched continuously throughout the day and night. *** [There are] dramatic tales of monks engaged in hand-to-hand combat with possessed corpses, of entire villages contaminated by '
zombie madness
,' and even comical stories of young, inexperienced lamas beating corpses over the head with the thick wooden book covers of the
Tibetan Book of the Dead
."[37] "Once the corpse is animated, it walks about with tongue wagging and arms outstretched, intending to spread its '
zombie sickness
' … by touching victims with the palm of its hand [but] they move slowly, are unable to speak, and cannot bend at the waist [which is why] the main doorways of Tibetan homes are often cut low to keep [zombies] from entering."[38]
The delok stories are part and parcel of "a world overpopulated by evil forces threatening defenseless human beings *** a world haunted by fear of death and disease, terrified of dark demonic powers, and suspicious of destructive forces that are able to appear deceptively normal and harmless to the untrained eye. This view of such an uneasy world had a popular basis in Tibetan society and was widely shared among all categories of people, whether they were scholar-monks or illiterate lamas, pious [laypersons], wandering evangelists or accomplished yogis. In reading through the Tibetan literature on demons, rising corpses, and people who return from the world of the dead, one cannot help but come away with the sense that fear and paranoia must have struck a constant chord in the lives of Tibetans everywhere, or at the very least in the imaginations of those Tibetans such works were most likely to impress."[39]
Comparing the classic delok tale with Bercholz's, we find some differences. He doesn't see his corpse as that of a pig, although given the way he treated his body, that would hardly have been an unjust fate. He doesn't experience the confusion of being ignored by his relatives, nor does he see people mourning his death while failing to perceive him. Nor does he suffer the slight of not being offered food and drink while others quaff and dine before him. He doesn't see any mourners, and is not pelted with pus and blood. He has a spiritual companion, but he doesn't cross a bridge, wander lost through desolate landscapes, or spend time in the town where people await the determination of their fates while the lamas chant over their bodies for forty-nine days. Because Americans don't have the tradition of paying lamas to sit with the body of the decedent while chanting the Bardo Thodol and burning food and drink offerings for the purpose of nourishing the departed in their
ghandharva
form, this was of course omitted.
Bercholz completely leaves out the climactic judgment scene, where Shinje Yamaraja determines the fates of the dead by summoning the surveillance spirits, weighing their black and white stones, questioning the dead, and testing their statements against the images appearing in the mirror of karma. One might ask why Bercholz couldn't have updated the legend by giving the Lord of Hell a computer, a database of surveillance videos, and access to everyone's social media passwords, emails accounts, Netflix, Steam, and porn-site memberships. The answer might well be that such an evocation would certainly provoke some wag to remark on the death-lord's resemblance to Mark Zuckerberg, a man Bercholz would be loathe to place in an unfavorable light, given Facebook's vital role in disseminating spiritual fictions worldwide. Finally, avoiding a pop-culture reference that might invite a humorous sendup, Bercholz was not mistaken for a zombie when he returned from his trip to hell.
In the traditional delok story, the focus is on the individual's struggle with karmic destiny, that culminates with redemption and realization that it is an error to live for worldly purposes, while neglecting spiritual opportunities. Departing from the delok narrative style, Bercholz skips the bardo and goes straight to hell, where he updates and personalizes the suffering promised by the traditional Tibetan Buddhist hells. His claustrophobic visions, crammed with suffering beings who enhance each other's pain in a collective orgy of all-encompassing, ever-increasing suffering, imbues the story with a depressing sense that this mass disaster is inescapable. Where the delok stories placed Tibetans in a familiar cultural context, making the bardo a magical extension of the physical realm, Bercholz's hell, populated by beings with strange names, absorbed in a gang-bang of endless violence or numbing isolation in mechanized, urban environments, reflects the sterility and anomie of modern life, effusing a mood of
existential dread
like a toxic cloud.