The Life and Letters of The Right Honourable Friedrich Max Muller
In Two Volumes, With Portraits and Other Illustrations
Edited by His Wife [Georgina Adelaide Grenfell Muller]
1902
NOTICE: THIS WORK MAY BE PROTECTED BY COPYRIGHT
YOU ARE REQUIRED TO READ

THE COPYRIGHT NOTICE AT THIS LINK

BEFORE YOU READ THE FOLLOWING WORK, THAT IS AVAILABLE SOLELY FOR PRIVATE STUDY, SCHOLARSHIP OR RESEARCH PURSUANT TO 17 U.S.C. SECTION 107 AND 108. IN THE EVENT THAT THE LIBRARY DETERMINES THAT UNLAWFUL COPYING OF THIS WORK HAS OCCURRED, THE LIBRARY HAS THE RIGHT TO BLOCK THE I.P. ADDRESS AT WHICH THE UNLAWFUL COPYING APPEARED TO HAVE OCCURRED. THANK YOU FOR RESPECTING THE RIGHTS OF COPYRIGHT OWNERS.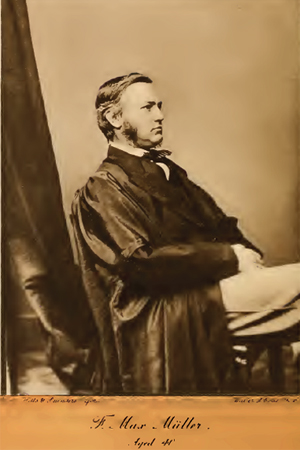 Blessed is he who has found his work: let him ask no other blessedness.

-- Carlyle
DEDICATED TO TO THE BELOVED MEMORY OF A GREAT AND GOOD MAN
CONTENTS OF VOLUME I [PDF HERE]
• PREFACE
• CHAPTER I. 1823-1841. Parentage. Father's death. Dessau. Musical training. School. Poetical tendencies. Nicolai School, Leipzig. Dr. Carus. Music. Letters to his mother. Examination at Zerbst
• CHAPTER II. 1841-1844. University life at Leipzig. Studies. Sanskrit. Friends. University life at Berlin. Hensels. Lectures. Hagedorn. Humboldt, Bunsen 16-29
• CHAPTER III. 1845-1846. Paris. Lonely, struggling life. Gathy. Burnouf. Rig-veda. Rachel. Dvarkanath Tagore. Boehtlingk
• CHAPTER IV. 1846-1847. London. W. H. Russell. Bunsen. Visit to Germany. East India Company and the Rig-veda. British Association
• CHAPTER V. 1848. Visit to Paris. Revolution. Settles at Oxford. Friends there. Letters to Burnouf and Bunsen
• CHAPTER VI. 1849. Death of sister's children. Froude. Visit to Lakes. Prix Volney. Publication of first volume of Rig-veda. Carus. Visit to Germany
• CHAPTER VII. 1850-1851. Dinner at Potsdam. Morier's illness. Return to Oxford. Ranch. Waagen. Appointed to lecture at Oxford. Letters from Professors Cowell and Story-Maskelyne. Visit to Froude. Article in Edinburgh Review. Made Deputy Professor and Honorary M.A
• CHAPTER VIII. 1852-1853. Member of Bavarian Academy. Summer in Germany. The George Butlers. Arrival and baptism of Dr. Aufrecht. Essay on Turanian Languages for Bunsen. Visit to Scotland. First meeting with future wife. Missionary Alphabet
• CHAPTER IX. 1854-1855. Professor of Modern Languages. Second volume of Rig-veda. Death of Burnouf. Crimean War. Languages of the Seat of War. Bunsen's resignation. Nehemiah Goreh. Visit to Germany. Froude. Kingsley. Macaulay. Visit to Malvern. Indian Civil Service Examinations. Paris. Dresden. M.A. by decree. Renan
• CHAPTER X. 1856-1857. Comparative Mythology. Commemoration. His mother in England. Vol. III of Rig-veda. Curator of Bodleian. Christmas at Glasgow. Deutsche Liebe, Buddhist Pilgrims. Examination at Exeter. Visit to Froude. Germany. Manchester Exhibition
• CHAPTER XI. 1858-1859. Letters of Philindus. Canterbury. German Classics. Fellow of All Souls. Jenny Lind. Birmingham Festival. Correspondent of French Institute. Death of Manuel Johnson. Ancient Sanskrit Literature. Marriage. Germany. Life at Oxford. Mother's illness. Correspondent of Turin Academy
• CHAPTER XII. 1860-1861. Mother's illness. Death of Wilson. Move to High Street. Sanskrit election. Birth of first child. Wife's illness. Spring at Ray Lodge. Lectures on the 'Science of Language.' Visit from his mother. Death of Prince Consort
• CHAPTER XIII. 1862-1863. Birth of second child. Exhibition. Stay in London. Ewald. Ranke. Fourth volume of Rig-veda. Second course of lectures on 'Science of Language.' Paris. Germany. North Italy. Lectures at Edinburgh. First visit to Windsor
• CHAPTER XIV. 1864- 1865. Lectures at Osborne. Schleswig-Holstein war. Birth of third child. Member of Royal Irish Academy. Weymouth. Visit of his mother. Lecture at Leeds. Member of Turin Academy. Last visit to Ray Lodge. Sub-Librarianship of Bodleian
• CHAPTER XV. 1866-1867. Easter in Paris. Sanskrit Grammar. War between Prussia and Austria. Cornwall. 'My Brother.' Gold medal from Duke of Anhalt. Illness. Bournemouth. Letter on Brahma Somaj. Death of niece. 'Parks End' bought. Cure at Ems. Chips, Vols. I and II
• CHAPTER XVI. 1868-1869. Death of sister. Visit of mother. Letter to Duke of Argyll. LL.D. at Cambridge. Professorship of Comparative Philology. Visits to Frogmore, Fulham, and Gloucester. Isle of Wight. Tennyson. Illness of children. Member of French Institute. Translations from the Vedic Hymns, Vol. I. Soden. Kiel. Denmark
• CHAPTER XVII. 1870. Lectures on the 'Science of Religion.' Keshub Chunder Sen. Franco-German War. LL.D. at Edinburgh. Letters to Dean Stanley. To 'the English People.' Work for sick and wounded. North Wales. Letters to Dr. Abeken and Mr. Gladstone. Chips, Vol. III
• CHAPTER XVIII. 1871. King of Burma. Correspondence with Abeken and Gladstone. Taine's Lectures. Peace Festival. Letter from Crown Prince. Death of father-in-law. Ems. Interviews with Emperor and Crown Prince. Dr. Stainer. New edition of Lectures on Language
• CHAPTER XIX. 1872. Memorial to Bishop Patteson. Offer of Professorship at Strassburg. Rig-veda, Vol. V. Death of sister-in-law. Strassburg. Baden. Munich. Life of Stockmar. Switzerland. Dr. Stanley Select Preacher. Freiligrath's poem
• CHAPTER XX. 1873-1874. German University finances. Strassburg Professorship declined. Schliemann. Lectures on Darwin's Philosophy of Language. Emerson. Veddahs. Cromer. Lecture in Westminster Abbey. Order pour le Merite. Member of Hungarian Academy. Prince and Princess of Roumania. Oriental Congress. Last volume of Rig-veda. American attack on Max Muller
• CHAPTER XXI. 1875. Death of Charles Kingsley. Visit to Italy. Windsor. Last visit of mother. Chips, Vol. IV. The Mumbles. Manchester. Plans for return to Germany. Maximilian Order. Oxford Girls' High School
• LIST OF ILLUSTRATIONS
• Portrait of F. Max Muller, aged 40 . . . Frontispiece (From a Photograph by Hills & Saunders, Oxford)
• No. 7, NORHAM Gardens, Oxford . . . To face p. 335 (From a Photograph by Hills & Saunders, Oxford)
• F. Max Muller, aged 50 . ... p. 453 (From a Medallion by Bruce Joy)
***
The Life and Letters of The Right Honourable Friedrich Max Muller, In Two Volumes, With Portraits and Other Illustrations
Edited by His Wife [Georgina Adelaide Grenfell Muller]
Volume II
1902
CONTENTS OF VOLUME II
• CHAPTER XXII. 1876. Settles to remain at Oxford, Sacred Books of the East. Life at Dresden. Visit to Berlin. Attack by Professor Whitney. Death of eldest daughter.
• CHAPTER XXIII. 1877-1878. Dresden. Switzerland. Return to Oxford. Letters to Noire. Hibbert Lectures. Graham Bell and the telephone. Malvern. Whitby. Boyton Manor. Publication of Hibbert Lectures. Death of Grand Duchess of Hesse 28-56
• CHAPTER XXIV. 1879-1880. Publication of the first volumes of Sacred Books of the East Correspondence with Lady Welby. Renan. Holland. Dessau. Visitors. Japanese pupils. Greek accents. Lowell. Keshub Chunder Sen. Visit of Renan. Speech at Birmingham. 'Shang-ti'
• CHAPTER XXV. 1881-1882. Speech at University College, London. Prize Fellowships. Deaths of Carlyle, Stanley, and other friends. Visit to the Hartz and Dessau. Oriental Congress at Berlin. Paris, Speech at French Institute. Kant's Critique of Pure Reason. Lectures at Cambridge on India. Death of Dr. Pusey. National Anthem in Sanskrit.
• CHAPTER XXVI. 1883. Death of mother. Stay at Dessau. The McCalls. Summer amusements. Bristol. The Wye. Ilbert Bill. Duffryn. Ramabai. Daughter's marriage
• CHAPTER XXVII. 1884-1885. Lectures in Birmingham and at the Royal Institution. Stay in London. Death of the Duke of Albany. Tercentenary of the Edinburgh University. Lecture on 'Buddhist Charity.' Biographical Essays. Foundation stone of Wilhelm Muller Monument. Hawarden. Social life in the Oxford home. Work at Mainz. The Engadine. Italy. Letter to von Schlotzer.
• CHAPTER XXVIII. 1886-1887. English Goethe Society. Knighthood declined. Indian Exhibition. Oliver Wendell Holmes, Visits of Prince and Princess Christian. Bishop of Colombo on Sacred Books op the East, Death of married daughter. Science of Thought, Desire to leave England: Queen's message. Lectures for Oxford Oriental School. Rukhmabai. Jubilee. Visit to Froude. Last interview with Crown Prince at Windsor. Scotland. New edition of Rig-veda, Speech at Missionary Lecture in St. John's College.
• CHAPTER XXIX. 1888-1889. Vedic Lectureship, Elected Gifford Lecturer at Glasgow. Death of Emperor William I. Memorial oration. Doctor of Bologna. Death of Emperor Frederick. Colonel Olcott. Lecture at Bradford. First Gifford Lectures. Humble admirers. Lecture at Mansion House. Death of Professor Noire. Lectures at Sheffield, Leeds, and Toynbee Hall. Speech at Royal Academy Banquet. Daughter's engagement. Lectures at University Extension Meeting. Oriental Congress in Sweden. Order of Polar Star.
• CHAPTER XXX. 1890-1891. School of Modern Oriental Studies. Daughter's wedding. Second Gifford Lectures. Malabari and infant marriages. Deal. Queen of Roumania. Birth of first grandchild. Third Gifford Lectures. Attacks on lectures. Christening of grandson. Dr. Leitner's Oriental Congress. Visit of Prince of Naples. British Association at Cardiff. Wildbad. Unveiling of monument to Wilhelm Muller. Science of Language rewritten. Resignation of Dean Liddell.
• CHAPTER XXXI. 1892-1893. Last course of Gifford Lectures. Birth of second grandchild. New edition of Rig-veda published. Tercentenary of Trinity College, Dublin. Mr. Froude returns to Oxford. Ninth Oriental Congress. Fourth Gifford Lectures published. Journey to Italy, Greece, and Turkey. Stay at Constantinople. Buda-Pesth. Vienna. Leipzig. Jubilee of Doctor's Degree. Neuwied. Birth of third grandchild- Seventieth birthday.
• CHAPTER XXXII. 1894-1895. Lectures on 'Vedanta Philosophy.' Three months in London. Picture by Watts. British Association in Oxford, New edition of Chips. Mundesley. Death of Mr. Froude. Bournemouth. Visitors from all countries. Picture by Herkomer. Dr. Barrows. Visit to Glyn Garth. Dr. Karl Blind. Sacred Books of the Buddhists. Centenary of French Institute. Last volumes of Chips.
• CHAPTER XXXIII. 1896-1897. Torquay. Commander of the Legion of Honour. Doctor of Buda- Pesth. Privy Councillor. 'Coincidences.' Scotland. Spitalhaugh. Armenian Massacres. Rome, Naples. Florence. Venice. Pferdeburla, Member of Vienna Academy. Diamond Jubilee. Andrew Lang. King of Siam.
• CHAPTER XXXIV. 1898-1899. Death of Dean Liddell. Auld Lang Syne, I. Tilak. Collected Works. Death of Professor Buhler. Ems. Death of Fontane. Ramakrishnas Sayings. Indian Philosophy. Auld Lang Syne, II. Ems. Beginning of illness. Last visits to Segenhaus, Dessau, and Dresden. Alarm of German doctors. Return to Wombwell and Oxford. Oriental Congress at Rome. Message to Brahma Somaj. Attack at Oxford Diocesan Conference. Gradual convalescence.
• CHAPTER XXXV. 1900. Hindu prayers for Max Muller. Letters on England's rights in the Transvaal. Dover. Tunbridge Wells. Increase of illness. Visit of a Yogin. Mozoomdar. Last literary work. Death. Letters of sympathy.
• CHAPTER XXXVI. 1900. Funeral. Judgement of friends. Conclusion.
APPENDIX
• A. Letter from Satyendranath Tagore.
• B. Max Muller's Speech at the Peace Festival.
• C. Speech of Dean Liddell, February 15, 1876.
• D. Missionary Speech, 1887.
• E. Memorial Oration by Professor Max Muller, March, 1888.
• F. Translation of the word 'Shang-ti'.
• G. Chronological List of Works.
• H. List of Universities, Colleges, Royal Academies, and Learned Societies which conferred Membership on Professor Max Muller.
• I.
INDEX
LIST OF ILLUSTRATIONS
• Portrait of F. Max Muller, aged 74 (From a Photograph by Hills Saunders, Oxford)
• The Library at Oxford (7, Norham Gardens) (From a Photograph by Hills Saunders, Oxford)
• Holywell Cemetery, Oxford (From a Photograph by Hills & Saunders, Oxford)