The Colors of Life, Part 1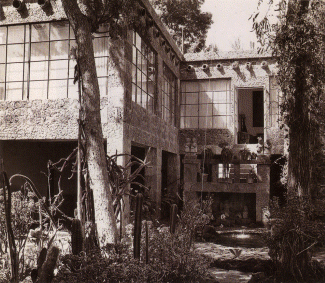 The Casa Azul's garden and the addition built by Rivera, c. 1952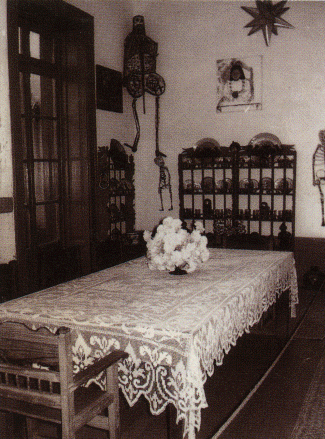 The elegant furnishings of the Casa Azul- its lace curtains, Persian carpets, French-style furniture, and porcelain figurines - had long since been lost or sold to settle debts. When Frida returned in 1941 to make the family home her residence, she set about arranging its decor to suit her unique personality.
Inside the house, Frida had the wide planks of the floor painted a strong yellow. On the walls and in cupboards she arranged her distinctive collection of art objects and curios. There were pre-Columbian figurines, pieces of folk art, and an array of toys and dolls. Frida loved to receive presents and often shamelessly asked friends to bring her toys to add to her treasured childhood collection. At the other extreme, she displayed on a bookshelf a jar containing a fetus in formaldehyde, which she presented to visitors as her own still-born child.
Larger-than-life Judas figures invaded patios and rooms. These gaudily painted papier-mache effigies, traditional folk art objects made to be burned in the street during Lent, at times wound up dressed in Frida's shawls and petticoats. A skeleton hung next to her bed and was the object of an affectionate greeting every morning. Frida, grasping its hand, would say, "Hola, 'mana!" (Hi there, sis!) to start the day. An even larger skeleton, with strings of fireworks crisscrossed over his ribs, was atop the canopy of Frida's bed, reclining on two pillows. "Your lover," Diego used to call the insouciant symbol of death.
Diego and Frida with a Judas figure
The year before, Diego had added to the Casa Azul a wing made of volcanic rock and decorated with stone mosaics, much as he would later build Anahuacalli, his anthropological museum. The largest of the new rooms was a studio for Frida; Diego also constructed a small pyramid in the garden. There parakeets, macaws, hens, and sparrows lived among the plants and flowers that Frida tended. Her pet animals roamed about freely: the little deer Granizo; the parrot Bonito; the favorite dog senor Xolotl, a hairless Mexican ixquintle; the cherished spider monkeys Fulang Chang and Caimito de Guayabal; and her eloquently named eagle, Gertrudis Caca Blanca (Gertrude White Shit). The Judas figures and exotic plants and animals, her constant companions, appear in many of Frida's paintings.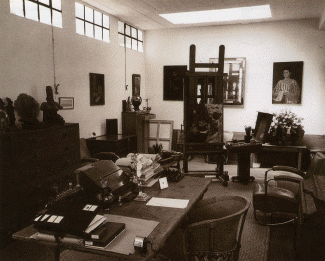 Frida's studio, c. 1949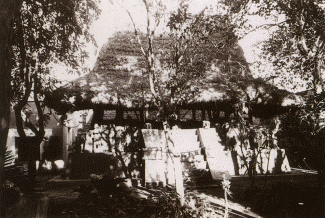 Pyramid constructed by Diego in the garden at the Casa Azul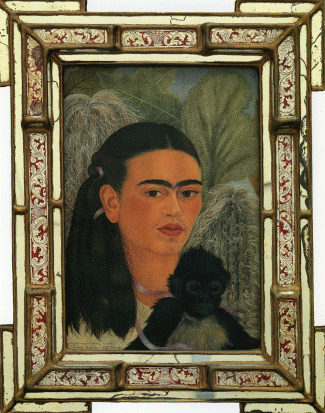 Self-Portrait (Fulang Chang and I), 1937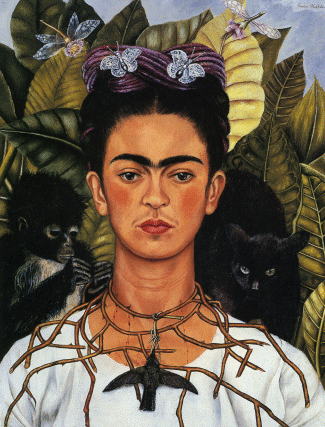 Self-Portrait with Thorn Necklace and Hummingbird, 1940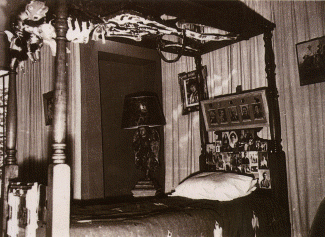 Frida's bed