Seven (7) Faces of Dr. Lao
Directed by George Pal, Starring Tony Randall and Barbara Eden
© 1963 Turner Entertainment Co., a Time Warner Company, Galaxy Productions, Inc. and Scarus, Inc.
Photography © 1964 Turner Entertainment Co.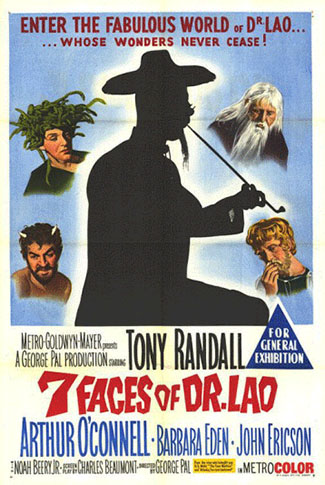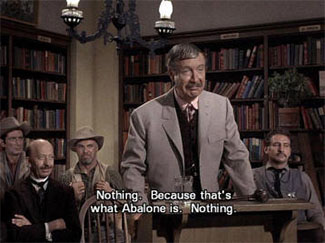 [Clint Stark] Good evening, ladies and gentlemen, fellow citizens of Abalone. I know you're all tired of waiting, so I'll cut the fancy talk and come right to the point. Abalone is dying of thirst. Now, you all know we get our water from a point 16 miles from here through an underground pipe. That pipe is worn out. It's crumbling. According to the top engineers of this state, it has maybe another six months left. Then it's finished. So looking at it realistically, it seems you all have two choices: Either you repair the pipe, or you let it rot. Now, if you repair the pipe, it'll cost you $237,000! And what do you get for your money? I'll tell you that too. Nothing. Because that's what Abalone is. Nothing. Is that what you want? To spend the rest of your lives here as bored as you've always been?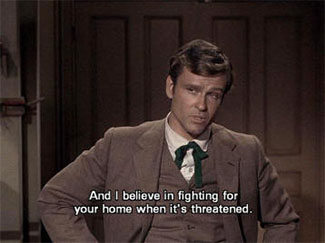 [Ed Cunningham] You know, folks, I haven't been here long. But it's home to me. And I believe in fighting for your home when it's threatened. Now, Mr. Stark wants us to sell our home, because it's gonna be an effort to keep it up. But if we make the effort, he says that Abalone is nothing. It's zero. I say he's wrong. I say any place where people live and work together is something. Something very important.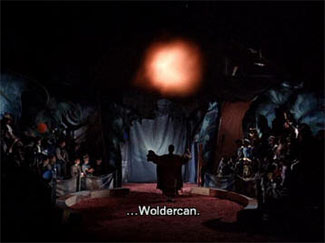 [Dr. Lao] The Fall of the City. The city's name was Woldercan. It existed beyond the edge of the world some years before the beginning of history. There are no records of Woldercan. No artifacts. No descendants of its people. In fact, there is no proof that there was such a place. Yet it was as real as pain. Citizens of Abalone, I give you Woldercan: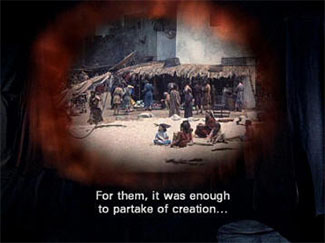 [Dr. Lao] It was a small city. A humble city. Its people had little in the way of worldly goods. And this little made for themselves by themselves, or euchred from the stubborn soil, or plucked from the cold and capricious heart of the sea. Yet the Woldercanese were content, for in the goods of the spirit they were rich. For them, it was enough to partake of creation, and to give thanks unto their God. Enough, and more.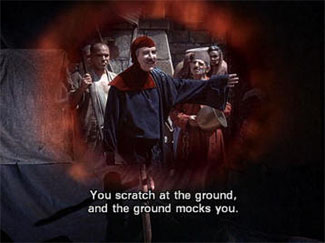 [Dr. Lao] Then one day, a stranger appeared in Woldercan. And he said to the people: "Not enough! You are poor when you could be rich. You eat of humble fare when you could feast. You scratch at the ground, and the ground mocks you. You pray to your God and He laughs at you. Fools. Be gone from this blighted place. Fools." And suddenly people were not content. They listened to the stranger, and sold their souls for pieces of silver.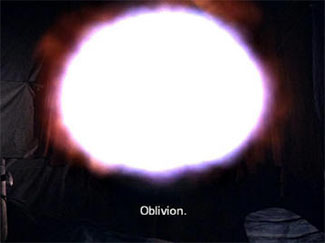 [Dr. Lao] Then a fearful thing happened. The God of All Life looked down upon the people of Woldercan and was displeased. And he said: "Treasures I had given thee beyond compare, yet thou didst spurn them, and for a handful of silver sold thy souls." And because He had been angered, God pointed His finger and visited upon the city of Woldercan the greatest plague of all: Oblivion.