Part 2 of 2
With multiple deployments over the last 13 years, few of the unit's members are unscathed. About three dozen operators and support personnel have died on combat missions, according to a former senior team member. They include 15 Gold Squadron members and two bomb specialists who were killed in 2011 when a helicopter with the call sign Extortion 17 was shot down in Afghanistan, the most devastating day in Team 6 history.
Blasts from explosions used to breach compounds on raids, repeated assaults and the battering from riding on high-speed assault boats in sea rescues or training have taken a toll. Some men have sustained traumatic brain injuries. "Your body is trashed," said one recently retired operator. "Your brain is trashed."
"SEALs are a lot like N.F.L. guys: They never want to say 'I am taking myself out of the lineup,'" said Dr. John Hart, medical science director at the Center for BrainHealth at the University of Texas at Dallas, which has treated many SEAL patients. "If they send guys back in who already have the effects of a concussion, they are constantly adding a dose of a hit to an existing brain condition. The brain needs sufficient time to heal."
LATITUDE TO KILL
Early on in the Afghan war, SEAL Team 6 was assigned to protect the Afghan leader Hamid Karzai; one of the Americans was grazed in the head during an assassination attempt on the future president. But in the years that followed,
Mr. Karzai became a bitter critic of the United States Special Operations troops, complaining that they routinely killed civilians in raids. He viewed the activities of Team 6 and other units as a boon for Taliban recruiting and eventually tried to block night raids entirely.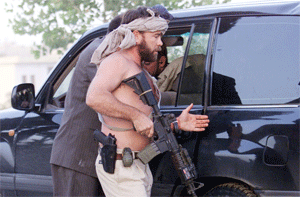 SEAL Team 6 was assigned to protect the Afghan leader Hamid Karzai. After an assassination attempt in 2002 in Kandahar, a team member whose head was wounded used his shirt to stanch the bleeding. Credit Ed Wray/Associated Press
Most missions were not lethal.
Several Team 6 members said they herded women and children together and knocked men out of the way, with a push or a gun muzzle, to search homes. They frequently took prisoners; a number of detainees had broken noses after SEALs punched them in struggles to subdue them, one officer said.
One former SEAL Team 6 senior leader said that he and others at the command were concerned that the scale and intensity of the violence in Iraq was so great that U.S. operators might be tempted to engage in retaliatory mutilations, a tactic al Qaeda and the Iraqi insurgency sometimes employed. "Iraq was a different kind of war — nothing we'd ever seen," said the now-retired Team 6 leader. "So many dead bodies, so many, everywhere, and so the potential opportunities for mutilations were great."...

Yes, we — they committed war crimes. It happens in war. War is an adrenaline rush. After three or four deployments in, you need more to get that stimulation....

"Night after night of kill or be killed. [There was] so much savagery.

-- The Crimes of Seal Team 6, by Matthew Cole
The Team 6 members often operate under the watchful eyes of their commanders — officers at overseas operations centers and at Dam Neck can routinely view live surveillance feeds of raids provided by drones high above — but are also given wide latitude. While Special Operations troops functioned under the same rules of engagement as other military personnel in Afghanistan, Team 6 members routinely performed their missions at night, making life-or-death decisions in dark rooms with few witnesses and beyond the view of a camera.
Operators would use weapons with suppressors to quietly kill enemies as they slept, an act that they defend as no different from dropping a bomb on an enemy barracks. "I snuck into people's houses while they were sleeping," Mr. Bissonnette says in his book "No Hero," written under the pseudonym Mark Owen. "If I caught them with a gun, I killed them, just like all the guys in the command."
And their decisions tend to be certain. Noting that they shoot to kill, a former noncommissioned officer added that the operators fire "security rounds" into those who are down to ensure that they are dead. (
In a 2011 mission on a hijacked yacht off the coast of Africa, one Team 6 member slashed a pirate with a knife and left 91 wounds, according to a medical examiner, after the man and other attackers killed four American hostages. Operators are trained "to slice and dice every major artery," said one former SEAL.
)
The rules boiled down to this, the noncommissioned officer said: "If in your assessment you feel threatened, in a split second, then you're going to kill somebody." He described how one SEAL sniper killed three unarmed people, including a small girl, in separate episodes in Afghanistan and told his superiors that he felt they had posed a threat. Legally, that was sufficient. "But that doesn't fly" in Team 6, the noncommissioned officer said. "You actually have to be threatened." He added that the sniper was forced out of Team 6.
A half-dozen former officers and enlisted troops who were interviewed said they knew of civilian deaths caused by Team 6.
Mr. Slabinski, a former senior enlisted member of SEAL Team 6, said he witnessed Team 6 members mistakenly kill civilians "probably four or five times" during his deployments.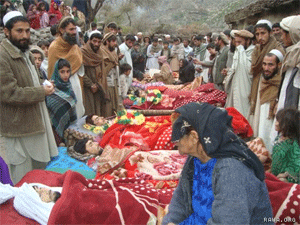 A funeral for Afghans killed in a joint American and Afghan raid in Ghazi Khan in Kunar Province, in December 2009. Credit Rawa.org
Several former officers said they routinely questioned Team 6 operators when their suspicions were raised about unwarranted killings, but they usually found no clear evidence of wrongdoing. "There was no incentive to dig deep on that," said a former senior Special Operations officer.
"Do I think bad things went on?" another former top officer asked. "Do I think there was more killing than should have been done? Sure."
"I think the natural inclination was, if it's a threat, kill it, and later on you realize, 'Oh, maybe I overassessed the threat,' " he said.
"Do I think that guys intentionally killed people that didn't deserve it? I have a hard time believing that."
Civilian deaths are an inevitable part of every war but in conflicts with no clear battle lines and where enemy fighters are often indistinguishable from noncombatants, some military law experts say, the traditional rules of war have become outdated and new Geneva Convention protocols are necessary. But others bristle at the notion, saying that the longstanding, unambiguous rules of behavior should govern murky, modern combat.
"Emphasizing these lines and rules becomes even more important when you're fighting a lawless, remorseless enemy," said Geoffrey S. Corn, the former senior law of war expert for the Army's Office of the Judge Advocate General and now a professor at South Texas College of Law. "That is when the instinct for revenge is going to be strong. And war is not about revenge."
Near the end of an Afghan deployment by Team 6's Blue Squadron, which concluded in early 2008, elders complained to the British general whose forces controlled Helmand Province. He immediately called Capt. Scott Moore, commander of SEAL Team 6, saying that two elders had reported that the SEALs killed civilians in a village, according to a former Team 6 senior member.
Captain Moore confronted those leading the mission, which was intended to capture or kill a Taliban figure code-named Objective Pantera.
When Captain Moore asked what had happened, the squadron commander, Peter G. Vasely, denied that operators had killed any noncombatants.
He said they had killed all the men they encountered because they all had guns, according to the former Team 6 member and a military official. Captain Vasely, who now oversees the regular SEAL teams based on the East Coast, declined to comment through a spokesman.
Later that night, after Blue Squadron's assaulters had successfully carried out the raid, killing three or four armed men and recovering weapons and explosives, Vasely and Slabinski conducted a walk-through of the compound. Vasely, who was wearing night-vision goggles, looked through a window and saw one of his operators, his back turned, squatting over the body of a dead militant. Vasely later told investigators he saw the operator moving his hand back and forth over the militant's neck in a sawing motion. Alarmed at seeing what he believed was a decapitation, he told Slabinski to go inside and see what the young operator was doing. By the time Slabinski entered the room where the dead militant lay, according to three former SEAL Team 6 leaders, the operator had severed much of the dead man's neck.

Slabinski did not report the decapitation, however. He told Vasely that the operator had been trying to remove the dead fighter's chest rack, a small vest that can hold ammunition and clips. Slabinski told Vasely, and later, Navy investigators, that there had been "no foul play."

After leaving the compound and returning to their base in Kandahar province, Vasely reported to Moore, his superior officer, that he believed he had witnessed a war crime, a mutilation. Vasely told Moore he wanted an investigation into the incident. Moore, sitting in his office in Virginia Beach, pressed Vasely: What had he actually seen? Was there another explanation?

Moore told his deputy, Szymanski, who was in Afghanistan, to sort things out. Ten days later, the internal JSOC investigation was closed. The Naval Criminal Investigative Service then opened an investigation but was forced to rely on photographs and witness statements because active hostilities made the alleged crime scene inaccessible. When investigators approached the operator accused of mutilating the dead fighter, he exercised his right to remain silent and his right to counsel. A few days after the attempted interview, investigators obtained photos purporting to be of the dead fighter. No cuts were visible in the photos, according to a military official who has reviewed the file. Three weeks after the incident, NCIS closed its investigation, concluding that there was no evidence the SEAL had violated the laws of armed conflict. But according to multiple SEAL sources, the incident did in fact occur.

Szymanski, according to these sources, was directed by Moore to make the episode disappear. "Tim took a dive," said a former noncommissioned SEAL officer, and it was "at Moore's direction."

-- The Crimes of Seal Team 6, by Matthew Cole
Captain Moore asked the Joint Special Operations Command to investigate the episode. About that time, the command received reports that dozens of witnesses in a village were alleging that American forces had engaged in summary executions.
Another former senior Team 6 member contended later that Mr. Slabinski, Blue Squadron's command master chief, gave pre-mission guidance that every male at the target be killed. Mr. Slabinski denied that, saying there was no policy to leave all men dead. "I didn't ever convey that to the guys," he said in an interview.
He said that around the time of that raid he had been disturbed after witnessing one of the younger operators slashing at the throat of a dead Taliban fighter. "It appeared he was mutilating a body," Mr. Slabinski said, adding that he quickly yelled, "Stop what you're doing!"
The Naval Criminal Investigative Service later concluded the operator might have been cutting off gear from the dead fighter's chest. But Team 6 leaders said they were worried that some operators were getting out of control, and the one involved in the episode was sent back to the United States. Mr. Slabinski, suspecting that his men had not been following the rules of engagement properly, gathered them for what he called a "very stern speech."
Within two weeks of the apparent beheading, Moore deployed to Afghanistan. While he was there, he confronted the Blue Squadron troop and the operator who'd tried to behead the Taliban fighter. A former SEAL Team 6 leader who has knowledge of the episode told me Moore shamed Slabinski and the squadron for their conduct. That was the only punishment. (The Intercept is withholding the name of the operator, who believed he was following an order. He remains on active duty and has not responded to requests for comment.)

-- The Crimes of Seal Team 6, by Matthew Cole
"If any of you feel a need to do any retribution, you should call me," he recalled telling them. "There's no one that could authorize that other than me." He said his message was intended to convey that permission would never come because such conduct was inappropriate. But he conceded that perhaps some of his men may have misunderstood.
JSOC cleared the squadron of any wrongdoing in the Pantera operation, according to two former Team 6 members. It is not clear how many Afghans were killed in the raid or exactly where it happened, though a former officer said he believed it was just south of Lashkar Gah, the capital of Helmand Province.
But the killings prompted a high-level discussion about how, in a country where many men carried guns, Team 6 could "guarantee that we're only going after the real bad guys," one of the former senior team leaders said.
In other inquiries, which were usually handled by JSOC, not Navy investigators, no one faced any charges. Typically, men were sent home when concerns arose; three, for example, were sent back to Dam Neck after roughing up a detainee during an interrogation, one former officer said, as were some team members involved in questionable killings.
More than a year later, another mission spurred strong protests from Afghans. Just after midnight on Dec. 27, 2009, dozens of American and Afghan troops landed in helicopters several miles from the small village of Ghazi Khan in Kunar Province, and hiked to the village in darkness. By the time they left, 10 residents had been killed.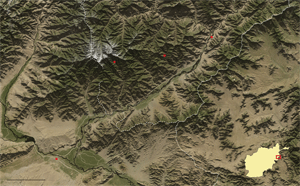 By Joe Burgess, The New York Times
What happened that night is still in dispute. The purpose of the mission was to capture or kill a senior Taliban operative, but it was quickly apparent that no Taliban leaders were present at the target. The mission had been based on faulty intelligence, a problem that bedeviled United States military operations even after years in Afghanistan. A former governor of the province investigated, and accused the Americans of killing unarmed schoolboys.
According to several former SEAL Team 6 leaders, it was JSOC commander Gen. Stanley McChrystal who ordered the increased operational tempo and pushed SEAL Team 6, including Howard, to conduct more frequent raids to help wipe out the insurgency in both Iraq and Afghanistan. Howard, according to two of his former operators, was more willing than previous officers to greenlight operations based on "weak" intelligence, leading to more raids and strikes.

-- The Crimes of Seal Team 6, by Matthew Cole
The United Nations mission in Afghanistan issued a statement saying that an initial investigation had concluded that "eight of those killed were students enrolled in local schools."
American military spokesmen initially said that those who died were part of an insurgent cell that had been building improvised explosive devices. Eventually, they backed off that claim. But some American military officials still insist that all of the youths had guns and were tied to the Taliban. One NATO statement said that the people who carried out the raid were "nonmilitary in nature," seemingly a reference to the C.I.A., which was in charge of the operation.
But Team 6 members had also participated in that mission. As part of the covert Omega Program, they joined an assault force that included C.I.A. paramilitary officers and Afghan troops trained by the spy agency.
By then, the program that had begun at the dawn of the Afghan war had changed. Forays into Pakistan were limited because it was difficult to operate there without being noticed by Pakistani soldiers and spies, so missions were mostly confined to the Afghan side of the border.
Over time, General McChrystal, who became the top American commander in Afghanistan, responded to Mr. Karzai's complaints about civilian deaths by tightening the rules on night raids and scaling back the pace of special operations.
After years of refining techniques to sneak up on enemy compounds, Team 6 members were often required to "call out" before attacking a site, akin to a sheriff announcing through a bullhorn, "Come out with your hands up."
Mr. Slabinski said that civilian casualties occurred most often during the "call out" operations, which were meant to mitigate exactly such losses. Enemy combatants, he said, would sometimes send out family members and then shoot from behind them, or give civilians flashlights and tell them to point out American positions.
Just eight months after taking over JSOC, after a series of complaints from the Afghan government over special operations night raids and civilian deaths, McRaven sought to pull Team 6 back from its overly aggressive stance. He ordered a pause in most SEAL and JSOC operations over a two-week period in February 2009. Although the stoppage was not limited to the SEALs, his former unit pushed back against a new set of operational guidelines.

First, the SEALs would now be required to do "call outs" before entering a compound. The intention was to permit women and children to get out of harm's way before operators conducted their assault. The operators were unhappy about the new restriction, arguing that call outs gave up the tactical advantage of surprise. McRaven's other directive required a more extensive post-operation review to document and justify combatant deaths. Previously, the command had required only a frontal shot and a profile of each dead militant. The new rule required a full photographic accounting of who was killed, photos of the entire body, where the target was when he dropped, what weapons he held, the vantage point of the operator when he fired, and other atmospherics.

This directive had one primary purpose: to protect U.S. forces from accusations of unjustified killings by Afghan government officials. The photos and other review documents could be shared with local officials to justify operations. But the directive had another benefit. With more extensive photographic documentation, SEAL operators had less time to fire unnecessary rounds into the dead, and they had to use the photos to explain why they fired their weapon. As a result, photographs of canoed enemy fighters virtually ceased to appear in after-action reports.

MCRAVEN'S NEW ORDERS set off a struggle between the JSOC commander and SEAL Team 6's enlisted ranks that played out in a series of high-profile hostage rescues ordered by President Obama. The first and best-known was the rescue of Capt. Richard Phillips, captain of the commercial vessel the "Maersk Alabama," in April 2009 from Somali pirates in the Indian Ocean. Red Squadron snipers killed three pirates who were holding Phillips in a lifeboat. But McRaven, who commanded the operation, had not ordered the snipers to fire, and neither had a SEAL Team 6 officer. The sniper team leader acted under his own "emergency assault" authority to kill the pirates as soon as all three could be taken out at the same time. McRaven, who was informed of the killings only after he knew Phillips was safe, was incensed.

After the operation, $30,000 in cash, which the pirates had stashed in a lifeboat, went missing. The SEALs were suspected of taking the money. The FBI and NCIS investigated two members of Red Squadron and conducted polygraphs, but the money was never recovered and neither of the SEALs was charged.

Then, in October 2010, SEAL Team 6 set out to rescue a British aid worker named Linda Norgrove, who had been taken captive in Afghanistan. The operation, code-named ANSTRUTHER, an homage to Norgrove's Scottish heritage, was authorized by British Prime Minister David Cameron. The operation commanded high-level interest because Norgrove, though in Afghanistan as an aid worker for DAI, an American NGO, secretly worked with Britain's MI-6, according to four U.S. military and intelligence sources. Two of these sources told me that the British government informed SEAL Team 6 mission planners that Norgrove worked for the spy agency, and that they had been tracking her movements since the abduction. Asked for comment, the British government told The Intercept that it does not comment on security matters and would "neither confirm nor deny" that Norgrove worked for the intelligence agency.

During a late-night raid at a northern Kunar compound, Silver Squadron operators killed several captors but accidentally killed Norgrove when an inexperienced SEAL threw a fragment grenade at one of the captors.

The operation's team leader believed that a suicide vest had been detonated by one of the captors, and two Silver Squadron operators initially withheld the fact that a grenade had been thrown. Consequently, the SEALs initially reported to JSOC senior leaders that Norgrove had been killed by her captors.

-- The Crimes of Seal Team 6, by Matthew Cole
Mr. O'Neill, the former Team 6 member, agreed that the rules could be frustrating. "What we found was, the more latitude for collateral damage that they gave us, the more effective we were because we're not going to take advantage of it but we know we're not going to be second-guessed," he said in an interview. "When there were more rules, it did get more difficult."
RESCUE MISSIONS
Years ago, before the Afghan night raids and the wartime deployments, SEAL Team 6 trained constantly to rescue hostages — dangerous, difficult missions they never got a chance to perform before 2001. Since then, the unit has attempted at least 10 rescues, which have been among its most celebrated successes and bitterest failures.
Operators say that in rescues — considered "no-fail" missions — they have to move faster and expose themselves to greater risk than on any other type of operation so that they can protect hostages from being shot or otherwise harmed. The SEALs often end up killing most of the captors.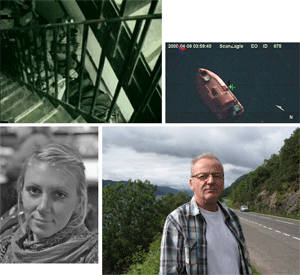 Clockwise from top left: Pfc. Jessica Lynch was removed on a stretcher after being found in 2003 in Nasiriya, Iraq; the lifeboat in which Richard Phillips was held captive in 2009; the Danish hostage Poul Hagen Thisted, who was rescued in Somalia in 2012; as was his colleague Jessica Buchanan, an American. Credit Department of Defense; US Navy; Danish Refugee Council, via Agence Frane-Presse--Getty Images
The first high-profile rescue came in 2003, when SEAL Team 6 operators helped retrieve Pfc. Jessica Lynch, who had been injured, captured and held in a hospital, during the early days of the Iraq war.
Six years later, Team 6 members jumped out of cargo planes into the Indian Ocean with their specially designed assault boats in advance of the mission to rescue Richard Phillips, the captain of the Maersk Alabama, a container ship hijacked by Somali pirates. The operators, captured in a video shown by Mr. O'Neill, parachuted with swim fins strapped over their boots after releasing four boats — small, fast and equipped with stealth features to evade radar — that were each suspended by a canopy of multiple parachutes. SEAL snipers eventually killed three of the pirates.
In 2012, operators sky-dived into Somalia to free an American aid worker, Jessica Buchanan, and her Danish colleague, Poul Hagen Thisted. JSOC considers its performance as the standard for such missions. The SEALs used a free-fall parachuting technique called "HAHO," for high altitude-high opening, in which they jump from a high altitude and steer their way on the wind for many miles to cross a border secretly, an exercise so risky that over the years several men died while in training.
Ms. Buchanan recalled that four of the kidnappers were within 15 feet of her when the Team 6 members approached under cover of darkness. They shot and killed all nine captors while rescuing the aid workers. "Until they identified themselves, I did not believe a rescue was possible," Ms. Buchanan said in an interview.
In October 2010, one Team 6 member erred during an attempt to rescue Linda Norgrove, a 36-year old British aid worker being held by the Taliban. Disaster struck in the first two minutes, after operators jumped from helicopters in the mountains of Kunar Province and slid down 90 feet of braided rope to a steep slope, according to two senior military officials.
As they sprinted in the dark toward the Taliban compound, the newest member of the team was confused, he later told investigators. His gun had jammed. "Thinking a million miles a minute," he said, he threw a grenade at what he believed were a pair of fighters hiding in a ditch.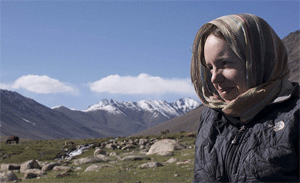 Linda Norgrove, a British aid worker, died during a rescue attempt by SEALs in Kunar Province, Afghanistan.
But after an exchange of gunfire that killed several Taliban captors, the SEALs found the hostage — wearing dark clothing and a head scarf — dead in the ditch. Initially, the operator who threw the grenade and another unit member reported that Ms. Norgrove was killed by an explosive suicide vest. That story quickly fell apart. Surveillance video shows that she died almost instantly from fragmentation wounds to her head and back caused by the grenade blast, the investigative report noted.
A joint inquiry by the American and British governments concluded that the operator who had thrown the grenade had violated procedures for hostage rescues. He was forced out of Team 6, although permitted to remain in another SEAL unit.
A rescue operation two years later succeeded in releasing an American physician, though at great cost. One night in December 2012, a group of Team 6 operators wearing night-vision goggles burst into a compound in Afghanistan where Taliban militants were holding Dr. Dilip Joseph, who had been working with an aid organization. The first operator to enter was felled by a shot to the head, and the other Americans responded with brutal efficiency, killing all five of the captors.
But Dr. Joseph and military officials offer sharply different accounts of how the raid unfolded. The physician said in an interview that a 19-year-old named Wallakah was the sole kidnapper to survive the initial assault. He had been subdued by the SEAL operators and sat on the ground, hands around his knees, his head down, the doctor remembered. Wallakah, he believed, was the one who had shot the Team 6 operator.
Minutes later, while waiting to board a helicopter to freedom, Dr. Joseph said, one of his SEAL rescuers guided him back into the house, where he saw in the moonlight that Wallakah was lying in a pool of blood, dead. "I remember those things as clear as day," the doctor said.
Military officials, speaking only on background about the classified operation, contended that all of the captors were quickly killed after the SEAL team entered and Wallakah had never been taken prisoner. They also said that Dr. Joseph had seemed disoriented at the time and never re-entered the house, and questioned whether he could have seen what was happening on the dark night.
[x]
Dr. Dilip Joseph describes the night he was rescued by SEAL Team 6 after being kidnapped in 2012 by the Taliban in Afghanistan. His account is disputed by military officials. By Leslye Davis on Publish Date June 4, 2015.
Two years later, Dr. Joseph remains grateful for his rescue and the sacrifice made by Petty Officer Nicolas D. Checque, the team member killed on the mission. But he still wonders what happened with Wallakah.
"It took me weeks to come to terms with the efficiency of the rescue," Dr. Joseph said. "It was so surgical."
A GLOBAL SPYING FORCE
From a string of firebases along the Afghan border, Team 6 regularly sent Afghan locals into the tribal areas of Pakistan to collect intelligence. The team transformed the large, brightly painted "jingle" trucks popular in the region into mobile spying stations, hiding sophisticated eavesdropping equipment in the back of the trucks and using Pashtuns to drive them over the border.
Outside the mountains of Pakistan, the team also ventured into the country's southwest desert, including the volatile Baluchistan region. One mission nearly ended in disaster when militants fired a rocket-propelled grenade from a doorway, causing the roof of their compound to collapse and a Team 6 sniper atop it to fall through onto a small group of fighters. A fellow American sniper nearby quickly killed them, one former operator recounted.
Beyond Afghanistan and Pakistan, members of Team 6's Black Squadron were scattered around the world on spying missions. Originally Team 6's sniper unit, Black Squadron was reconfigured after the Sept. 11 attacks to conduct "advance force operations," military jargon for intelligence gathering and other clandestine activities in preparation for a Special Operations mission.
It was a particularly popular concept at the Pentagon under former Defense Secretary Donald H. Rumsfeld. By the middle of last decade, General McChrystal had designated Team 6 to take on an expanded role in global intelligence-gathering missions, and Black Squadron operatives deployed to American embassies from sub-Saharan Africa to Latin America to the Middle East.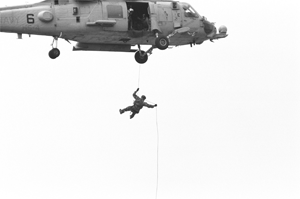 Navy SEAL training exercises carried out in Coronado, Calif., include rapid descents from helicopters. Credit Stephanie Freid-Perenchio
SEAL Team 6 used diplomatic pouches, the regular shipments of classified documents and other material to American diplomatic posts, to get weapons to Black Squadron operators stationed overseas, said a former member. In Afghanistan, Black Squadron operators wore tribal dress and sneaked into villages to plant cameras and listening devices and interview residents in the days or weeks before night raids, according to several former Team 6 members.
The unit sets up front companies to provide cover for Black Squadron operators in the Middle East, and runs floating spying stations disguised as commercial boats off the coasts of Somalia and Yemen. Black Squadron members, working from the American Embassy in Sana, the Yemeni capital, were central to the hunt for Anwar al-Awlaki, the radical cleric and American citizen who had become affiliated with Al Qaeda in the Arabian Peninsula. He was killed in 2011 by a C.I.A. drone.
One former member of Black Squadron said that in Somalia and Yemen, operators were not allowed to pull the trigger unless the highest-value targets were in their sights. "Outside Iraq and Afghanistan we were not throwing any nets," the former member said. "It was totally different."
Black Squadron has something the rest of SEAL Team 6 does not: female operatives. Women in the Navy are admitted to Black Squadron and sent overseas to gather intelligence, usually working in embassies with male counterparts. One former SEAL Team 6 officer said that male and female members of Black Squadron would often work together in pairs. It is called "profile softening," making the couple appear less suspicious to hostile intelligence services or militant groups.
Black Squadron now has more than 100 members, its growth coinciding with the expansion of perceived threats around the world. It also reflects the shift among American policy makers. Anxious about using shadow warriors in the years after the 1993 "Black Hawk Down" debacle in Mogadishu, Somalia, government officials today are willing to send units like SEAL Team 6 to conflicts, whether the United States chooses to acknowledge its role or not.
"When I was in, we were always chasing wars," said Mr. Zinke, the congressman and former Team 6 member. "These guys found them."
Matthew Rosenberg and Richard A. Oppel Jr. contributed reporting. Research was contributed by Kitty Bennett, Alain Delaquérière, Susan Campbell Beachy and William M. Arkin.

A version of this article appears in print on June 7, 2015, on Page A1 of the New York edition with the headline: The Secret History of SEAL Team 6. Order Reprints| Today's Paper|Subscribe