Dismantling the investigation
The initial investigation into Dutroux and Nihoul was headed by Michel Bourlet, the prosecutor of the king in the Neufchateau district, and examining magistrate Jean-Marc Connerotte. These two men already had gained somewhat of a martyr status, because several years before the Dutroux case they had been taken off the investigation into the murder of the socialist leader Andre Cools, apparently right before being able to solve the case. Then, in 1996, when they finally found two missing girls -- alive -- they became national heroes overnight.
It was Connerotte who appointed BOB officer Patriek De Baets and his team to the X1 case in early September 1996. In this function De Baets worked directly for Connerotte and could work relatively autonomous from his superiors in the BOB and the overall gendarmerie.
The first major change in the investigation occurred on October 14, 1996. Connerotte was removed as examining magistrate, the reason being that he had attended a fund raising for parents of missing children. The problem here was that Sabine and Laetitia, the girls he had personally rescued from Dutroux's dungeon, were present at this meeting as guests of honor. The lawyers of Dutroux and Nihoul had gotten wind of this visit and began a successful procedure to remove Connerotte, arguing that the examining magistrate had shown with this visit that he wasn't carrying out his investigation objectively enough.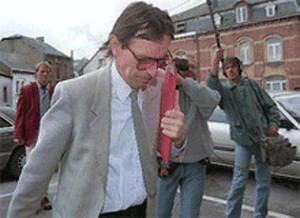 Jean-Marc Connerotte, sacked from the Dutroux investigation before it ever really got off the ground.
Although many wonder how Connerotte could have been so careless, especially with such a sensitive case, there are quite a number of extenuating circumstances. For example, Connerotte, who was on leave and had married earlier that day, made sure to pay for the plate of spaghetti he was given, made sure that he did not to meet with the girls or their parents, declined to accept flowers from Laetitia and Sabine, and handed over the fountain pen the guests had been given to a judicial registrar (140). Also, Connerotte barely stayed an hour, but with this visit he and Bourlet (who also went) made yet another effort to change the consensus view that the justice department wasn't interested in parents of missing children or victims of child abuse.
All these facts didn't matter and Connerotte was replaced by the inexperienced examining magistrate Jacques Langlois. As rumors of a cover-up had already begun to spread, the removal sparked massive protests all around the country. In Brussels alone, more than 300,000 people went to the streets to protest (the famous White March), but it changed nothing.
As the prosecutor of the King, Bourlet was not forced to step down. However, the examining magistrate does the majority of the in depth investigations. Therefore Bourlet's hands were largely tied when Langlois came in and immediately decided that he didn't want to hear anything about child abuse networks. Langlois became one of those responsible for dismantling the whole Dutroux investigation by ignoring countless leads and sending his investigators off into all kinds of bogus issues.
A second major change occurred in early December 1996. Until that point, as said before, the BOB officers working with the various X-witnesses worked independently from the BOB and gendarmerie hierarchy. They had a supporting role in the Dutroux investigation and answered directly to Bourlet and Connerotte, and later on to the much less interested Langlois. However, on December 1, all the inspectors working on the sub-dossiers of the Dutroux affair, including the X-Dossiers, were brought together in a large secured building just outside Brussels. Gendarmerie Commandant Jean-Luc Duterme was appointed head of this investigating cell and was able to heavily influence the ongoing investigations.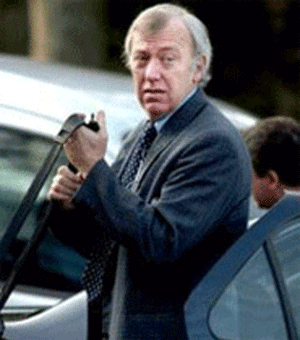 Michel Bourlet, prosecutor of the king in Neufchateau since 1984. Has always been on the side of Connerotte, De Baets and X1, even though his hands were tied. Had a hilarious run in with Baron de Bonvoisin, one of the most notorious suspects in the X-Dossiers, very early on in the investigation. De Bonvoisin had arranged a meeting in his castle with some of the Dutroux case investigators, during which he called Bourlet and tried to make an appointment. Bourlet pretended to accept a meeting for the next day, but never showed up.
With Langlois and Duterme in place the overall Dutroux investigation began to take a dramatic turn for the worse. In complete contrast with Connerotte and Bourlet, Langlois did not communicate directly with the interviewers of the various X-witnesses, but went to Commandant Duterme instead (141). While Duterme secretly, and without having the proper authority, began to "reread" the testimonies of the X-witnesses, Langlois dived head on into leads that Connerotte and Bourlet had suspected from day one to be disinformation (142). The major examples would be:
• the digs in Jumet, which were inspired by the bogus claims of convicted pedophile Jean-Paul Raemaekers;
• the November 1996 Oliver Trusgnach case in which high level politicians Elio Di Rupo and Jean-Pierre Grafe were implicated as pedophiles;
• the prominent December 12, 1996 search of the Gnostic-Luciferian (Satanic) Abrasax [Abraxas] cult.
The Jumet digs and the Oliver Trusgnach case were complicated disinformation schemes, ultimately meant to provide "skeptics" with examples that Neufchateau investigators could easily be fooled by captured child abusers and fantasists who make up stories. In fact, in a truly Machiavellian way, De Baets and his team were forced, without knowing anything about the case, to take up a primary role in the Trusgnach case the day before all the (soon to be discredited) accusations would be published in the press. Police commissioner Georges Marnette played a central role in both of these disinformation schemes, about which you can read in detail in 'the accused' appendix. Why there? Because both X2 and Nathalie W. identified Marnette as an abuser in the network (143).
The Abrasax [Abraxas] story is less complicated. The following well known newspaper report, published on December 29, 1996 by the Sunday Times, is one of the best examples in which some of the most accurate (albeit hard to believe) information appears to have been strategically mixed in with a central piece of disinformation.
"SATANIC sects involved in bizarre rites including human sacrifice are being linked by Belgian police with this summer's string of grisly paedophile murders in which at least four children died.

Five witnesses came forward last week and described how black masses were held, at which children were killed in front of audiences said to have included prominent members of Belgian society. One investigator said it was "like going back to the Middle Ages".
Picture of Abrasax [Abraxas] headquarters in the small, stuffy home of Francis "Anubis-Moloch" Desmedt and Dominique "Nahema-Nephthys" Kindermans where maybe 20 persons could be involved in a ritual at the same time. The profoundly negative Abrasax [Abraxas] cult consisted of four institutes: The Belgian Church of Satan, the Wicca center, the Order for Luciferian Initiation and the Gnostic church. Psychotherapy was also practiced here.

Keep the following in mind: like Jumet didn't disprove the existence of a network surrounding Nihoul and the Trusgnach case didn't disprove high level involvement in abuse networks, so the Abrasax [Abraxas] disinformation doesn't prove (high level) Satanism doesn't exist. It's important to note that there are innumerable and very similar reports of cultist or Satanic practices in combination with child abuse. Going through US and UK newspaper archives since the late 1970s will turn up thousands of (mainly superficial) reports on ritual abuse and Satanism. In the X-Dossiers there also appears a fair dose of reports on Satanism and ritual abuse, which is not necessarily the same thing. You can read these reports in the 'victims and witnesses' appendix. More information on this aspect in part 15.
The tentacles of the sects appear to have stretched beyond the borders of Belgium to Holland, Germany and even America. The witnesses -- several of whom claim to have received death threats -- say that young babies were handed over by their parents willingly in return for money. In other cases the victims were abducted. [PEHI note: The incest aspect should definitely have been described here. The "abductions" should also have been explained in more detail]

The witnesses, who are believed to have identified the sites where the masses took place to the police, said organisers had also photographed participants and threatened to hand over their pictures if they went to the police.

The investigation centres on Abrasax [Abraxas] [the crucial piece of disinformation], a self-styled institute of black magic, whose headquarters in the village of Forchies-la-Marche in southern Belgium was raided by police last week. Human skulls were among the objects removed from the run-down building.

... Police have long suspected that Dutroux, a convicted paedophile, was part of an international network which abducted children, sexually abused them and then killed them. Their activities appear to have been financed by the sale of pornographic videos filmed by members of the ring.

... Investigators are still trying to determine the precise nature of the links between the Satanists and the paedophile groups.

In a separate twist, a Belgian newspaper claimed yesterday that a former European commissioner was among a group of judges, senior politicians, lawyers and policemen who attended orgies held in a Belgian chateau and organised by Michel Nihoul, one of Dutroux's alleged accomplices. La Derniere Heure, which claimed to have a guest list, did not name the commissioner but said he "came with a girl, Josette, nicknamed Jojo, the Bomb".
Everything mentioned in this article is accurate, meaning that this is what a number of anonymous (to the public) witnesses were testifying about in Neufchateau at that moment. Although not all spoke about Satanism, at least half of them did. But besides the exaggerated focus on Satanism, the disinformation here is that this whole Satanic or sectarian aspect of the investigation centered around the Abrasax [Abraxas] cult. The X-Dossiers had absolutely nothing to do with Abrasax [Abraxas] and even though there might have been some circumstantial Dutroux/Weinstein- related evidence against the cult to justify a house search some day (144), there's no good reason why, with all those other promising leads, this questionable and highly delicate one had to be picked out for a premature house search. Unless, of course, the aim was to discredit the whole investigation, which is what Connerotte and his chief investigator De Baets have publicly stated (145). The basic idea was to discredit any future claims of Satanism and extreme abuse by bringing up the (soon to be discredited) Abrasax [Abraxus] affair. This motive also becomes obvious when one learns that Duterme, with the consent of Langlois, scrapped all of the 43 house searches recommended by De Baets and Bourlet. Their list was based on the most promising information supplied by the X-witnesses, which indeed included "a former European commissioner... judges, senior politicians, lawyers and policemen" (146).
By the time the Abrasax [Abraxas] story hit the news, it was clear that Duterme was in town. He had gathered a small group of vicious debunkers around him, the most prominent being Eddy Verhaeghen, Baudouin Dernicourt and Philippe Pourbaix. When the main interviewer of Nathalie W. suffered a stroke in late January 1997, Duterme replaced this person and his partner with Dernicourt and Pourbaix. Nathalie had trusted her first interviewers and although testifying was a huge mental challenge for her, she did provide certain names and details that matched with those provided by other X-witnesses (147). This all changed when Dernicourt and Pourbaix went after Nathalie like a couple of attack dogs. They managed to completely destabilize the victim in a matter of one or two hearings. In March Nathalie dropped from the investigation (148).
The other favorite BOB officer of Duterme, Eddy Verhaeghen, played a key role in discrediting X1. In July 1997, Duterme's first version of the re-reads of the X1 interviews was done. Based on these re-reads De Baets and his team were fired later that month, and Verhaeghen became the new chief interviewer of X1. X1 describes how things changed:
"The two BOB officers with whom I have to work from now on come to pick me up for an 'informal' talk... The three of us go and sit at a table in a village cafeteria... Eddy voices my suspicions in the following words: 'We don't care if it is true or not. The only thing that matters to me is my paycheck at the end of the month.' I smile worryingly. Am I psychic after all? The discussion proceeds in the expected direction. The security- and investigative brigade of the gendarmerie thinks that the ball is in my court. I am the one who has to come up with evidence, they won't do any field- or investigative work anymore. In these words they ask for my cooperation. When I state that I do not have the authority to conduct searches, nor that I can come up with evidence if they are not willing to investigate, they just laugh at me... Eddy begins to insinuate that it all couldn't have been so bad. Because, look, I have a husband and four kids, I have everything that I wish and also, I can laugh... 'Come on', Eddy says rather loud, 'you also enjoyed it, didn't you? You can't say that everything was bad? You were in love with Tony, weren't you?' After exactly one year of hearings, in which I was treated with respect, I politely try to explain my feelings. I wasn't 'in love' with him, I loved him; like a daughter loves her father [at least, that's what she tried to convince herself of as a young girl]..."

"I am only really disheartened when Eddy and his colleague interrogate my friend Tania. This happens in such a dehumanizing manner that I begin to feel sick. Her hearing is not recorded on video, and they know it. The two BOB officers eagerly use their power position to destabilize and intimidate Tania by bringing up her personal life. They question her in an office where every BOB officer walks in and out of, and where my supposedly well-protected dossiers are up for grabs. Tania asks what her personal life has to do with the case. After all, she did nothing more than encourage me to testify, and made the first telephone contact with Connerotte... Are you also a victim? Were you also in the network? You're not going to tell me that you didn't have anything to do with the network of Ginie? Have you known De Baets a long time? Was this really the first time you spoke to him, the 4th of September 1996? Are you sure you never were in the prostitution? Are you really sure? The discussion continues along these lines the whole afternoon. Tania is intimidated. Tania even became so scared that she comes to me in the late afternoon, looks silently at me for a while and then advises me to stop testifying. For the first time my friend understands my words just before she phoned up Connerotte in '96: 'This is too big, Tania, I can't do anything against my perpetrators." (149)
De Baets and his team were fired on charges that they would have manipulated X1 into saying things that they wanted to hear. Continuous leaks to the press were organized in the following months that were supposed to prove this accusation. However, an official investigation had also been launched and in 2000 the Court of Law in Brussels concluded that there was no evidence at all that De Baets and his team had been manipulating X1.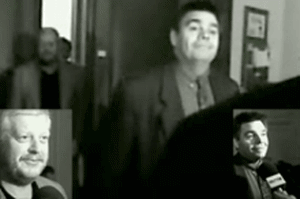 January 2000, Patriek De Baets (left) and Aime Bille (right), leaving the Palace of Justice in Brussels after having been fully acquitted of any wrongdoing in working with the X-witnesses.
One of the main accusation against De Baets was that he had not filed an official report of the fact that X1 misidentified Christine Van Hees from a series of pictures. This turned out to be a lie, as this report, PV 117.487, December 6, 1997, had been written and properly filed by his assistant interviewer Philippe Hupez. Hupez had written many other official reports about his work with X1, so chances that this was a honest mistake of Duterme are pretty low.
And even the simple accusation of the rereaders that X1 had misidentified Christine Van Hees is misleading, since in the supposedly missing PV 117.487 Hupez explained it point blank that X1 intentionally didn't point out Christine.
"X1 testified to have recognized Christine between the pictures presented to her, but does not identify the picture she recognizes... We conclude from this: 1. the picture P10, pointed out by X1, is not the victim she spoke about, Christine. 2. But the photo of the victim was among those shown to X1 [5 in total], which she intentionally didn't point out."
Of course, it's reasonable to be skeptical about the claim of Hupez and De Baets that X1 "intentionally" didn't point out Christine. It seems that either they tried to manipulate the investigation, or it must have been very clear to them that X1 was not cooperating. According to X1, it's the latter. She explained:
"In order to judge objectively what happened there that morning, you need to be able to take a look at the tape of that hearing... you would see that after I pointed to the picture P10 I looked at De Baets and Hupez with an exultant look on my face. Like: and now it's your turn!... It was 7 o'clock in the morning. I was sick and tired of it, I wanted to go home. If I had pointed out Christine... De Baets undoubtedly would have continued for another hour or three. In my stubbornness I wanted to make them feel that they should have given me more time. I take comfort in one thought though: if the successors of De Baets had not seized this opportunity to seed doubt in everything, they undoubtedly would have found something else." (150)
Until the video of X1's interview is made public there might be some lingering doubt about the explanations given by X1 and the interviewers. However, their stories are coherent, the interviewers were acquitted from accusations that they manipulated, and it has not been them who continually changed their story. The only thing the interviewers can be accused of is of having pushed this interview with X1, which started on 22:55 PM, too far.
There are numerous other examples of manipulations by the rereaders. The authors of 'The X-Dossiers' filled an entire book with them. In a number of chapters they quote large portions of the reports written by the rereaders and compare them to the original testimonies.
Although in most cases it seemed intentional, one of the first things that became obvious was that Duterme nor the other rereaders fully mastered the Dutch language; the language in which X1 testified. Duterme would continually ask questions about passages which would be completely clear to anyone speaking perfect Dutch (like the author of this article). Duterme probably made one of his biggest mistakes when he concluded from one of X1's statements that her grandmother had also been present at the murder of Christine Van Hees. The only thing that X1 had said here was:
'My grandmother also had those in her scullery' [referring to meat hooks she had seen in the champignon factory] (151).
In another case, Duterme did not understand that the word "bus" has more than one meaning in Dutch. He apparently knew that it could refer to a vehicle that drives on the road, but forgot that it can also refer to a small container in which things can be put (a "can" or "small box", usually metal). Describing the location where Christine Van Hees had been murdered, X1 at some point spoke about a "bus" containing a liquid. In another place she called this object a "jerrycan". Duterme wrote next to the sentence containing "jerrycan" that this is a different object than the "bus containing liquid" described earlier, which is complete madness (152).
Baudouin Dernicourt, who had come up with the false statement that De Baets and Hupez had not filed an official report of X1 misidentifying Christine Van Hees, made even worse "mistakes". Pertaining to Carine "Clo" Dellaert which X1 was to identify from a set of pictures, X1 at one point stated: "Not that I saw, but..." and "... she wasn't in there also". In Dernicourt's translations this became: "I know that I saw her..." and "Wasn't she in there also?" (153) Just incredible.
There are numerous other incorrect statements from the rereaders that were echoed all over the media. Take the following two sentences from a widely-read newspaper report published on February 5, 2004, just before the final Dutroux-Nihoul trial:
"On pictures of missing children which are presented to her, she [X1] identifies Loubna Benaissa, Kim and Ken Heyrman and the Dutch Naatje Zwaren de Zwarenstein as victims of the network. Later it would come out that Loubna was murdered by the psychopath Patrick Derochette. Naatje van Zwaren de Zwarenstein turned out not to be missing at all. The investigators had been mistaken when they showed this picture to X1, it turned out." (154)
Now let's take a look at the facts. Loubna was a 9 year old girl when she disappeared in August 1995. She was found dead on March 5, 1997 in the home of the pedophile Patrick Derochette. Four days before this event, X1 had been talking about children she had witnessed being killed in snuff movies. De Baets at some point had asked if one of these children might have been Loubna, to which Regina's only answer was "could be". The rereaders somehow interpreted this as meaning "yes". The rereaders went on to claim that in this same interview X1 had also stated to have witnessed the murder of Kim and Ken Heyrman. This is also false. X1 had spoken about a brother and sister. De Baets had asked X1 outside of the official interview if this might have been Kim and Ken. Again X1's only answer was: "Could be, I don't know." (155)
Besides echoing the false statements of the rereaders, most newspapers didn't report a whole lot about the the Loubna Benaissa and Kim and Ken Heyrman cases. The parents of both of these children had been treated very badly by the investigators. In case of Loubna Benaissa, separate leads to the law clerk of Jean-Claude Van Espen (head of the X1-Van Hees dossier), Christine Van Hees case and the Dutroux-Nihoul network had been ignored (156). In case of Kim and Ken Heyrman, their mother, Tiny Mast, became a good friend of X1. She stated:
"I don't trust those people at all. It is they who lost the sweater of Ken. The kidnapper had sent me that sweater, probably to scare me, I assume. In a normal country that is a hyper-important element in the investigation. Traces might be be found on it. Well, they just made that sweater disappear. It is they who at a certain point told me in my face that I was the murderer and that I'd better fess up. I can tell hundreds of stories which, if I compare them with what the Verwilghen commission labeled as "mistakes", really stretch the imagination. Those guys are so aggressive and so inhumane that I sometimes feel that they are part of the same clique as those who took away my children. I believe Regina Louf, I really do." (157)
For a change, the newspaper's claim that X1 had identified Naatje van Zwaren de Zwarenstein is accurate. This happened during the same interview in which X1 recognized Katrien de Cuyper. However, this case had no priority status and X1 never said more about Naatje than: "a girl of which I think I have seen her at one point" (158). Also, the newspaper's claim that Naatje "turned out not to be missing at all" is extremely misleading for a number of reasons.
The 14 year old Naatje went missing on March 12, 1976, three days after one of her alleged friends, Paulette N., had also disappeared. The media made no big deal out of the event, especially not when Naatje turned up again on April 7 of that year in the Netherlands. However, friends of Naatje told a disturbing story to investigators, a story which sounded awfully similar to the one of the X-witnesses 20 years later. They named Naatje's riding school, coincidentally the same as Christine Van Hees', as one of the locations through which a child prostitution ring operated. This ring, in which Naatje and Paulette had ended up, apparently provided services to several foreign embassies in Brussels and had connections in the Netherlands and England. One of the girls who knew Naatje and Paulette was Joëlle J. Besides regular abuse and beatings, Joëlle also spoke about forced abortions, orgies at which children were cut to pieces and people who had been beaten up or killed for having spoken about the network. Other girls from this abuse network, Marie V. and Mireille D.B., backed up portions of the story of Joëlle J. Immediately after Naatje's return, she moved with her parents to the United States, but died there in 1980 in a traffic accident. (159)
Another argument that was used against X1 was the claim that Christine Van Hees' mother had tricked X1 during a confrontation on March 3, 1998. Van Hees' mother spoke about her daughter's trip to Canada just weeks before she was murdered, and asked X1 if Christine had mentioned anything to her about this trip. According to substitute magistrate Paule Somers, "X1 immediately remembered what Christine had told about that. But mother Van Hees tricked X1, because Christine had never been to Canada." This was an argument that severely impacted the credibility of X1 in the eyes of those who until then were still willing to give her the benefit of the doubt.
In early 1999, the Brussels lawyer Patricia Vandersmissen became interested in defending X1 against the constant barrage of press attacks. But before she would commit herself to the X1 case, she asked permission to access a portion of the X1-dossier to check a number of statements from X1 that had appeared in the press. One of those she was most interested in was X1's supposed confirmation of Christine's fictitious trip to Canada. The confrontation, which was led by Danny De Pauw (who betrayed De Baets and team) and the notoriously inaccurate translator Baudouin Dernicourt, was recorded on video and in writing. According to Vandersmissen:
"Antoinette Vanhoucke [mother Van Hees]: 'And in the mean time she made a big trip. She goes to Canada. Did she never speak about that?'

Regina Louf [X1]: 'I don't think we ever had the chance, to speak about those things.'"

"That's what has been written down. Nothing else. I read the official report from front to back and from back to front. I restarted three times, continually looking if that mother had brought up the topic again. But no. This is everything that has been said about the trip to Canada: nothing. Regina Louf says that she knows nothing about the trip to Canada. The truth has been reversed for the public." (160)
And so the disinformation game continues. There are so many examples and different aspects to discuss that the authors of the book 'The X-Dossiers' were able to fill a 500+, large page, small type book with them. To summarize, the tactics used by the rereaders can be found in almost any other disinformation scheme:
• Most statements of X1 were ignored.
• A number of statements were invented and attributed to X1.
• Bizarre conclusions were drawn from isolated passages of the testimony of X1.
• Small details in X1's testimony that appear to be wrong were given much more attention than any of the more important aspects that appeared to be right.
• One-sided leaks were organized to the media.
• De Baets and his team were portrayed as worshippers of X1, who in turn was portrayed as a self-absorbed aspiring cult leader.
• All searches at individuals and locations named by the X-witnesses were canceled. Except for a few bogus locations, searches were only carried out at the homes of the victim-witnesses and at those who supported them.