Chapter 12: Silent Coup in American Intelligence
MY attention focused on Kissinger for the duration of the New York trip. It was inconceivable how little I knew and how much I learned about the man whose power not only challenged presidents, but the greatest American demagogue -- J. Edgar Hoover.
Isaacson revealed that Kissinger and Hoover were virtually at war with each another, and though Kissinger may not have known it, he too, was a target of the FBI director's wiretaps. I Might anything less be expected from the man who, through blackmail, made his way to the "seat of government" and stayed there for more than four decades? Would Hoover bow to the forces of change Kissinger so easily applied against his State and Defense Department counterparts? Not likely.
Hoover and Nixon both distrusted Kissinger as much as he did them. But to Kissinger's advantage, Nixon distrusted Hoover more.2
Besides, Kissinger -- the NSC director -- held power over the Justice Department, and his supporters were a lot wealthier than Hoover's gang of union leaders and mafia chiefs.
The Kissinger-Hoover-Nixon triangle of power, cunning, and deception became one of the most disturbing secrets in political history. To relieve the strain this unholy trinity bore, something had to give. Ultimately, when the smoke cleared, Kissinger led, Hoover was dead, and Nixon may as well have been.
The biggest winners of this Pennsylvania Avenue war were Kissinger's patrons and disciples who seized all the opportunities they could from backing a winner-one whose expressed purpose was global economic and political domination in quest of a New World Order.
Nixon's Perspective
When Kissinger became rabid over the press leaks that announced the North Vietnam bombing operation, Nixon and Haldeman believed Kissinger was one of the leakers. "Get Kissinger away from the press," Haldeman quoted Nixon as saying. "He talks too much."1
Throughout their relationship, Nixon bated Kissinger about his heritage. Isaacson wrote that "Nixon seemed to take a fiendish glee in launching into diatribes against Jews and watching as Kissinger shifted feet nervously, afraid to contradict him."3
"Nixon shared many of the prejudices of the uprooted, California lower-middle class from which he had come," Kissinger later said regarding the president's anti-Semitism."3
During one telephone conversation overheard and recalled by Winston Lord, Nixon bated Kissinger about Jews and blacks. After they hung up, Lord asked, "Why didn't you say something?" Kissinger responded, "I have enough trouble fighting with him on the things that really matter; his attitudes towards Jews and blacks are not my worry."
Hoover's Untenable Position
During the Nixon years, the FBI labored on a project code named "Inlet" to supply Nixon and Kissinger with smut on counterintelligence targets.4
When the dirt was finally received, Kissinger and Haig ridiculed Hoover's work. 'The FBI investigative work I saw was of poor quality," John Ehrlichman said later, "rumor, gossip, and conjecture ... often hearsay, two or three times removed. When FBI work was particularly bad, I sent it back to Hoover, but the rework was seldom an improvement."4
In the spring of 1970, with Nixon strained by an unprecedented domestic terrorism epidemic wherein highly organized revolutionaries dedicated themselves to "the violent destruction of our democratic system," the president proposed a complete reorganization of U.S. intelligence services. 5
Years earlier, Hoover had called for more rigorous counterintelligence activities against blacks and the Nation of Islam. In the late 1960s he had terminated many of the illegal programs and espionage policies that Nixon and Kissinger now felt needed to be expanded. There was much talk among White House and CIA officials that the aged Hoover had grown too weak and timid to effectively lead an invigorated anticommunist campaign at home and abroad. CIA Director Richard Helms's request for the deployment of additional FBI support and surveillance of targeted groups was rebuffed by an angry Hoover who saw this as a breach of command and a threat to his autonomy.5
In February 1970, with Kissinger now at the helm of the NSC, this rift between the FBI and CIA grew. When the CIA refused to turn over information about a Denver FBI agent who turned CIA informant, without Hoover's knowledge or permission, Hoover ended regular liaison with the CIA.
Then, when the feud was criticized by administration chiefs, Hoover ended "liaison with all other external agencies except the White House."5,6
On June 5, 1970, a concerned President Nixon ordered the directors of America's intelligence community to the White House -- Hoover, Richard Helms of the CIA, General Donald V. Bennett of the Defense Department, and Admiral Noel Gayler of the National Security Agency -- and gave them a dressing down. He told them they were disorganized, inefficient, and unproductive. He wanted them to reorganize themselves into a single, streamlined unit that could keep him informed .... Hoover was to be chairman; the staff was to be directed by the White House's Tom Charles Huston, who had been in charge of the administration's campaign to mobilize the Internal Revenue Service against its enemies. Huston had also had the responsibility of collecting information about foreign involvement in campus disturbances, and in the course of this work had formed an alliance with the FBI's assistant director in charge of Domestic Intelligence, William C. Sullivan. [6]
According to author Richard Powers, in the months that followed, Huston attempted to usurp Hoover's power and position as domestic intelligence agency chief, and White House officials attempted to gain Hoover's resignation. Both efforts failed as the director applied the same tactics he had successfully used for almost a half century -- blackmail.
About this time, Haldeman, who had evaluated information on U.S. politicians supplied by Hoover, became uneasy. He believed the FBI director was "lobbying" for Nixon's affection, and "trying to pique the President's curiosity," rather than providing quality intelligence. He also became concerned about Hoover's potential for eavesdropping on the Oval Office. Rose Mary Woods, Nixon's secretary, who was later made famous by her "accidental" erasure of a Watergate tape, was in Haldeman's eyes too friendly with Hoover. He insisted the president "minimize the connection" he had with Ms. Woods. This, according to political investigator and author Anthony Summers, became a turning point in Nixon's relationship with Hoover:
"FBI Director Hoover, Newsweek reported in May 1969, "no longer enjoys direct access to the White House .... " Realizing Nixon's advisers [including Kissinger] were responsible for the change, Edgar struck back in characteristic fashion. That month, using Rose Mary Woods to ensure the message got through, he passed on an astonishing allegation -- that Haldeman, Ehrlichman and a third aide, Dwight Chapin, were homosexual lovers. [4]
Haldeman said, Hoover's report allegedly "came from a bartender who was a source for the FBI on stuff like this. We were supposed to have attended homosexual parties at the Watergate complex. There were dates, places, everything. Well, every factual allegation he made was totally false and easily disproven." John Mitchell advised the accused staff to give depositions to the FBI, to help in their defense should the need arise. They did what he suggested.4
"Mitchell's conclusion," continued Haldeman, "was that this was an attempt by Hoover to lay a threat across our path, to keep us in line, remind us of his potential."4
"This was just the start of the game," Summers chronicled. "In midsummer, after more bizarre statements by Edgar about Robert Kennedy and Dr. King, former Attorney General Ramsey Clark -- and an editorial in The Washington Post -- called for his resignation. The President, it was reported, was looking for a way to dump him."
"Nixon, of course, denied the rumors," Erlichman recalled.4
Sullivan's Switch
While contemplating ways to diplomatically remove Hoover from office, the president and Kissinger were also needed to fend off the growing threat of domestic violence over Vietnam. As a result, they challenged Hoover to step up his anti-black dissident campaign. Then, something strange happened in June, 197 I. Sullivan also began quarreling with Hoover and other FBI executives over a decision to increase the "legal attaches"-FBI agents -- attached to American embassies abroad. After initially supporting the proposal, Sullivan suddenly reversed himself with a scathing attack on the "lack of objectivity, originality and independent thinking" among Hoover's executives." Powers wrote:
He charged that because of "racial conflict, student and academic revolution, and possible increase in unemployment, this country is heading into ever more troubled waters and the Bureau had better be fully prepared .... This cannot be done if we spread ourselves too thin." Puzzled by Sullivan's attack on a policy he had supported a few days before, Hoover had one of his aides analyze Sullivan's memo. The conclusion was ... that he is more on the side of CIA, State Department and Military Intelligence Agencies, than the FBI."4
Hoover's assessment was accurate. Sullivan had turned coat. According to Summers, he became "frustrated by Edgar's stonewalling over domestic intelligence, and by the ending of COIN TEL PRO," a program NSC advisor Kissinger desired to expand. He was also allegedly angry about "Edgar's latest empire building abroad."4
Having lost patience with Hoover, Sullivan established covert contacts with Nixon officials, particularly Assistant Attorney General Mardian.8
Sullivan supplied Mardian with stacks of Hoover's internal correspondence. Mardian passed several of the most select to Attorney General Mitchell, then filed the remainder away in a folder he simply marked "Jones." The administration knew that Hoover would undoubtedly find out about the theft.8
Then, at the height of the furor over the Pentagon Papers (the forty-seven- volume DaD report, leaked to the New York Times by Rand Corporation's Vietnam expert Daniel Ellsberg, that traced America's involvement in Vietnam -- a study in which Kissinger participated), Sullivan told Mardian that Hoover was "not of sound mind," and that Hoover possessed "documents that were 'out of channel,' wiretap information." Hoover, he said, was likely to use these documents to blackmail Nixon, and as long as he held those records, Nixon could not "relieve him."8
The wiretap files to which he was obviously referring were those ordered by Kissinger, directed by Haig, administered by Hoover and the FBI, authorized by Mitchell, and signed off by the president. The Bureau's copies -- taps on at least four newsmen and thirteen government employees -- were then locked away in Sullivan's office.8
Though Summers failed to mention Kissinger's apparent involvement, he noted that Mardian passed word of the blackmail threat to the president. Then orders were sent to Haig most likely by Kissinger to request the FBI (Sullivan) to destroy all such "special coverage."8
In response, Sullivan turned over two satchels containing the tap summaries to Mardian. He locked them up in his vault, then waited for further instructions.
At the FBI, Sullivan and Hoover finally butted heads. On August 28, after discussing his concerns with numerous FBI colleagues, Sullivan addressed a letter to Hoover defining their differences. "I would like to convince you," he wrote, "that those of us who disagree with you are trying to help you and not hurt you .... This letter will probably anger you. In view of your absolute power you can fire me ... or in some other way work out your displeasure with me. So be it. ... "8
Hoover began "the ensuing meeting with Sullivan," Summers revealed, "with a harangue. He said he had given the matter 'a good deal of prayer.' Then he began to sputter and stammer. When Sullivan advised him to retire [as Nixon through Mardian undoubtedly advised Sullivan to do] he said he would not. On the contrary, it was Sullivan" who was forced to leave .... 8
Pretending that he was unaware that Sullivan had passed the incriminating wiretap transcripts over to Mardian, Hoover ordered his aides to search for them in Sullivan's office. The aides pulled every drawer and file but found nothing. When Sullivan returned, Hoover ordered him to reveal their whereabouts. He refused. "If you want to know more," he abruptly said, "you'll have to talk to the Attorney General."8
Months later, following Hoover's death and the total significance of the wiretap program emerged, Mark Felt, Sullivan's replacement wondered: "It is very strange that Hoover did not explain the entire situation to me." Despite ordering Felt to search fruitlessly for the missing wiretap records, Hoover "knew the whole story.'"
Ending an Intelligence Career
On October 3, 1971, Assistant Attorney General Mardian asked Ehrlichman for advice. Having custody of the dangerous wiretap transcripts made Mardian nervous.
"Mardian was very afraid," Ehrlichman recalled, "not only of the integrity of the files but also of his own personal safety. He felt he was being surveilled by Hoover, that it was only a matter of time before Hoover caused agents of the FBI to break into his office vault and recover the records .... "
Days later, in the Oval Office, Ehrlichman and Attorney General Mitchell requested the president's advice. Not until 1991, with the release of the Nixon tapes, was their conversation disclosed:
MITCHELL: Hoover is tearing the place up over there trying to get at them. The question is, should we get them out of Mardian's office before Hoover blows the safe ... and bring them over here?

EHRLICHMAN: My impression from talking with Mardian is that Hoover feels very insecure without having his own copy of those things. Because, of course, that gives him leverage with Mitchell and you.

NIXON: Yeah.

EHRLICHMAN: Because they're illegal. Now he doesn't have any copies and he has agents all over this town interrogating people, trying to find out where they are. He's got Mardian's building under surveillance.

NIXON: Now, why the hell didn't he have a copy, too?

EHRLICHMAN: If he does, he'll beat you over the head with it.

NIXON: Oh ... you've gotta get them out of there.

MITCHELL: Hoover won't come and talk to me about it. He's just got his Gestapo all over the place.

NIXON: Yeah ... just say [to Mardian] that we want to see them. Put them in a special safe. [9]
The troop complied with their general's demand.
For nearly a year, Nixon and his aides discussed how they might neutralize the Hoover risk or remove him from office. Initially, discharging him had seemed too risky given his popularity. But later polls showed that the public's enthusiasm for the aging FBI chief had waned. This was reinforced by a constant barrage of criticism Hoover received from the press.9 Much of this was likely contrived by the CIA under the Kissinger and Haig NSC staff chain of command.
In response, the director had charged the media with being "journalistic prostitutes" and ordered FBI personnel to avoid all contact with The Washington Post, The New York Times, the Los Angeles Times, CBS and NBC -- organizations that Hoover knew maintained strong ties to the CIA. 10
''I'm willing to fight him," said the president lamely during a meeting on October 8, 1971 in the Oval Office. "We've got to avoid the situation where he could leave with a blast. ... If he does go, he's got to go of his own volition .... " The president had struck out in his previous efforts to dismiss Hoover. Now he was undoubtedly shy about trying again.
Two weeks later, the president received a special report on Hoover from Ehrlichman. Further delay, it cautioned, might be disastrous. Blackmail was suggested:
Morale of FBI agents in the field has deteriorated badly .... All clandestine activities have been terminated. Liaison with the intelligence community has been disrupted and key men forced out. ... Hoover has reportedly threatened the President. ... Years of intense adulation have inured Hoover to self-doubt. He remains realistic, however, and on June 30 his most trusted confidant, Clyde Tolson, stated to a reliable source, "Hoover knows that, no matter who wins in '72, he's through."

Sullivan has been "keeping book" on Hoover for some time. He is a skilled writer. His book could be devastating should he choose to expose such matters as the supervisor who handled Hoover's stock portfolio and tax matter; the painting of Hoover's house by the FBI Exhibits Section; the ghostwriting of Hoover's books by FBI employees; the rewriting of FBI history and the "donation" by "admiring" facility owners of accommodations and services which are often in fact underwritten by employee contribution .... [9]
The report recommended Hoover's retirement before the end of the year. Nixon wholeheartedly agreed. "Hoover," he said, "has to realize that he can't stay forever .... I think I could get him to resign, if I put it to him directly that without it he's going to be hurt politically .... But I want this closely held-it's just got to be."9
Despite lengthy preparation, scripting, and rehearsals, the president attempted and failed again. The reason was explained by Summers:
Contrary to what Nixon had imagined at first, the threat [of the White House wiretap transcripts] had not evaporated when Sullivan handed over the FBI copies ... to Assistant Attorney General Mardian. When Mardian checked the list, he discovered some of the transcripts were missing. They had been retained, all along, by Edgar.9
Though Nixon openly claimed to his death that "Hoover never gave any indication to me of blackmail," the truth was known to his intimates. Months after his meeting with Hoover, Nixon confided with Ehrlichman: "The meeting was a total strikeout. He told me I'd have to force him out." "It was my conclusion," Ehrlichman said, that the president believed, "that Hoover's resignation before the election would raise more problems than it would solve." Likewise, Kissinger recalled, "Nixon thought Hoover was quite capable of using the knowledge he acquired as part of his investigations to blackmail the president."9
So rather than heralding his dismissal, the press reported that Nixon wanted "Hoover to remain in office."9
In one of the final interviews of his life, Hoover declared himself fit and determined to carry on: "Many of our great artists and composers," he said, "did their best work in their eighties. They were judged on performance, not age .... Look at Bernard Baruch; he was brilliant in his nineties -- and Herbert Hoover and Douglas MacArthur in their eighties. That is my policy .... "9
Consequently, with COINTELPRO on ice, the FBI stupefied, the CIA cut off from domestic intelligence, the administration blackmailed, and Kissinger's authority blocked along with his patron's economic interests, Nixon was at his wits end. Besides everything else, he was certain his White House still harbored a mole -- someone who might again leak secrets to the press. What's more, the president was still outraged that Hoover had blocked the investigation of a perceived traitor and suspected communist- Daniel Ellsberg. Hoover had apparently befriended Ellsberg's father-in- law, so he felt obliged to come to the family's aid.9
"If the FBI was not going to pursue the [Ellsberg] case," Nixon wrote in his memoirs, "then we would have to do it ourselves."9
Beyond Watergate
In June 1971, seated in his Oval Office, Nixon told his aide Charles Colson, "I don't give a damn how it is done, do whatever has to be done to stop these leaks and prevent further unauthorized disclosures .... I want to know who is behind this ... whatever the cost."
The directive led to the formation of the Plumbers and then to Watergate:
The cast of characters is now well known. The chain of command went from Nixon to Ehrlichman to Krogh and Young, with Colson and the President's Counsel, John Dean, putting in their nickel's worth. In the field, assigned to do the White House's dirty work, were Howard Hunt and Gordon Liddy. Hunt was a fifty-two-year-old career CIA officer who had, technically, retired from the Agency and gone free-lance. [Previous to Watergate, he had been investigated by the Warren Commission for his CIA connections and possible role in the assassination of JFK-he was allegedly seen on the grassy knoll behind a puff of smoke at the time the shots were fired and had no alibi."] Liddy had served as an Assistant District Attorney in New York, then as a special assistant in the Nixon Treasury Department, since leaving the FBI in 1962.9
Interesting that Kissinger wasn't in the Plumber's chain of command, I thought. Particularly since he was in charge of the 40 Committee, the group that took charge of authorizing covert actions by the CIA.12 He would have likely known about the entire affair since it was essentially a CIA-run operation according to the Rockefeller Commission. But his name failed to appear in the report and CIA reprimand. 11
I considered that Nixon may have suspected Kissinger's involvement in the Ellsberg case, and purposely kept him in the dark about the Plumbers. But that wasn't likely either, I realized. Kissinger's intelligence network exceeded Hoover's and infiltrated the CIA's by then. If anything went on, Kissinger most likely knew about it.
A Kissinger/Rockefeller Coup?
Then it occurred to me how Kissinger came out on top. He outlasted everyone. In fact, he's still considered the most powerful foreign policy adviser in the world.
Had a Kissinger/Rockefeller coup actually occurred?
I reflected on the fact that Nixon held Nelson Rockefeller in disregard, and snubbed him -- Nixon's 1968 presidential contender -- by giving Kissinger the job Rocky expected. 13 When Kissinger was selected instead of the banking mogul, Rockefeller's staff "were shocked." Kissinger himself suggested that Nixon reconsider Rockefeller rather than him to lead the Defense Department. Before that, Kissinger told Gloria Steinem that the only way he would go to Washington is if Rockefeller became his boss. In retrospect, that's what happened. Rockefeller remained Kissinger's patron before, during, and after the Nixon era.14
I reflected on the fact that it was largely Rockefeller's influence and contacts that helped catapult Kissinger to the top of the business consulting industry. A partial list of his international clients was remarkable to say the least: American Express, Anheuser-Busch, Atlantic Richfield, Coca-Cola, GTE, Chase Manhattan and Midland Banks, Bell Telephone, H.J. Heinz, Revlon, Union Carbide, and Volvo to name just a few. And then there was Merck and Co. 15
Isn't that interesting! I thought, reflecting on my knowledge of George Merck's leadership of America's biological weapons industryl6 as well as the experimental hepatitis B vaccines Merck and Co. prepared for the American gay community. 17
I considered the fact that Nixon and Hoover stood in the way of both Kissinger and Rockefeller -- financially and politically. Hoover was overtly hostile toward Kissinger, he hated jews, wouldn't take orders, and catered to organized crime. And neither Kissinger nor Rockefeller thought much of Nixon. At best they perceived him as inept. At worst, they considered him a paranoid maniac and a mutual threat.
Moreover, both Nixon and Hoover had potentially dangerous intelligence data on Kissinger as well as Rockefeller. Hoover held "a big file of dirt" on Rockefeller. And the two held wiretap transcripts that could have incriminated Kissinger as well as his closest aides.18
Rockefeller, I also recalled, served as President Eisenhower's international affairs assistant. He resigned when Eisenhower refused to endure his Vietnam war plans -- billions in military-industrial revenue. That's when Eisenhower issued his warning about the evil "military-industrial complex." Now Kissinger was playing the same role for Nixon with the "East Coast establishment, the Rockefellers, the media and banking elite pulling the strings.19
Moreover, after Nixon was ousted and Ford became president, Kissinger petitioned Ford to select Rockefeller to be the new vice president. Having hundreds of political colleagues, Isaacson reported, "Kissinger felt the most trust and affection of anyone in public life" for Rockefeller. 19
Then following their White House communion, the "Kissingers and the Rockefellers spent New Year's together at the outset of 1975 at Dorado Beach in Puerto Rico." Isaacson reported that Henry felt very good about himself at the time: "Relaxing in the sun, and married to a socially impeccable former Rockefeller aide, Kissinger seemed more at peace with himself than he had been for a long time."19
Naturally, he seemed more at peace, I observed, their principle political rivals were destroyed. They now maintained sole control of the White House.
Had they played a determining role in discrediting Nixon. Could they have been behind the Plumbers getting caught? And what about Hoover's untimely and mysterious death?
Haig as Deep Throat?
I flashed back to watching a CBS special I had seen a few years ago. The program cited Haig and Kissinger among the likeliest suspects to have played the role of "Deep Throat." Since Kissinger and Haig allegedly had alibis, Mike Wallace concluded Deep Throat was Patrick Gray, a former assistant attorney general "who was appointed acting director of the FBI six weeks before the break-in at the Watergate." Neither Woodward nor the 76-year-old (in 1992) Gray confirmed the report, however, and two sources outright denied it -- Charles Bates (the former assistant director of the FBI at the time of the break-in) and Howard Hunt (one of the CIA operative Plumbers).
It wouldn't be the first or last time CBS and Mike Wallace spread lies to cover up government incriminating truths, I realized.20
It was Rockefeller, I considered, who enlisted Kissinger to join his international military-security business during their meeting at Quantico in 1955. Kissinger's Quantico report laid out Rockefeller's, that is. America's foreign policy objectives and foreshadowed over four decades of violent American history. Most important, it contained military proposals that required, of course, far more spending.20
And it was Kissinger who drafted Haig to be his chief aide at the NSC. And Joseph Califano recommended Haig. The recollection suddenly took on greater meaning. Califano, the former secretary of the Department of Health, Education and Welfare (DHEW) during the Carter administration. The man who gave the U.S. surgeon general his orders when I was completing my M.P.H. at Harvard! Isn't that interesting.
My mind raced to consider the possible role Califano played during this perilous period of American history. Califano became Secretary of DHEW in 1977, I recalled.21 That was just when the large Merck and USPHS gay hepatitis B study was getting underway. As the secretary of DHEW, Califano was empowered to direct both foreign and domestic vaccination programs for the USPHS, USAID, as well as the WHO.
After letting the Califano connection sink in a bit, 1 continued to consider Deep Throat. Deep Throat fed Woodward and the Washington Post the inside poop on Kissinger/Rockefeller political enemies. That was traditional CIA counterintelligence operations over which Kissinger was in charge at the time. That was why Hoover ordered the FBI to break ties with The Washington Post which he knew was being influenced by Kissinger, most likely through his Washington Special Action Group. (See fig. 11.2 for an organizational chart of the U.S. national security system under Kissinger; also see reference 10.) With the score of CIA- and FBI-sponsored break-ins that went unreported during that time, maybe it's not so astonishing they caught the Plumbers at the Watergate. Deep Throat was most likely Haig.
I searched the library shelves once again in an effort to investigate my hunch. In Len Colodny's fascinating book Silent Coup.' the removal of Richard Nixon, I learned that my suspicions were well founded. Not only was Haig exposed for his virtually certain role as Deep Throat, but Bob Woodward, who himself published a treatise on the CIA, was revealed to be a communications specialist for American intelligence. In fact, Colodny provided substantial documented evidence that Woodward routinely briefed Haig at the Pentagon prior to their Nixon White House assignments. 22
Then, in Summers's book, I read that many believed Watergate was "only the tip of the iceberg." During the Nixon era, the CIA conducted hundreds of break-ins into people's homes and businesses; all of "whom the administration considered to be its 'enemies.' Their spectrum of targets ranged from radicals and subversives to high ranking diplomats and politicians. One such victim, Summers assures us, was J. Edgar Hoover. 18
Why had the Plumbers gotten caught at the Watergate and nowhere else? Could it have been a play, perhaps with Haig as quarterback, to initiate Nixon's downfall, thus, facilitating a Kissinger/Rockefeller coup?
Prelude to the Sting
Isaacson's book revealed that Nixon's relationship with Kissinger had steadily deteriorated:
During his five and a half years in office, Nixon's admiration for Kissinger would gradually become more infected by jealousy and suspicions of disloyalty. With no personal affection to serve as a foundation for their relationship, what had been a love-hate alliance eventually tilted toward the latter. As the president's dependency on Kissinger grew, his resentment and bitterness increased. [23]
Ultimately, when the Plumber's failed to find evidence of the inside leak they expected to find in the office of Ellsberg's psychiatrist, Nixon was in deep trouble. Not only did the media begin chasing "all the president's men," but Hoover knew the truth about the whole affair. Nixon had informed the director personally of his intention to enter Ellsberg's office. (Hoover would have learned this anyway. By that time, his intelligence network had thoroughly infiltrated the White House.) [9]
Push finally came to shove when Hoover learned of Liddy's written report calling for the director's forced removal. Since it was clear he would not go gracefully, nor would Nixon be able to shame him from office, Hoover's assassination became a clear option.9
The director recognized his predicament. On New Year's day 1972, while awaiting his flight back to Washington, Hoover spent forty-five morose minutes discussing his problems with Kenneth Whittaker, his special agent in charge of the city. Parked in his limousine outside Miami's international airport, Whittaker got an earful about how upset Hoover was about his trouble with Nixon. It was the last time he saw Hoover alive.9
Back home, Hoover took a curious step. He asked Andrew Tully, a trusted journalist, to lunch in private. "I have some things to say," he told Tully, "but I don't want you to publish it until after I'm dead." Tully agreed. Then the reporter asked, "Is the President pressuring you to retire?"
"Not anymore he's not," Hoover replied. "I put the kibosh on those jaspers who want to get rid of me. . . . The President asked me what thoughts I had about retirement and I said none, then I told him why. I told him he needed me around."9
Having secured intelligence and illegal wiretaps on virtually all White House notables, Hoover likely suspected a Kissinger/Rockefeller coup was underway. Perhaps this is what he meant when he said Nixon "needed me around."
Later, Hoover threatened to expose the administration's ongoing domestic snooping ring. This fit the story relayed by James McCord, another former FBI and CIA agent. He said, Hoover "resolved that he would have to go to Congress with the facts" regarding the "wiretapping of the news media, the National Security Council staff and of Ellsberg." Undoubtedly, Nixon, Kissinger, Haig, and other NSC staffers feared this as well.
The last straw was a Nixon-damning expose that Hoover fed Life. It spilled the beans on how "the White House had intervened to help" Arnholt Smith, "one of Nixon's best friends, and a bookmaker called John Alessio, another Nixon backer, to shake off corruption and tax charges." Hoover, the article said, had "used his personal influence to help defeat the White House moves," to assure "that Alessio faced trial." This, McCord believed, was what "really set Nixon at Edgar's throat."9
The Assassination of J. Edgar Hoover?
Summers filed an intriguing investigation report along with a startling conclusion -- J. Edgar Hoover was very likely assassinated:
A year after Watergate, Mark Frazier, a young reporter working in Washington, was to pick up an intriguing lead. Three sources, he learned, had given affidavits to the Senate Watergate Committee referring to two break-in operations at Edgar's home in Rock Creek Park. They were, allegedly, "directed by Gordon Liddy."

In the welter of news arising from Watergate [or possibly because of official media censorship], Frazier was unable to get the story published in a Washington paper. Instead, it ran in a university publication, The Harvard Crimson.
Hoover's home, the article said, had been targeted twice for break-ins. The first operation, in "late winter of 1972," was intended to "retrieve documents that were thought to be used as potential blackmail against the White House." This attempt failed, but was followed by another which succeeded. "This time," Frazier reported, "whether through misunderstanding or design, a poison of the thiophosphate genre was placed on Hoover's personal toilet articles."22
Thiophosphate, a chemical commonly found in insecticides, is extremely toxic to human beings if ingested, inhaled, or absorbed through the skin. Exposure can cause fatal heart attacks, and can only be detected by an autopsy performed within hours of the lethal poisoning.
Gordon Liddy today denies knowledge of any break-in at Edgar's house. Hunt, contacted in Mexico, said curtly it was "a matter of total disinterest to me." Nixon's former Chief of Staff, Haldeman, however, accepts that something of the kind may have happened. "I have to concede the possibility," he said. "I think Nixon was capable at the time of saying to Colson, 'I want this done. I don't want any arguments about it. I don't want you to talk to Haldeman because he'll just say, Don't do it. Just go ahead and get it done ... .'''

Watergate burglar Felipe DeDiego, who today claims ignorance of the Hoover break-ins, ... [at first said] he knew about the operation and hoped soon to be able "to talk about everything." Then, questioned again, he withdrew his comments. At home in Florida, however, he told Dade County State's Attorney Richard Gerstein that he had inforn1ation on "other burglaries of a political nature."

Another of the Watergate burglars, Frank Sturgis, said in 1988 that DeDiego told him about the Hoover break-ins immediately after Edgar's death. "Felipe told me about it," he said. "I suspected the CIA was behind it. I told him, 'I guess our friends probably wanted to go over there and see what kind of documents Hoover had stashed away.' Felipe laughed and said, 'That's dangerous. It's dangerous ... .' And we didn't talk about it anymore."

Sturgis admitted that the burglars were active in Washington earlier than emerged from the official Watergate investigation. Asked if he himself was involved in the Hoover break-ins, he hedged. "I'm not saying yes to my involvement. Let me say 'no' to that. It opens up a can of worms." [22]
Chief Plumber Krogh coincidentally served time where former Congressman Neil Gallagher was jailed as a result of Hoover's malicious attack -- in Allenwood Pennsylvania's minimum security prison. In 1991, Gallagher signed a sworn affidavit which testified:
"I was the prison librarian, and Krogh would come in .... One night, when I was about to close the place and there were only the two of us there, we talked about Hoover.
"I said I thought the circumstances of Hoover's death were a bit strange. Because of my war with Hoover, I'd followed everything about him closely. I said to Krogh, 'Hoover knew everything that was going on in Washington. He must surely have known about the Plumbers and every_ thing. Do you think Hoover was blackmailing the President?' And then I said, and it surprises me now, 'Did you guys knock Hoover off? You had the troops to do it, and the reason ... .'
"It took several seconds for it to sink in. Then Krogh literally jumped out of his chair. And in a highly charged voice he sort of screamed, 'We didn't knock off Hoover. He knocked himself off.' And I said, 'My God, that explains a lot about the bastard's death coming the way it did.' And with that Krogh ... rushed out of the library. We never had another conversation the rest of the time we were in Allenwood."24
After Hoover's body was discovered by his housekeepers, and his lover Clyde Tolson was alerted, Robert Choisser, Edgar's physician arrived on the scene. "Mr. Hoover had been dead for some hours," he recalled. "I was rather surprised by his sudden death, because he was in good health. I do not recall prescribing him medication for blood pressure or heart disease. There was nothing to lead anyone to expect him to die at that time, except for his age."
Later that morning, two medical examiners, Dr. Richard Welton and Coroner James Luke, surveilled the situation. "It was totally normal," Welton recalled. "There was nothing to suggest trauma. Hoover was in an age group where it could be expected .... It is common for such a person to be found dead after apparently trying to get to the bathroom during the night."
On his way out, considering the need for an autopsy, Welton said to Luke "What if someone should pop up six months from now and say someone had been feeding Hoover arsenic? We'll think we should have done an autopsy."
Summers concluded that, "Neither pathologist had any reason to suppose anyone had been feeding Edgar arsenic, or any other poison."
No one knew that the Watergate burglars even existed, let alone that two of them had consulted a CIA expert about ways of killing columnist Jack Anderson, including the option of planting poison in his medicine cabinet. They knew nothing of alleged break-ins at Edgar's home, nothing of the suggestion that a poison might have been "placed on Hoover's personal toilet articles" -- a poison capable of inducing cardiac arrest. ... They knew nothing of the call Nixon had reportedly made to Edgar late the previous night, telling him it was time to step down.24
Three days after Hoover's demise, having decided against the autopsy, Luke signed the certificate of death:
John Edgar Hoover, male, white.
Occupation: Director, FBI.
Immediate cause: Hypertensive cardiovascular disease.
Life After Hoover
All of this meant that from mid-1970 to mid-1973, the CIA operated without any interference from the Justice Department. During this time, and following Hoover's death, the CIA grew in strength as the nucleus of foreign and domestic espionage operations. Despite the embarrassment of getting caught playing a central role in the infamous Watergate break-ins,25 the CIA was hardly chastised by Congress. 11 It continued to expand agency operations at home and abroad under Kissinger and soon to be Chief of Staff Haig.26 The two Nixon administration survivors ran the CIA, State, and Defense departments. They reinstated COINTELPRO-like operations, 27 expanded its covert operations in Africa,28 and increased biological as well as chemical weapons research.29.30
In 1973, the CIA labored to maintain its positive public image. International condemnation over ongoing American biological warfare "experiments" was imminent. The Rockefeller Commission Investigation on CIA Wrongdoing was also about to begin as was a Congressional investigation in the aftermath of Watergate. It was then that CIA director Richard Helms, succeeded shortly thereafter by William Colby, ordered Mr. Sidney Gottlieb, Chief of the CIA's Technical Services Division, and former head of its MKULTRA -- drug and mind control operation -- to destroy all records pertaining to the "formulation, the development and the retention of' illegal biologicals that were used to wage war and experiment widely on Third World populations. Helms's orders apparently came from his superior- Dr. Henry Kissinger.29-31
By May 1973, in the wake of the Watergate scandal, as international attention focused on Nixon's fall from grace, a shadow government took control of America. The interim administration -- which formed before President Ford was confirmed -- was largely powered by Rockefeller, and commandeered by Kissinger and Haig.32
During the following presidential campaign, Brzezinski, Jimmy Carter's campaign manager and old-time Kissinger nemesis from Harvard, launched an embittered attack against the incumbent's foreign policy. Publishing in Foreign Affairs he described Kissinger's tactics as:
Covert, manipulative, and deceptive in style, it seemed committed to a largely static view of the world, based on a traditional balance of power, seeking accommodation among the major powers on the basis of spheres of influence. [33]
Cold and accurate as it was, the irrepressible fact is Kissinger and his realpolitik survived.
While campaigning for the presidency, Carter hailed Kissinger as the real "foreign policy ... president of this country." "Under the Nixon-Ford administration," he said in a speech, "there has evolved a kind of secretive ... closely guarded and amoral ... , 'Lone Ranger' foreign policy, a one-man policy of international adventure." To these attacks, Carter added his standard refrain. "Our foreign policy should be as open and honest as the American people themselves."33,34
One year later, under the more "open and honest" policies established by Carter, Ray Ravenhott, the director of population control programs for USAID, revealed his agency's intention to help sterilize one quarter of the world's women. He argued that this need stemmed from the administration's desire to protect U.S. corporate interests from the threat of Third World revolutions spawned by chronic unemployment.29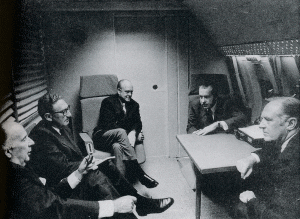 TWO PHOTOS: NATIONAL ARCHIVES, NIXON PROJECT
John Mitchell, Henry Kissinger, Melvin Laird, Richard Nixon, and William Rogers aboard Air Force One, 1969. After feeding Nixon intelligence for his 1968 campaign, Kissinger was appointed national security adviser. Not long after, he ordered Defense Secretary Laird to reassess America's biological weapons capabilities, and then discovered the option of viruses for covert operations.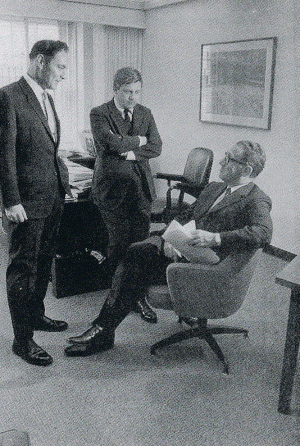 Chief deputy Alexander Haig, Lawrence Eagleburger and Kissinger, 1969. Colonel Haig, the evidence indicates, was most plausibly "Deep Throat" He coordinated secret projects including the White House wiretaps, Cambodian bombings, and very likely the assassination of 1. Edgar Hoover along with the downfall of Richard Nixon.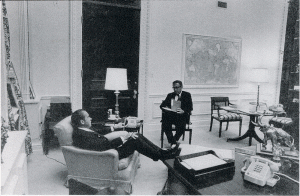 TWO PHOTOS: NATIONAL ARCHIVES, NIXON PROJECT
Executive Office meetings, 1969. Nixon and Kissinger rambled for hours, engaged in underhanded fantasies, plotted conspiratorial intrigues, and made numerous contradicting decisions. Nixon was openly anti-semitic, racist, and homophobic. Both men believed Black nationalism was a communist plot, and population control was a national security necessity.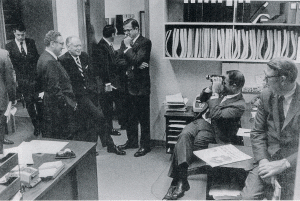 Kissinger with Rogers, Ehrlichman, Colson, and Haldeman, 1971. Ehrlichman and Haldeman administered an informal "Henry Handling Committee" to help relieve Kissinger's paranoid fits. Colson organized the Plumber's Unit. This led to Watergate. Oddly then, Kissinger and Haig escaped recrimination.