Independent Politics: The Green Party Strategy Debate
Edited by Howie Hawkins
Compilation © 2006 by Howie Hawkins
NOTICE: THIS WORK MAY BE PROTECTED BY COPYRIGHT
YOU ARE REQUIRED TO READ

THE COPYRIGHT NOTICE AT THIS LINK

BEFORE YOU READ THE FOLLOWING WORK, THAT IS AVAILABLE SOLELY FOR PRIVATE STUDY, SCHOLARSHIP OR RESEARCH PURSUANT TO 17 U.S.C. SECTION 107 AND 108. IN THE EVENT THAT THE LIBRARY DETERMINES THAT UNLAWFUL COPYING OF THIS WORK HAS OCCURRED, THE LIBRARY HAS THE RIGHT TO BLOCK THE I.P. ADDRESS AT WHICH THE UNLAWFUL COPYING APPEARED TO HAVE OCCURRED. THANK YOU FOR RESPECTING THE RIGHTS OF COPYRIGHT OWNERS.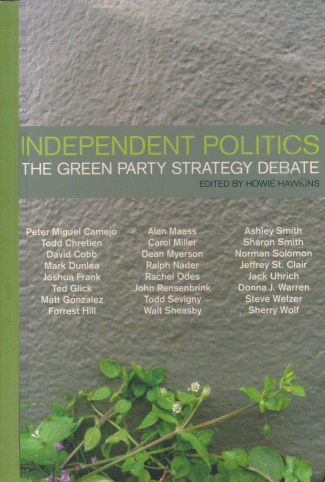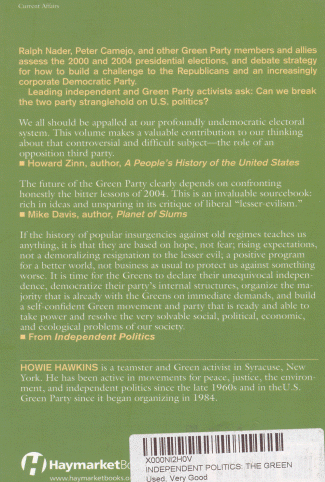 Dedicated to the memory of Walt Contreras Sheasby
Table of Contents
• Ten Key Values of the Green Party
• Introduction: The Green Party's Missed Opportunity in 2004-and the Opportunity Still at Hand, Howie Hawkins
• Introduction Part II: Missing Documents and Summary of Contents Not Included, Rachel Odes
• CHAPTER ONE: GREEN INDEPENDENCE? THE DEBATE BEGINS
o 1. Run, Ralph Run!, Howie Hawkins
o 2. Appeal to Nader, Green gubernatorial candidates
o 3. The Avocado Declaration, initiated by Peter Miguel Camejo
o 4. The Green Party and the 2004 Elections: A Three-Dimensional Plan, John Rensenbrink and Tom Sevigny
o 5. For a Green Presidential Campaign in 2004, Howie Hawkins
o 6. A Green Party "Safe States" Strategy, Ted Glick
o 7. Green Party 2004 Presidential Strategy, David Cobb
• CHAPTER TWO: GREEN TACTICS AND STRATEGY
o 1. "Strategic Voting" Is Strategic Suicide, Howie Hawkins
o 2. Debating the Election: The Democrats Don't Deserve Our Support, Sharon Smith
o 3. Debating the Election: We Have a Responsibility to Work to Defeat Bush, Norman Solomon
o 4. Statement on Green Strategy 2004 and Call for Dialogue and Action, Eighteen Green Party activists
o 5. Run Ralph Run, But as a Green, Greens for Nader
o 6. Letter to the Steering Committee and the Presidential Exploratory Committee of the Green Party, Ralph Nader
o 7. Letter to Ralph Nader Urging Reconsideration of Withdrawal, Green Party Steering Committee
o 8. Endorsement, Not Nomination, Ralph Nader
o 9. Greens Should Endorse Nader, Greens for Nader
o 10. An Open Letter to Ralph Nader, The Editors of The Nation
o 11. Whither The Nation?, An Open Letter, Ralph Nader
o 12. 2004 and the Left, Ted Glick
o 13. Endorse Nader, Howie Hawkins
o 14. Letter to The Nation, Peter Miguel Camejo
o 15. It's Not Easy Being Green, The Nation Editors
• CHAPTER THREE: THE MILWAUKEE CONVENTION
o 1. Green Party Unity, Peter Miguel Camejo
o 2. A Few Thoughts for the Green Party, Ralph Nader
o 3. The Green Party's Step Backward, Alan Maass
o 4. Green and Growing: An Activist Report Back from the Green Party Convention, Ted Glick
o 5. How the Greens Chose Kerry over Nader, Walt Contreras Sheasby
o 6. Suicide Right on the Stage: The Demise of the Green Party, Jeffrey St. Clair
o 7. Why I Changed My Voter Registration Today, Norman Solomon
o 8. A Reply to Norman Solomon and Medea Benjamin: Believing in a Green Resistance, Todd Chretien
o 9. Growing the Green Party, David Cobb
o 10. Rigged Convention, Divided Party: How David Cobb Became the Green Nominee Even Though He Only Got 12 Percent of the Votes, Carol Miller and Forrest Hill
o 11. A Response to Miller and Hill, Dean Myerson
o 12. Cut and Run: The Green Party 2004 Convention, Peter Miguel Camejo
• CHAPTER FOUR: INDEPENDENCE VERSUS ANYBODY BUT BUSH
o 1. Why Vote for Ralph Nader?, Matt Gonzalez
o 2. A Letter to the Black Caucus from a Black Woman Living in South Central, Donna J. Warren
o 3. From "Maverick" to Attack Dog: Howard Dean's Gay Bashing of Ralph Nader, Sherry Wolf
o 4. Vote Kerry and Cobb: An Open Letter to Progressives, Medea Benjamin, Peter Coyote, John Eder, Daniel Ellsberg, et al.
o 5. Money vs. People: The Mystery of the 2004 Elections, Peter Miguel Camejo
o 6. What You Won't Hear: Twelve Topics Democrats Will Duck at Convention, Ralph Nader
o 7. David Cobb's Soft Charade: The Greens and the Politics of Mendacity, Joshua Frank
o 8. Parties to Injustice: Democrats Will Do Anything to Keep Me Off the Ballot. Ralph Nader
o 9. Only Progressive Unity Can Defeat Bush, Zach Kaldveer and Sophie Mintier, Greens for Kerry
o 10. An Open Letter to Former Naderites Running Scared in 2004, Ralph Nader
• CHAPTER FIVE: LESSONS FROM THE 2004 ELECTIONS
o 1. Political Independence Is the Lesson of 2004 for Progressives, Howie Hawkins
o 2. New Mexico: A Sobering Lesson for Practical Fusion, Jack Uhrich
o 3. The Greens Are Enduring, Debating, and Learning, Steve Welzer
o 4. Resurgence: The Green Party's Remarkable Transformation, David Cobb
o 5. Narcissism Runs Rampant: Diagnosing the Green Party, Joshua Frank
o 6. Lessons from the 2004 Elections, Peter Miguel Camejo
• APPENDIXES
o 1. Reexamining the Green Party Nominating Convention: A Statistical Analysis, Forrest Hill
o 2. Proposals to the Green Party of the United States from the Greens for Democracy and Independence, Green Party of New York State, Green Party of Vermont
o 3. Which Way Forward for the Green Party?, Ashley Smith and Forrest Hill
• Notes
• Contributors
• Sources
The Key to U.S. Elections

There was one peculiar event around the elections that received almost no analysis or discussion. The overwhelming majority of the supporters of John Kerry disagreed with their candidate on most major issues. Even in countries with completely distorted electoral systems, where money dominates and manipulates, it is quite unusual to see people voting massively for someone they consciously disagree with.

This simple fact tells how deep the corruption of the American political system has become. The Boston Globe reported 95 percent of the delegates at the Democratic Party convention opposed Kerry on the war. But these delegates are hopelessly corrupt people. They are part of a system based on careerism and money. They accept the game and call it being realistic. That is to lie to the people, to lie to themselves; to act out a lie does not bother these people at all.

Dennis Kucinich, Howard Dean, and Al Sharpton -- along with all the Democratic "left" -- bought in to the fundamental lie of the presidential campaign. That lie is simple. They tell the people that the Democratic Party is not corrupt, is not an agent of corporate rule, and is not a defender of George Bush and his policies. They do not tell the people the elections are fixed from day one through the control of money and the media. Nor do they speak of the role of the so-called "two-party" system that prevents the real issues from being heard or debated, and that does not allow representative democracy (proportional representation), or even runoffs that would make it possible for people to vote for an opposition candidate. That lie is the essence of our electoral system. And in one sense it is the key issue of the elections.

This fact is a statement on the enormous success of the two-party, pro-money political system developed in the United States. It has achieved getting about half the people simply not to vote, and those who do vote even when they disagree with corporate domination vote in favor of what they oppose. Yet the people believe they somehow have chosen the government. Keeping this system in place is essential for the rule of a tiny minority over the majority in a complex modern economy. Open totalitarianism would have a very deep negative impact on the economy. Far better is the illusion of democracy. Crucial in this equation is the role "progressives," especially many of the liberal intellectuals, play.

-- Lessons from the 2004 Elections, By Peter Miguel Camejo January 2005 from "Independent Politics: The Green Party Strategy Debate, edited by Howie Hawkins