GOP lawmakers [Marjorie Taylor Greene] adopt 'defund' rallying cry for FBI, not police
by Cheyanne M. Daniels
The Hill
08/13/22 5:59 AM ET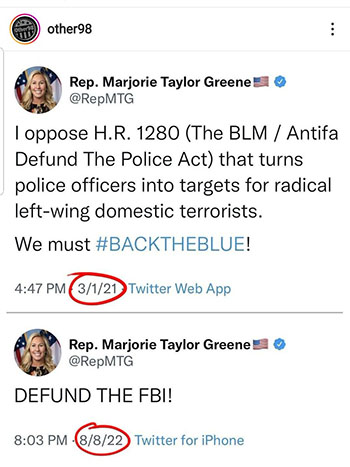 The killings of George Floyd, Breonna Taylor and many other Black Americans by police officers in recent years have sparked protests around the country. Many activists demanded cities defund their police, an idea scorned by Republicans.
Now, though, some GOP leaders have adopted the rallying cry when it comes to the FBI and former President Trump.
After the FBI conducted a search of Trump's Mar-a-Lago residence on Monday, Republicans reacted in outrage, with a handful calling for the FBI to be defunded or abolished.
South Carolina Rep. Jeff Duncan (R) wrote on Twitter, "The FBI has proven time and again that it is corrupt to the core. At what point do we abolish the Bureau and start over?"
Rep. Marjorie Taylor Greene (R-Ga.) tweeted "DEFUND THE FBI!" and is now selling apparel bearing the same slogan.
It's quite a turnaround for any Republican to talk about defunding a national law enforcement group, given that the GOP has used calls from progressives to "defund the police" as a political attack line.
In fact, those GOP arguments were so politically potent that most Democrats have abstained from the "defund the police" slogan even when they are deeply in favor of police reform. President Biden has made it clear he does not want to defund the police.
Most Republicans attacking the FBI over its search of Trump's estate also were not calling for the FBI to be defunded, even as they did question its actions.
Those that did use the phrase, however, showed few signs of walking it back, even after a search warrant was released publicly on Friday and showed authorities are looking into whether the Espionage Act was evaded through classified materials being brought to Mar-a-Lago.
Greene's office said she was not available for an interview with The Hill. But she has been active on social media, accusing Biden of "weaponizing" the FBI and the Department of Justice in a Telegram post.
In an interview on former Trump strategist Steve Bannon's podcast, Rep. Matt Gaetz (R-Fla.) compared the FBI officers to East German Stasi officers.
"The antidote has to be not one more damn penny for this administrative state that has been weaponized against our people in a very fascist way," said Gaetz.
However, in a statement to The Hill, Gaetz said his comments "do not call for defunding the FBI" but for "reformation of the worst elements of the administrative state. Congress should use the power of the purse to achieve that goal."
He added, "Taxpayer money shouldn't fund any agency that targets its political opponents."
It's quite a shift from the GOP rhetoric about state and local police in the context of their policing of minority communities in particular.
Republicans have criticized Democratic lawmakers for encouraging the notion of "defunding" and even "abolishing" police forces.
Some Republicans have claimed Democrats' approval of the idea has led to a recent uptick in crime across the country — despite the fact that Biden has pushed back at the defunding language.
"Crime is exploding in Democrat-run cities … this is 100% the result of their left-wing policies of defunding the police, backing BLM / ANTIFA, destroying families, and coddling of criminals!" Greene tweeted in June 2021.
In a 2020 Twitter thread, Duncan said that while he supports the right for people to "peacefully protest about policing concerns," most law enforcement officers are "great public servants" who "care deeply about protecting individual rights."
"It's a sad and scary day in America when we have citizens calling to defund and dismantle the police," Duncan's thread said. "This dangerous call to action would NOT make our communities safer. It would only weaken law & order and cause far more chaos than we've already seen."
Duncan's office did not respond to request for comment.
Advocates for defunding the police have said the idea is to provide different, more humanitarian resources for overpoliced communities, and that Republicans have twisted the meaning behind the phrase.
Alicia Garza, principal of Black to the Future Action Fund and a co-founder of the Black Lives Matter organization, said the Republican lawmakers' "hypocrisy" over the phrase is nothing more than "political theater."
"They're playing this role where they're going to try and stir up as much false outrage as possible," she said. "People use these kinds of moments not only to create wedges between communities but to distract people from what's really at stake and, frankly, to distract people from the fact that they don't have real solutions to some of the challenges that we're facing."
She added that the demands to defund police are "fundamentally trying to bring humanity back to communities who have been dehumanized" and these politicians "don't deserve to stand on that same platform."
"Hospitals are closing in our communities, and grocery stores and quality schools — all the things that make communities thrive," said Garza. "Black people are saying, we need our communities refunded. Our communities have been stripped of all of the services and safety net protections that we have fought hard for … What I hear Black communities saying through our year-long Black Census Project is not necessarily that they want to defund police. What I hear is we want police to be held accountable when they commit crimes in our communities."
But Garza said she's not holding her breath for those conversations to take place.
"These are the real kinds of policy discussions that we should be having," said Garza. "Unfortunately, because this is mostly theater, we're not going to have those conversations."
***********************
GOP's "Just Comply" Lie Shredded As Trump Allies Contradict Themselves Over Search
by Ari Melber
Aug 18, 2022
MSNBC's Chief Legal Correspondent Ari Melber reports on the justice system in America, as recent Trump probes reveal the GOP's double standard on compliance and violence. Many GOP leaders contradicting their past demands the people "just comply" with police, joining with Trump in resisting lawful subpoenas and probes. Melber reports on how Trump and other powerful, well-connected white people are treated differently by law enforcement, and how the "just comply" rhetoric seemingly only applies to Black and brown people. This is part one of a special MSNBC report. Part two is also available online: bit.ly/thebeatwithari
Transcript
0:01
turning to our special report
0:03
right now on the rule of law and
0:05
following the law which donald trump
0:07
refuses to do
0:08
the fbi searched trump's florida home
0:11
because they said trump was illegally
0:12
holding top-secret property and had
0:14
violated lawful orders to return it
0:17
and a judge agreed
0:19
and then
0:20
as everyone now knows that search
0:22
unearthed some of that very property
0:24
which they said he was illegally holding
0:26
and illegally
0:28
refusing to provide back under subpoena
0:31
so that's bad for trump
0:32
his actions though
0:34
are separate legally from whether he
0:36
intentionally committed a new felony
0:38
there it may turn out that as far as the
0:40
justice department's concerned
0:42
they subpoenaed the material
0:44
they viewed trump's lawyers as violating
0:46
the order around that
0:48
and that they went back into his house
0:50
primarily to just get the material
0:53
and we know the attorney general
0:55
said they had already tried less
0:57
intrusive means
0:58
and then only went in because trump
1:01
was not
1:03
complying
1:05
the department does not take such a
1:07
decision lightly
1:09
where possible it is standard practice
1:11
to seek less intrusive means
1:15
that's true
1:16
and garland was basically telling trump
1:18
in public that trump brought the search
1:20
on himself
1:22
by all that time refusing to comply
1:24
he had well over a year to return the
1:26
material in general he had many weeks
1:28
after it was subpoenaed he didn't comply
1:30
at all
1:31
that is striking because remember
1:34
it is conservatives and many trump
1:36
allies who have been so quick to lecture
1:39
you
1:40
and americans everywhere whenever this
1:42
has come up in the past how if law
1:44
enforcement asks you to do just about
1:46
anything then you have to go ahead
1:49
and just comply
1:52
just comply please listen i don't know
1:54
why the gentleman didn't heal when he
1:56
was asked to yield
1:58
those are trump allies telling in those
2:00
cases victims of police brutality they
2:02
should comply and yield why didn't you
2:05
yield
2:06
and that's not any kind of just a couple
2:08
isolated examples
2:09
it is a standard piece of conservative
2:14
refrains
2:17
in these clashes over law enforcement
2:18
and policing including when people are
2:21
documented as innocent or did nothing
2:23
wrong or are facing very aggressive or
2:25
even illegal police treatment
2:27
the line we hear over and over is just
2:29
follow the officers commands and comply
2:32
no matter what
2:35
if in fact a police officer gives you a
2:37
command please exit the car you should
2:40
say yes officer no officer okay officer
2:43
i wish he would have complied a whole
2:44
lot earlier bad decisions by a cop but
2:47
if those decisions wouldn't have been
2:48
made if the perp didn't
2:51
run away just comply please listen
2:54
yeah just comply
2:56
this frequent conservative claim goes
2:58
well beyond complying with lawful police
3:00
requests i mean listen to what we just
3:02
heard the demand is comply first
3:05
fully no matter what yes officer
3:08
make any objections that may come up
3:09
presumably later
3:11
and this
3:12
logic this argument this talking point
3:14
has come from conservatives over and
3:16
over so i'm showing you some stuff
3:18
that's on air but this is in communities
3:20
around america minnesota has a police
3:23
union representative bryan peters who in
3:25
that dante wright case who was killed by
3:27
an officer mistakenly drawing a gun said
3:29
well still
3:31
they should have just complied
3:33
and he argued that it was the
3:34
non-compliance that set off the chain of
3:36
events that led to the death
3:37
houston police has a union and they had
3:39
a similar take when they said
3:42
quote comply don't die
3:45
live to have your day in court
3:47
those are real examples
3:50
and that includes times where police
3:53
were later found to make mistakes sort
3:55
of according to court used excessive
3:57
force sometimes even on tape but that
3:59
loud stubborn and often smug lecture
4:02
comes from national political elites on
4:04
the right and maga leaders and trump
4:07
allies all the way down to those police
4:08
unions i mentioned comply
4:10
that's even when innocent people were
4:11
injured or beaten or killed
4:14
that's a context here for the recent
4:15
legal problems for trump because
4:17
again this sometimes gets almost pushed
4:19
out there's so much going on and that's
4:21
why it's our special report right now
4:23
because i want
4:24
everyone to understand
4:26
donald trump was given months to comply
4:29
but he didn't and trump aides who've
4:31
been given special careful elite
4:33
treatment when asked to follow the law
4:35
and testify
4:36
have benefited
4:37
from that whole different approach
4:40
there are trump officials though who
4:42
partially resisted and there are others
4:44
especially for the january 6 committee
4:45
who fully resisted
4:47
no compliance
4:49
and i want to be clear we're talking
4:50
about
4:51
donald trump and other powerful
4:54
well-connected
4:55
white people
4:56
who have acted like they are above the
4:58
law and their own past demands some of
5:00
which i just showed you
5:02
are really
5:03
not about the rules they're just telling
5:05
others to comply
5:08
and many of those other cases involve
5:09
regular citizens who don't have
5:11
political connections and who are
5:12
disproportionately black and brown
5:14
people in america
5:16
so this is a documented double standard
5:18
lawless resistance for these trump
5:20
elites
5:21
regimented compliance or violence for
5:24
regular citizens and especially regular
5:26
citizens who are black and brown
5:29
and before i go any further
5:31
let's bring it together we try to be
5:33
clear here and we try to be as factual
5:35
and clear as possible
5:37
this is the same premise which animated
5:39
all those trump fans on january 6.
5:41
they genuinely expected to go in and
5:43
break the law
5:44
they genuinely seem to operate with
5:47
immunity to feel immune because of their
5:48
privilege and worldview and they
5:51
brutally attacked police because they
5:52
never cared about police or blue lives
5:55
to begin with
5:56
now there are some people that day and
5:57
the days after in america who were
5:59
actually surprised by the trump fans
6:01
that day
6:03
or some said gosh this is
6:05
hypocritical given the past talk of blue
6:07
lives
6:09
you know who wasn't shocked
6:11
all the maga people doing those crimes
6:15
because that's what they came to do
6:17
and you know who else wasn't shocked
6:20
their leader
6:21
who at the time was trying
6:24
to lead a failed coup that was thwarted
6:27
donald trump was not shocked he was
6:29
elated excited
6:30
juiced up
6:31
and he saluted them and called them
6:33
special in real time
6:35
because all those people together who
6:37
many of them hadn't met before they
6:38
already knew about this if
6:40
you were surprised or someone you know
6:42
was surprised then someone you know was
6:44
taking the blue livestock at face value
6:46
but it was crap and they all knew it was
6:48
crap because it was about power and
6:51
dominance and race
6:53
and those people
6:55
view the law as a way to enforce a
6:57
right-wing white supremacy
7:01
and if they can't get the police to do
7:02
that which apparently they couldn't on
7:04
the steps of the capitol then they have
7:05
little use for it and that's the deeper
7:07
more disturbing context for what we're
7:09
living through right now which i guess
7:11
is surprising to some people
7:13
so let it not be surprising anymore you
7:15
have to see facts before you can fix
7:17
facts
7:18
that's the disturbing context for this
7:20
seemingly habitual political hypocrisy
7:23
around the lawful search of donald
7:25
trump's home
7:27
the fbi rate of president trump is a
7:29
complete abuse and overreach of its
7:31
authority the way our federal government
7:33
has gone it's like what we thought about
7:34
the gestapo this is absurd think about
7:37
it this has been a wish hunt for six
7:39
years what they've been doing to
7:41
president trump is political persecution
7:43
it is joe biden's doj and they have
7:46
weaponized this fbi at every turn if
7:48
you're a republican conservative
7:51
and you hear the fbi is going after
7:53
trump again it sounds alarm bells
7:57
alarm bells
7:59
well alarms are for emergencies if there
8:00
are alarms here i can tell you
8:02
the response to people connected to
8:04
trump
8:05
who have not been complying has been at
8:07
a very slow
8:09
careful
8:10
sensitive pace
8:12
take two of trump's former white house
8:14
aides who refused to comply with lawful
8:16
subpoenas bannon and navarro well
8:19
they've had plenty of time bannon had
8:20
weeks between refusing to comply and
8:22
being held in contempt another month
8:25
until he was indicted in november
8:28
and even in a dispute over
8:29
non-compliance
8:31
i want you to understand legally the
8:33
justice department still arranged to
8:35
give mr bannon the opportunity to come
8:37
involuntarily which he did
8:40
now peter navarro spoke openly about his
8:43
efforts to overthrow the election
8:45
which brought legal scrutiny on him
8:48
he put out a book he did interviews
8:50
only after all that did congress
8:52
subpoena him in february
8:54
then when he did not comply he was held
8:56
in contempt in april and indicted
8:59
months later in june
9:01
now after all that
9:04
unlike bannon the doj did not try
9:07
perhaps because they are not naive they
9:10
did not try to get him to come
9:11
involuntarily
9:13
similar to the legal process for trump
9:15
where you have to go to a judge the doj
9:17
determined navarro was not legally
9:20
trustworthy that's not an opinion
9:22
there's actually a standard for that so
9:23
they asked the judge to approve what was
9:25
the less intrusive approach and that
9:27
left mr navarro outraged rattled
9:30
and seemingly experiencing something
9:32
that he did not think could happen
9:35
to him
9:37
former adviser peter navarro is at this
9:40
hour in federal custody he was issued a
9:43
subpoena in february to produce
9:44
documents and appear before the
9:46
committee in march but refused to do
9:48
either what did they do
9:50
they intercepted me getting on the plane
9:53
and then they put me in handcuffs they
9:55
bring me here they put me in leg irons
9:58
they stick me in a cell that's punitive
10:00
that what they did to me today
10:03
violated the constitution
10:07
they did put him in handcuffs
10:09
handcuffs are part of getting arrested
10:11
just like going into the cell before an
10:13
arraignment
10:15
now mr navarro then went on fox news
10:18
with those same complaints i just showed
10:20
you
10:21
which is the same place where viewers
10:23
had been lectured so many times on how
10:26
to avoid exactly those problems with
10:28
police
10:30
just say yes sir yes officer and comply
10:35
if in fact a police officer gives you a
10:38
command please exit the car you should
10:40
say yes officer no officer okay officer
10:45
that's not how navarro sounded when
10:47
dealing
10:48
with law enforcement or the officers of
10:50
the subpoena nor bannon nor trump who's
10:53
going well beyond the hannity standard
10:55
of yes officer and currently threatening
10:57
retaliation
11:00
but
11:01
you could say right
11:02
what's the context what's the history
11:04
those clips are from
11:07
those reactions to police incidents
11:10
with black americans
11:12
[Music]
11:32
you