Body Count: Moral Poverty ... And How to Win America's War Against Crime and Drugs
by William J. Bennett, John J. Dilulio, Jr., John P. Walters
© 1996 by William J. Bennett
NOTICE: THIS WORK MAY BE PROTECTED BY COPYRIGHT
YOU ARE REQUIRED TO READ

THE COPYRIGHT NOTICE AT THIS LINK

BEFORE YOU READ THE FOLLOWING WORK, THAT IS AVAILABLE SOLELY FOR PRIVATE STUDY, SCHOLARSHIP OR RESEARCH PURSUANT TO 17 U.S.C. SECTION 107 AND 108. IN THE EVENT THAT THE LIBRARY DETERMINES THAT UNLAWFUL COPYING OF THIS WORK HAS OCCURRED, THE LIBRARY HAS THE RIGHT TO BLOCK THE I.P. ADDRESS AT WHICH THE UNLAWFUL COPYING APPEARED TO HAVE OCCURRED. THANK YOU FOR RESPECTING THE RIGHTS OF COPYRIGHT OWNERS.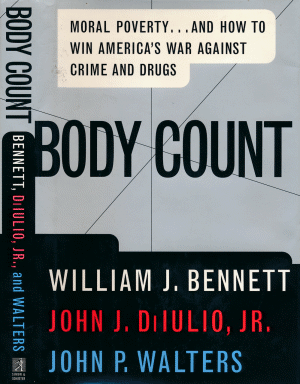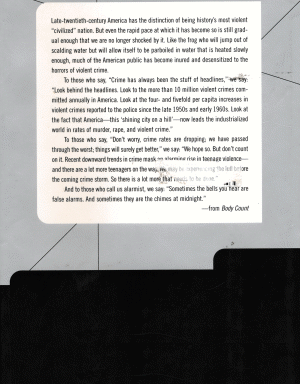 Late-twentieth-century America has the distinction of being history's most violent "civilized" nation. But even the rapid pace at which it has become so is still gradual enough that we are no longer shocked by it. Like the frog who will jump out of scalding water but will allow itself to be parboiled in water that is heated slowly enough, much of the American public has become inured and desensitized to the horrors of violent crime.
To those who say, "Crime has always been the stuff of headlines," we say: "Look behind the headlines. Look to the more than 10 million violent crimes committed annually in America. Look at the four- and fivefold per capita increases in violent crimes reported to the police since the late 1950s and early 1960s. Look at the fact that America -- this "shining city on a hill" -- now leads the industrialized world in rates of murder, rape, and violent crime."
To those who say, "Don't worry, crime rates are dropping; we have passed through the worst; things will surely get better," we say: "We hope so. But don't count on it. Recent downward trends in crime mask an alarming rise in teenage violence -- and there are a lot more teenagers on the way. We may be experiencing the lull before the coming crime storm. So there is a lot more that needs to be done."
And to those who call us alarmist, we say: "Sometimes the bells you hear are false alarms. And sometimes they are the chimes at midnight."
-- from Body Count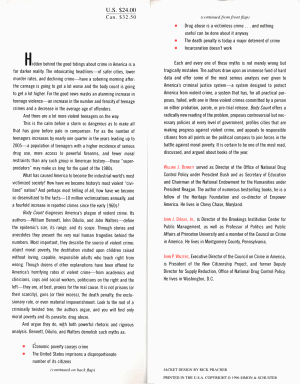 Hidden behind the good tidings about crime in America is a far darker reality. The intoxicating headlines -- of safer cities, lower murder rates, and declining crime -- have a sobering morning after: the carnage is going to get a lot worse and the body count is going to get a lot higher. For the good news masks an alarming increase in teenage violence -- and increase in the number and ferocity of teenage crimes and a decrease in the average age of offenders.
And there are a lot more violent teenagers on the way.
This is the calm before a storm so dangerous as to make all that has gone before pale in comparison. For as the number of teenagers increases by nearly one quarter in the years leading up to 2005 -- a population of teenagers with a higher incidence of serious drug use, more access to powerful firearms, and fewer moral restraints than any such group in American history -- these "super-predators" may take us long for the quiet of the 1980s.
What has caused America to become the industrial world's most victimized society? How have we become history's most violent "civilized" nation? And perhaps most telling of all, how have we become so desensitized to the facts -- 10 million victimizations annually, and a fourfold increase in reported crimes since the early 1960s?
Body Count diagnoses America's plague of violent crime. Its authors -- William Bennett, John Dilulio, and John Walters -- define the epidemic's size, its range, and its scope. Through stories and anecdotes they present the very real human tragedies behind the numbers. Most important, they describe the source of violent crime: abject moral poverty, the destitution visited upon children raised without loving, capable, responsible adults who teach right from wrong. Though dozens of other explanations have been offered for America's horrifying rates of violent crime -- from academics and clinicians, cops and social workers, politicians on the right and the left -- they are, at best, proxies for the real cause. It is not prisons (or their scarcity), guns (or their excess), the death penalty, the exclusionary rule, or even material impoverishment. Look to the root of a criminally twisted tree, the authors argue, and you will find only moral poverty and its parasite: drug abuse.
And argue they do, with both powerful rhetoric and rigorous analysis. Bennett, Dilulio, and Walters demolish such myths as
• Economic poverty causes crime
• The Untied States imprisons a disproportionate number of its citizens
• Drug abuse is a victimless crime ... and nothing useful can be done about it anyway
• The death penalty is today a major deterrent of crime
• Incarceration doesn't work
Each and every one of these myths is not merely wrong but tragically mistaken. The authors draw upon an immense fund of hard data and offer some of the most serious analysis ever given to America's criminal justice system -- a system designed to protect America from violent crime, a system that has, for all practical purposes, failed, with one in three violent crimes committed by a person on either probation, parole, or pre-trial release. Body Count offers a radically new reading of the problem, proposes controversial but necessary policies at every level of government, profiles cities that are making progress against violent crime, and appeals to responsible citizens from all points on the political compass to join forces in the battle against moral poverty. It is certain to be one of the most read, discussed, and argued about books of the year.
William J. Bennett served as Director of the Office of National Drug Control Policy under President Bush and as Secretary of Education and Chairman of the National Endowment for the Humanities under President Reagan. The author of numerous bestselling books, he is a fellow of the Heritage Foundation and co-Director of Empower America. He lives in Chevy Chase, Maryland.
John J. Dilulio, Jr., is Director of the Brookings Institution Center for Public Management, as well as Professor of Politics and Public Affairs at Princeton University and a member of the Council on Crime in America. He lives in Montgomery County, Pennsylvania.
John P. Walters, Executive Director of the Council on Crime in America, is President of the New Citizenship Project, and former Deputy Director for Supply Reduction, Office of National Drug Control Policy. He lives in Washington, D.C.
To the victims of violent crime in America and their families
Table of Contents:
• 1. Introduction
• 2. The Root Cause of Crime: Moral Poverty
• 3. Restraining and Punishing Street Criminals
• 4. Drugs, Crime, and Character
• 5. About Moral Poverty: Some Things We Need to Do
• Appendix: Official Criminal Histories of 40 "Low-Level" Wisconsin Prisoners and Probationers
• Notes
• Index
Other Books by William J. Bennett
The Children's Book of Virtues
The Moral Compass
The Book of Virtues
The Index of Leading Cultural Indicators
The De-Valuing of America
Counting by Race (co-author Terry Eastland)
Our Children, and Our Country)
POLICING MORAL POVERTY: NEW YORK CITY



It is truly amazing how much good can be done by law enforcement officials who take doing justice seriously and muster the human, financial, and administrative resources necessary to address the social disorders that lead to crime. What prosecutor Harry L. Shorstein did in Jacksonville, police chief William J. Bratton did in none other than New York City, with results that were even more amazing.

As Bratton took the helm of the New York Police Department in 1994, serious crime began to drop ... and drop ... and drop. For two full years, crime fell in each and every precinct. Murders fell by 39 percent. Robberies were cut by a third. Burglaries plummeted by about a quarter.

Soon, news of the "Bratton miracle" spread both nationally and internationally. The police chief made the cover of Time magazine. Reporters from abroad who only a few years earlier had filed stories on how crime was out of control in New York crowded the chief's office for the latest numbers on how much crime in the city was dropping.

Naturally, a number of criminologists were highly skeptical. Some doubted the numbers; but the numbers were probably the most reliable ever, since Bratton had introduced a new system for checking, double-checking, and triple-checking crime activity and police reports throughout the 76 precincts.[/b]

***

RACISM AND CRACK

On October 30, 1995, President Clinton signed legislation preventing a reduction in federal mandatory minimum penalties for the possession of crack cocaine from taking effect, as recommended by the U.S. Sentencing Commission. The legislation overturning the recommendation of the U.S. Sentencing Commission passed the House 332 to 83 and was approved by the Senate unanimously. But the debate over the federal crack penalties -- five years in prison for five grams, or roughly 130 "rocks" of crack -- focused on two charges: (1) that the law was unjust because the crack penalties were two to six times higher than for a comparable quantity of powder cocaine; and most divisive of all, (2) that the law was racist because over 90 percent of those sentenced under it were black. When the Reverend Jesse Jackson addressed the Million Man March in Washington on October 16, he said of the federal crack law and its enforcement: "That's wrong. It's immoral. It's unfair. It's racist. It's ungodly. It must change." [44]

In fact, it is unlikely the controversy would have arisen if crack were a race-neutral plague. Unfortunately, in the crack trade, both predator and prey come disproportionately from black, inner-city communities. As noted above, cocaine-driven emergency room admissions for African-Americans are at historic high levels -- 900 percent above the rate for the population as a whole.

Yet Reverend Jackson and others maintained, against the evidence, that crack is no different than powder cocaine. And having played the race card, few national leaders ventured to challenge him with the facts:

• Crack is a much more powerful psychoactive agent than powder cocaine. Crack reaches the brain in just 19 seconds, making it far more addictive than snorted powder.

• Crack use is associated with the explosion in the most horrifying cases of child abuse in recent years. And while drug addiction has long been a path to prostitution, crack has created what is called on the street the "freak house" phenomenon, where female crack addicts (variously known as "rock stars" or "toss-ups") gather to trade sex for their next five-dollar piece of crack.

• Crack dealers are notorious for raising violent drug trafficking to new extremes: the trial of Washington, D.C.'s First Street Crew, for example, was marked by the shooting of eleven witnesses -- five of them fatally. When federal law enforcement agencies have assisted local officials in apprehending crack organizations like the First Street Crew, their actions disproportionately benefited minority inner-city residents who have to put up with the drive-by shootings and the unlivable neighborhoods. ...

And no one has credibly claimed that federal enforcement patterns reflect bias....

In fact, very few federal crack defendants are low-level, youthful, and nonviolent. According to the U.S. Sentencing Commission, of the 3,430 crack defendants convicted in 1994, there were just 51 youthful, small-time crack offenders with no prior criminal history and no weapons involvement (48 of the 51 were black). [46] And under the so-called safety valve provision of the 1994 Crime Act, which repealed mandatory minimum penalties for first-time, nonviolent offenders, cases similar to these 51 are now eligible for specially lenient sentences.

What the Reverend Jackson actually did in charging racism was to identify the interests of the black community with a small number of predatory criminals, instead of with the millions of inner-city residents who have equal rights to safe neighborhoods. He used race to argue for denying the protection of law to black Americans.

-- Body Count: Moral Poverty ... And How to Win America's War Against Crime and Drugs, by William J. Bennett, John J. Dilulio, Jr., John P. Walters