Heartbreaking Crimes: Kids Without a Conscience? Rape, murder, a baby dead at a prom: A look at young lives that seem to have gone very, very wrong
Why are kids killing? Coincidence -- or scary trend? A spate of murders allegedly committed by teens leaves experts, family and police seeking answers
by Maria Eftimiades, Susan Christian Goulding, Anthony Duignan-Cabrera, Don Campbell, Jane Sims Podesta
People, 06/23/97, Vol. 47 Issue 24, p46. 8p. 16 Color Photographs, 2 Black and White Photographs.
6/ 23/ 97
NOTICE: THIS WORK MAY BE PROTECTED BY COPYRIGHT
YOU ARE REQUIRED TO READ

THE COPYRIGHT NOTICE AT THIS LINK

BEFORE YOU READ THE FOLLOWING WORK, THAT IS AVAILABLE SOLELY FOR PRIVATE STUDY, SCHOLARSHIP OR RESEARCH PURSUANT TO 17 U.S.C. SECTION 107 AND 108. IN THE EVENT THAT THE LIBRARY DETERMINES THAT UNLAWFUL COPYING OF THIS WORK HAS OCCURRED, THE LIBRARY HAS THE RIGHT TO BLOCK THE I.P. ADDRESS AT WHICH THE UNLAWFUL COPYING APPEARED TO HAVE OCCURRED. THANK YOU FOR RESPECTING THE RIGHTS OF COPYRIGHT OWNERS.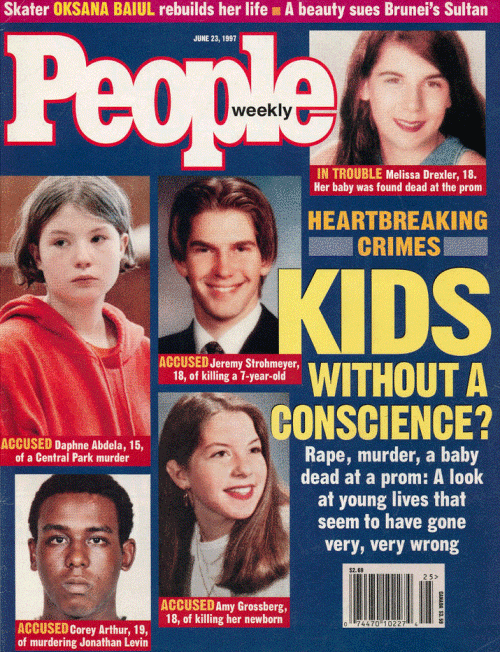 ACCUSED: Daphne Abdela, 15, of a Central Park murder
ACCUSED: Jeremy Strohmeyer, 18, of killing a 7-year-old
ACCUSED: Corey Arthur, 19, of murdering Jonathan Levin
ACCUSED: Amy Grossberg, 18, of killing her newborn
IN TROUBLE: Melissa Drexler, 18. Her baby was found dead at the prom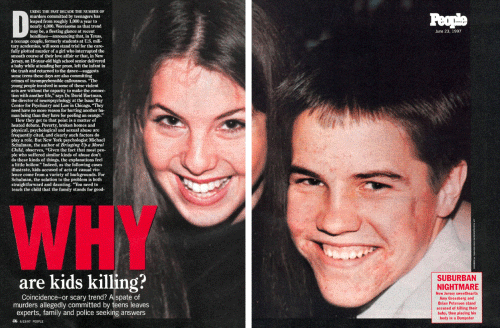 DURING THE PAST DECADE THE NUMBER OF murders committed by teenagers has leaped from roughly 1,000 a year to nearly 4,000. Worrisome as that trend may be, a fleeting glance at recent headlines -- announcing that, in Texas, a teenage couple, formerly students at U.S. military academies, will soon stand trial for the carefully plotted murder of a girl who interrupted the smooth course of their love affair or that, in New Jersey, an 18-year-old high school senior delivered a baby while attending her prom, left the infant in the trash and returned to the dance -- suggests some teens these days are also committing crimes of incomprehensible callousness. "The young people involved in some of these violent acts are without the capacity to make the connection with another life," says Dr. David Hartman, the director of neuropsychology at the Isaac Ray Center for Psychiatry and Law in Chicago. "They need have no more reason for hurting another human being than they have for peeling an orange."
How they get to that point is a matter of heated debate. Poverty, broken homes and physical, psychological and sexual abuse are frequently cited, and clearly such factors do play a role. But New York psychologist Michael Schulman, the author of Bringing Up a Moral Child, observes, "Given the fact that most people who suffered similar kinds of abuse don't do these kinds of things, the explanations feel a little hollow." Indeed, as the following cases illustrate, kids accused of acts of casual violence come from a variety of backgrounds. For Schulman, the solution to the problem is both straightforward and daunting. "You need to teach the child that the family stands for goodness," he says, "not simply for comfort and intellectual achievement, but that moral excellence is honored."
Melissa Drexler, 18
Among members of the class of '97 at Lacey Township High School in New Jersey, Melissa Drexler, 18, was known as a quiet, diligent student—an aspiring fashion designer who dreamed of becoming the next Donna Karan. She seemed shy and opened up only to a few close friends. "When you get to know her, she can be exciting," says Jim Botsacos, 18, a longtime friend. "She likes to have fun."
But Drexler concealed more from her classmates than a desire to enjoy herself. Although it now appears that she was pregnant for most of her senior year, Drexler managed to hide her condition—from her classmates, parents and boyfriend, John Lewis, 20—by wearing baggy, loose-fitting clothes.
On June 6 she went to her senior prom. Dressed in a floor-length, black sleeveless velvet gown, Drexler arrived in a limousine at the Garden Manor banquet hall in Aberdeen, N.J., at about 7:45 p.m. with Lewis. She immediately retreated to the rest room with a classmate to freshen up. When her friend grew concerned that she was taking so long in one of the stalls, Drexler, Monmouth County prosecutors say, told her she was having a heavy period and to let their dates know she would be a while.
The girl returned to the rest room about 15 minutes later, and Drexler emerged, zipped her dress and touched up her makeup. A few minutes later, after asking the deejay to play a Metallica song, she hit the dance floor with Lewis, a Wal-Mart stockroom worker she had been dating for about two years. "She seemed normal," says fellow student Jeff Diab, 18. "All smiles." Meanwhile, a cleaning woman, summoned by school officials to clean up a blood-streaked stall in the ladies room, discovered the lifeless body of a 6-lb. 6-oz. baby boy in a tied garbage bag in a trash basket. After learning that Drexler was the last to use the rest room, teachers began questioning her. "She was not upset," says Monmouth County prosecutor Robert Honecker. "She indicated that she had delivered an infant." Such a blank response, though bewildering, is not unheard of, says Dr. Phillip Resnick, a professor of psychiatry at Case Western Reserve University in Cleveland. "[With] mothers who deny their pregnancy and don't form a bond, it's like a foreign body going through them—like a peach pit."
The incident has left Drexler's middle-class hometown of Forked River in shock. By all accounts, the teenager—who could face murder charges if prosecutors can prove the baby was alive at birth—was an indulged only child whose parents, John, a computer worker, and Marie, a bank employee, provided ample love and support. But Debbie Jacobson, a classmate's mother, says Melissa "is a child emotionally. She didn't make decisions on her own about things." Adds Botsacos: "Her family is almost too nice. They didn't want her to have a job. They bought her a car, paid for her gas, bought her clothes. She got what she wanted when she wanted it." This time it seems Drexler got something she didn't want—and cast it away.
[x]
Arriving at the prom with John Lewis, Drexler seemed untroubled
[x]
Melissa Drexler left her newborn in a trash can, then danced at her senior prom
Jeremy Strohmeyer, 18
Shortly before 4 a.m. on May 25, a security camera in a Primm, Nev., casino captured 7-year-old Sherrice Iverson-on her own as her father gambled nearby—playing hide-and-seek in a video arcade with Jeremy Strohmeyer, 18, a college-bound high school senior from Long Beach, Calif. Moments later, when Sherrice dashed into the women's room, Strohmeyer followed. There, allegedly, he raped and strangled her. He then continued celebrating the Memorial Day holiday weekend with best friend David Cash Jr., 18, and Cash's father. Police say the younger Cash had trailed Strohmeyer into the rest room but left after failing to persuade him to let the little girl alone. On his return to Long Beach, a friend says, Strohmeyer told him he'd had a great time.
Little in Strohmeyer's apparently ordinary, middle-class background—his mother, Winifred, is a marketing executive; his father, John, a well-to-do real estate investor—seems to account for the callousness of the murder of which he is accused. When a Los Angeles TV station aired the surveillance tape on May 26, several stunned classmates recognized him and told their parents, who tipped off police. Two days later, Strohmeyer was arrested. (Cash, who turned himself in, was released and has not been charged in the killing.) Jean Matz, a neighbor of the Strohmeyers', was shocked. "The mother was working all the time. She is very successful," Matz says. "[John] ran the house." Once a top student and volleyball player at Woodrow Wilson High School, Strohmeyer dropped off the team two months ago and, friends say, began losing weight. His grades had plummeted. Volleyball coach John Crutchfield suspected he was using methamphetamines, but Strohmeyer denied it. Around the same time, his father threw him out of the house—for disregarding curfew, police say—though he was living at home again prior to the crime. "He would drink too much at parties to impress people," says one classmate. "Most of the time he seemed nice, but he could get obnoxious." And there was one other hint of a darker side. A friend, Andy Edling, says that earlier this year, Strohmeyer had showed him an extensive collection of pornographic photos culled from the Internet. "What struck me most was the little children," Edling says. "I thought it was gross, and he just laughed."
[x]
Strohmeyer (in custody May 30) "wanted no rules" at home, says a police officer. " Jeremy thought that he should have total independence after he turned 18."
[X]
Jeremy Strohmeyer allegedly killed a little girl playing hide-and-seek "Sherrice had her life plucked from her without having a chance to fulfill her destiny," says Carol Croghan, who sang at the little girl's funeral.
[x]
"We thought he was a great kid," says a family friend of Strohmeyer (modeling last year). "It's incomprehensible."
Daphne Abdela, 15
Christopher Vasquez, 15
For all the thousands of New Yorkers who venture into Manhattan's Central Park by day, few are aware of the hidden world that flourishes in the park after dark. That's when teenagers like 15-year-old Daphne Abdela, daughter of a millionaire businessman, come in their Tommy Hilfiger jackets and baggy pants to share the night with other would-be rebels in an odd subculture of privileged kids playing "gangstas."
On May 22 the playacting stopped; now, Abdela and her new boyfriend, Christopher Vasquez, 15, stand accused of one of the grisliest crimes in recent New York history. Police say Vasquez attacked Michael McMorrow, a 44-year-old real estate agent with whom the two had been drinking, stabbing him 30 times, almost cutting off his nose and a hand. Then, Abdela allegedly told police, she instructed Vasquez "to gut" McMorrow so "it would sink" when they heaved his body into a lake.
Since their arraignment on murder charges, a portrait has emerged of two troubled teens, adrift and desperately seeking acceptance. Abdela was known as a quiet rich kid who got loud once she started drinking. "She always tried to act like she was from a bad neighborhood," says a friend. Vasquez, meanwhile, slight and bespectacled, attended the exclusive Beekman School but hoped to prove his toughness by joining a gang. A longtime friend says that in the past year, Vasquez suddenly changed. "He was never in school," he says. "He punched my friend in the face at this party...for no reason."
Both teens have a long history of emotional problems. Vasquez was taking Zoloft, an antidepressant, and Lorazepam, an antianxiety drug. And Abdela has undergone treatment for her drinking. Clearly her parents—Angelo, an Israeli-born top executive in an international food company, and Catherine, a French-born former model—had an inkling she was once again heading for trouble. Only one week before McMorrow's murder, they had withdrawn her from the competitive Jesuit-run Loyola School she attended and wait-listed her at the Day Top Village drug treatment center. Still, friends and teachers of both teens find the violence of the crime unfathomable. "If you're looking for some pattern of behavior," says Richard J. Soghoian, her former headmaster, "it's just not there. In fairness, it's not."
[x]
"McMorrow" was a real sweetheart," says Glenn Golub, a coworker. "Everybody loved Mike."
[x]
Christopher Vasquez is charged with knifing a man, then gutting him on orders from Daphne Abdela
[x]
"Once in a while he would flash a knife to be macho, but he wasn't a tough guy," a friend says of Vasquez (center, in court on May 28). "When [Abdela] asked him to do something, he'd do it."
[x]
"[Abdela] had a drinking problem," says a friend, "but she wasn't a violent person."
Alex Baranyi, 18
David Anderson, 18
In Bellevue, Wash., a comfortable Seattle suburb, it's easy to miss the pockets of despair amid the prosperity. Yet the likes of Alex Baranyi are more common than some would admit. Baranyi, now 18, whose parents had separated when he was 8, had been taken to Pennsylvania by his father, Alex Sr., a software consultant, then sent back to Washington to live with his mother, Patricia, an educational assistant. Last November, Baranyi and his best friend, David Anderson, 18, who had left home and moved in with friends, dropped out of high school. At night they hung out with other kids at a local bowling alley and at a Denny's, where they would sit drinking coffee and killing time.
The void in their lives was filled with fantasy games. In recent years, Baranyi and Anderson had become followers of so-called goth—for gothic—subculture, in which devotees dress in black and wear white makeup to give themselves a spectral look. Baranyi was also a fan of Highlander, a TV series about an immortal sword-wielding hero; he owned a sword collection himself and talked often of death. "Sometimes I thought he might be sort of suicidal," says Dawn Kindschi, 17, an acquaintance who had filed a complaint against Baranyi last year after he allegedly beat her.
Despite his antisocial appearance, that was Baranyi's only serious brush with the law—until this year. On Jan. 5 the body of Kimberly Ann Wilson, 20, was found in a Bellevue park. She had been clubbed with a baseball bat and strangled. When police went to the Wilson home to deliver the news, they found Kim's parents, William, 52, and Rose, 46, and her sister Julia, 17, bludgeoned and stabbed to death.
Acting on a tip, police brought Baranyi in for questioning. He allegedly confessed to murdering Kim, a friend of Anderson's, then to killing her family in the belief they might have known she was meeting them. Later, authorities arrested Anderson as a partner in the crime. The choice of Kim Wilson as victim may have been arbitrary. Police say Baranyi told them he simply wanted to kill someone because he was "in a rut." According to King County prosecutor Norm Maleng, evidence suggests that Baranyi and Anderson, who will go on trial in October, had committed the murders "for the sheer experience of killing." To Kevin Wulff, principal at Bellevue High, the local outcry over the slayings is a case of too little, too late. "We ignore [these kids] and hope they go away," says Wulff, "and then we are horrified when they commit these crimes."
[x]
Alex Baranyi and David Anderson may have killed for the thrill of it
[x]
Blood was found at the Wilson home that apparently did not belong to the victims.
[x]
Like Baranyi, Anderson liked playing the fantasy game Dungeons & Dragons.
[x]
"She was nonjudgmental and caring," says one friend of Kim Wilson. "She never noticed anything wrong with anyone."
[x]
Now being held on $10 million bail, Baranyi (in court in January) and best friend Anderson face life in prison without parole if convicted of killing Kim Wilson, her parents and her sister.
Corey Arthur, 19
Kids like Corey Arthur were the reason Jonathan Levin got into teaching, so the irony was heartbreaking when New York City police arrested him for Levin's murder on June 7. Since Levin, 31, was the son of Time Warner CEO Gerald Levin, some thought his family's wealth had played a role in his death. In fact, police say Arthur, a dropout who was often absent from Levin's English class at William H. Taft High School three years before, chose his former teacher as a victim without knowing who Levin's father was.
Raised in New York's harshest neighborhoods, Arthur, 19, barely knew his own father, who died in April. An aspiring rapper, he had, by the age of 16, been charged with heroin and cocaine possession and had been sent to a boot-camp program for young offenders. "He felt nobody cared about him," says ex-girlfriend Crystal Jacobs. "The only love he got was from people [on the street]. He would tell me, 'You got to do right.' " A friend told The New York Times, "He always wanted to have money, but he never wanted to get a job."
Levin had a reputation for helping students in need. According to police, he was at his modest Manhattan apartment on May 30 when Arthur phoned asking to see him. Police say Arthur and Montoun Hart, 25 (who had seven arrests on his record), went to Levin's place late that afternoon and tortured him with a knife until he revealed his PIN number; they also say Arthur killed Levin with a bullet to the head and that $800 was withdrawn from his account at a nearby ATM machine.
Police began an intensive pursuit that ended when one of Arthur's ex-girlfriends turned him in. Charged with first-degree murder, Arthur could face the death penalty.
[x]
A teacher who took needy kids under his wing, Levin apparently welcomed Corey Arthur to his apartment.
[x]
A large delegation from William H. Taft High, where Levin taught, attended his June 4 memorial service in New York City.
[x]
Arthur's fingerprints were reportedly found on tape used to restrain Jonathan Levin.
[x]
Corey Arthur is accused of preying on his former teacher Jonathan Levin, killed for his bank card and PIN number
Amy Grossberg, 18
Brian Peterson, 19
To their parents and neighbors in the suburban enclave of Wyckoff, N.J., Amy Grossberg and Brian Peterson are simply a couple of kids who got into trouble, then made a tragic mistake. Of course the "mistake" the then 18-year-old sweethearts are accused of making involved nothing less than the murder of their newborn son and the depositing of his body in a Dumpster outside a Delaware motel last Nov. 12. Nevertheless "there's enormous support for the couple," says Joyce Harper, owner of a Wyckoff toy store where Peterson often buys Beanie Babies for Grossberg.
In an apparent attempt to explain themselves nationwide, Grossberg and her parents, Sonye and Alan, appeared on ABC's 20/20 on June 6 with interviewer Barbara Walters. "I would never hurt anything or anybody, especially something that could come from me," said Amy. Her mother, an interior designer (her husband is a furniture store owner), praised Amy's "very special" relationship with Peterson, who works part-time for his parents' wholesale video sales business and sees Amy weekly. Though Amy said nothing about her pregnancy all summer while she was home, and her parents were apparently unaware of it, Sonye characterized her relationship with her daughter as very close. "She's always so giving and caring," she said of Amy, who volunteers as an art teacher for children at Wyckoff's Temple Beth Rishon. "I can't believe that people don't see that about her."
What many viewers thought they saw instead was the Grossbergs' apparent detachment from a deeply disturbing crime. While defense lawyers argue that mitigating circumstances will become clear in court, Jerry Capone, a Wilmington, Del., attorney who represents many disadvantaged clients, says he is especially alarmed by teenagers like Grossberg and Peterson. "These kids from strong family backgrounds should have the proper moral background," he says. "That really frightens me. It means this lack of respect for human life cuts across all economic classes."
[x]
New Jersey sweethearts Amy Grossberg and Brian Peterson stand accused of killing their baby, then placing his body in a Dumpster
[x]
Peterson (with his mother, Barbara Zuchowski) reportedly told a college staffer that he disposed of his newborn son.
[x]
For months, Amy Grossberg hid the pregnancy that ended with the death of her baby
[x]
Brian Peterson lives a mile from the Grossbergs' Wyckoff, N. J., condo ( above).
[x]
Sonye and Alan Grossberg (leaving court with their daughter in March) borrowed to post Amy's $300,000 bail.
MARIA EFTIMIADES in Forked River, SUSAN CHRISTIAN GOULDBING in Los Angeles, ANTHONY DUIGNAN-CABRERA in New York City, DON CAMPBELL in Bellevue, JANE SIMS PODESTA in Washington, and bureau reports
© Time Inc., 1997.