Part 1 of 2
The Last Days of Danny Casolaro: Murder or Suicide: However you Look At It, the Story Killed Him
by James Ridgeway and Doug Vaughan
The Village Voice
October 15, 1991
NOTICE: THIS WORK MAY BE PROTECTED BY COPYRIGHT
YOU ARE REQUIRED TO READ

THE COPYRIGHT NOTICE AT THIS LINK

BEFORE YOU READ THE FOLLOWING WORK, THAT IS AVAILABLE SOLELY FOR PRIVATE STUDY, SCHOLARSHIP OR RESEARCH PURSUANT TO 17 U.S.C. SECTION 107 AND 108. IN THE EVENT THAT THE LIBRARY DETERMINES THAT UNLAWFUL COPYING OF THIS WORK HAS OCCURRED, THE LIBRARY HAS THE RIGHT TO BLOCK THE I.P. ADDRESS AT WHICH THE UNLAWFUL COPYING APPEARED TO HAVE OCCURRED. THANK YOU FOR RESPECTING THE RIGHTS OF COPYRIGHT OWNERS.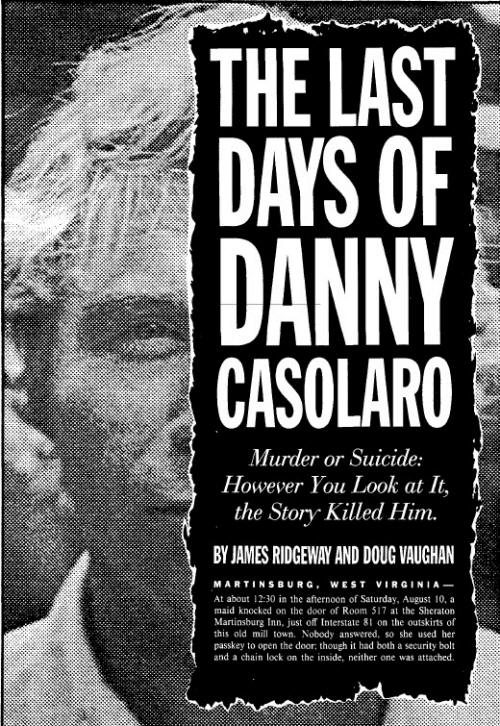 Martinsburg, West Virginia
At about 12:30 in the afternoon of Saturday, August 10, a maid knocked on the door of Room 517 at the Sheraton Martinsburg Inn, just off Interstate 81 on the outskirts of this old mill town. Nobody answered, so she used her passkey to open the door; though it had both a security bolt and a chain lock on the inside, neither one was attached.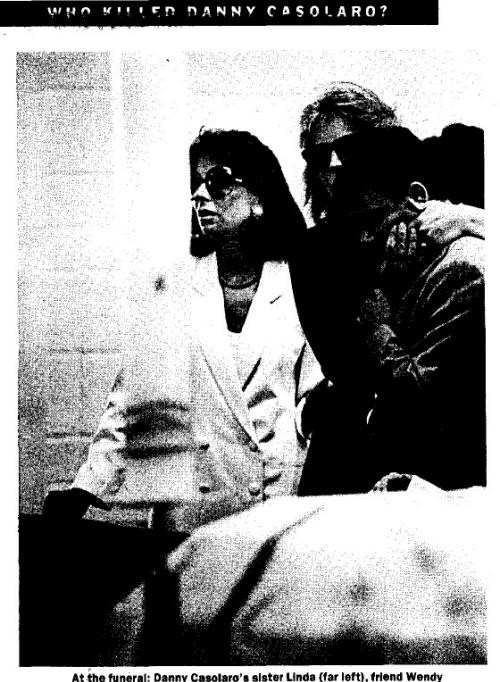 At the funeral: Danny Casolaro's sister Linda (far left), friend Wendy
The bed didn't appear slept in, though it was turned down, and clothes had been laid out neatly at its foot. Then the maid glanced into the bathroom. She saw a lot of blood on the tile floor and screamed.
Another hotel maid came rushing in to help. When she peeked inside the bathroom, she saw a man's nude body lying in the blood-filled tub. There was blood not only on the tile floor but spattered up onto the wall above the tub as well; she nearly fainted at the sight. One of the maids called the desk on the room phone and, after sending up a maintenance man, the desk immediately dialed 911.
Within five minutes, three Martinsburg city police officers were threading their way past the horrified maids and maintenance man clustered in the hallway and into Room 517. A team of paramedics from the local fire department joined them a few minutes later. Squeezing into the tiny bathroom, they found a white male in his early forties with deep cuts on both wrists: three or four wounds on the right and seven or eight on the left, made with a sharp, bladed object. There was no other trauma to the body that would indicate any sort of struggle; there was a half-empty, corked bottle of red wine on the floor by the tub and a broken hotel glass beside it. When they lifted the body out, they found a single-edge razor blade -- the kind used to scrape windows or slice open packages -- at the bottom of the bloody water in the bath, along with an empty can of Milwaukee beer, a paper hotel glass coaster, and two white plastic garbage bags, the kind used in wastepaper baskets.
On the desk in the bedroom the cops found an empty Mead composition notebook and a legal pad from which a single page had been removed. The page lay near a plastic Bic pen, and in its ink there was a note:
To those who I love the most.
Please forgive me for the worst possible thing I could have done. Most of all I'm sorry to my son. I know deep down inside that God will let me in.
There were no other papers, folders, documents of any sort, nor any briefcase in the room, only the man's wallet, stuffed with credit cards. According to the driver's license, the man's name was J. Daniel Casolaro of Fairfax, Virginia.
Although his death was tentatively ruled a suicide, back in Washington, D.C., his friends and family quickly protested that decision, and reports in the media were soon suggesting that Danny Casolaro had been murdered. For in this, the year of conspiracies, Danny Casolaro happened to be one of a small army of freelance journalists exploring the possibility that the powers of the national security state had been used to manipulate domestic politics. In particular, Casolaro was interested in what he called the "Octopus," a network of individuals and institutions that he believed had secretly masterminded a whole series of scandals, from the Iran-contra affair and the S&L debacle to the BCCI collapse and the 1980 October Surprise deal.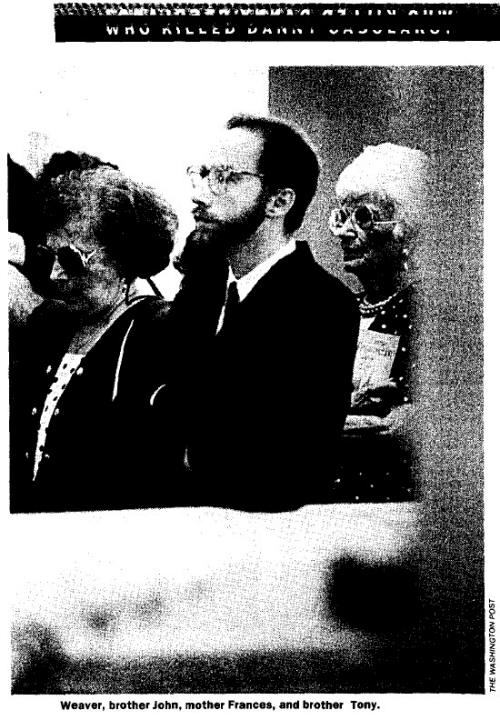 Weaver, brother John, mother Frances, and brother Tony.
In the weeks before his death Casolaro had spoken frequently about threats on his life, and just before he left for Martinsburg he had told his brother, "If anything happens to me, don't believe it's an accident." Many of the friends and sources who spoke to him in the last few days of his life recalled that he seemed euphoric and quite certain that he was on the brink of proving the existence of his Octopus; he did not sound like a candidate for suicide to them. More suspicious, before the family could be told of Casolaro's death or an autopsy performed, the body was embalmed by a local funeral home; early press reports added that the hotel room had been quickly cleaned, perhaps to obscure any trace of a crime. The wildest story even suggested that the undertaker was an employee of the CIA, hired to clean up after agency assassinations.
Even at Casolaro's funeral, the family felt engulfed by mysteries. As his mother, brothers, sisters, and close friends watched from beneath a canopy, a man in a tan raincoat and a beribboned black soldier in army dress uniform walked up to the casket. The soldier laid a medal on the lid, saluted, and both men quickly walked away. No one recognized either man; Danny had never served in or covered the military. The medal was buried with the coffin.
In a detailed investigation that began within three days of his death -- conducted with the cooperation of the Casolaro family and with knowledge of the ongoing police inquiry -- the Village Voice has been able to clear up many of these mysteries. The Voice probe, which began within three days of Casolaro's death, included interviews with members of the family, friends, the Martinsburg coroner, paramedics, and the West Virginia medical examiner, along with Casolaro's sources for the Octopus theory. We examined and cross-checked Danny Casolaro's phone records over the last year, his credit card receipts, and his research notes and documents. What we have uncovered involves not only the circumstances in which the body was found and the way local authorities handled their own investigation, but also new evidence concerning the state of Casolaro's health.
THE WEB SPINNERS
Danny Casolaro was the eldest son of a close Italian Catholic family. His father, Joe Casolaro, was a prominent physician in McClean, Virginia, and he gave his large family (six children in all) a very good life in what was then still Virginia horse country -- a big house set in rolling countryside, and every advantage available in the most exclusive suburb of the nation's capital. Money never seemed to be a big worry for any of the Casolaros, including Danny, throughout their lives.
Of course, the family was not without its sorrows. One of Casolaro's brothers died in infancy of a heart defect; the eldest sister, Lisa, left home in the late 1960s for Haight- Ashbury and died, apparently in a drug- related suicide.
Casolaro attended Providence College in 1968 and married Terrell Pace, who was to remain the one true love of his life. They had a son, J. Daniel Casolaro III (nicknamed Trey in the family), but the couple eventually divorced; Trey spent most of his time with his father in Washington. There Casolaro was building a 20-year career in the media, working as a stringer for a variety of newspapers, including the Globe, the National Star, and The National Enquirer, along with the more sedate Washington Star, Providence Journal, and Home & Auto. During the 1980s he was editor and publisher of Computer Age Publications, a newsletter outfit that published the only daily paper on the computer business in the U.S. as well as the Washington Crime News Service.
But don't let the tabloid credits fool you. "Danny wasn't an investigative reporter," a newsman friend of Casolaro's said recently. "He was a poet." Casolaro did indeed write songs and poems; he also wrote a novel, The Ice King, published a collection of short stories, wrote an initial film treatment titled Rain for a Dusty Summer, and collaborated on To Fly Without Wings, a film about Arabian racehorses in Egypt that was narrated by Orson Welles (Casolaro loved horses, and during his marriage he kept them at his place in Fairfax). Among his papers -- several boxes of which are now in the custody of ABC's Nightline -- are large folders stuffed with documents, including press clippings, xeroxed memorandums, and notebooks. But his notebooks are not like those of most other reporters. In them, bits of information on the Octopus are interspersed with snatches of poetry and brief character sketches for short stories.
In early 1990, Casolaro sold his interest in the Computer Age company. That summer Terry Miller, an editor at a computer newsletter and a friend of Casolaro's, suggested that Casolaro might start to look into the Inslaw case. Inslaw is a software company run by a former National Security Agency employee, Bill Hamilton, and his wife, Nancy. The Hamiltons, who hail from St. Louis, had spent the 1970s developing a uniquely powerful software called Promis for the Justice Department. Promis was supposed to allow a U.S. attorney's office to track any individual prosecution at any time through the maze of the justice system -- by pressing a key, you could find out prior convictions, known associates, the status of appeals, or virtually anything that might have a bearing on the adjudication of a case.
Hamilton had started working on the software with a grant from the Justice Department, but when the program that funded his research ended, he took his company private and negotiated a lucrative $6 million deal to install Promis in prosecutors' offices around the country.
But for reasons that seemed inscrutable at the time, the Justice Department, then headed by Edwin Meese, never paid Inslaw for Promis -- instead, it engaged in what appeared to be a conscious effort to drive the Hamiltons into bankruptcy. But Inslaw nevertheless won two judgments from federal courts in 1988 and 1989 that required the government to make restitution -- before the case was thrown out by the U.S. Court of Appeals on grounds it had been tried in the wrong court. The Hamiltons are appealing to the Supreme Court.
In 1989, Bill Hamilton got a call from Jeff Steinberg, a longtime top aide in the Lyndon LaRouche organization. The LaRouchies had ties to the Reagan White House and have long run a surprisingly elaborate intelligence-gathering operation of their own,
but that year the law had caught up with LaRouche, and he was sent to prison for conspiracy, tax evasion, and mailfraud
. Steinberg told Hamilton that he knew someone in Seattle by the name of Michael Riconosciuto who had excellent national security intelligence not only on LaRouche's case but also on Inslaw's.
Riconosciuto told Hamilton that Ed Meese had taken Promis and allegedly given it to one of his cronies, Earl W. Brian, who served as Reagan's secretary of health while he was governor of California, and later became head of United Press International. According to Riconosciuto, Brian then sold Promis to police forces -- including secret police -- around the world, from South Korea to Israel to Iraq. The same qualities that made Promis ideal for tracking criminals in the U.S. courts made it perfect for keeping tabs on terrorists or, needless to say, political dissidents. As Riconosciuto claimed to have adapted it, the software could then operate as a kind of computer network bug -- anything the security apparatus that used Promis knew, the U.S. could know, simply by linking up over the telephone.
Almost at once, Hamilton says, he told Casolaro about Riconosciuto. Casolaro's phone records indicate he spent many hours in conversation with Riconosciuto, and Casolaro's friends say that for several months in late 1990, Casolaro talked of little else.
The 44-year-old Riconosciuto is -- to put it mildly -- a colorful character, wilder than anything in The Falcon and the Snowman. He was a gifted child: When he was just 10 years old, Michael wired his parents' neighborhood with a working, private telephone system that undercut Ma Bell; in the eighth grade, he won a science fair with a model for a three-dimensional sonar system. By the time he was a teenager, he had won so many science fairs with exhibits of laser technology that he was invited to be a summer research assistant at Stanford's prestigious Cooper Vapor Laser Laboratory. Dr. Arthur Schalow, a Nobel laureate, remembers him even now. "You don't forget a 16- year-old youngster who shows up with his own argon laser," he told Casolaro.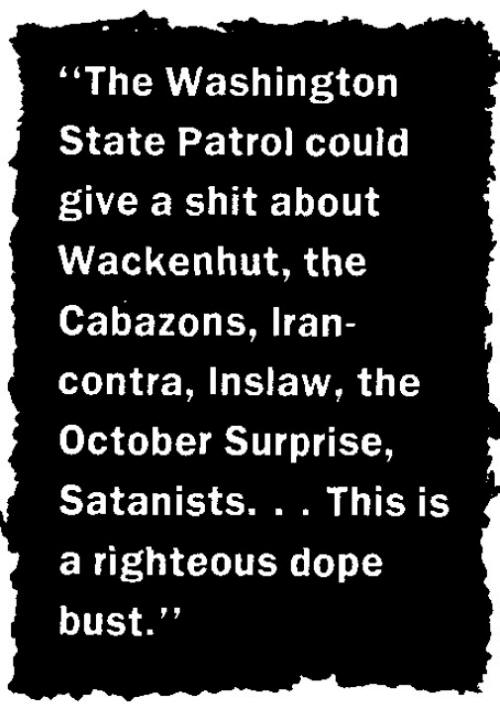 "The Washington State Patrol could give a shit about Wackenhut, the Cabazons, Iran-contra, Inslaw, the October Surprise, Satanists ... This is a righteous dope bust."
In 1973, Riconosciuto had been sentenced by a federal judge in Seattle to two years in prison for the manufacture of psychedelic drugs and jumping bail. At the time, his father testified that Michael was engaged in "underwater research" and had discussed "using electronic means to clean up pollutants in water." The narcotics agents who arrested the young Riconosciuto said they'd had him under surveillance off and on since 1968.
Riconosciuto told Casolaro, as he had numerous other reporters before him, that after his release he had become research director for a joint venture between Wackenhut, the Coral Gables private security outfit, and the Cabazon Indian band of Indio, California, that was developing and manufacturing arms and other military materiel -- including night-vision goggles, machine guns, and biological and chemical weapons -- for export. Riconosciuto claimed that he had invented the fuel-air explosive; he also said he had encountered a variety of famous people, who dropped by the Cabazon reservation from time to time. For example, he claimed that he'd met the Jackal, the famous assassin; talked on the phone with Admiral Bobby Inman of the CIA; and even tape-recorded a secret meeting with William Casey at a Washington, D.C., country club (according to Riconosciuto, that tape was his insurance policy against getting bumped off by the big boys in the spook world). Riconosciuto went on to '"reveal" that he was the man who had "pulled the plug" on the Nugan Hand bank, the Australian bank with CIA ties that collapsed in 1980; he also claimed to be an effective lobbyist on Capitol Hill, responsible for swinging five key votes to free up $100 million for the secret contra war against the Sandinistas. Once, after lunch with then FBI director William Webster, he had laid plans to launder spook money through NASA.
This was all a bit much for the Hamiltons to take in, but the computer company owners listened with fascination and deep suspicion to his tales involving Promis. In an affidavit presented in federal court, Riconosciuto told them that Casey -- who had been outside counsel to Wackenhut before joining the Reagan White House -- had hired him and Brian, as employees of Wackenhut, to carry out the October Surprise deal. Riconosciuto described how a Justice Department official had allegedly ordered him to modify Promis for use by the Canadian Royal Mounted Police. He claimed that Meese had rewarded Brian for his assistance during the October Surprise by giving him the software outright, which he could then sell at considerable profit around the world. (Brian has denied any connection to the Inslaw case.)
Casolaro and the Hamiltons thought Riconosciuto's tale was largely wacko, but they found certain things he told them to be true -- particularly that the Wackenhut joint venture existed, and that the Mounties had apparently misappropriated Promis (the Canadian police have denied using Promis). They theorized that maybe Riconosciuto was using his contacts with the Hamiltons as leverage with other people who were threatening him: If his enemies didn't cooperate with Riconosciuto, then he would spill more and more secrets to Casolaro and the Hamiltons.
In April 1991, shortly after giving his affidavit in the Inslaw case, Riconosciuto was arrested for the manufacture and sale of methamphetamines in Washington state. He has been in jail since then, often claiming to be a "political prisoner." Over the Easter holiday that same month, Casolaro flew out to Tacoma, Washington, where Riconosciuto was being held. Casolaro recorded his impression of Riconosciuto's appearance in court: "Danger Man [Riconosciuto] filled the courtroom with his presence. Under six feet tall, he was immense in frame but agile and graceful in movement, like some giant white rabbit or perhaps some hybrid fugitive creature related to a fox."
"We couldn't really tell [Casolaro] much because it was a federal case and it was going to the grand jury," one Washington State Patrol detective explained. "But we told him the Washington State Patrol could give a shit about Wackenhut, the Cabazons, Iran-contra, Inslaw, the October Surprise, Satanists. I don't care if he had Bill Casey over for dinner in the desert, this is a righteous dope bust. Riconosciuto's a strange duck, and if you listen to this shit you're going to get in a web and go crazy."
Riconosciuto had promised to give Casolaro a tape recording of a phone conversation with a high Justice Department official concerning the theft of the Promis software, but he explained that he had thrown the tape from his car window just before he was arrested. Casolaro spent fruitless hours tracking back and forth across the highway where Riconosciuto said he'd tossed the tape, but he never found it.
Casolaro wasn't alone in talking to Riconosciuto. He was joined by investigators from the House judiciary Committee, who were also looking into the Inslaw case. "I'm screwed," Riconosciuto told Casolaro. "Don't you see? These guys are my only hope. I've come up with the cheapest way to refine platinum there is. But I'm screwed because they'll try to show that the chemicals I use at the mine are precursor ingredients for making methamphetamine."
By the time he returned to his Virginia home in late April, Casolaro was more than a little tired of Riconosciuto. "That guy is nuts," he told a journalist friend in Washington.
LaROUCHIES TO THE RESCUE
Despite his misgivings, Casolaro continued to pursue Riconosciuto's theories. In mid June 1991, Casolaro met with a member of the LaRouche organization in Washington. And all of a sudden the Octopus seemed to be very much alive.
"I met Casolaro at the House Judiciary committee hearings on Inslaw last December," wrote LaRouche sidekick Jeff Steinberg, in a memo to the LaRouche network dated August 14, 1991 (two days after Danny's death became public, and the same day that the West Virginia coroner pronounced Casolaro's death to be a likely suicide). On June 24, Steinberg wrote that he "spent about four hours with Casolaro at his home ... reviewing various leads on the Inslaw and related matters. We met later that same night for several more hours to exchange some specific documentation."
CasoIaro's June phone records indicate several calls to LaRouche headquarters in Leesburg, Virginia, and his papers include a LaRouche "Memorandum for the Files" -- documents that suggest Casolaro may have begun to see things much as they did. For one thing, Steinberg wrote that he arranged for a LaRouche source, known as CHIPS, to talk to Casolaro. Casolaro's notes identify this person as a former Customs agent now involved with the Treasury Department's enforcement work, and Steinberg speculates that CHIPS may have pointed Casolaro toward big-time drug rackets tied to the Gambino family. Steinberg's memo says that Casolaro had traced "the Inslaw and related stories back to a dirty CIA 'Old Boy' network" that had begun working together in the 1950s around the Albania covert operations. These men had gotten into the illegal gun and drug trade back then and had continued in that business ever since.
In short, Casolaro had stumbled into the vibrant mainstream of LaRouche thought. Most of this material has long been batted around on the conspiracy circuit. Casolaro's telephone records show him making repeated calls to old LaRouche favorites, including supposed drug dealers with ties to Gambino. Casolaro told friends, for example, that he had called E. Howard Hunt, who after first evidencing displeasure at getting a call on an unlisted number, became cordial, even effusive. Casolaro liked him.
Also in June, Casolaro phoned Martin Killian, Der Spiegel's Washington correspondent and one of the most persistent October Surprise investigators, to ask for the phone number of Roy Furmark, an oilman and former close associate of William Casey's. Killian refused. Casolaro then told Killian he had stumbled onto the Octopus, and that it had all started with James Jesus Angleton, the CIA spymaster who had spent most of his long career at the agency in counterintelligence, searching for potential KGB moles at Langley. Casolaro said a group associated with Angleton wanted revenge for an operation in Albania in the 1950s that had been burned by British double agent Kim Philby.
By now Casolaro was making pretty far-out telephone calls around the Washington journalistic community, making some reporters wonder whether he himself was a spook of some kind. He even contacted the Voice, asking to speak to its investigative reporters.
Meanwhile, in their attempts to check out Riconosciuto's stories, the Hamiltons had located Robert Booth Nichols, a Los Angeles businessman Riconosciuto had worked with on the Cabazon project. The son of a prominent Los Angeles surgeon, Nichols is the inventor of a submachine pistol that he says is superior to the MAC- 10; he is a handsome, dashing figure, frequently described as "Clark Gable without the ears." There has been speculation about Nichols's criminal associations, which he has denied. Nichols gave the Hamiltons a copy of a civil suit he filed in Los Angeles against the FBI for alleging, in an FBI report on an Australian company controlled by Nichols, that the company was involved in a confidence scheme and that certain officers had ties to the Gambino crime family and Japan's criminal syndicate, the Yakuza. The Hamiltons were talking regularly to Nichols, and they passed his name on to Casolaro.
Casolaro's phone bills to Nichols grew in direct proportion to his disillusionment with Riconosciuto, and on July 10, 1991, Casolaro met Nichols at the posh Four Seasons hotel in Washington, D.C. To lure a girlfriend to the meeting, Casolaro touted Nichols as the president of the Bechtel Corporation just in from Kuwait. Once at the Four Seasons, Nichols dropped hints of something big about to happen on the Caribbean island of Dominica: By October, he told his rapt listeners, he would be named state security minister of that country, at which point Dominica would become an offshore center for the rebuilding of -Kuwait. He warned Casolaro that this was all very dangerous.
Nichols told Casolaro about his contacts with the subterranean world of the Illuminati. ''I'm afraid of them," he said, according to Casolaro's notes, "because I know them. I lived in a hole. They gave me an exit."
Casolaro rushed to the library the next day and copied passages in longhand on secret societies: The Illuminati was an 18th century secret society whose members achieved "illumination" through the study of rationalistic philosophy and the humanities; it spread throughout Germany and France and, in 1786, it was crushed by the Roman Catholic Church. For decades, the Illuminati has been used by the far right to explain sprawling conspiracy theories.
Whatever Casolaro's relationship with Nichols, it was sufficiently close for the writer to include Nichols in the short list given to his real estate agent of those who were to be granted the right of first refusal in the sale of his property.
Robert Booth Nichols had strong ties to MCA Corporation through Eugene Giaquinto, president of MCA Corporation Home Entertainment Division. Giaquinto had been on the Board of Directors of Nichols' corporation, MIL, Inc. (Meridian International Logistics, Inc.) and also held 10,000 shares of stock in the holding corporation. MIL, Inc. was later investigated by the Los Angeles FBI for allegedly passing classified secrets to overseas affiliates in Japan and Australia. It is interesting to note, though unrelated, that shortly afterward, the Japanese purchased MCA Corporation, one of the largest corporate purchases to take place in American history....

In the early 1980's, Dr. John Nichols, the Cabazon tribal administrator, obtained a Department of Defense secret facility clearance for the reservation to conduct various research projects. Nichols then approached Wackenhut with an elaborate "joint venture" proposal to manufacture 120mm combustible cartridge cases, 9mm machine pistols, lasersighted assault weapons, sniper rifles and portable rocket systems on the Cabazon reservation and in Latin America. At one point, he even sought to develop biological weapons.

Again, through Michael Riconosciuto's files, I later obtained interoffice memorandums and correspondence relating to biological technology, but more on that in chapter 10. Meanwhile, in 1980, Dr. John Nichols obtained the blueprints to Crown Prince Fahd's palace in Tiaf, Saudi Arabia, and drafted a plan to provide security for the palace....

Another CIA agent, Bruce Berckmans, who was assigned to the CIA station in Mexico City, but left the agency in January 1975 (putatively) to become a Wackenhut international operations vice president, told SPY that he had seen a formal proposal submitted by George Wackenhut to the CIA offering Wackenhut offices throughout the world as fronts for CIA activities. In 1981, Berckmans joined with other senior Wackenhut executives to form the company's Special Projects Division. It was this division that linked up with ex-CIA man Dr. John Phillip Nichols, the Cabazon tribal administrator, in pursuit of a scheme to manufacture explosives, poison gas and biological weapons for export to the contras and other communist fighting rebels worldwide....

Casolaro at one time considered the title of "Indio" for the book he was writing about "The Octopus." His death occurred just days before he planned to visit the Cabazon Indian Reservation near Indio, California. Though his notes did not divulge what role the Cabazons may have had in the conspiracy, Casolaro listed Dr. John Phillip Nichols, the Cabazon administrator, as a former CIA agent....

Also mentioned in the affidavit was corroboration of Riconosciuto's work in the defense and national security fields. Section six of the affidavit noted that during the course of a telephone conversation with Robert Nichols on or about April 18, 1991, Hamilton learned that Nichols had attended a meeting that had been organized by a Colonel Bamford, an aide to General Meyer, then Chairman of the Joint Chiefs of Staff. Others participating in the meeting were department heads from Department of Defense scientific facilities.

Michael Riconosciuto was the principal presenter to this group of senior level national security research and development officials. According to Nichols, Riconosciuto made a day long presentation to this meeting of scientists lasting from approximately 9 a.m. until approximately 4 p.m., answering questions from the participants and filling the halls of the conference facility with his hand printed notes on the scientific and technical issues that arose in the course of his presentation.

I was able to locate in Riconosciuto's files, a letter written on July 20, 1983 from Tom Bamford, Vice President of Research and Development at FMC Corporation in Santa Clara, California to William Frash in Escondido, California. At that time, Frash, a retired USMC Colonel, was Chairman of the Board and Chief Executive Officer of Lilac Corporation.

Essentially, the letter expressed enthusiasm for the potential application of technologies being proposed to FMC Corporation by Meridian Arms, and called for a list of all active participants in the joint venture. At that time Riconosciuto was vice president of Meridian Arms. Bamford added, "...You may want to do this only for Mike at this stage."

Frash hastened to respond to Bamford on July 27, 1983 to apprise him of a meeting between himself and Michael Riconosciuto, Robert Booth Nichols, Peter Zokosky and Patrick Moriarty (Michael's father's business partner) regarding "energy transfer phenomena." A proposal was underway to outline technology in the form of patents applied for jointly between Meridian Arms and FMC. Frash noted that the technology would "supercede all existing world patents in the field."

"Had we patented previously, it would only have announced our 'edge' in the field," he wrote. Three of the four major patents that would be forthcoming were (1) the application of Perturbation Theory to enhanced energy transfer, (2) the application of stationary methods with powders and aerosols to enhanced energy transfer and (3) the application of Perturbation Theory to hydrodynamic flow regimes.

It is noteworthy that the submarine propulsion system depicted in the movie, "Hunt for Red October" utilized this theory. Frash concluded, "Tom, as you well know, Mike's tried and true value is in the field of high voltage and electrostatics and their application. The meetings in San Jose highlighted application of this technology in over one hundred areas that are in-house FMC." He added, "... Per your reference to meetings in Washington, D.C., I assume the meetings with Dr. Fair, Admiral Renkin and the ACCOM people will suffice in this matter. In closing we are very enthused, Tom, and we look forward to an expeditious closing. Sincerely, William Frash."

Frash's payment for putting together the above referenced joint venture, if successful, would be $500,000 for the first fifteen million invested, or $166,666.66 for only five million invested, a one-hundred-thousand-dollar per year salary for a period of 20 years, and a 2% share in the gross profits. This, according to a Letter of Understanding sent to and signed by Robert Booth Nichols and Michael Riconosciuto in July, 1983.

In questioning Michael Riconosciuto about the FMC agreements, he said he attempted to break away from Robert Nichols in 1984. "The guy nearly got me terminated," declared Riconosciuto. "At the time I was working with Nichols on a proposal to FMC Corporation, which is Food Machinery Corporation, they produced the Bradley Personnel Carrier. I've got a complete paper trail on the technology that was being presented. We conducted a test demonstration of an enhanced airfield device which I developed. We also conducted a test of a hydrodynamic implosion type of explosive device.

"The implosion device settled the Nevada Test Range by about 30 feet. The Lawrence Livermore Labs and the Gallup Ordinance people built a prototype of the device, but they overbuilt it because they wanted an impressive demonstration. It created an international incident because the demonstration was picked up by Soviet monitoring satellites.

"Anyway, the bona fides were established. The next thing was to get the business done and get me into harness in a program. I was all for it, but Bob [Nichols] started getting spooky on me. He wanted to receive the setup of our end offshore, in Singapore. He wanted to receive $20 million dollars in cash in Singapore, and he wanted to use certain of the technology overseas, namely in Australia, OK?

"Bob started drinking a lot. He was obviously under a lot of pressure from somewhere, and his facade of respectability started to crack. About that time Bob began pressuring me to do things a certain way. We'd already been approved at the executive level by FMC. But we still had to go through the legal department and FMC is a publicly held stock corporation. So we still had to go through the shareholders for about eight months, which put us about a year away from consummating the deal.

"So, I asked Bob for some extra money to meet my everyday expenses, but Bob said, 'Hurry up and get the business done and then you'll have plenty of money.' I tried to explain to Bob that there was no way he could expedite this thing, and so on and so forth. Well, Bob became really overbearing. And that's when he demanded that I state things in the contract proposal to FMC which would have been misstatements, to the point of being illegal. That's when I started having second thoughts about it.

"There were other people involved in the development of that technology. Bob wanted me to pay him out of my share and make no reference to the other people in the agreement. But when you've got the University of California and the University of Chicago having 16 percent of your company, having 16 percent of Hercules Research and Interprobe, you know, how could I misrepresent the interests of my dad, Moriarty and [Admiral] Al Renkin in a deal with a U.S. publicly held corporation [FMC]?

"At that time, Riconosciuto had been Vice President of Meridian Arms, a subsidiary of Meridian International Logistics. But he was also technical advisor for F.I.D.C.O. (First Intercontinental Development Corporation) of which Nichols was on the Board of Directors. Noted Riconosciuto, "I walked into F.I.D,C.O. in equal good faith. And that also turned sour because Bob wanted me to illegally take embargoed technology out of the United States, to run an operation with embargoed armaments and high technology outside of the United States.

"So I walked out on Bob. And Bob put the heat on me and they wouldn't leave me alone. When I got remarried [to Bobby Riconosciuto], they continued to harass me by putting out false intelligence reports on me to law enforcement ..."

I asked Michael why he didn't fight back? Michael responded, "You don't seem to understand. All my involvements were under closely controlled situations. There's only one time in my life when I was planning on doing something off-color, and it never went anywhere. All the rest of the time, everything was under complete controls. I never took any elective actions. Everything was, you know, on direct orders. And I got to the point where I balked with Bob Nichols and that's when he went ballistic on me."

Riconosciuto said he was in the process of cleaning up his life in Washington state when a private investigator from Inslaw contacted him. "I didn't want to get nailed for piracy of that software, so I talked to my attorney, who talked to the Inslaw attorneys, and I gave them a declaration. And about that time, Peter Viedenieks, who was an associate of both Robert Booth Nichols and Dr. John Nichols, called me and told me I was my own worst enemy. He said if I didn't cool it, if I didn't stonewall any further requests for information from the House Judiciary Committee, I was going away forever. I told Viedenieks that I was already in too deep, and he repeated that 'I was my own worst enemy.' Seven days later I was arrested on drug charges."

Ted Gunderson was one of the few "cooperating" witnesses at Michael's trial. Through his affidavit and testimony, Ted hoped to supply the defense with needed corroboration of Michael's covert government sanctioned activities. Unfortunately for Michael, Ted could not disclose numerous activities which had included Robert Booth Nichols. At one time Gunderson, Nichols and Riconosciuto had been inseparable, like the three musketeers. But, Nichols was currently under investigation by the Los Angeles FBI for alleged involvement in organized crime in the U.S. and abroad....

" ...This is a nasty bunch of people. And they're still alive and well. Now where that dovetails into my current situation, is in 1984 I was involved with Robert Booth Nichols who owns Meridian Arms Corporation and is a principle in F.I.D.C.O., First Intercontinental Development Corporation. The CEO of FIDCO is George Pender and Bob Maheu was Vice President ...

"FIDCO was an NSC [National Security Council] corporate cutout. FIDCO was created to be the corporate vehicle to secure the financing for the reconstruction of the cities of Beirut and Damour in Lebanon. And they were working out of an office in Nicosia, Cyprus.

"...And here I got involved with a group of people that were all high profile and should have been above reproach. FIDCO had a companion company called Euramae Trading which operated throughout the Middle East. I came in contact with the PROMIS software (unintelligible). Euramae had a distribution contract with several Arab countries and I was asked to evaluate the hardware platforms they had chosen. That was IBM/AS400 stuff ...

" ...That had come from IBM Tel Aviv but it came through a cutout, Link Systems, because they couldn't deal directly with the Arabs.

"And I came across a guy named Michael T. Hurley and I thought he worked for the State Department but it turned out he was in-country attache for the DEA in Nicosia, Cyprus. [Nicosia is the capital of the island of Cyprus, off the coast of Lebanon]. Now, the DEA had no real presence in Lebanon. Neither did anybody else, including the Israelis. They had their usual network of contacts but it was very ineffective. The only way to penetrate that situation, was to get into the drug trade.

"Euramae got into the drug trade and I was told that it was a fully sanctioned NSC directed operation, which it turns out that it was ... All those operations were bonafide and all the people who were in them were definitely key government people, although they were not who they said they were.

"They all worked for different agencies other than was stated. Probably part of the normal disinformation that goes with that. And I was technical advisor for FIDCO and we had auspices through the government of Lebanon to get in and out of Lebanon.

"But as far as going to the eastern part of Lebanon, unless you were connected "with the drug trade, your chances were slim coming out unscathed ...They built a network throughout the Bekaa Valley, and [Robert Booth] Nichols ... he is under Harold Okimoto from the Hawaiian Islands.

"Harold Okimoto was represented to me as being an intelligence person, which he is. He has worked under the auspices of [Frank] Carlucci for years. [Carlucci was former CIA deputy director and former Defense secretary]. Apparently Harold performed services for the U.S. government during World War II. He's of Japanese ancestry. I guess he was rewarded for services well done.

" ...Harold operates through a company called Island Tobacco Corporation. He has contracts for all the condiments at all the casinos in Atlantic City, in Reno, in Vegas, in Macao, China ... he's got contacts in Honolulu, the Orient ... a couple of Jews he knows in Bangkok ... and there is a casino, no a city about 15 miles north of Beirut that Harold has his fingers in.

"When FIDCO was wheeling and dealing on financing for the reconstruction of the infrastructure of Beirut, they were making sweetheart deals with Syrian mobsters and the brother of the president of Syria, Hafez Assad.

" ...The intelligence people in their infinite wisdom decided to capitalize on the longstanding battle between Rifat Assad and his group and the Jafaar family. Selectively they were backing both people, but they were also playing them off against one another, developing networks. They got a bunch of prominent Syrians thoroughly compromised and they were in tow in the intelligence game. And they had people that could get me in and out of the Bekaa Valley, even out of certain areas of Syria.

"From an intelligence standpoint, it was a success. But to maintain the credibility of those intelligence operations the heroin had to flow. To make it real. And the stuff was starting to accumulate in a warehouse outside of Larnaca. "I personally was in a warehouse where Hurley and George Pender and George Marcobie (phonetic spelling) told me there was upwards of twenty-two tons. And even though it was packaged for shipment, the smell of it in that closed warehouse was overpowering. You know, white heroin like that has a certain odor because of the way it's processed.

"They had authorization for what they called 'controlled deliveries' into the United States. And they would target certain cities and then follow the stuff out, ostensibly unmasking the network and conducting prosecutions.

"However, the operation became perverted at the U.S. end of the pipeline. Controlled heroin shipments were doubled, sometimes tripled, and only one third of the heroin was returned to the DEA.

"At a certain transfer point at the airport in Larnaca, the excess baggage from the original controlled delivery would be allowed to go through. I was given the names of the narcotics people who were handling that. But there were a couple of agents who were on the up and up, and they had suspicions.

"An intelligence agent who worked with DIA is now deceased. His name was Tony Asmar and he got on to the operation early on, and started going toe to toe with Hurley [DEA]. He died in a bomb blast and it was ascribed to terrorists. And it actually was terrorists who did it, but his cover was deliberately blown. Myself and others suspected Hurley and Bob Nichols and Glen Shockley were responsible for that ..."

-- The Last Circle, by Carol Marshall
Like any investigative reporter disappearing down the rabbit hole of Iran-contra or the October Surprise, Danny Casolaro had entered a world of shadowy grudges and wispy suspicions that are often difficult to follow, much less prove. But there is some indication that Casolaro was interested in these people from a novelist's viewpoint, and not a reporter's -- as if he were working up a fictional account of the conspiratorial mind. His quick trip to the library surely must have revealed that the Illuminati did not exist, at least not in the sense that Nichols meant. And last summer he told one friend that, while he liked the LaRouchies, he thought their investigations were sloppy and unreliable.
And, in a way, all that was a warm-up for one of the last web-spinners that Casolaro got to know, William Richard Turner. Turner was an aerospace-engineer for Honeywell in northern Virginia until his division was acquired by Hughes Aircraft. Turner claims that he detected fraud on the part of Hughes, and reported this to superiors who covered it up (the company has denied the charge). Turner -- who had a house a half-hour's drive from Martinsburg -- contacted Casolaro and gave him the names of Department of Defense investigators who he said were ignoring his reports.
In subsequent meetings, both in Fairfax and in Winchester, Virginia, the two men developed what Turner describes as a friendship that grew out of Turner's alleged knowledge of how the Promis software was stolen. Turner left Hughes in April 1991, just as Casolaro was getting into the Octopus.
"Danny referred to the tentacles running out from this Inslaw case," Turner said. He claimed he often kept materials Casolaro wanted secure in his [Turner's] safe. And at some point in early August, Turner and Casolaro agreed to meet in Martinsburg, where Turner said he would turn over documents that would "prove a vast government conspiracy."