Anti-Semite and Jew: An Exploration of the Etiology of Hate
by Jean-Paul Sartre (1944)
© 1948 by Schocken Books Inc.
Copyight renewed 1976 by Schocken Books Inc.
Translated by George J. Becker
With a new preface by Michael Walzer
NOTICE: THIS WORK MAY BE PROTECTED BY COPYRIGHT
YOU ARE REQUIRED TO READ

THE COPYRIGHT NOTICE AT THIS LINK

BEFORE YOU READ THE FOLLOWING WORK, THAT IS AVAILABLE SOLELY FOR PRIVATE STUDY, SCHOLARSHIP OR RESEARCH PURSUANT TO 17 U.S.C. SECTION 107 AND 108. IN THE EVENT THAT THE LIBRARY DETERMINES THAT UNLAWFUL COPYING OF THIS WORK HAS OCCURRED, THE LIBRARY HAS THE RIGHT TO BLOCK THE I.P. ADDRESS AT WHICH THE UNLAWFUL COPYING APPEARED TO HAVE OCCURRED. THANK YOU FOR RESPECTING THE RIGHTS OF COPYRIGHT OWNERS.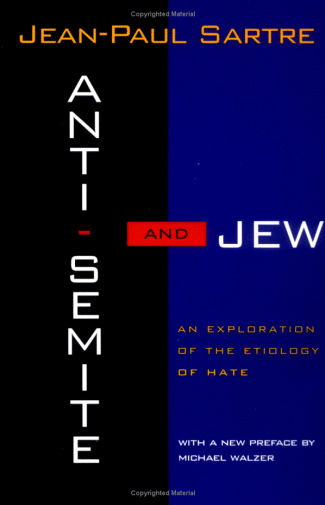 [T]he anti-Semite adds a new touch to the portrait: the Jew, he tells us, is an abstract intellectual, a pure reasoner. And we perceive at once that the terms abstract, rationalist, intellectual here take on a pejorative sense; it could not be otherwise, since the anti-Semite lays claim to a concrete and irrational possession of the values of the nation. But if we recall that rationalism was one of the principal instruments of human liberation, we must refuse to consider it a pure play of abstractions; on the contrary, we must insist on its creative power. In rationalism two centuries — and not the least important — placed all their hope; from rationalism sprang the sciences and their practical application; it was an idea and a passion; it tried to bring men together by uncovering for them universal truths on which they could all reach agreement, and in its naive and agreeable optimism it deliberately confounded evil with error. We shall understand nothing about Jewish rationalism if we see it as some kind of abstract taste for disputation, instead of what it is — a youthful and lively love of men.

At the same time, however, it is also an avenue of flight— I may even say, the royal road of flight. Up to this point, we have discussed those Jews who attempt, in their individual personalities, to deny their situation as Jews. But there are others who have chosen to espouse a conception of the world that excludes the very idea of race. No doubt this is really an attempt to conceal from themselves their own situation as Jews; but if they could succeed in persuading themselves and others that the very idea of Jews is contradictory, if they could succeed in establishing their vision of the world in such fashion that they became blind to the reality of Jewishness just as the colour-blind person is blind to red or green, could they not then declare in good faith that they are "men among men"?

The rationalism of Jews is a passion— the passion for the universal. If they have chosen this rather than something else, it is in order to fight the particularist conceptions that set them apart. Of all things in the world, reason is the most widely shared; it belongs to everybody and to nobody; it is the same to all. If reason exists, then there is no French truth or German truth; there is no Negro truth or Jewish truth. There is only one Truth, and he is best who wins it. In the face of universal and eternal laws, man himself is universal. There are no more Jews or Poles; there are men who live in Poland, others who are designated as "of Jewish faith" on their family papers, and agreement is always possible among them as soon as discussion bears on the universal.

Recall the portrait of the philosopher that Plato sketches in the Phaedo: how the awakening to reason is for him death to the body, to particularities of character; how the disembodied philosopher, pure lover of abstract and universal truth, loses all his individual traits in order to become a universal look of inquiry. It is precisely this sort of disincarnation that certain Jews seek. The best way to feel oneself no longer a Jew is to reason, for reasoning is valid for all and can be retraced by all. There is not a Jewish way of mathematics; the Jewish mathematician becomes a universal man when he reasons. And the anti-Semite who follows his reasoning becomes his brother, despite his own resistance.

Thus the rationalism to which the Jew adheres so passionately is first of all an exercise of asceticism and of purification, an escape into the universal. The young Jew who feels a taste for brilliant and abstract argument is like the infant who touches his body in order to become acquainted with it: he experiments with and inspects his intoxicating condition as universal man; on a superior level he realizes that accord and assimilation which is denied him on the social level. The choice of rationalism is for him the choice of a human destiny and a human nature. That is why it is at once both true and false that the Jew is "more intelligent than the Christian." We should say rather that he has a taste for pure intelligence, that he loves to exercise it with reference to anything and everything, that the use he makes of it is not thwarted by the innumerable taboos which still affect the Christian, or by a certain type of particularist sensibility which the non-Jew cultivates willingly. And we should add that there is in the Jew a sort of impassioned imperialism of reason: for he wishes not only to convince others that he is right; his goal is to persuade them that there is an absolute and unconditioned value to rationalism. He feels himself to be a missionary of the universal; against the universalism of the Catholic religion, from which he is excluded, he asserts the "catholicity" of the rational, an instrument by which to attain to the truth and establish a spiritual bond among men. It is not by chance that Léon Brunschvicg, a Jewish philosopher, brings together in his writings the progress of reason and the progress of unification (unification of ideas, unification of men).

The anti-Semite reproaches the Jew with "not being creative, or with having "a destructive intelligence." This absurd accusation (Spinoza, Proust, Kafka, Darius Milhaud, Chagall, Einstein, Bergson -- are they not Jews?) has been given a semblance of truth by the fact that the Jewish intelligence willingly takes a critical turn. But here again it is not a question of the disposition of cerebral cells but of a choice of weapons. In effect, the Jew finds arrayed against him the irrational powers of tradition, of race, of national destiny, of instinct: it is pretended that these powers have built monuments, a culture, a history — practical values that retain much of the irrationality of their origins and are accessible only to intuition. The defence of the Israelite is to deny intuition as well as the irrational, to make the obscure powers vanish — magic, unreason, everything that cannot be explained on the basis of universal principles, everything that betrays a tendency to the singular and the exceptional. He is distrustful on principle of those totalities which the Christian mind from time to time produces: he challenges.

No doubt in this connection one can speak of destruction, but what the Jew wishes to destroy is strictly localized; it is the ensemble of irrational values that present themselves to immediate cognition without proof. The Jew demands proof for everything that his adversary advances, because thus he proves himself. He distrusts intuition because it is not open to discussion and because, in consequence, it ends by separating men. If he reasons and disputes with his adversary, is to establish the unity of intelligence. Before any debate he wishes agreement on the principles with which the disputants start; by means of this preliminary agreement he offers to construct a human order base on the universality of human nature. The perpetual criticism with which he is reproached conceals a naïve belief that violence is in no way necessary in human relations. Where the anti-Semite, the fascist, etc., starting out with intuitions that are incommunicable and that he wishes to be incommunicable, must use force in order to impose the illuminations he cannot impart, the inauthentic Jew seeks to dissolve by critical analysis all that may separate men and lead them to violence, since it is he who will be the first victim of that violence.

I am aware that Spinoza, Husserl, and Bergson have made place for intuition in their systems. But the intuition of Spinoza and Husserl is rational, which means that it is based on reason, is guaranteed by criticism, and has universal truth as its object. It has no resemblance to the Pascalian subtlety of spirit, and it is this latter — unanswerable, emotional, based on a thousand imperceptible perceptions — which to the Jew seems his worst enemy. As for Bergson, his philosophy offers, the curious appearance of an anti-intellectualist doctrine constructed entirely by the most rational and most critical of intelligences. It is through argument that he establishes the existence of pure duration, of philosophic intuition; and that very intuition which discovers duration or life, is itself universal, since anyone may practice it, and it leads toward the universal, since its objects can be named and conceived. I realize that Bergson has his hesitations about using language, but in the end he permits words to serve as guides, as indicators, as half-faithful messengers. Who would ask more of them? And notice how completely at ease he is in argument. Read again the first chapter of the essay on immediate sense data, the classical criticism of psycho-physiological parallelism, the criticism of Broca's theory of aphasia.

In fact, just as it was possible to say with Poincaré that non-Euclidean geometry is a matter of definition and comes into being as soon as it is decided to call a certain type of curve straight — for example, the circumferences that may be traced on the surface of sphere — so the philosophy of Bergson is a rationalism which exercises the privilege of a special language Bergson has chosen, in effect, to apply the terms "life," "pure duration," etc., to what earlier philosophers have called "matter," and the comprehension of this matter he has called "intuition." Since that comprehension must be prepared for by research and criticism, since it takes hold of a universal and not of incommunicable particularities, it amounts to the same thing whether we call it irrational intuition or a synthetic function reason. If — quite properly — we characterize the philosophy of Kierkegaard or of Novalis as irrationalism, then perhaps Bergson's system is a rationalism that has undergone a change of name.

For my part, I see it as the supreme defence of the persecuted: to attack in order to defend oneself, to concur the irrationalism of the adversary on its own ground — that is, to render it harmless and assimilate it to constructive reason. And, as a matter of fact, where the irrationalism of a Sorel leads straight to violence, and, in consequence, to anti-Semitism, the irrationalism of Bergson is perfectly harmless and can serve only a universal reconciliation.

This universalism, this critical rationalism, is what one normally finds in the democrat. In his abstract liberalism, he affirms that Jews, Chinese, Negroes ought to have the same rights as other members of society, but he demands these rights for them as men, not as concrete and individual products of history. Thus certain Jews look at their own personalities with the eyes of the democrat. Haunted by the spectre of violence, by the unassimilated residues of particularist and warrior societies, they dream of a contractual community in which thought itself would be established under form of contract — since it would be a dialogue in which the disputants would agree on principles at the start — and in which the "social contract" would be the sole collective bond. The Jews are the mildest of men, passionately hostile to violence. That obstinate sweetness which they conserve in the midst of the most atrocious persecution, that sense of justice and of reason which they put up as their sole defence against a hostile, brutal, and unjust society, is perhaps the best part of the message they bring to us and the true mark of their greatness.

The anti-Semite at once seizes on this free effort of the Jew to live in and master his situation; he makes it into a fixed characteristic manifesting the Jew's incapacity to become assimilated. For him, the Jew is no longer a rationalist but a reasoner; his quest is not a positive search for the universal, but proof of his incapacity to take hold of vital racial and national values; the spirit of free criticism on which he bases his hope of defending himself against superstition and myth becomes the satanic spirit of negation, a virus of destruction. Instead of appreciating this spirit as an instrument of self-criticism originating spontaneously in modern society, the anti-Semite sees it as a permanent threat to national ties and French values.

Rather than deny the love of certain Jews for the exercise of reason, it has seemed to me more true and more useful to attempt to explain it. It is also as an attempt to escape that we must interpret the attitude some Jews assume toward their own bodies.

We know that the sole ethnic characteristics of the Jews are physical. The anti-Semite has seized upon this fact and has transformed it into a myth: he pretends to be able to detect his enemy at one glance. The reaction of certain Israelites, therefore, is to deny the body that betrays them. Naturally this negation will vary in intensity as their physical appearance is more or less revealing; in any case, they do not feel toward their bodies that complacency, that tranquil sentiment of property which characterizes most "Aryans."

For these latter the body is a fruit of the French soil; they possess it by that same profound and magical participation which assures them the enjoyment of their land and their culture. Because they are proud of it, they have attached to it a certain number of values that are strictly irrational but are intended to express the idea of life as such. Scheler has accurately called them "vital values"; in effect, they concern neither the elementary needs of the body nor the demands of the spirit, but a certain blossoming, a certain biological style that seems to be a manifestation of the intimate functioning of the organism, the harmony and independence of the organs, the cellular metabolism, and above all the "life plan," that blind and wily design which is the very essence of life. Grace, nobility, vivacity are among these values. In fact, we ascribe them even to animals: we speak of the grace of a cat, of the nobility of the eagle.

It is obvious that people introduce a great number of these biological values into the concept of race. Is not race itself a pure vital value; does it not enclose in its basic structure a judgment of value, since the very idea of race implies that of inequality? Hence the Christian, the Aryan, feels his body in a special way. He does not have a pure and simple consciousness of the massive modifications of his organs; the messages and appeals that his body sends him come with certain coefficients of ideality, and are always more or less symbolic of vital values. He even devotes a portion of his activity to procuring perceptions of himself that correspond to his vital ideal: the nonchalance of the elegant, the vivacity and "stir" which characterize stylish manner in certain epochs, the ferocious air of the Italian fascist, the grace of women — all these seek to express the aristocracy of the body. And to these values are naturally linked some anti-values, such as the discredit attaching to the "lower functions" of the body, or certain codes of behaviour and sentiments -- modesty, for example. The latter, certainly, is merely a sense of shame at showing one's nakedness; it is also a way of making the body precious, a refusal to see the body as a mere instrument: the body is hidden in its sanctuary of clothing like an object of adoration.

The inauthentic Jew is deprived of his vital values by the Christian. If he becomes conscious of his body, concept of race immediately appears to poison his intimate sensations. The values of nobility and grace have been pre-empted by the Aryans, who refuse them to him. If he accepted these values he would be constrained perhaps to reconsider the notion of ethnic superiority with all its consequences. In the very name of universal man, he refuses to lend an ear to the private messages his organism sends him; in the name of rationality he rejects irrational values and accepts only spiritual values. Universality being for him at the summit of the scale of values, he conceives of a sort of universal and rationalized body. He does not have an ascetic's disdain for his body, he does not call it a "rag" or a "beast," but neither does he see it as an object of veneration. Insofar as he does not actually forget it, he treats it as an instrument, which he concerns himself with only in order to adapt it with precision to his ends.

And just as he refuses to consider the irrational values of life, so he refuses to set up a hierarchy among the natural functions. This refusal has two purposes: on the one hand it entails a denial of the ethnic specificity of Israel, and on the other it is an offensive weapon aimed at persuading Christians that their bodies are only instruments. That "lack of shame" with which the anti-Semite reproaches certain Jews has no other origin. It is primarily an effort to treat the body rationally. If the body is a mechanism, why cast an interdict upon its needs of excretion? Why exercise a perpetual control over it? It must be cared for, cleaned, maintain without joy, without love, and without shame — like a machine.

And sometimes, indeed, there is also a certain despair behind this lack of shame: what is the good of veiling a body that the gaze of the Aryans has denounced once and for all? To be a Jew in the eyes of the world — is that not worse than being naked? Of course, rationalism is not confined to the Jews: there are a many Christians — doctors, for example — who assume such a rational point of view toward their own bodies, or the bodies of their children. But in such cases it is a matter of a conquest, of an enfranchisement which coexists, usually, with many prelogical survivals. The Jew, on the other hand, is not trying to criticize the values; he has become such that he has no feeling for them.

It should be added, however, as a point against the anti-Semite, that this bodily uneasiness that occurs among Jews may have quite opposite results and lead to shame of the body and an extreme modesty. I have been told of many Jews who go far beyond Christians in this respect and whose constant concern is to conceal their bodies. And there are others who are preoccupied with spiritualizing their bodies, that is, clothing them in spiritual signification, since they deny them vital values; to a Christian the faces and gestures of certain Jews are often embarrassing because of what they signify — they express intelligence, goodness, resignation, or pain too clearly and for too long a time.

It is customary to make fun of the rapid and voluble gestures that the Jew makes with his hands when he speaks — though this mimic vivacity is actually less widespread than people think. It is highly important that we distinguish this trait from behaviour that resembles it in appearance, such as that of the typical citizen of Marseille, for example. The mimicry of the Marseillais — exaggerated, rapid, unquenchable — goes with his interior fire, his constant nervousness, his desire to render with the whole body what he sees and what he feels. In the Jew there is primarily a desire to be totally meaningful, to feel the organism as a medium in the service of an idea, to transcend the body that weighs him down and go beyond it toward objects or truths susceptible to reason. Let me hasten to add that in such delicate matters we must protect ourselves with all sorts of reservations. What we have just said does not apply to all inauthentic Jews; above all, it varies in importance with the general attitude of the Jew, depending on his education, his origin, and especially the general pattern of his behaviour.

It seems to me that one might explain in the same way the famous Jewish "lack of tact." (Of course, there is a considerable amount of malice in this accusation.) In the last analysis what we call tact is connected with "subtlety of spirit," a thing the Jew does not trust. To act with tact is to appreciate a situation at a glance, to embrace it as a whole, to feel it rather than to analyze it, but it is at the same time to direct one's conduct by reference to a multitude of indistinct principles, of which some concern vital values and others express ceremonies and traditions of politeness that are altogether irrational. Thus to act "with tact" implies that the doer of the act has adopted a certain conception of the world, one that is traditional, ritual, and synthetic one for which he can give no reason. It implies also a particular sense of psychological ensembles, it is in no sense critical, and we might add that it takes on its whole meaning only in a strictly defined community with common ideas, mores, and customs. The Jew has as much natural tact as anybody, if by that is understood a basic comprehension of others, but he doesn't seek to have it.

To agree to base his conduct on tact would be to recognize that reason is not a sufficient guide in human relations and that traditional and obscure powers of intuition may be superior to it when it is a question of adapting oneself to other people or of handling them. That would mean to admit a kind of casuistry, a morality of particular cases, and thus to renounce the idea of a universal human nature that demands universal treatment; it would be an admission that concrete situations, as well as concrete men, cannot be compared; it would mean a relapse into particularism. And by that the Jew would assist in his own downfall, for in the name of this tact the anti-Semite denounces him as a particular case and excludes him from the national community.

The Jew has a marked inclination to believe that the worst difficulties may be resolved by reason; he does not see the irrational, the magical, the concrete and particular nuance; he does not believe in singularities of sentiment. By a very understandable defence reaction, this man who lives by the opinion that others have of him tries to deny the values of opinion. He is tempted to apply to men the reasoning which is suited to objects; he moves toward the analytic rationalism of the engineer and the worker: not because he is formed or attracted by objects but because he is rejected by men. And the analytical psychology he constructs permits him readily to reduce the synthetic structures of consciousness to a play of interests, to the composition of appetites, to the algebraic sum of tendencies. The art of dominating, of reducing, or of persuading becomes rational calculation. Only, it follows inevitably that this explanation of human conduct by universal notions entails the risk of abstraction.

Indeed, it is the taste for abstraction that explains the Jew's special relationship to money ...

Jewish authenticity consists in choosing oneself as Jew— that is, in realizing one's Jewish condition. The authentic Jew abandons the myth of the universal man; he knows himself and wills himself into history as a historic and damned creature; he ceases to run away from himself and to be ashamed of his own kind. He understands that society is bad; for the naive monism of the inauthentic Jew he substitutes a social pluralism. He knows that he is one who stands apart, untouchable, scorned, proscribed — and it is as such that be asserts his being. At once he gives up his rationalistic optimism; he sees that the world is fragmented by irrational divisions, and in accepting this fragmentation — at least in what concerns him — in proclaiming himself a Jew, he makes some of these values and these divisions his. He chooses his brothers and his peers; they are the other Jews. He stakes everything on human grandeur, for he accepts the obligation to live in a situation that is defined precisely by the fact that it is unliveable; he derives his pride from his humiliation.

The moment he ceases to be passive, he takes away all power and all virulence from anti-Semitism. The inauthentic Jew flees Jewish reality, and the anti-Semite makes him a Jew in spite of himself; but the authentic Jew makes himself a Jew, in the face of all and against all. He accepts all, even martyrdom, and the anti-Semite, deprived of his weapons, must be content to yelp at the Jew as he goes by, and can no longer touch him. At one stroke the Jew, like any authentic man, escapes description. The common characteristics we have attributed to the inauthentic Jews emanate from their common inauthenticity. We shall encounter none of them in the authentic Jew; he is what he makes himself, that is all that can be said.... Yet the choice they have made of themselves does not smooth their way as individuals, rather the contrary.

-- Anti-Semite and Jew, by Jean-Paul Sartre
Table of Contents:
• Preface
• Chapter 1
• Chapter 2
• Chapter 3
• Chapter 4