A Discourse on the Worship of Priapus: and Its connection With the Mystic Theology of the Ancients
To which is added an account of the remains of the worship of Priapus lately existing at Isernia in the Kingdom of Naples by Sir William Hamilton, K.B.
by Richard Payne Knight
NOTICE: THIS WORK MAY BE PROTECTED BY COPYRIGHT
YOU ARE REQUIRED TO READ

THE COPYRIGHT NOTICE AT THIS LINK

BEFORE YOU READ THE FOLLOWING WORK, THAT IS AVAILABLE SOLELY FOR PRIVATE STUDY, SCHOLARSHIP OR RESEARCH PURSUANT TO 17 U.S.C. SECTION 107 AND 108. IN THE EVENT THAT THE LIBRARY DETERMINES THAT UNLAWFUL COPYING OF THIS WORK HAS OCCURRED, THE LIBRARY HAS THE RIGHT TO BLOCK THE I.P. ADDRESS AT WHICH THE UNLAWFUL COPYING APPEARED TO HAVE OCCURRED. THANK YOU FOR RESPECTING THE RIGHTS OF COPYRIGHT OWNERS.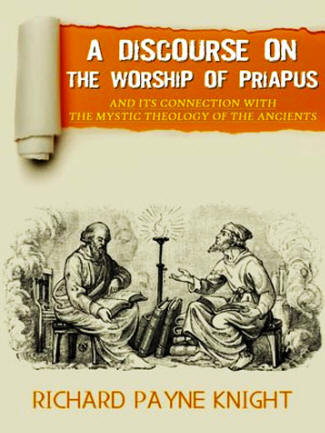 At the great altar in the church, another of its canons attends to give the holy unction, with the oil of St. Cosmo; which is prepared by the same receipt as that of the Roman Ritual, with the addition only of the prayer of the Holy Martyrs, St. Cosmus and Damianus. Those who have an infirmity in any of their members, present themselves at the great altar, and uncover the member affected (not even excepting that which is most frequently represented by the exvoti); and the reverend canon anoints it, saying, Per intercessionem beati Cosmi, liberet te ab omni malo. Amen.

***

On all common subjects, this dominion of passion and prejudice is restrained by the evidence of sense and perception; but, when the mind is led to the contemplation of things beyond its comprehension, all such restraints vanish: reason has then nothing to oppose to the phantoms of imagination, which acquire terrors from their obscurity, and dictate uncontrolled, because unknown. Such is the case in all religious subjects, which, being beyond the reach of sense or reason, are always embraced or rejected with violence and heat.

***

The Eclectic Jews, and their followers, the Ammonian and Christian Platonics, who endeavoured to make their own philosophy and religion conform to the ancient theology, held infinity of space to be only the immensity of the divine presence. Ὁ Θεος ἑαντσ τοπος εστι was their dogma, which is now inserted into the Confessional of the Greek Church. This infinity was distinguished by them from common space, as time was from eternity. Whatever is eternal or infinite, said they, must be absolutely indivisible; because division is in itself inconsistent with infinite continuity and duration: therefore space and time are distinct from infinity and eternity, which are void of all parts and gradations whatever. Time is measured by years, days, hours, &c., and distinguished by past, present, and future; but these, being divisions, are excluded from eternity, as locality is from infinity, and as both are from the Being who fills both; who can therefore feel no succession of events, nor know any gradation of distance; but must comprehend infinite duration as if it were one moment, and infinite extent as if it were but a single point. Hence the Ammonian Platonics speak of him as concentered in his own unity, and extended through all things, but participated of by none. Being of a nature more refined and elevated than intelligence itself, he could not be known by sense, perception, or reason; and being the cause of all, he must be anterior to all, even to eternity itself, if considered as eternity of time, and not as the intellectual unity, which is the Deity himself, by whose emanations all things exist, and to whose proximity or distances they owe their degrees of excellence or baseness. Being itself, in its most abstract sense, is derived from him; for that which is the cause and beginning of all Being, cannot be a part of that All which sprung from himself: therefore he is not Being, nor is Being his Attribute; for that which has an attribute cannot have the abstract simplicity of pure unity. All Being is in its nature finite; for, if it was otherwise, it must be without bounds every way; and therefore could have no gradation of proximity to the first cause, or consequent pre-eminence of one part over another: for, as all distinctions of time are excluded from infinite duration, and all divisions of locality from infinite extent, so are all degrees of priority from infinite progression. The mind is and acts in itself; but the abstract unity of the first cause is neither in itself, nor in another; -- not in itself, because that would imply modification, from which abstract simplicity is necessarily exempt; nor in another, because then there would be an hypostatical duality, instead of absolute unity. In both cases there would be a locality of hypostasis, inconsistent with intellectual infinity. As all physical attributes were excluded from this metaphysical abstraction, which they called their first cause, he must of course be destitute of all moral ones, which are only generalized modes of action of the former. Even simple abstract truth was denied him; for truth, as Proclus says, is merely the relative to falsehood; and no relative can exist without a positive or correlative. The Deity therefore who has no falsehood, can have no truth, in our sense of the word....the Ammonian Platonics, the last professors of the ancient religion, endeavoured to conceive something beyond the reach of sense and perception, as the essence of their supreme god; yet, when they wanted to illustrate and explain the modes of action of this metaphysical abstraction, who was more subtle than intelligence itself, they do it by images and comparisons of light and fire.

***

The great characteristic attribute [of the deity] was represented by the organ of generation in that state of tension and rigidity which is necessary to the due performance of its functions. Many small images of this kind have been found among the ruins of Herculaneum and Pompeii, attached to the bracelets, which the chaste and pious matrons of antiquity wore round their necks and arms. In these, the organ of generation appears alone, or only accompanied with the wings of incubation, in order to show that the devout wearer devoted herself wholly and solely to procreation, the great end for which she was ordained. So expressive a symbol, being constantly in her view, must keep her attention fixed on its natural object, and continually remind her of the gratitude she owed the Creator, for having taken her into his service, made her a partaker of his most valuable blessings, and employed her as the passive instrument in the exertion of his most beneficial power. The female organs of generation were revered as symbols of the generative powers of nature or matter, as the male were of the generative powers of God....At Mendes a living goat was kept as the image of the generative power, to whom the women presented themselves naked, and had the honour of being publicly enjoyed by him....a truly edifying spectacle to the saints of ancient Egypt.

***

The fauns and satyrs, which accompany the androgynous figures on the ancient sculptures, are usually represented as ministering to the Creator by exerting their characteristic attributes upon them, as well as upon the nymphs, the passive agents of procreation, but what has puzzled the learned in these monuments, and seems a contradiction to the general system of ancient religion, is that many of these groups are in attitudes which are rather adapted to the gratification of disordered and unnatural appetites, than to extend procreation. But a learned author, who has thrown infinite light upon these subjects, has effectually cleared them from this suspicion, by showing that they only took the most convenient way to get at the female organs of generation, in those mixed beings who possessed both. This is confirmed by Lucretius, who asserts, that this attitude is better adapted to the purposes of generation than any other. We may therefore conclude, that instead of representing them in the act of gratifying any disorderly appetites, the artists meant to show their modesty in not indulging their concupiscence, but in doing their duty in the way best adapted to answer the ends proposed by the Creator.

***

Minerva is said by the Greek mythologists to have been born without a mother from the head of Jupiter, who was delivered of her by the assistance of Vulcan. This, in plain language, means no more than that she was a pure emanation of the divine mind, operating by means of the universal agent fire, and not, like others of the allegorical personages, sprung from any of the particular operations of the deity upon external matter. Hence she is said to be next in dignity to her father, and to be endowed with all his attributes; for, as wisdom is the most exalted quality of the mind, and the divine mind the perfection of wisdom, all its attributes are the attributes of wisdom, under whose direction its power is always exerted. Strength and wisdom therefore, when considered as attributes of the deity, are in fact one and the same. The Greek Minerva is usually represented with the spear uplifted in her hand, in the same manner as the Indian Gonnis holds the battle-axe. Both are given to denote the destroying power equally belonging to divine wisdom, as the creative or preserving.

***

As the obelisc was the symbol of light, so was the pyramid of fire, deemed to be essentially the same. The Egyptians, among whom these forms are the most frequent, held that there were two opposite powers in the world, perpetually acting contrary to each other, the one creating, and the other destroying; the former they called Osiris, and the latter Typhon. By the contention of these two, that mixture of good and evil, which, according to some verses of Euripides quoted by Plutarch, constituted the harmony of the world was supposed to be produced. This opinion of the necessary mixture of good and evil was, according to Plutarch, of immemorial antiquity, derived from the oldest theologists and legislators, not only in traditions and reports, but in mysteries and sacrifices, both Greek and barbarian. Fire was the efficient principle of both, and, according to some of the Egyptians, that ætherial fire which concentred in the sun. This opinion Plutarch controverts, saying that Typhon, the evil or destroying power, was a terrestrial or material fire, essentially different from the ætherial. But Plutarch here argues from his own prejudices, rather than from the evidence of the case; for he believed in an original evil principle coeternal with the good, and acting in perpetual opposition to it; an error into which men have been led by forming false notions of good and evil, and considering them as self-existing inherent properties, instead of accidental modifications, variable with every circumstance with which causes and events are connected. This error, though adopted by individuals, never formed a part either of the theology or mythology of Greece. Homer, in the beautiful allegory of the two casks, makes Jupiter, the supreme god, the distributor of both good and evil. The name of Jupiter, Ζευς, was originally one of the titles or Epithets of the sun, signifying, according to its etymology, aweful or terrible; in which sense it is used in the Orphic litanies. Pan, the universal substance, is called the horned Jupiter (Ζευς ο κεραστης); and in an Orphic fragment preserved by Macrobius the names of Jupiter and Bacchus appear to be only titles of the all-creating power of the sun.

***

It must be observed, that, when the ancients speak of creation and destruction, they mean only formation and dissolution; it being universally allowed, through all systems of religion, or sects of philosophy, that nothing could come from nothing, and that no power whatever could annihilate that which really existed. The bold and magnificent idea of a creation from nothing was reserved for the more vigorous faith, and more enlightened minds of the moderns, who need seek no authority to confirm their belief; for, as that which is self-evident admits of no proof, so that which is in itself impossible admits of no refutation.

***


The bride was usually placed upon him [Bacchus] immediately before marriage; not, as Lactantius says, ut ejus pudicitiam prior Deus prælibasse videatur, but that she might be rendered fruitful by her communion with the divine nature, and capable of fulfilling the duties of her station. In an ancient poem we find a lady of the name of Lalage presenting the pictures of the "Elephantis" to him, and gravely requesting that she might enjoy the pleasures over which he particularly presided, in all the attitudes described in that celebrated treatise. Whether or not she succeeded, the poet has not informed us; but we may safely conclude that she did not trust wholly to faith and prayer, but, contrary to the usual practice of modern devotees, accompanied her devotion with such good works as were likely to contribute to the end proposed by it.

When a lady had served as the victim in a sacrifice to this god, she expressed her gratitude for the benefits received, by offering upon his altar certain small images representing his characteristic attribute, the number of which was equal to the number of men who had acted as priests upon the occasion. On an antique gem, in the collection of Mr. Townley, is one of these fair victims, who appears just returned from a sacrifice of this kind, and devoutly returning her thanks by offering upon an altar some of these images, from the number of which one may observe that she has not been neglected. This offering of thanks had also its mystic and allegorical meaning; for fire being the energetic principle and essential force of the Creator, and the symbol above mentioned the visible image of his characteristic attribute, the uniting them was uniting the material with the essential cause, from whose joint operation all things were supposed to proceed.

These sacrifices, as well as all those to the deities presiding over generation, were performed by night: hence Hippolytus, in Euripides, says, to express his love of chastity, that he likes none of the gods revered by night. These acts of devotion were indeed attended with such rites as must naturally shock the prejudices of a chaste and temperate mind, not liable to be warmed by that ecstatic enthusiasm which is peculiar to devout persons when their attention is absorbed in the contemplation of the beneficent powers of the Creator, and all their faculties directed to imitate him in the exertion of his great characteristic attribute. To heighten this enthusiasm, the male and female saints of antiquity used to lie promiscuously together in the temples, and honour God by a liberal display and general communication of his bounties. Herodotus, indeed, excepts the Greeks and Egyptians, and Dionysius of Halicarnassus, the Romans, from this general custom of other nations; but to the testimony of the former we may oppose the thousand sacred prostitutes kept at each of the temples of Corinth and Eryx; and to that of the latter the express words of Juvenal, who, though he lived an age, later, lived when the same religion, and nearly the same manners, prevailed. Diodorus Siculus also tells us, that when the Roman prætors visited Eryx, they laid aside their magisterial severity, and honoured the goddess by mixing with her votaries, and indulging themselves in the pleasures over which she presided. It appears, too, that the act of generation was a sort of sacrament in the island of Lesbos; for the device on its medals (which in the Greek republics had always some relation to religion) is as explicit as forms can make it. The figures appear indeed to be mystic and allegorical, the male having evidently a mixture of the goat in his beard and features, and therefore probably represents Pan, the generative power of the universe incorporated in universal matter. The female has all that breadth and fulness which characterise the personification of the passive power, known by the titles of Rhea, Juno, Ceres, &e.

When there were such seminaries for female education as those of Eryx and Corinth, we need not wonder that the ladies of antiquity should be extremely well instructed in all the practical duties of their religion. The stories told of Julia and Messalina show us that the Roman ladies were no ways deficient; and yet they were as remarkable for their gravity and decency as the Corinthians were for their skill and dexterity in adapting themselves to all the modes and attitudes which the luxuriant imaginations of experienced votaries have contrived for performing the rites of their tutelar goddess.

***

Not only the sacrifices to the generative deities, but in general all the religious rites of the Greeks, were of the festive kind. To imitate the gods, was, in their opinion, to feast and rejoice, and to cultivate the useful and elegant arts, by which we are made partakers of their felicity. This was the case with almost all the nations of antiquity, except the Egyptians and their reformed imitators the Jews, who being governed by a hierarchy, endeavoured to make it awful and venerable to the people by an appearance of rigour and austerity. The people, however, sometimes broke through this restraint, and indulged themselves in the more pleasing worship of their neighbours, as when they danced and feasted before the golden calf which Aaron erected, and devoted themselves to the worship of obscene idols, generally supposed to be of Priapus, under the reign of Abijam.

The Christian religion, being a reformation of the Jewish, rather increased than diminished the austerity of its original. On particular occasions however it equally abated its rigour, and gave way to festivity and mirth, though always with an air of sanctity and solemnity. Such were originally the feasts of the Eucharist, which, as the word expresses, were meetings of joy and gratulation; though, as divines tell us, all of the spiritual kind: but the particular manner in which St. Augustine commands the ladies who attended them to wear clean linen, seems to infer, that personal as well as spiritual matters were thought worthy of attention. To those who administer the sacrament in the modern way, it may appear of little consequence whether the women received it in clean linen or not; but to the good bishop, who was to administer the holy kiss, it certainly was of some importance. The holy kiss was not only applied as a part of the ceremonial of the Eucharist, but also of prayer, at the conclusion of which they welcomed each other with this natural sign of love and benevolence. It was upon these occasions that they worked themselves up to those fits of rapture and enthusiasm, which made them eagerly rush upon destruction in the fury of their zeal to obtain the crown of martyrdom. Enthusiasm on one subject naturally produces enthusiasm on another; for the human passions, like the strings of an instrument, vibrate to the motions of each other: hence paroxysms of love and devotion have oftentimes so exactly accorded, as not to have been distinguished by the very persons whom they agitated. This was too often the case in these meetings of the primitive Christians. The feasts of gratulation and love, the αγαπαι and nocturnal vigils, gave too flattering opportunities to the passions and appetites of men, to continue long, what we are told they were at first, pure exercises of devotion. The spiritual raptures and divine ecstasies encouraged on these occasions, were often ecstasies of a very different kind, concealed under the garb of devotion; whence the greatest irregularities ensued; and it became necessary for the reputation of the church, that they should be suppressed, as they afterwards were by the decrees of several councils.

-- A Discourse on the Worship of Priapus, by Richard Payne Knight
Table of Contents:
• Introduction
• Part 1
• Part 2
• Part 3
• Part 4
• Part 5
• Part 6
• Part 7
• Part 8
• Part 9
• Part 10
• Part 11
• Part 12
• Part 13
• Part 14