On The Constitution of the Church and State, According to the Idea of Each; With Aids Toward a Right Judgment on the Late Catholic Bill
by S.T. Coleridge, Esq., R.A., R.S.L. (Samuel Taylor Coleridge)
London: Hurst, Chance, and Co., 1830
NOTICE: THIS WORK MAY BE PROTECTED BY COPYRIGHT
YOU ARE REQUIRED TO READ

THE COPYRIGHT NOTICE AT THIS LINK

BEFORE YOU READ THE FOLLOWING WORK, THAT IS AVAILABLE SOLELY FOR PRIVATE STUDY, SCHOLARSHIP OR RESEARCH PURSUANT TO 17 U.S.C. SECTION 107 AND 108. IN THE EVENT THAT THE LIBRARY DETERMINES THAT UNLAWFUL COPYING OF THIS WORK HAS OCCURRED, THE LIBRARY HAS THE RIGHT TO BLOCK THE I.P. ADDRESS AT WHICH THE UNLAWFUL COPYING APPEARED TO HAVE OCCURRED. THANK YOU FOR RESPECTING THE RIGHTS OF COPYRIGHT OWNERS.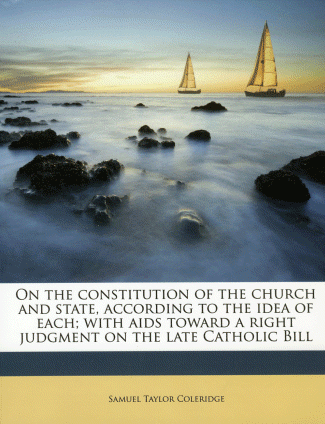 Table of Contents:
• Advertisement
• Prefatory Remarks
• Concerning the Right Idea of the Constitution
• Paragraph the First
• Paragraph the Second
• Paragraph the Third
• Paragraph the Fourth
• Practical Conclusion
• On the King and the Nation
o The preceding position exemplified.
• Idea of the Christian Church
• On the Third Possible Church or the Church of Antichrist
o On the Church, Neither National Nor Universal
• Second Part: On, Aids to a Right Appreciation of the Bill: Admitting Catholics to Sit in Both Houses of Parliament, &c. &c
o To a Friend
• Glossary
o History of Enthusiasm
• Appendix
THE CLERISY of the nation (a far apter exponent of the thing meant, than the term which the usus et norma loquendi forces on me), the clerisy, I say, or national church, in its primary acceptation and original intention comprehended the learned of all denominations; -- the sages and professors of law and jurisprudence; of medicine and physiology; of music; of military and civil architecture; of the physical sciences; with the mathematical as the common organ of the preceding; in short, all the so called liberal arts and sciences, the possession and application of which constitute the civilization of a country, as well as the Theological. The last was, indeed, placed at the head of all; and of good right did it claim the precedence. But why? Because under the name of Theology, or Divinity, were contained the interpretation of languages; the conservation and tradition of past events; the momentous epochs, and revolutions of the race and nation; the continuation of the records; logic, ethics, and the determination of ethical science, in application to the rights and duties of men in all their various relations, social and civil; and lastly, the ground-knowledge, the prima scientia as it was named, -- PHILOSOPHY, or the doctrine and discipline of ideas. [That is, of knowledges immediate, yet real, and herein distinguished in kind from logical and mathematical truths, which express not realities, but only the necessary forms of conceiving and perceiving, and are therefore named the formal or abstract sciences. Ideas, on the other hand, or the truths of philosophy, properly so called, correspond to substantial beings, to objects whose actual subsistence is implied in their idea, though only by the idea revealable. To adopt the language of the great philosophic apostle, they are "spiritual realities that can only spiritually be discerned," and the inherent aptitude and moral preconfiguration to which constitutes what we mean by ideas, and by the presence of ideal truth, and of ideal power, in the human being. They, in fact, constitute his humanity. For try to conceive a man without the ideas of God, eternity, freedom, will, absolute truth, of the good, the true, the beautiful, the infinite. An animal endowed with a memory of appearances and of facts might remain. But the man will have vanished, and you have instead a creature, "more subtile than any beast of the field, but likewise cursed above every beast of the field; upon the belly must it go and dust must it eat all the days of its life." But I recal myself from a train of thoughts, little likely to find favour in this age of sense and selfishness.]

Theology formed only a part of the objects, the Theologians formed only a portion of the clerks or clergy, of the national church. The theological order had precedency indeed, and deservedly; but not because its members were priests, whose office was to conciliate the invisible powers and to superintend the interests that survive the grave; not as being exclusively, or even principally, sacerdotal or templar, which, when it did occur, is to be considered as an accident of the age, a mis-growth of ignorance and oppression, a falsification of the constitutive principle, not a constituent part of the same. No! The Theologians took the lead, because the SCIENCE of Theology was the root and the trunk of the knowledges that civilized man, because it gave unity and the circulating sap of life to all other sciences, by virtue of which alone they could be contemplated as forming, collectively, the living tree of knowledge. It had the precedency, because, under the name theology, were comprised all the main aids, instruments, and materials of NATIONAL EDUCATION, the nisus formativus of the body politic, the shaping and informing spirit, which educing, i.e. eliciting, the latent man in all the natives of the soil, trains them up to citizens of the country, free subjects of the realm. And lastly, because to divinity belong those fundamental truths, which are the common ground-work of our civil and our religious duties; not less indispensable to a right view of our temporal concerns, than to a rational faith respecting our immortal well-being. (Not without celestial observations, can even terrestrial charts be accurately constructed.) And of especial importance is it to the objects here contemplated, that only by the vital warmth diffused by these truths throughout the MANY, and by the guiding light from the philosophy, which is the basis of divinity, possessed by the FEW, can either the community or its rulers fully comprehend, or rightly appreciate, the permanent distinction, and the occasional contrast, between cultivation and civilization; or be made to understand this most valuable of the lessons taught by history, and exemplified alike in her oldest and her most recent records -- that a nation can never be a too cultivated, but may easily become an over-civilized race...

I may be allowed to express the final cause of the whole by the office and purpose of the greater part -- and this is, to form and train up the people of the country to obedient, free, useful, organizable subjects, citizens, and patriots, living to the benefit of the state, and prepared to die for its defence....

State of nature, or the Ouran Outang theory of the origin of the human race, substituted for the Book of Genesis, ch. I. -- X. Rights of nature for the duties and privileges of citizens. Idealess facts, misnamed proofs from history, grounds of experience, &c., substituted for principles and the insight derived from them.... Meantime, the true historical feeling, the immortal life of an historical Nation, generation linked to generation by faith, freedom, heraldry, and ancestral fame, languishing, and giving place to the superstitions of wealth, and newspaper reputation....

Concluding address to the parliamentary leaders of the Liberalists and Utilitarians. I respect the talents of many, and the motives and character of some among you too sincerely to court the scorn, which I anticipate. But neither shall the fear of it prevent me from declaring aloud, and as a truth which I hold it the disgrace and calamity of a professed statesman not to know and acknowledge, that a permanent, nationalized, learned order, a national clerisy or church, is an essential element of a rightly constituted nation, without which it wants the best security alike for its permanence and its progression; and for which neither tract societies, nor conventicles, nor Lancastrian schools, nor mechanics' institutions, nor lecture-bazaars under the absurd name of universities, nor all these collectively, can be a substitute. For they are all marked with the same asterisk of spuriousness, shew the same distemper-spot on the front, that they are empirical specifics for morbid symptoms that help to feed and continue the disease.

But you wish for general illumination: you would spur-arm the toes of society: you would enlighten the higher ranks per ascensum ab imis. You begin, therefore, with the attempt to popularize science: but you will only effect its plebification. It is folly to think of making all, or the many, philosophers, or even men of science and systematic knowledge. But it is duty and wisdom to aim at making as many as possible soberly and steadily religious; -- inasmuch as the morality which the state requires in its citizens for its own well-being and ideal immortality, and without reference to their spiritual interest as individuals, can only exist for the people in the form of religion.... In fine, Religion, true or false, is and ever has been the centre of gravity in a realm, to which all other things must and will accommodate themselves....

And in the thorough assurance of its truth I make the assertion, that the perspicuity, and (with singularly few exceptions even for us) the uniform intelligibility, and close consecutive meaning, verse by verse, with the simplicity and grandeur of the plan, and the admirable ordonnance of the parts, are among the prominent beauties of the Apocalypse. Nor do I doubt, that the substance and main argument of this sacred oratorio, or drama sui generis (the Prometheus of Eschylus comes the nearest to the kind) were supplied by John the Evangelist: though I incline with Eusebius to find the poet himself in John, an Elder and Contemporary of the Church of Ephesus....

The world in which I exist is another world indeed, but not to come. It is as present as (if that be at all) the magnetic planet, of which, according to the Astronomer HALLEY, the visible globe, that we inverminate, is the case or travelling-trunk -- a neat little world where light still exists in statu perfuso, as on the third day of the Creation, before it was polarised into outward and inward, i.e. while light and life were one and the same, NEITHER existing formally, yet BOTH iminenter: and when herb, flower, and forest, rose as a vision, in proprio lucido, the ancestor and unseen yesterday of the sun and moon. Now, whether there really is such an elysian mundus mundulus incased in the Macrocosm, or Great World, below the Adamantine Vault that supports the Mother Waters, that support the coating crust of that mundus immundus on which we, and others less scantily furnished from nature's Leggery, crawl, delve, and nestle -- (or, shall I say the Liceum,

-- the said Dr. Halley may, perhaps, by this time, have ascertained: and to him and the philosophic ghosts, his compeers, I leave it. But that another world is inshrined in the microcosm I not only believe, but at certain depths of my Being, during the solemner Sabbaths of the Spirit, I have held commune therewith, in the power of that Faith, which is "the substance of the things hoped for," the living stem that will itself expand into the flower, which it now foreshews. How should it not be so, even on grounds of natural reason, and the analogy of inferior life? Is not nature prophetic up the whole vast pyramid of organic being?

-- On the Constitution of the Church and State