SECRET RITUALS OF THE MEN IN BLACK
by Allen Greenfield
© 1998, 2005 by Allen H. Greenfield
NOTICE: THIS WORK MAY BE PROTECTED BY COPYRIGHT
YOU ARE REQUIRED TO READ

THE COPYRIGHT NOTICE AT THIS LINK

BEFORE YOU READ THE FOLLOWING WORK, THAT IS AVAILABLE SOLELY FOR PRIVATE STUDY, SCHOLARSHIP OR RESEARCH PURSUANT TO 17 U.S.C. SECTION 107 AND 108. IN THE EVENT THAT THE LIBRARY DETERMINES THAT UNLAWFUL COPYING OF THIS WORK HAS OCCURRED, THE LIBRARY HAS THE RIGHT TO BLOCK THE I.P. ADDRESS AT WHICH THE UNLAWFUL COPYING APPEARED TO HAVE OCCURRED. THANK YOU FOR RESPECTING THE RIGHTS OF COPYRIGHT OWNERS.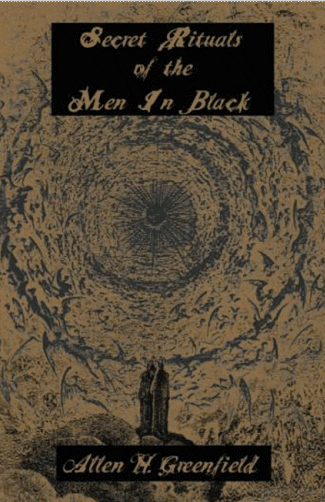 And it came to pass, when men began to multiply on the face of the earth, and daughters were born unto them, "That the sons of God saw the daughters of men that they were fair; and they took them wives of all which they chose."
-- Genesis 6:1-2
Table of Contents
• Introductory Remarks by Jonathan Sellers
• Introduction
• 1. The Role of Ritual in the UFO Mystery
• 2. ASHTAR - Angels, Demons or Men In Black?
• 3. The Mitchell Sisters
• 4. New Age or New Aeon?
• 5. Enoch and Mutan Mion
• 6. Who Decides What You Can Know?
• 7. How to Open - or Close - A Star Gate
• 8. Ritual for Calling Down Oannes
• 9. The Egyptian Connection
• 10. The Ultraterrestrial Origin of the Masonic Fraternity
• 11. Oannes, or John the God in Freemasonic Legend
• 12. The Sign of the Fish and the Fish-God From Sirius
• 13. "Higher Degree" Freemasonry and the Ultraterrestrial Legend
• 14. The Ultraterrestrial Trail in Other Degrees
• 15. The Central Password -The Dream of H1331
• 16. In Summary - A Radical Revision of the History of Planet Earth
• 17. The Rocket Scientist & the Guru - Stargate 1946
• Epilogue - the Cipher Trail in the Book of Babalon
• Postscript - the Stuff of Dreams
• APPENDIX ONE: Terry R. Wriste on the Ultraterrestrials
• APPENDIX TWO: Identifying Aliens
• Bibliography
• About the Author
• Notes
In February of 1937, on the eve of the Second World War, a representative of the Knights of Malta, an American (still living as I write this in 1994), met with the more esoteric leadership of the Third Reich in Germany. The meeting took place in a hidden SS retreat, and was attended by General Karl Haushofer, the senior initiate of the Black Lodge inside the German Reich.

The purpose of the meeting was to "sell" the Nazi regime on contact with what the young Maltese Knight called "the coming race".

Asked by the present writer in 1979 what he meant by the term, he told me: "the Ultraterrestrials, of course. The Germans had noted their 'ghost rockets' in Sweden, and were aware of their power. Most of the older Nazis present, though, were former members of the Thule Group or the archaic Vril Society, and took me to be talking about Tibetans or Aryan supermen or some such bunk. Except Haushofer, who knew better, and the 'Man with the Green Gloves' who, though supposedly a Tibetan himself, was certainly an Ultraterrestrial."

The deal fell through when the Reich fell, and the Knights switched their attention elsewhere.

In the early 1950s U.S. President Eisenhower unknowingly bought into a similar plan proposed by the Knights of Malta to him on behalf of their Ultraterrestrial overlords, in the name of the anticommunist crusade of that period.

"Deviants" were rounded up, and unprecedented power was placed in the hands of the Military Industrial infrastructure throughout the decade, until Eisenhower, in a surprise farewell address, asserted his fundamental decency and libertarian patriotism and roundly denounced the whole deal, paving the way for the Kennedy era and a generation of progressive experimentation.

The Knights of Malta briefly found themselves sudden outsiders. A bloody worldwide orgy of assassinations and murders of progressive political and moral leaders quickly followed, and by the 1980s the U.S. Administration was safely in the hands of an aged ex-actor with degenerative Alzheimer's Disease surrounded by a staff nearly totally dominated by members of the Knights of Malta. By the 1990s the anticommunist pretense could be dropped, the confused and restless citizenry disarmed, and the feeble opposition which remained could be easily coopted.

But what of the occult societies that had carried the flame for centuries? What of the UFOlogy, conspiracy theory, metaphysical, and 'White Lodge' Masonic groups?

The Knights of Malta's viewpoint infiltrated organized occultism and UFOlogy through the connection between

William Dudley Pelley's pro-Nazi Silver Shirts

prior to World War Two, and the occult Black Lodge within the Third Reich, centered in the SS, the Ahnenerbe Society, and the appropriately named "Black Order" -- descended from such black magical bodies as the Thule Group and the Vril Society as detailed in Secret Cipher of the UFOnauts.

***

"That rather lifeless system, which contained some rather interesting Egyptian roots," Bertiaux wrote, "was really quite remarkable. It was the design for the computer and energy system of what we might now be tempted to call something like a UFO object or projection from some empirical or chaotic [occult power zone]; but, which at that time, as strange as it might seem to the uninformed reader of these matters, was posing rather inconspicuously as an Egyptian Rite of Ancient Freemasonry with the name of 'Memphis-Misraim'".

-- Secret Rituals of the Men in Black, by Allen Greenfield