The International Jew
by Henry Ford
NOTICE: THIS WORK MAY BE PROTECTED BY COPYRIGHT
YOU ARE REQUIRED TO READ

THE COPYRIGHT NOTICE AT THIS LINK

BEFORE YOU READ THE FOLLOWING WORK, THAT IS AVAILABLE SOLELY FOR PRIVATE STUDY, SCHOLARSHIP OR RESEARCH PURSUANT TO 17 U.S.C. SECTION 107 AND 108. IN THE EVENT THAT THE LIBRARY DETERMINES THAT UNLAWFUL COPYING OF THIS WORK HAS OCCURRED, THE LIBRARY HAS THE RIGHT TO BLOCK THE I.P. ADDRESS AT WHICH THE UNLAWFUL COPYING APPEARED TO HAVE OCCURRED. THANK YOU FOR RESPECTING THE RIGHTS OF COPYRIGHT OWNERS.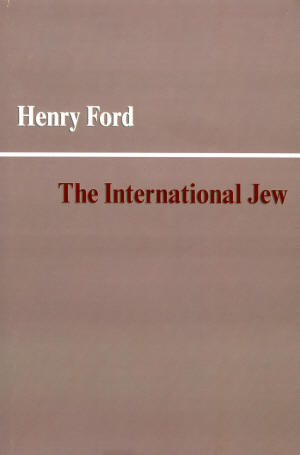 Table of Contents:
• Preface
• Ch. 1 The Jew in Character and Business
• Ch. 2 Germany's Reaction Against the Jew
• Ch. 3 Jewish History in the United States
• Ch. 4 The Jewish Question-Fact or Fancy?
• Ch. 5 Anti-Semitism-Will It Appear in the U.S.?
• Ch. 6 Jewish Question Breaks Into the Magazines
• Ch. 7 Arthur Brisbane Leaps to the Help of Jewry
• Ch. 8 Does a Definite Jewish World Program Exist?
• Ch. 9 The Historic Basis of Jewish Imperialism
• Ch. 10 An Introduction to the "Jewish Protocols"
• Ch. 11 "Jewish" Estimate of Gentile Human Nature
• Ch. 12 "Jewish Protocols" Claim Partial Fulfillment
• Ch. 13 "Jewish" Plan to Split Society by "Ideas"
• Ch. 14 Did the Jews Foresee the World War?
• Ch. 15 Is the Jewish "Kahal" the Modem "Soviet"?
• Ch. 16 How the "Jewish Question" Touches the Farm
• Ch. 17 Does Jewish Power Control the World Press?
• Ch. 18 Does This Explain Jewish Political Power?
• Ch. 19 The All-Jewish Mark on "Red Russia"
• Ch. 20 Jewish Testimony in Favor of Bolshevism
In the American Hebrew of June 25, 1920, Herman Bernstein writes thus: "About a year ago a representative of the Department of Justice submitted to me a copy of the manuscript of 'The Jewish Peril' by Professor Nilus, and asked for my opinion of the work. He said that the manuscript was a translation of a Russian book published in 1905 which was later suppressed. The manuscript was supposed to contain 'protocols' of the Wise Men of Zion and was supposed to have been read by Dr. Herzl at a secret conference of the Zionist Congress at Basle. He expressed the opinion that the work was probably that of Dr. Theodor Herzl."

... The allegation of Jewish authorship seems essential to the consistency of the plan. If these documents [The Protocols of the Learned Elders of Zion] were the forgeries which Jewish apologists claim them to be, the forgers would probably have taken pains to make Jewish authorship so clear that their anti-Semitic purpose could easily have been detected. But only twice is the term "Jew" used in them. After one has read much further than the average reader usually cares to go into such matters, one comes upon the plans for the establishment of the World Autocrat, and only then it is made clear of what lineage he is to be. But all through the documents there is left no doubt as to the people against whom the plan is aimed. It is not aimed against aristocracy as such. It is not aimed against capital as such. It is not aimed against government as such. Very definite provisions are made for the enlistment of aristocracy, capital and government for the execution of the plan. It is aimed against the people of the world who are called "Gentiles." It is the frequent mention of "Gentiles" that really decides the purpose of the documents ... This, of course, has been the Jewish method of dividing humanity from the earliest times. The world was only Jew and Gentile; all that was not Jew was Gentile.

***

The Jew's presence round the earth, his clannishness with his own people, made him a nation scattered among the nations, a corporation with agents everywhere.

***

There are no stronger contrasts in the world than the pure Germanic and pure Semitic races; therefore, there has been no harmony between the two in Germany; the German has regarded the Jew strictly as a guest, while the Jew, indignant at not being given the privileges of the nation-family, has cherished animosity against his host. In other countries the Jew is permitted to mix more readily with the people, he can amass his control unchallenged; but in Germany the case was different. Therefore, the Jew hated the German people; therefore, the countries of the world which were most dominated by the Jews showed the greatest hatred of Germany during the recent regrettable war. Jewish hands were in almost exclusive control of the engines of publicity by which public opinion concerning the German people was molded. The sole winners of the war were Jews.

***

They say there are other races which are as nimble at a trade as is the Jew, but the Jew does not live much among them. In this connection one may remember the famous joke about the Jew who went to Scotland.

***

A second stage of the spirit of anti-Semitism may be designated as hatred and enmity. It should be noted that the antipathy referred to immediately above was not hatred. Dislike is not hatred, nor is it necessarily enmity. One may dislike sugar in his tea without troubling to hate sugar. But undoubtedly there are people who because they have let their dislikes deepen into prejudice, and perhaps also because of unpleasant experiences with members of the Jewish race (probably a million Americans have been brought to the verge of becoming Jew-haters this winter because of contact with Jewish merchants and landlords) may be classified as, at least, incipient anti-Semites. This is most of all unfortunate for the persons who harbor these emotions. It is unfortunate in that it unfits the mind to consider intelligently the facts which constitute the Jewish Question, and also unfits it to deal with them in a fair and constructive way. For one's own sake, whatever the provocation otherwise, it is better not to let passion deflect the needle of one's mind. Hatred at the wheel means hazard on the course. Enmity lives in the vicinity of the Jews more than of any other race, and the reason for this is one of the puzzles of the ages. The Jewish nature itself, as shown in ancient and modern history, is not without its own share of enmity, and it either evokes or provokes enmity where it comes in contact with those Aryan races which follow their natural impulses unchecked by cultural and ethical influences. This age-long conflict of the Jew has puzzled the minds of students for generations. Some explain it Biblically as the curse of Jehovah upon His Chosen People for their disobedience to the discipline by which He would have made them the Prophet Nation of the world. If this offense must come, if it is part of the Jew's heritage, an old saying -- Christian and Scriptural, by the way -- would still remain true: "It must needs be that offenses come, but woe to that man by whom the offense cometh."

***

To this day, in every country, the Jews are slow to admit blameworthiness for anything. They must be excused, whoever else may be accused. It is a trait which will have to be disciplined before they can be brought to assist, if ever they can, the removal of those characteristics which arouse the antagonism of other peoples. Elsewhere in the world, it may be said that out-and-out enmity to the Jews has an economic basis. This, of course, leads to the question whether the Jew shall have to become a deliberate failure, or deny his genius, and forego his just need of prosperity before he can win the approval of the other races.

***

Liberalism and nationalism, with a flourish of trumpets, threw open the doors of the ghetto and offered equal citizenship to the Jew. The Jew passed out into the Western World, saw the power and the glory of it, used it and enjoyed it, laid his hand indeed upon the nerve centers of its civilization, guided, directed and exploited it, and then refused the offer.

Moreover -- and this is a remarkable thing -- the Europe of nationalism and liberalism, of scientific government and democratic equality is more intolerable to him than the old oppressions and persecutions of despotism.

In the increasing consolidation of the western nations, it is no longer possible to reckon on complete toleration.

As any movement of world revolution must be, this is primarily anti-Anglo-Saxon.

***

The future of the Jew, as prophetically outlined, is intimately bound up with the future of this planet, and the Christian church in large part -- at least by the evangelical wing, which the Jews most condemn -- sees a Restoration of the Chosen People yet to come. If the mass of the Jews knew how understandingly and sympathetically all the prophecies concerning them are being studied in the Church, and the faith that exists that these prophecies will find fulfillment and that they will result in great Jewish service to society at large, they would probably regard the Church with another mind. They would at least know that the Church does not believe that it will be the instrument in the conversion of the Jews -- a point on which Jewish leaders are tragically misled and which evokes more bitterness than anything else.

***

It is palpably a theory whose purpose is to make a seeming good out of that which is undeniable evil.

-- The International Jew, by Henry Ford