CHAPTER LXXIX. The Beginning of the Disclosure of the Secret.
On the 30th of April 1901, Tsa Rong-ba, who had left for India in the preceding year, came back. He was a Tibetan merchant, to whom I had entrusted the letters to my teacher Saraṭ Chanḍra Ḍās at Darjeeling and to a Lama called Shabdung of the same town. He had also been trusted with the business of posting a letter to my native country. As soon as he arrived he at once sent for me, but his messenger could not find me at Sera, for I was at the treasury-minister's on that day, and it was rather late when I heard of his return. So early the next morning I started for his house, expecting to receive answers from my old acquaintances in Darjeeling. After exchanging a few happy words he said to me: "At the time when I reached Darjeeling, both your teacher and the Lama were away. So I had to carry the letters with me all the way to Calcutta. On my way home, when I came back to Darjeeling I found both of them at home, and handed them the letters. Saraṭ told me to call on him again two days after to receive his answer. But I could not see him again, because I had bought a large quantity of iron by the secret order of the Government, and if the fact had become known to the Indian Government I should have been arrested. Therefore I could not stay long at Darjeeling and determined to start the next day without securing an answer from Saraṭ. But here is the answer from Lama Shabdung, who wrote it on the same day." Saying this he handed me a letter. In the letter, it was stated that the letter to my teacher had been handed to him and another to my home had been registered. He also thanked me for my present to him.[567] (In Tibet it is customary to annex some present to a letter, and if nothing suitable can be found, they enclose a piece of thin silk cloth, a 'Kata,' and as I had acted in accordance with this custom when I sent my letter to him, he thanked me for that, and as a return present sent me some European sugar and a few other things). As we talked I heard of the Transvaal war and various other items of news from Darjeeling.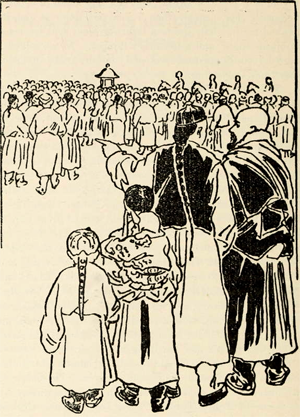 PROCESSION OF THE PANCHEN OR TASHI LAMA IN LHASA.
The 13th of May (the 4th of April by the Tibetan calendar) was a grand day for Lhasa, for on that day the Grand Lama Panchen Rinpoche, or the second Pope of Tashi Lhunpo in the city of Shigatze in the Tsan Province was to come up to Lhasa. He had completed his twentieth year and was qualified to receive what in Tibetan is called the Nyen-zok, which means investiture or 'the deliverance of the Commands'. He was now coming to the capital to receive the ceremony from the Pope Tubten Gyam Tso in Lhasa. The ceremony is regarded as one of great importance, in nowise second to the "Nyen-zok" day of the investiture or 'the Deliverance of the Commands of the Order' of the Pope himself. The citizens, men and women, young and old, all went out to welcome the young prelate to Lhasa and I was also present in the crowd, accompanied by Li Tsu-shu, a Chinese apothecary, and his children. The procession of the day was magnificent and as splendid as was expected, but was not much different from that which I saw at Shigatze. On our way back I met Tsa Rong-ba, who invited me to tea at his house. I accepted, and was sitting comfortably in his house, when a Tibetan gentleman came in. The man was introduced to me as the Chief of the Pope's caravan, by the name of Takbo Tunbai Choen Joe. He also worked (as I learned afterward) as an agent of the Government for buying iron and other articles as Tsa Rong-ba did, and they were old acquaintances. As soon as he entered the house he stared at me with his sharp eyes for a long time. As[569] I looked at him I judged him to be a black-hearted man, but at the same time I recognised the presence of great smartness.
Presently he came close to me. In the room were Tsa Rong-ba and his wife, and I saw that the greatest danger was brewing. But here I must diverge to tell a long story. Tsa Rong-ba had looked upon me with great hope, as my influence increased, because he thought if I became a family doctor of the Pope he would derive therefrom great benefit and profit, and when he returned from India he found my fame as a doctor greatly increased. Some people had exaggerated my reputation; if I cured only three patients they would call it fifty, and went even so far as to say that none could compete with me in the art of medicine. Besides, he knew that I lodged with the Minister of the treasury, and that I had also several friends among the higher officials and priests. These considerations made him think me quite reliable. While he was in Calcutta he heard much of the just and brave actions of the Japanese, also that in the war between Japan and China, the Japanese were not selfish, but had in view the benefit of China; at least I heard him often say so. Thus his confidence in the Japanese in general and in myself had been still more increased.
Next, to speak of the intruder Takbo Tunbai Choen Joe, he was the clerk of a great merchant named Takbo Tunba, and had often been to Peking, sometimes in charge of the Pope's caravan. At the time of the Boxer Trouble he was in China and once unfortunately all his goods had been captured by some Japanese soldiers. He explained to them that the goods captured did not belong to the Chinese Government—on which suspicion they had been seized—and begged to have them returned, but all in vain. They were going to carry everything away. Then he hastened to the Japanese general at headquarters, and complained that he was a Tibetan and the goods had[570] neither been brought for, nor were being carried for the Chinese Government, and besought the general that they should be given back. The general, seeing that he was a Tibetan, immediately wrote a note in Chinese and in some peculiar characters (undoubtedly Japanese) signed his name and handed it to him telling him to take it to the soldiers. He did as he was told, and the goods which had been seized were returned with no loss whatever. This event and other experiences made him think that the Japanese were in the habit of acting justly and righteously. At any rate he had spoken highly of the Japanese when he told the above story to Tsa Rong-ba. When Tsa Rong-ba heard the story and knew that the Choen Joe was an admirer of the Japanese as he himself was, he thought it might do no harm to discover to him the person of the Japanese Lama; he even thought it would be profitable for himself to do so, but I never dreamed that such a fancy had taken possession of his mind.
The Choen Joe, who was keenly gazing at me, suddenly cried out: "You are very strange," to which I did not reply a word. Then he continued: "At first I thought you were a Mongolian, but I found my judgment mistaken. Nor are you to be taken for a Chinaman. Of course, you are not a European. Of what nationality in the world are you then?" I was about to reply to this impertinent question, when I was interrupted by Tsa Rong-ba who spoke in a knowing way: "This gentleman is a Japanese." Just a few words, and all was over. It was the first time my nationality had been mentioned in Lhasa. A very annoying truth had been uttered, but I could not deny the impeachment, so continued silently looking into the chief's face, and wondering what would be the next word I should hear from him. Then with a look as if relieved from some uneasiness he turned to the host and said:[571] "I see, I see, I thought he must be a Japanese, but then I thought it was impossible for a Japanese to penetrate into this country, and I hesitated to say so. Now that I hear you say so, I doubt it not, for I have seen many Japanese at Peking."
The sentence was given by these judges before the defendant could speak a word, and thus the secret which had been kept for so long was brought to light in a moment. The Choen Joe now turned to me and said:
"This is very good news for me. I once thought that if I went to Japan and brought strange goods to Lhasa I could make a great deal of money. But I have heard that the Chinese language, which is the only foreign language I can speak, is not used in Japan except among a few Chinamen at the seaport towns. Besides, I know that foreign travellers are liable to be deceived by bad people, who abound everywhere, and Japan, I suppose, is not an exception. So I have abandoned my intention. But I am glad to find here such a good Japanese as you. I have heard of the fame of the Serai Amchi (doctor of Sera) and am very satisfied to find the noted doctor in this house. As you are so good a man will you not take me with you to Japan?"
The prospect was not so bad as I had expected. I told him that as I intended to go back to Japan once more, I would take him, and spoke many things about Japan. The caravan chief talked of his hard experiences in China, of the recovery of his goods by the favor of the general, and of the superiority of the Japanese soldiers in valor to those of the West. He spoke very highly of Japan, but did not seem to mean to flatter me; it was most likely that the words came from his real heart. Then I said:
"You and Tsa Rong-ba are the only men that know that I am a Japanese, but if you tell it to anyone else, I am afraid it may cause you both some trouble. So you must be very careful about it."
"I appreciate your advice," said the Choen Joe, "I will not tell it to anyone. If I do, it will be only when it is positively to your benefit, but not till then. When I disclose it you may be sure that you will have a great name in Tibet." With such pleasant talkings we closed the day. I took my leave and lodged at the druggist's for that night.
On the following day, (May 4th) my friend the Secretary of the Chinese Minister stepped into my room as usual. While we were talking together there was something in his manner that put me on the alert. He said: "You say you are from Foochee in China. Of course I don't doubt it. But I see a great difference in your character from that of the ordinary people of China. It may sound strange, but did not your ancestors come from a foreign country?"
I replied that I had no definite knowledge about my ancestor's original home, and asked him what had made him think that my character did not resemble that of the Chinese. Upon this he said:
"The Japanese are very smart by nature and push on with great patience, while most Chinese lack in quickness, of course with a few exceptions like yourself. Moreover the Chinese have in general the characteristic of sedateness which you see in me, but which I cannot see in you. Instead of being calm, you are always hustling and active. It is too delicate a distinction for words, but I am sure you have something in you which I cannot trace to the Chinese. But from whom are you descended?"
From this way of talking I could understand that he was closely examining me, and trying to find out my secret by my countenance and expression. It seemed probable that he already knew that I was not a Chinaman but a Japanese. But I did not give him any definite answer, and he left me.
Some while later on during the same day I had another startling story told me by the wife of the apothecary. She[573] began with: "Say, Kusho-la (your lordship). Don't you think the most awful thing in the world is a madman?"
I asked her reason, and she said: "Why, that mad son of Para has been telling a strange story. It is a story told by a madman, so of course I think it cannot be depended upon; but he said that though it was a great secret, he knew of a horrible affair that was to take place in this country. When I asked what it was, he whispered to me: 'There is a priest from Japan in this town. He calls himself a priest, but he is surely a great officer of the Japanese Government, who has been sent for the investigation of the country. It is no less a personage than the Serai Amchi. I met and talked with him once when I went to Darjeeling, and I found him a great man.' This is what he tells me. Is it not strange? Nobody knows he has ever been to Darjeeling, but what do you think about it?"
I thought the madman was not mad if he had spoken that way, but answered her: "The story of a madman must be only taken as such."
The lady continued, "Anyhow my husband and many others seem to believe it. I have told this to you as I heard it, and hope you will not mind."
This conversation occurred on the 14th of May. That night I returned to the mansion of the Minister of the Treasury, and on the next day I came to the monastery at Sera. At night when all were fast asleep, I took out some paper and began to write a letter to the Pope. I did this as a preparation against the day when my secret should be disclosed.