Interesting Historical Events, Relative to the Provinces of Bengal, and the Empire of Indostan. With a Seasonable Hint and Persuasive to the Honourable The Court of Directors of the East India Company. As Also The Mythology and Cosmogony, Fasts and Festivals of the Gentoo's, Followers of the Shastah. And a Dissertation on the Metempsychosis, commonly, though erroneously, called the Pythagorean Doctrine
Parts I, II, and III
by J.Z. Holwell, Esq.
1766
NOTICE: THIS WORK MAY BE PROTECTED BY COPYRIGHT
YOU ARE REQUIRED TO READ

THE COPYRIGHT NOTICE AT THIS LINK

BEFORE YOU READ THE FOLLOWING WORK, THAT IS AVAILABLE SOLELY FOR PRIVATE STUDY, SCHOLARSHIP OR RESEARCH PURSUANT TO 17 U.S.C. SECTION 107 AND 108. IN THE EVENT THAT THE LIBRARY DETERMINES THAT UNLAWFUL COPYING OF THIS WORK HAS OCCURRED, THE LIBRARY HAS THE RIGHT TO BLOCK THE I.P. ADDRESS AT WHICH THE UNLAWFUL COPYING APPEARED TO HAVE OCCURRED. THANK YOU FOR RESPECTING THE RIGHTS OF COPYRIGHT OWNERS.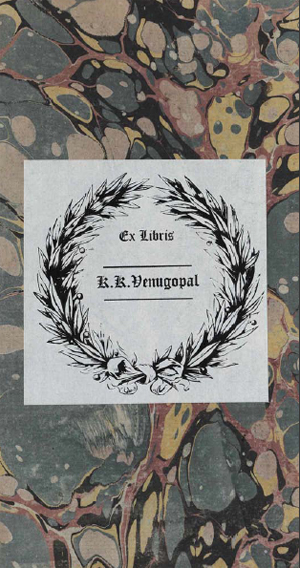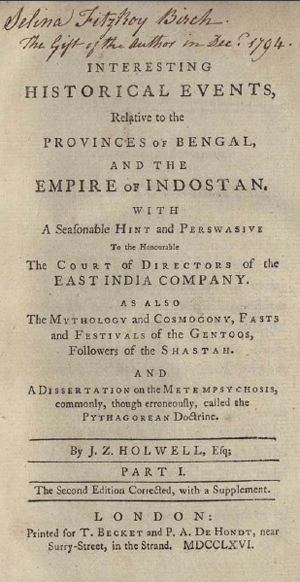 John Zephaniah Holwell has received the eulogy of modern writers for his gallant defence of Calcutta in 1756 after the desertion of Governor Drake and his chief officers. He was the principal survivor of the Black Hole tragedy and wrote a narrative of his sufferings.

When Clive left India in February 1760, Holwell succeeded him as Governor of Calcutta, but in August was superseded by Vansittart. His great achievement as Governor was to work up a case, in a most unscrupulous manner, against Nawab Mir Jafar. He prepared a memorial3 [The memorial may be found in Holwell's India Tracts and also in Vansittart's Narrative Vol. 1 pp. 46-63.] on the state of the affairs of the province for the new Governor who was on his way to Calcutta. In this memorial he laid at the door of Mir Jafar all the evils under which the country was suffering; he charged him with treacherous dealings with the Dutch in the previous year, although Major Caillaud pointed out to him that this was never clearly proved, and even if it had been proved the fault had been condoned by Clive; he charged him with corresponding with the Shahzada, although Warren Hastings declared that the document was a forgery4 [The letters of Major Caillaud and Warren Hastings are given in India Tracts, but the writer has mislaid the exact reference.]; he charged him with the murder of persons who were alive when Mir Jafar himself was dead5 [See infra.] and he got £30,000 for himself when his scheme was successful.6 [Malcolm's Life of Clive (1836) Vol. 2, p. 289. See Bengal P. & P. Vol. VIII pp. 214-219.] The dethronement of Mir Jafar, condemned by Clive,7 [Malcolm's Life of Clive, Vol. 2, p. 255.] protested against by seven of the Company's servants in Bengal who asserted that if the President had consulted the whole Council the measure would have been rejected,8 [Holwell's India Tracts (1774) p. 107.] approved by the Court of Directors in such hesitating terms that Warren Hastings did not venture to translate the despatch to the new Nawab,9 [Hastings to Vansittart, July 14, 1762. (Vansittart's Narrative Vol. 2, p. 69.)] was carried out by Governor Vansittart in October, and Mir Kasim was installed in his place.

Holwell was a man of great ability which he used unscrupulously to secure his own ends. Clive condemns him in the strongest terms: "Mr. Holwell is a specious and sensible man, but from what I have heard and observed myself I cannot be persuaded he will ever make use of his abilities for the good of the Company."10 [Clive to William Mabbot, 31 Jan. 1757, (Hill's Bengal in 1756-57 Vol. 2, p. 186)] He trembled to think of the fatal consequences if he were succeeded by such a mercenary man. "Mr. * * * has talents, but I fear wants a heart, therefore unfit to preside where integrity as well as capacity are equally essential."11 [Malcolm's Life of Clive Vol. 2, p. 137 and p. 139. Asterisks are placed for the name but it is quite clear that Holwell is the man.] It seems ungenerous to add that when Siraj-ud-daula besieged Calcutta Holwell would have run away with the others if he had been able. But the statement was made at the time. Ives mentions it without condemnation12 [A Voyage from England to India in the year 1754 etc. (1773) p. 93. Ives was surgeon to Admiral Watson.] and Clive believed it. "I am well informed," he wrote, "there is no merit due to him for staying behind in the fort, nothing but the want of a boat prevented his escape and flight with the rest."13 [In the letter quoted above. So Mr. William Lindsay who left the fort by permission on the 19th June. "It was much against his inclination being there, two gentlemen having carried away the budgerow he had waiting for him. I mention this as I understand he made a merit in staying when he found he could not get off." Letter to Mr. Robert Orme from Fulta July 1756. Hill's Bengal in 1756-57, Vol. 1, p. 168.]

As a historian Holwell enjoys a reputation which is quite undeserved. To qualify himself to write on the history of India Holwell asserts that he "studiously perused all that has been written of the empire of Indostan, both as to its ancient as well as more modern state; as also the various accounts transmitted to us, by authors in almost all ages (from Arrian, down to the Abbé de Guyon) concerning the Hindoos, and the religious tenets of the Bramins." He proceeds "to pronounce them all very defective, fallacious, and unsatisfactory to an inquisitive searcher after truth."14 [Holwell's

Interesting Historical Events,

Part 1, p. 5.] Holwell may have been right, for all his reading did not save him from making the elementary blunder of declaring that Prince Nicosir, a pretender to the Empire in 1709, was a son of the great Akbar who died in 1605!15 [Holwell's

Interesting Historical Events

, Part 1, p. 37.] If Holwell is correct in his history of the Mughal Empire from the death of Aurungzeb to the reign of Muhammad Shah then Elphinstone's History of India needs revision for that period. If the Seir Mutaqherin approximates to history then Holwell's account of the Transactions in Bengal from 1717 to 1750 is romance.

Here the reader may object: "Granted (though we should require better proof than you have brought forward) that Holwell was an inaccurate historian, that does not prove that he was a dishonest man." The latter point will now be established by showing (1) that Holwell fabricated a speech and fathered it on the Nawab Alivardi Khan; (2) that he brought false charges against the Nawab Mir Jafar; (3) that he fabricated a whole book and called it a translation from the ancient sacred writings of the Hindus.

(1) In a letter to the Court of Directors, dated Fulta, 30 November 1756,16 [Hill's

Bengal in 1756-1757

Vol. 2, p. l.] Holwell is at pains to prove that the protection given by the Company's servants to subjects of the Nawab was not the cause, as had been alleged, of Siraj-ud-daula's attack on Calcutta. He asserts that Alivardi Khan "had long meditated to destroy the forts and garrisons of the Europeans," and in support of this statement he quotes "verbatim, the last discourse and council which Mahabut Jung (Alivardi Khan) gave his grandson (Siraj-ud-daula) a few days before his death," which, he adds, "I had from very good authority at Murshidabad, after my releasement." Then follows the speech from which the following extract may be made:—"Keep in view the power the European nations have in the country. This fear I would also have freed you from if God had lengthened my days—The work, my son, must now be yours ....... ..Think not to weaken all three together. The power of the English is great; they have lately conquered Angria, and possessed themselves of his country; reduce them first; the others will give you little trouble, when you have reduced them. Suffer them not, my son, to have fortifications or soldiers: if you do, the country is not yours."17 [Hill's Bengal in 1756-1757, Vol. 2, p. 16.]

This speech called forth some very plain language. Matthew Collet, second at Cassimbazar, contemptuously dismissed it with the words:—"As to Alliverde Cawn's last dying speech to his nephew, I look on it as a specious fable."18 [Letter from Collet to Council, Fort William (Hill, Vol. 2, p. 129).] Richard Becher, chief of the Company's factory at Dacca remarks:—"Mr. Holwell will excuse me if I do not admitt Alliverdee Cawn's speech as genuine till better proofs are brought to support it than any I have yet seen. Such advice if really given, it is reasonable to imagine had few or no witnesses, so that it appears very improbable Mr. Holwell in his distressed situation at Muxadavad should have been able to unravell the mysterries of the Cabinet and explore a secret never yet known to any one but himself."19 [Letter from Becher to Council, Fort William (Hill, Vol. 2, p. 162).] William Watts, chief of the factory at Cassimbazar, observes:—"The last dying speech of Mahabut Jung or Alliverdi Cawn to his grandson neither he, or I believe, any of the gentlemen of the factory, ever heard of; neither have I since from any of the country people; it seems an imitation of the speech of Lewis XIV. to his grandson, and appears as Mr. Collet aptly terms it only a specious fable."20 [Letter from Watts to Court of Directors, (Hill, Vol. 3, p. 336).]

Holwell replied to what (in his own words) was a charge of imposing on the Court of Directors a forgery that had no foundation but in his own invention. After quoting the words of Messrs. Collet, Becher and Watts he proceeds:—"That Mr. Becher should not believe the speech genuine I do not much wonder at, as he seems fully resolved that nothing shall drive him from his adopted principal cause of our misfortunes, the detention of the Nabob's subjects, in confutation of which I have said sufficient; but the reasons this gentleman gives for his believing the speech not genuine had been better omitted for his own sake. The speech might probably enough have been a secret whilst it was necessary it should be so; but when I obtained it that necessity had long vanished, and Mr. Becher might have observed I say I had it from good authority, after my releasement, which was more than three months after the period it was uttered, and was no longer to be deemed a mystery of the cabinet, but might be judiciously enough divulged and circulated as an apology for and in support of Surajud Dowla's proceedings against the English, &c. Mr. Becher's opinion, "that I was unable to explore a secret, never yet known to any one but myself," I would explain and reply to, could I possibly understand him. Shall only add, for Your Honours' satisfaction, and in vindication of my own veracity, that I was released the 16th of July, and continued at the Tanksall, and the Dutch and French factories, until the 19th at night; during which period I had frequent conferences with the principal Armenians, and some the immediate servants of the late and present Suba, from whence I had the speech literally as I have given it; and notwithstanding the ingenious ridicule it meets from Messieurs Watts and Collet to cover their deficiency in matters which ought to have been known to them, I will not despair of giving Your Honours yet more convincing proofs of its being genuine." The only proof that Holwell produces is a copy of a letter written by William Forth, surgeon at Cassimbazar, who relates that he was attending the Nawab fifteen days before his death when Siraj-ud-daula entered the room and charged the English with plotting to set up a rival to him in the succession. Alivardi Khan questioned Forth and at the end of his examination declared "he did not believe a word of the report he had heard."21 [Letter from Holwell to Court of Directors, (Hill, Vol. 3, pp. 355, 356, 357.] How this helps Holwell it is difficult to see.

Holwell's reply is as feeble as it could possibly be. Why did he not produce names with the date and hour of the conferences? He dared not. Watts and Collet were stationed close to Murshidabad and could have bowled him out. The only other remark of Holwell's worthy of the slightest notice is his statement that the secret might have been circulated as an apology for the Nawab's proceedings against the English. Nothing could be farther from the truth. Manningham, in his evidence before the Committee of the House of Commons said that "it was impossible to give any rational account of the origin of the Troubles"; that he was in Murshidabad with Clive in July 1757 and "enquiry was then made with all possible attention, but without success, into the motives of Surajah Dowla's conduct from his principal officers, and likewise from the officers of his predecessor, from the Seats, and every other person from whom information was likely to be obtained.22 [First Report, (Hill, Vol. 3, p. 284).] Scrafton says the same. "I have made it my study since our intercourse with the great men at court, to penetrate into the cause of this event, but could never obtain anything satisfactory .... Perhaps it is a vain research to trace the motives of a capricious tyrant."23 [Scrafton, Reflections on the Government, &c., of Indostan (1763) p. 55.] Finally, on the main point we have the evidence of a relation24 [Hill, Vol. I Introduction, p. xxviii, foot note.] of Alivardi Khan's—the author of the Seir Mutaqherin—who states:—"He (Alivardi Khan) used to compare the Europeans to a hive of bees, of whose honey you might reap the benefit, but that if you disturbed their hive they would sting you to death." On another occasion, when his General, Mustafa Khan, supported by his nephew, Sayyid Ahmad, represented the ease with which the Europeans might be deprived of their immense wealth, he exclaimed: "My child, Mustapha Khan is a soldier, and wishes us to be constantly in need of his service, but how come you to join in his request? What have the English done against me that I should use them ill? It is now difficult to extinguish fire on land; but should the sea be in flames, who can put them out? Never listen to such advice as his, for the result would probably be fatal."25 [All this is borrowed from Hill's Bengal in 1756-57 Vol I, Introduction p. xxxi.] Commenting on the inconsistency of these words with Holwell's speech Dr. Busteed suggests that probably Alivardi Khan modified these views later on.26 [Echoes from Old Calcutta (2nd edition) p. 5 footnote.] Undoubtedly he did, or Holwell is guilty of forgery. Let the reader judge.

(2) With respect to the second charge against Holwell the reader will probably be disposed to accept the judgment of Clive and his Council who in 1766 considered it their duty to acquaint the Court of Directors in an official despatch that the "horrible massacres" with which Holwell had charged Nawab Mir Jafar were "cruel aspersions on the character of that prince" and had not the least foundation in truth. The persons who, according to Holwell, had been put to death by Mir Jafar "are all now living, except two, who were put to death by Meeran, without the Nawab's consent or knowledge."27 [Long's Selections from Unpublished Records of Government, p. 428.]

(3) Holwell asserts that the leisure hours of his thirty years' residence in India were spent in collecting materials relative to the history and religion of the inhabitants of the country. Many curious Hindu manuscripts came into his possession and among them "two very correct and valuable copies of the Gentoo Shastah" procured with great labour and at great expense. He spent eighteen months in translating the Sastra.28 [

Interesting Historical Events

, Part 1, p. 3.] In one year more he would have completed the work but the catastrophe of 1756 intervened and when Calcutta was captured he lost manuscript and translation. By an unforeseen and extraordinary event "that possibly I may hereafter relate" (he never does so) he recovered some of his manuscripts.29 [

Interesting Historical Events

, Part 1, p. 4.] Hence he was able to give to the world an account of what he calls the "Chartah Bhade of Bramah," the oldest and purest of the sacred writings of the Hindus. In Holwell's time only three or four families were capable of reading and expounding it from the Sanskrit character.30 [

Interesting Historical Events

, Part 2, p. 15.] He obtained his information concerning it not from ordinary learned Brahmans who, in spite of their knowledge of the truth, pandered to the corrupt beliefs of the mob, but from those "whose purity of principle and manners and zeal for the primitive doctrines of Bramah's Shastah sets them above disguising the truth."31 [

Interesting Historical Events

, Part 2, p 9 and p. 21.] Holwell gives an account of the doctrines contained in the "Chartah Bhade of Bramah"32 [

Interesting Historical Events

, Part 2, pp. 9 to 21.] and a translation of the first book and a section of the second. This version of the most ancient sacred book of the Hindus will make Sanskrit scholars stare and gasp. But what condemns the whole thing as a colossal fraud is the fact that Holwell has retained some words of the original in his translation which he explains in footnotes, and from these words it appears that his manuscript of the "Chartah Bhade" which only a few Brahman families were capable of reading and expounding from the Sanskrit character, was written in a mixture of Colloquial Bengali and Hindustani33 [Holwell starts his translation with the words "God is one" which according to a footnote are a translation of "ekhummesha" (ek, one hamesha, always?) pure Hindustani (

Interesting Historical Events,

Part 2 p. 31). The other words of the Sanskrit (?) original given in the translation or in footnotes are:—Debtah, angels; logue, a people, multitude or congregation; debtah-logue, the angelic host (p. 35); hazaar par hazaar (Hindustani), thousands upon thousands (p. 42); mahah surgo, supreme heaven; onderah (Hindustani) intense darkness (p. 44) dooneah or dunneah (Hindustani) the world; dunneahoudah, the worlds or the universe; boboons, regions or planets (p. 48) ghoij, the cow; ghoijal, cows; ghoijalbarry, a cowhouse; mhurd (Hindustani) the common name of man, from murto, matter or earth; jhoale, water, fluid; oustmaan (Hindustani) the air (p. 56) jogues, ages (p. 56); pereeth logue, purified people (p. 103); munnoo logue, people of contemplation, from mun or mon, thought, reflection (p. 104); modoo, discord, enmity; kytoo, confusion, tumult (p. 106); surjee, the sun; chunder, the moon (p. 110). (The meanings and derivations are Holwell's).] —the latter apparently predominating. The fourth "sublime book" of the "Chartah Bhade" which "must lie in oblivion, until some one, blessed with opportunity, leisure, application, and genius, brings them to light" was according to Holwell, commonly called by Hindus "Bramah Ka Insoff (insaf) Bhade"! or "Bramah's Book of Justice." Such was the barefaced fraud foisted by Holwell on a Europe totally ignorant of Sanskrit, and it was for this that Voltaire gratefully thanked him.34 [Quoted in Busteed's Echoes from Old Calcutta, p. 38 (2nd edition).]

Three outrageous frauds have thus been brought home to Holwell, and we now proceed to reveal a fourth. Let us examine what he calls "a genuine Narrative of the deplorable deaths of the English gentlemen and others who were suffocated in the Black Hole in Fort William, at Calcutta."-- The Black Hole -- The Question of Holwell's Veracity, by J. H. Little, Bengal, Past & Present, Journal of the Calcutta Historical Society, Vol. XI -- Part 1, July-Sept., 1915
Contents:
• Part I.
o To the Right Honorable Charles Townsend, Esq.
o To the Public.
 Preliminary Discourse
o Chapter I: The succession of the Mogul Emperors from Auring Zebe
o Chapter II. Transactions in the Subahdary of Bengal, from the year 1717 to the year 1750, inclusive.
o Chapter III. Summary account of their produce; the division of their principals; districts; and towns; with their situation respecting each other; and their commonly estimated distance from our principal settlement of Calcutta.
o Postscript
o Supplement. To Henry Crabb Boulton, Esq.; Chairman, and the Rest of the Gentlemen at Present in the Direction of the Affairs of the East-India Company
o To C. Manningham, Esq.: &c. Council, Calcutta
o To John Payne, Esq., Calcutta
• Part II.
o To the Most Noble Hugh, Duke and Earl of Northumberland; Earl Percy; Baron Warkworth of Warkworth Castle; Lord Lieutenant and Custos Rotulorum of the Counties of Middlesex and Northumberland, of the City and Liberty of Westminster, and of the town and country of the Town of Newcastle upon Tyne; Vice Admiral of all America, and of the County of Northumberland; One of the Lords of His Majesty's Most Honorable Privy Council; Knight of the Most Noble Order of the Garter; and Fellow of the Royal Society.
o Errata
o Chapter IV. The Religious Tenets of the Gentoos, followers of the Shastah of Bramah.
 Introduction
 Section I. Of God and His Attributes.
 Remarks.
 Section II. The Creation of Angelic Beings.
 Remarks.
 Section III. The Lapse of Part of the Angelic Bands.
 Section IV. The Punishment of the Delinquent Debtah.
 Remarks.
 Section V. The Mitigation of the Punishment of the Delinquent Debtah, and their Final Sentence.
 Remarks.
o Chapter V. Of the Creation of the Worlds
 Introduction
 Section VIII. Birmahah or Creation.
 Remarks.
o Chapter VI. The Gentoo manner of computing Time, and their conception of the age of the universe, and the period of its dissolution.
o Chap. VII. Of the Gentoo Fasts, and Festivals, &c.
 Introduction
 First Holy Day. Ouposs.
 Second. Ouposs.
 Third. Ouposs Poojah – Purrup.
 Fourth. Purrup, at night Poojah.
 Fifth. Ouposs-Poojah.
 Sixth. Ouposs-Purrup.
 Seventh. Ouposs.
 Eighth. Ouposs.
 Ninth. Ouposs.
 Tenth. Ouposs-Purrup.
 Eleventh. Ouposs.
 Twelfth. Purrup.
 Thirteenth. Purrup.
 Fourteenth. Ouposs.
 Fifteenth. Purrup.
 Sixteenth. Purrup.
 Seventeenth. Ouposs.
 Eighteenth. Ouposs.
 Nineteenth. Purrup.
 Twentieth. Ouposs.
 Twenty-first. Purrup.
 Twenty-second. Ouposs-Purrap.
 Twenty-third. Purrup.
 Twenty-fourth. Purrup.
 Twenty-fifth. Birto.
 Twenty-sixth. Ouposs.
 Twenty-seventh. Ouposs.
 Twenty-eighth. Ouposs.
 Twenty-ninth. Ouposs.
 Thirtieth. Purrup.
 Thirty-first. Ouposs.
 Thirty-two. Ouposs-Purrup.
 Thirty-second. Purrup.
 Thirty-third. Ouposs.
o Explanation of the Plate or Representation of the Gentoos' Grand Feast of the Drugah (Plate No. 2.
• Part III.
o Chapter VIII. A Dissertation on the Metempsychosis of the Bramins, or Transmigrations of the fallen Angelic Spirits; with a Defense of the Original Scriptures of Bramah, and an occasional comparison between them and the Christian Doctrines.
 Introduction
• Part I.
• A Dissertation, &c.