India Tracts
by Mr. J. Z. Holwell, and Friends.
The Second Edition, Revised and Corrected, with Additions.
1767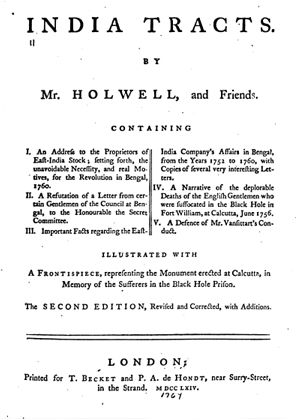 John Zephaniah Holwell FRS (17 September 1711 – 5 November 1798)
CONTAINING:
•
I. An Address to the Proprietors of East-India stock; setting forth, the unavoidable Necessity, and real Motives, for the Revolution in Bengal, 1760.
•
II. A Refutation of a Letter from certain Gentlemen of the Council at Bengal, to the Honorable the Secret Committee.
•
III. Important Facts regarding the East India Company's Affairs in Bengal, from the Years 1752 to 1760, with Copies of several very interesting Letters.
•
IV. A Narrative of the deplorable Deaths of the English Gentlemen who were suffocated in the Black Hole in Fort William, at Calcutta, June 1756.
•
V. A Defense of Mr. Vansittart's Conduct.
[Pg. 277]
ILLUSTRATED WITH: A FRONTISPIECE, representing the Monument erected at Calcutta, in Memory of the Sufferers in the Black Hole Prison.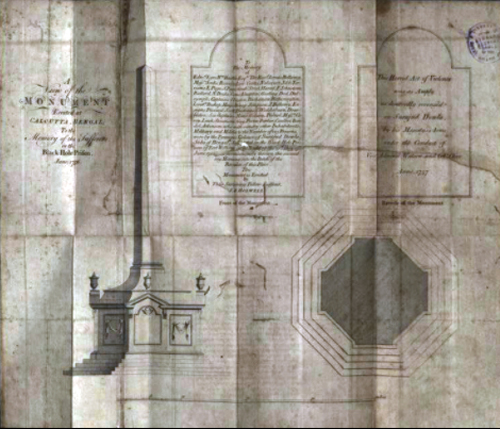 A View of the Monument. This Horrid Act of Violence was as Amply as deservedly revenged on Surajud Dowwla, by his Majesty's Arms, under the Conduct of Vice Admiral Watson and Col! Clive. Anno, 1757.



The Holwell Monument as Re-erected by Lord Curzon, January 1, 1906